Spearfishing Advanced Safety Skills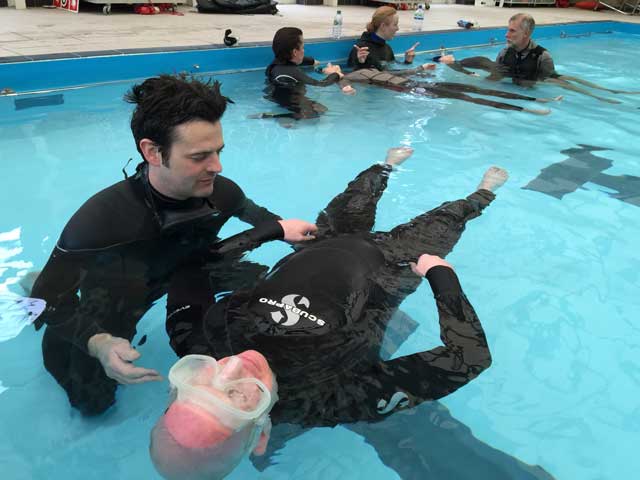 Learn how to prevent injuries and rescue yourself and your buddy in the event of an accident

Spearfishing is the most rewarding and sustainable way of catching seafood, but only if done safely. Our Spearfishing Advanced Safety Skills will teach you everything you need to know to stay safe in the sea, including advanced freediving techniques, CPR and first aid.
The day starts with theory, looking at how to optimise breathing, the dangers of hypverventilation, recovery breathing, and breathing exercises and techniques for improving lung function. You'll then move onto CPR practice with mannequins and learn how to use an Automatic External Defibrillator.
In the pool you'll be putting the breathing techniques into practice during a static session, including how to deal with the struggle phase and how to rescue your buddy from shallow water blackout. Over lunch we'll examine the risk factors in freediving and spearfishing, and how to minimise risk and maximise bottom time.
In open water you'll put it all together, optimising your duck dive and finning techniques, improving weight set up, practicing self-rescue techniques and buddy rescues, including weight belt drops and towing. There'll also be a full search and rescue scenario for each participant, involving finding and recovering a casualty from between 5 and 13 metres, towing them to shore, getting them out of the water and then performing CPR on a mannequin.
Course details
The Spearfishing Advanced Safety Skills course lasts a day, split between theory work in the classroom and practical work in the pool and open water. We'll provide you with all the kit you need apart from a wetsuit. We keep course numbers low so you can learn at your own pace under the watchful eye of our skilled, experienced instructors.
After the course you'll benefit from the Go Freediving lifetime guarantee*, giving you our continued support on your spearfishing journey.
Before booking please make sure you read our Terms and Conditions and medical statement
What's included
Theory material
Tuition
Equipment hire (exc. wetsuit hire)
Lifetime guarantee*
* Lifetime guarantee details
For as long as Go Freediving is trading, we will happily answer your questions and provide advice via email, telephone or in person about freediving (within the scope of your course). So if you have any queries about kit, training, where to go freediving abroad, or how to improve your technique, we'll be there for you.
Wetsuits
Wetsuit hire is not included in the price of our Spearfishing Advanced Safety Skills courses. Scuba wetsuits are suitable as long as they're at least 5mm thick. Triathlon suits tend to be less suitable as they don't have hoods – although the course is held in a heated pool, you can get cold during static apnea.
Freediving wetsuits can be hired for £15.00 a day from Vobster Quay. If you'd like to reserve one, contact us with your height, weight and build (slim, average or large).
Club members can save £30 on a Spearfishing Advanced Safety Skills course
These people loved it!
There was such a relaxed atmosphere on the course. We discussed about other topics and this helped to get a bigger picture of the freediving world!
I loved the calmness of the instructors, their good humour, laid back approach and professionalism!
"I don't think you guys realise how much you give to people. I just want to make sure you know that YOU (you and David and the whole gang) have already made a huge impact on my life."