Check out the film from our latest advanced freediver course and find out how Mark and Nic got on with diaphragm stretching, diving deeper, and taking their freediving to the next level.
What happens on an Advanced Freediver Course?
When you enrol onto an advanced freediver course you will already have learnt the basics of freediving on the entry level freediving course.  An advanced freediver course is about consolidating those skills and learning the techniques to get you deeper safer and for longer.
The course starts in the pool on Friday night with static and dynamic apnea and refreshing the rescue and buddy skills previously learnt. You'll also be doing static apnea for at least 2 minutes and 3 seconds and a minimum of a 50m dynamic apnea swim.
The next two days are spent in open water, diving to depth on the freediving platform, performing deeper rescue and safety skills, and then freediving for fun on the many amazing underwater attractions at Vobster.
In the film you'll also get to see a cameo from one of our freediving instructors as we bump into them on a trimix scuba course!
Advanced Freediver Course students Nic and Mark with Go Freediving Instructors David, Emma and Heather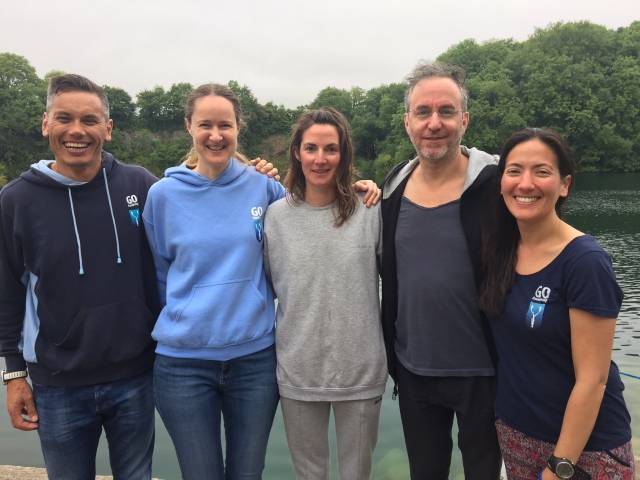 Read what Mark and Nic thought of their Advanced Freediver Course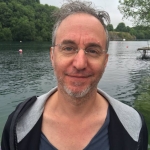 I wanted to extend my possibilities to 30m on an advanced freediver course and Emma Farrell and her Go Freediving team are remarkable. They impart knowledge, calm and a good sense of humour and all those things are absolutely necessary to being successful.
I discovered calm, discipline, my ability to stay under longer and be calmer through everything that I was taught was exemplified by everything that you guys do. So it made me go further than I thought I could, and made me realize that most of your limitations are in your mind, aside from all the knowledge and the things that you absolutely have to know to dive deeper on an advanced freediver course.
The best thing about the diving itself was the sense of freefalling, which is absolutely magical. And doing it with people who make you feel really safe and calm makes it easier. It was just a joy.
Three benefits of doing the advanced freediver course would be how absolutely thorough you guys are because it's not until you do the course that you realise the risks and all that knowledge really puts you in stead that nothing does go wrong. I wouldn't recommend what we did to anyone who hasn't taken the course.
Everything I've said already is a huge recommendation but it's mostly the combination of incredible experience and knowledge from yourself and the team you have working for you and the pleasure it is to do it. It is a lot of work but it's absolutely beautiful work to do.
Mark Karasick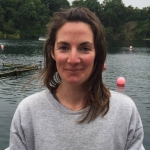 Every single dive has been like a new learning experience in the sense that I've picked up something different, so not only are we going in more details with lanyards, ropes, theory and that aspect, but a lot of the body scanning, down at 25 metres, the whole new techniques of equalisation, the whole progressing of the diaphragm stretching. There's just so much more and each time you go down you pick something else up, fine tuning as well as developing.
It's nice to have different people's input. I really enjoyed listening to Mark this morning, for him it's all about the freefall, so learning the freefall, you don't realize it's something you have to learn, but God, there's a whole aspect to that as well. So that was really great. I think the whole fine-tuning of it makes you so much more aware. You've got really great staff, really great tutors.
Benefits of doing this advanced freediver course with you would be the relaxation skills, safety skills, and more comfort in the water, more ease and peace.
I loved the diaphragm stretching because it's going to give me something to focus on, that reverse packing, that's going to be great, because that's going to be a whole new project for me. I can't do that at all so I really look forward to practicing it.
Of course I would recommend the advanced freediver course! When you do the first course, you thought you learnt so much then, but it's amazing how much there is that you will learn on this second one. So much more, this is refreshing knowledge as well but taking it one stage further.
Nic Wood
And read more testimonials here!
Want to join us on the next one?
We'd love to see you there! Click here to find out more and book your place!
Want to see more films like this one?
Then keep in touch by subscribing to our mailing list for weekly newsletters with exclusive articles, news, films, offers and more!