Go Freediving is the only official retailer for the Aqua Lung Sport Apnea freediving suit – a pukka piece of kit, to be sure. But we don't expect you to take just our word for it, so we asked UK Pool Freediving Champion Rebecca Coales to share her thoughts. Rebecca's been using the Aqua Lung Sport Apnea freediving suit since 2014.
Rebecca Coales, Freediving Champion
"It wasn't custom-made, just one of the normal ones. What I really like is the slightly higher collar – you don't get any flush at all, even when your arms are over your head for dynamic, there's no flushing. It's very comfortable to use. The suit is one thickness all over which, as far as I'm aware, is unique among pool freediving suits. It's also thin so you don't overheat, a crucial distinction for use in the pool.
Why triathlon suits don't work for freediving
"Another of the reasons why I like these suits so much is because they are thin and completely different from triathlon suits in terms of thickness and paneling, as triathlon suits are designed for you to swim front crawl on the surface, not under the water as a freediver. My first suit I didn't get on with it at all as on my chest and legs it was 5mm. I like the Aqua Lung Sport Apnea freediving suit because it's all over one thickness, and it's thin so you don't overheat, as that is a real consideration for the pool. With a triathlon suit in the pool it's too easy to overheat and it can make you fell quite unwell.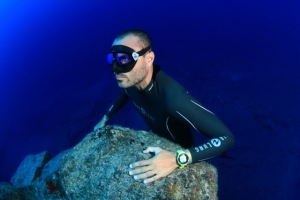 Freediving suit like a second skin
"I don't feel any restriction in the suit, it really feels as if it isn't there at all. There are a few pool freedivers who just wear swim suits, but now I don't think I'd prefer to use one of those any more. With the Aqua Lung Sport Apnea freediving suit you get the extra hydrodynamics from the smoothskin without any restriction around the arms. I also think they look really stylish. When you take a photo from the side you get that white line running along your body, it looks really good!"
Aqua Lung Sport Apnea freediving suits are available from Go Freediving and if you are in the UK/EU are available with FREE POSTAGE AND PACKING (postage to anywhere else in the world is just an extra £10).
Full specification:
1.5mm freediving suit
Male and female designs
Ergonomic construction
Watertight glued panels
Very low buoyancy
High density neoprene
Long-lasting glide skin
Optimum body temperature regulation
Soft, comfortable neck seal
Optional wrist seals
Waterproof collar and zipper construction to prevent water entry during movement
Friction-resistant armpit panel
Ergonomic ankle shape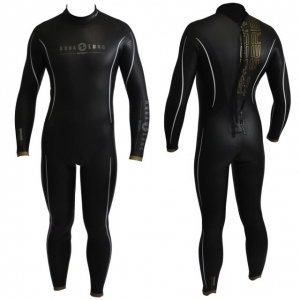 To get yours, buy it by clicking here, and then email emma@gofreediving.co.uk with your details. Download the sizing chart to see which size you need.
You can also see the suit modelled by British Freediving Team member Carl Atkinson here. And see a film of the suit in the pool here.
Rebecca Coales started freediving in 1999 and started competing in 2013. She's set five National Records and represented the UK at the Pool Freediving World Championships. In 2014 Rebecca became the UK Pool Freediving Champion. She trains with Go Freediving instructors Zoe and Jorgen Strandquist, Bristol Freedivers and Apneists UK, and is supported by Team Bath, Nuffield Health and Nuzest.
~
Emma Farrell has been freediving since 2000, teaching freediving since 2003 and is the UK's only Instructor Trainer with AIDA, RAID and SSI. A founding member of the AIDA education commission, she has written courses that are now taught internationally, as well as her own specialist courses, magazine articles and the beautiful book One Breath, a Reflection on Freediving. She has appeared numerous times on television promoting freediving, most notably teaching Hugh Fearnley-Whittingtsall how to freedive for the River Cottage television series. She is a specialist yoga teacher and has taught gold medal winning Olympic athletes across two disciplines how to improve their performance using her unique programme of freediving and yoga techniques. Read more about Emma here.