The Bristol Blue Freediving Competition 2018 was last week. We sent not one, but two Go Freediving teams! So what happened?
Before the Bristol Blue Freediving Competition
Well like any good competition, it all starts with preparation – and the members of our Poole Freediving Club have been doing just that. They have been training in and out of the pool for weeks in preparation for the first ever Bristol Blue Team competition. There were individual events but the emphasis of this particular competition was 'team' as a way of encouraging newer participants of the sport to feel encouraged to join in. The teams were expected to have at least one 'newbie', someone who had never entered a freediving competition before and was new to freediving. The team spirit and encouragement in the build up to the competition has been awesome!
Our Bristol Blue Freediving Competition Team Members
We had so many keen participants our Poole club we had not one, but two teams! The Bream Team (love it!) and the Neoprene Numpties (love it just as much!!).
The Bream Team members were Liz Coulson, Nic Wood and Delphine Brise – so this team had two newbies as Delphine has only done one competition.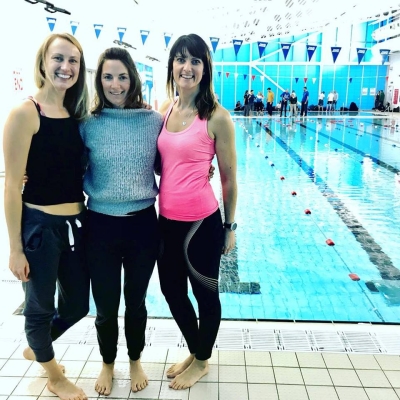 The Neoprene Numpties were Go Freediving Instructors Tom and David alongside Zoe Norquoy who has only just completed her RAID freediver course with us but is super keen!
The Format of the Bristol Blue Freediving Competition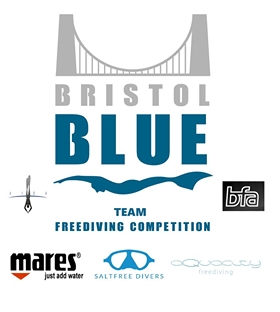 The competition was hosted by Bristol Freedivers and took place on ​Saturday 27th October at Henbury Leisure Centre, Bristol. This was the format:
Each team consisted of 3 athletes who completed 2 performances in different disciplines. Each of the 3 pool disciplines (STA, DNF, DYN) had to be performed by 2 athletes from each team. Therefore, the teams and disciplines entered was set up like this:
Athlete A: Static (STA) and Dynamic No Fins (DNF)
Athlete B: Static (STA) and Dynamic (DYN)
Athlete C: Dynamic No Fins (DNF) and Dynamic (DYN)
The sessions were as follows:
The Day of the Bristol Blue Freediving Competition
So, the big day arrived and all team members arrived at the Henbury Leisure Centre for the competition.
Twenty seven freedivers formed nine teams and represented freediving clubs;
Apneists UK freediving school
Blue Water Freediving School 
Freebody Freediving & Swimming
So there was plenty of competitive juices flowing! 
Awesome to learn too, that twenty of the entrants had never entered a freediving competition before!
Photo credits below: Woody Neil
The Bristol Blue Freediving Competition Results!
The competition was a day of awesome performances as well as 25 recorded new PB's reached!! Our very own Liz Coulson achieved a new PB of 79m on DNF!! Congratulations Liz!!!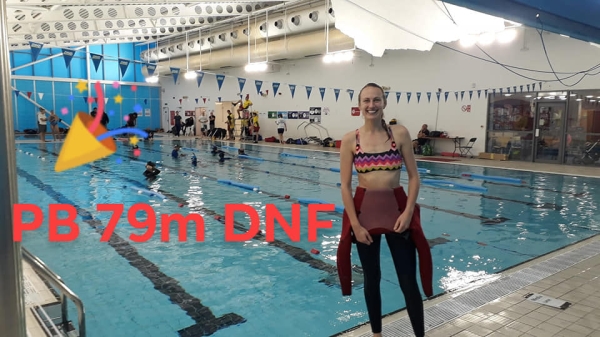 Also, our very own Nic Wood won Best Newbie Award!! How fab is that?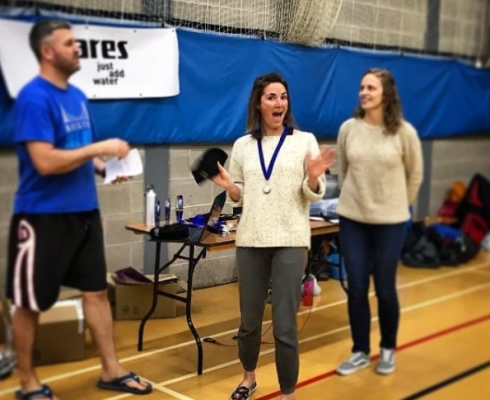 But it doesn't end there!!!
The Neoprene Numpties grabbed third place!!! Congratulations to David, Tom and Zoe! Not only did they get their well deserved medals, but they each won a Mares hat and a noseclip!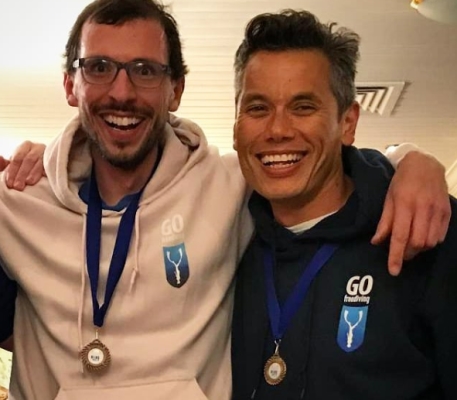 Second place went to The Blue Rebels and the Bluewater Freediving team took the top spot.
Our Bream Team came in a very respectable 5th place, too – and I'm sure this won't be their last Bristol Blue freediving competition either!
Individual results were:
David Mellor 5.48 STA and 135 DYN
Tom Elliott 5.03 STA and 106 DNF
Zoe Norqouy 60 DNF and 75 DYN
Nic Wood 97 DNF 4 min STA
Liz Coulson 79 DNF and 75 DYN
Delphine Brise 4.30 STA and 100 DYN
All white cards!
The Full Bristol Blue Freediving Competition Results: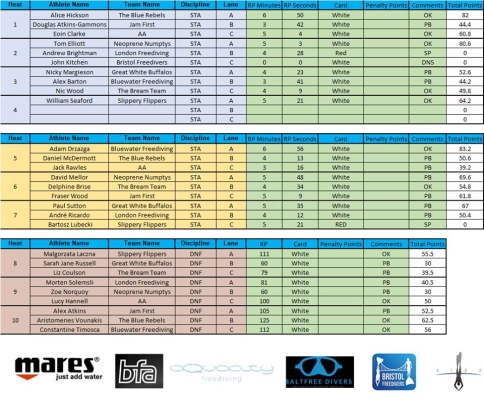 What Liz thought of her first experience of a freediving competition:
First ever freediving competition and I'm hooked!! Such an amazing day……. and The Bream Team came 5th! the best team mates & coach ever, the most chilled out competition vibes (I love a sport where snoozing beforehand is actively encouraged), the friendliest people all wanting everyone to do well and amazingly run by the Bristol Blue Freediving Club. Thanks guys for a bloomin good day out x
What's next?
The next Bristol Blue Freediving competition is set for 9th and 10th March 2019 which organiser's promise will be the biggest and best yet. Are you up for the challenge? Watch out for more competition training at our club night sessions in 2019!
Freediving Courses With Go Freediving
Go Freediving is the longest established, most experienced and friendliest freediving course provider in the UK, led by world class freediving instructor trainer Emma Farrell, and her team of personally trained instructors. No other course provider has such a good instructor to student ratio, safety record and personal touch.
Whether you're a beginner dipping your toes into the world of freediving, a seasoned pro looking to turn professional, or simply a freediver of any level who wants the best freediving holiday in the world, we're here for you!
Also check out our online guide, The Beginners Guide to Freediving by clicking here!
Keep in touch with everything Freediving
Subscribe to our mailing list for weekly newsletters with exclusive articles, news, films, offers and more!