When he was selected for the British Team, Carl Atkinson realised he needed to come up with a freediving training plan and fast. He'd been concentrating on depth and now he needed to up his game in static and dynamic Apnea too.
What is Carl's freediving training plan?
Emma Farrell:
At the moment what is your training routine and what's your freediving training plan in the run up to the World Team Freediving Championships?
Carl Atkinson:
The competition has come up quite quick and I've had to come up with a freediving training plan on the spot. I actually spent my entire winter doing Accountancy exams. I sat five accountancy exams so everything else went on hold. I was working full time then going to the library for two hours after work every day and sitting these exams at various points.
Then just after that, I had literally just passed the last exam, the email went out for applications for the Team World Championships. I thought I'd write an email because I knew I'd done the competition. Next thing I know I'm on the team and it's in September so I really had to come up with a freediving training plan and I have to make myself a much more rounded free diver as well because I had just been concentrating on depth. I've never done dynamic and now I've also got static to do.
So first thing's first, I know Go Freediving has their club in my area. I'm very lucky to have that training. Also what's nice is that I'm familiar with David Mellor, the Go Freediving instructor who does the coaching down there. I realised I needed to get straight on with that and go back to some of the basics as well.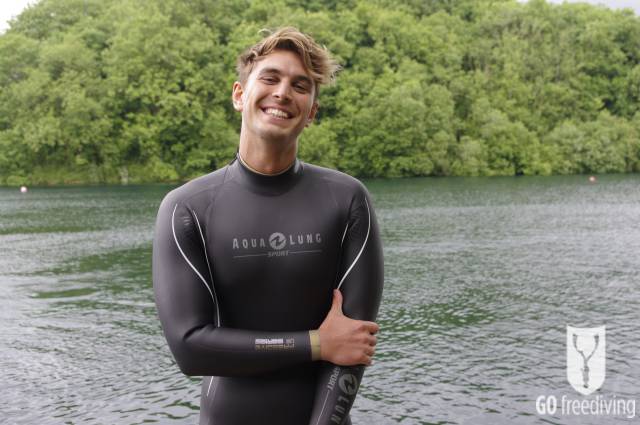 I hadn't ever really done dynamic and so I suddenly had to pick that up again, and my static had gone on a bit of a back seat particularly because of more doing depth. The dive times for depth are quite quick. It was more about getting your body used to the depth and doing stretching and things like that. Recently I've gone back to the old school CO2 tables and O2 tables. I know from when I first did those leaning up to my level 3, I found them very useful to do.
Emma Farrell:
Where are you with your CO2 and O2 tables? What times are you doing?
Carl Atkinson:
I do a mixture. I do my own tables, custom ones. For my CO2 table, I do a 2.5 minute breath hold. I keep them constant and I do one minute breathing in between for 3 or 4 of them. Then I taper it down 45 seconds—30 seconds and two lots on a 15-second breath for 2.5 minutes breath hold. That's when you start feeling the burn. You start it feeling very easy and you think you haven't set it hard enough but the burn comes in later when you are building up your CO2 more and more.
My O2 tables, I do a 2 minute breathe ventilation, build it up I think to 4 minutes 35 I think is the longest one I go on and graduating from about 2.5 minutes. I do find with me for breath-holding on static I have to do quite a bit to build up, whereas with depth for some reason as soon as I go down deeper I kick into gear very quickly with that. As soon as I go deep, my heart rate goes incredibly slow.
With static on the surface, particularly when I'm dry training, it does take more breath holds to get up to where I was had I been in cooler water. I do have to do quite a few breath holds. From my O2 table I do numerous ones. I think it's about 45 minutes near an hour for that whole table to be done.
Emma Farrell:
You do that three times a week?
Carl Atkinson:
Three to four times a week, two O2 tables, two CO2 tables. I've been doing it since last month and continuing to do as I go along. That's a big one.
Then going back to the dynamic side, I'm pool training once a week. I liken that a lot more to my swimming training. When I'm in the pool I go into that swimming mode in a way that is like really honing that technique, getting every muscle in your body, which has to be completely there. You don't want to be there on competition day having not at least got your physical body in its complete condition. Swimming wise I swim five days a week. Maybe I can't do that with this, but I do need to look at upping the training on that.
A huge part of the dynamic freediving training plan was getting the weighting element right, which was so different to a constant weight where I'd be happy to run harder on the way down making it easier on the way up. With dynamic, there's an actual pinpoint weight. I need to know what I am without a suit. I need to know what I am with this suit.
And I needed to get a pool suit. It tried my 3mm full constant weight suit and I absolutely burnt. I was so hot in there. So I knew I needed to get a pool suit and so got the Aqua Lung Sport Apnea suit, the one you sell. I need to be completely at home with it. I feel really at home with my monofin. I know what that thing feels like. It's like an extension. I like my suits to feel the same way. As soon as I've got that thing on, my brain's in that mode and for that also is the same principle. I need to work with the weight as well. Just keep honing that weight exactly. You can quickly realize what field you are within a matter of few grams then it's about getting a couple of neck weights and toying between them and see which ones work the best with those.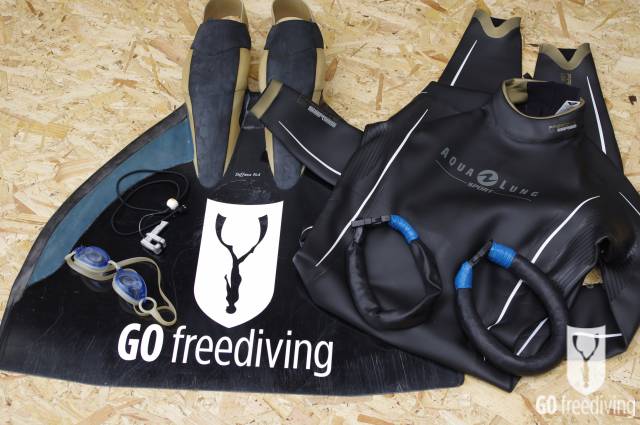 I will also shape different neck weight for dynamic to constant weight. I've a pretty standard type neck weight for my constant weight dives. For dynamic and pool, I like my arms to be a lot tighter above my head, a lot more like I do when I swim like on a tumble turn. My shoulders are completely parallel to my head, which with a neck weight, I can't do with a full tube if there's too much lead around the back of my neck and pushing into my neck. I can get away with it a bit more with constant weight but with dynamic I really want to be streamlined. So with a neck weight for that I tend to front load more and have less packing round the back, more flat. Then I can really get that streamlining what I'm familiar with from the swimming, really locking those arms above my head. That's really part of my training at the moment, getting all of those things in place together.
Then with the dynamic is working out what works for me for warm ups. I am still toying with that whether I go straight into the dive, whether I do some static first. That's kind of what's on my agenda at the moment and really getting that pre dive build up and knowing what works for me. That's really my next step on that. I just have to go from here and work on that.
Carl's freediving training plan is paying off. Watch him do a 150m dynamic swim and personal best below
Want to read more about Carl Atkinson?
Then subscribe to our mailing list for weekly newsletters with exclusive articles, news, films, offers and more!