Presents for freedivers can be a bit daunting. Are you organised yet? Have you heard any whispers of what your freediving buddy or partner is wishing for this year? Have they left magazines lying about or been gazing longingly (aka jealously) at someone else's kit? Is their own kit just a little bit tired and ready for retirement?
Why not give them an awesome freediving present this year?
The elves at Go Freediving Headquarters have been working their little stripey socks off to make sure we have heaps of fabulous Christmas presents for freedivers in stock! This week the gifts are even bigger than last time, so hold onto your Santa hats and sleigh-bells as we give you the run down of our favourite Christmas presents for freedivers in the £20 – £50 price range.
Christmas Gifts For Freedivers – £20 – £50
The £20 – £50 price range of Christmas presents for freedivers is the perfect place to shop! You can pick up some truly awesome gifts that would give them a real boost to their freediving arsenal. Buying gifts in this range often means you are upgrading someone's kit – so if they already have one, they may be secretly coveting a bigger, better version. Check out what we mean below!
A Christmas Tale
It wouldn't be Christmas, without a Christmas tale or two! Well what about the story of Emma Farrell? Her book – One Breath – is the original. A unique insight into the world of freediving – with gorgeous photography and captivating narrative, this is one book that any freediver would be delighted to have in their collection! This book costs just £29.99 and Emma will sign your copy and write your chosen message inside (optional). The book will then be posted to an address of your choice.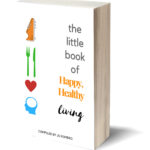 Additional information: Did you know Emma collaborated on another book earlier this year too?! Take a look at The Little Book of Happy, Healthy Living You could buy both books and still have plenty of change out of £50!
The Must-Have Mask!
Now when it comes to freediving masks, not all masks are equal. They are however, all under £50 (except one – but we'll include details here, too) and make perfect Christmas presents for freedivers! We offer a stunning array of freediving masks in an assortment of brands, colours, sizes and cost. Our cheapest masks start at the unbelievable price of just £25- which means you could buy a matching snorkel and still stay inside your £50 limit!

Additional information: The only mask over the £50 price range is the Aqualung Micromask (which costs £55). All of the mask brands we sell are also used by our freediving instructors. They are specifically for freediving, but can be used for snorkelling too. All lenses apart from the Aqualung Sphera are glass which means if your gift is intended for someone who wears glasses, there is the possibility to have them changed to prescription lenses, although please check with us first.
Rudolf The Red Nose-Clip Reindeer!
Every freediver needs a good clip – a noseclip, that is! Our noseclips start at just £36, but if you want the best (in our opinion), the Trygon nose-clip wins, hands down! Plus, it happens to come in a range of cool colours and would be a firm favourite from our list of Christmas presents for freedivers. It's a little more expensive coming in at £50, but it's a winning gift, every time!
Additional information: We only carry limited stock of the Trygon noseclip, so if you do want to buy this as a gift in a specific colour we recommend ordering early to ensure we have them in stock. We can still order additional stock, but don't want to risk you missing out due to the Christmas post frenzy!
The Christmas Sweater Just Got Cool!
Why not treat your Go Freediving, die-hard freediver to some of our own club kit? We have some gorgeous hoodies (you can choose from zipped front or pullover) in any colour you want! They'll have our popular Go Freediving logo on the front and back and will not only keep them warm and snuggly after their dive, but will really make them feel a part of the Go Freediving community! A very popular present for freedivers!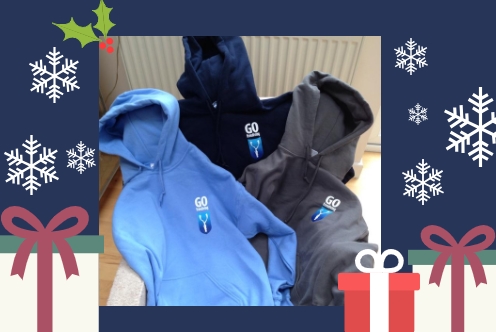 Additional information: We have heaps of colours and styles to choose from. Not only do we have hoodies, but we have additional club items such as T shirts, swim hats and towels. If you're interested get in touch to find out more about the entire range!
Want Them To Feel More Attached This Christmas?
The freediver's lanyard is one of the last things a freediver buys when buying their kit in stages. They will often borrow or hire this piece of kit until the get around to buying their own. So if your freediving fanatic has their mask and snorkel and perhaps has their own fins too, surprise them with a lanyard (costing just £45), we promise they will love it!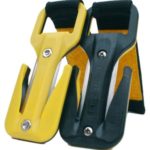 Additional information: If you want to go one step further and buy them something to go with their sparkly new lanyard, the 'eezy cut' safety cutting tool is a perfect complementary present for freedivers, and at £30, they will feel pretty special when they start the new season with not one, but two brand new pieces of kit.
And, don't forget!…
If you are still looking for presents for freedivers for less than £50 we also offer gift vouchers in denominations of £10, £25, £50 and £100? These are presented on beautiful double sided card and come with an envelope for you to include any message or to post it onward. We can even post it direct to the person of your choice, together with your message. How's that for service?
Additional information:
We not only offer gift vouchers in currency values, but we also offer gift vouchers for courses, equipment and special occasions. Don't forget if you buy a course with a gift voucher this Christmas, we will honour it as  the cost for a full course in 2019 even though our prices go up next year! So you could really bag a bargain!
If you want to buy one of these presents for freedivers, get in touch! We have EVERYTHING in stock and we can ship your order almost straight away (or you can collect it from us at one of our club nights!).
We do recommend contacting us first so that we can discuss details such as brand, size and colour options for you to choose from.
Next week we look at gifts in the £50 – £100 range!
Learn to freedive with Go Freediving
Go Freediving is the longest established, most experienced and friendliest freediving course provider in the UK, led by world class freediving instructor trainer Emma Farrell, and her team of personally trained instructors. No other course provider has such a good instructor to student ratio, safety record and personal touch.
Whether you're freediving in November or any other time of year, a beginner dipping your toes into the world of freediving, a seasoned pro looking to turn professional, or simply a freediver of any level who wants the best freediving holiday in the world, we're here for you!
Also check out our online guide, The Beginners Guide to Freediving by clicking here!
Keep in touch with everything Freediving
Subscribe to our mailing list for weekly newsletters with exclusive articles, news, films, offers and more!