The Philippine Depth Championships
Welcome to the not-so-secret freediving training diary of David Mellor!
Last time we wrote a recap of everything David has been doing to get to the point he is at today. This time we look at his final training preparations for the Philippine Depth Championships and find out more about the competition and how David performed.
Training for the Philippine Depth Championships
David talks about his two weeks training with Julia Mouce in Bali – all designed and in preparation for the Philippine Depth Championships:
Overall I was pleased with how my training went in Dahab. I hadn't quite reached my target depth but knew that it was possible with a bit more training. I moved to Bali for 2 weeks training with Julia Mouce at Apnea Bali, I have never had any no-fins training so this was a good opportunity to spend some time learning.
In Dahab I had been diving in a 5mm top and 1.5mm vest so now that I was training in 29 degree water and a 2mm suit, it was my best chance to do a no-fins PB.
I wanted to do a no-fins dive along with a FIM dive in the Philippine depth competition and as I had been diving to 65 metres in 21 degrees water I was hoping to go a little deeper in much more favourable conditions.
My first session with Julia went reasonably well, I learnt a lot about technique and my training drills were no-fins to 30-metres, a depth I could repeat 4-5 times working on arm pulls and kicks until freefall.
On my first dive I had an alarm set at 30 metres as I was diving on an open line and the idea was to reach that depth and then turn. I was in freefall and didn't hear the alarm but realised I must be deeper than 30 metres so I turned. Upon surfacing I had registered 36 metres on my dive computer and the dive felt super easy.
My hopes were raised that I was capable of a 50 metre dive.I repeated the drill a few more times and ended the session happy with my new knowledge and much better form. 5 arm pulls and kicks would get me to 12 metres, one soft arm pull then mouthfill at 15 metres and finally one more soft arm pull and into freefall.
Simple!!
The second session was much the same, my duck dive wasn't great but my arm pull would help me get away with that.  One rest day and then I would attempt a 45 metre dive. The next day, I did my warm up dives which felt great and then it was time to do my pb attempt.
The first part of the dive went well but as I went to freefall I couldn't relax, I turned at 36 metres because I couldn't equalise, which is funny as I had already been equalising fine to 65 metres!
As the days went by I had several other attempts at the same depth but kept failing around the 36 metre mark. It was very frustrating.After a week and a half I decided to go back to FIM to get the feeling of diving and equalising deeper and to remember how it felt to freefall.
I found now that my dives were 60 metres, I had actually gone backwards in much better conditions but a least it gave me some confidence back with my equalisation. On the last day of training I did manage a no-fins PB of 43 metres but I didn't feel the joy that you should with a PB.
My training in Amed Bali was over and I was heading to the Philippines for the competition but I must admit my confidence wasn't high. I had been failing too many dives and for the same reason each time. My soft palate would lock up, I would have air in my mouth but couldn't use it.
I had to find a solution  and quick, as I only had two days to train in the Philippines before the competition.
The Philippine Depth Championships 2019
The Philippine Depth Championships is an AIDA Philippines sanctioned competition, registered with AIDA International, and run under AIDA rules.
There were two competition days.
Overall standings will be determined by adding points from each discipline. The maximum depth for the competition was 120 metres. May and June are usually the best months for freediving in the Philippines. Very little to no wind make great surface conditions.
The water temperature on average is  29- 30 degrees on the surface. This temperature stays constant until a depth of around 50 metres. Below that, the temperature usually drops by not more than one degree. Below 90 metres the temperature is usually not less 26 degrees. Visibility is around 25- 30 metres.
For the competition, athletes could choose to do any depth discipline on any day, and therefore could choose to do one discipline more than once, however, only the best result in a given discipline would count towards the athlete's overall points tally. In competition, you get one point per metre of depth for CWT and FIM, 1.15 points for CWTB and 1.25 points for CNF, less any penalties.
The Filipino male and Filipino female athletes with the greatest number of points were crowned the men's and women's overall champions respectively, with the best discipline awards open to all nationalities.
As there were a lot of freedivers competing for the first time, a checklist was gone through for all competitors. Competitors saw their names, their nationality, their announced dive and the three important times they need to remember:
First is the official top time, the official start time at which a freediver needs to begin a competition performance.
The second important time that competitors must remember is their warm-up time, which is exactly 45 minutes before their official top time (ie the start of their dive). The judges and safety divers keep an eye out on who is diving and who is warming up and competitors caught warming up too early ie longer than 45 minutes before their official top time, will be disqualified.
The third time that is important is the check in time, which is one hour before your official top time. Athletes needed to be at the competition location at least one hour before their dive.
When the athletes are checked in at the registration table, they are measured for their oxygen saturation levels in their body with an oximeter just as a baseline before their dive. They can then warm up before their dive.
Read David's experience of the Philippine Depth Championships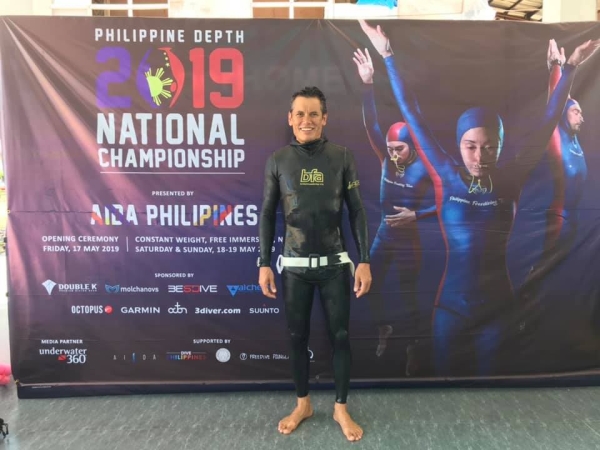 I arrived in Panglao after an overnight flight from Bali, I was exhausted as I can't get to sleep on an aeroplane, so spent the following day trying to catch up on sleep.
I was going to see how the two days training went before making my announcements for the Philippine Depth Championships.
I knew I had issues with equalisation and was hoping to fix the problems in time. I did FIM to ease into the new surroundings. The diving conditions were probably the best I've ever dived in, clear blue sea, 29 degrees and beautifully flat.
A five minute boat ride and we were there. (in Bali there was a fair shore swim to the mark so here there were no excuses), I was nice and relaxed before my first warm up.
My warm up dives felt good so I set the line at 64 metres.
Again I dived and had to turn at 60 metres, same problem, soft palate locking up. This was now developing into a bad habit. I spent the rest of the session doing FRC ( Functional Residual Capacity) dives to try and sort out my problem. The trouble is I can nail everyone of them, my equalisation goes perfectly to 30 metres every time but I was having trouble replicating that on a deep dive.
After the session I did lots of dry mouthfill exercises paying special attention to the position of my tongue when the air volume gets low in my mouth. Again dry I can nail every one.
The next day training, this was my last session before the competition so I needed to see an improvement before making my announcements.
Unfortunately the same problem again.
The highlight of my day was I shared the buoy with Kurt Chambers and Dean Chaouche so I could see how it was meant to be done.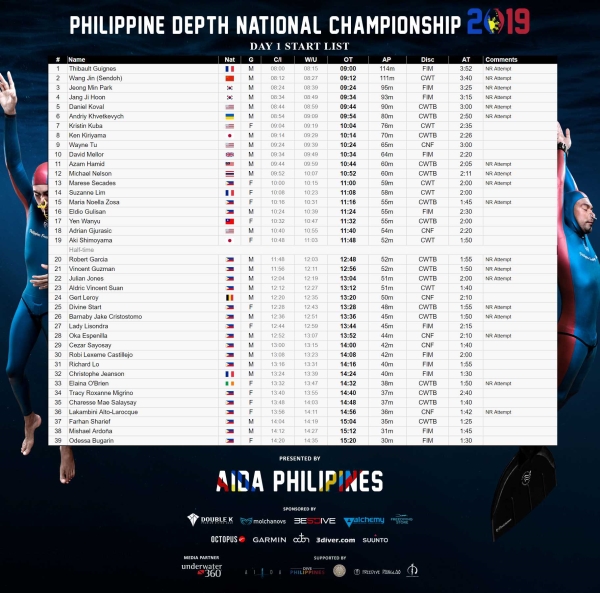 I decided to announce 64 metres in FIM, my thinking was I had already done that in competition so anything less felt like a step backwards and if my equalisation went well I could easily do it, the worst that would happen would be an early turn.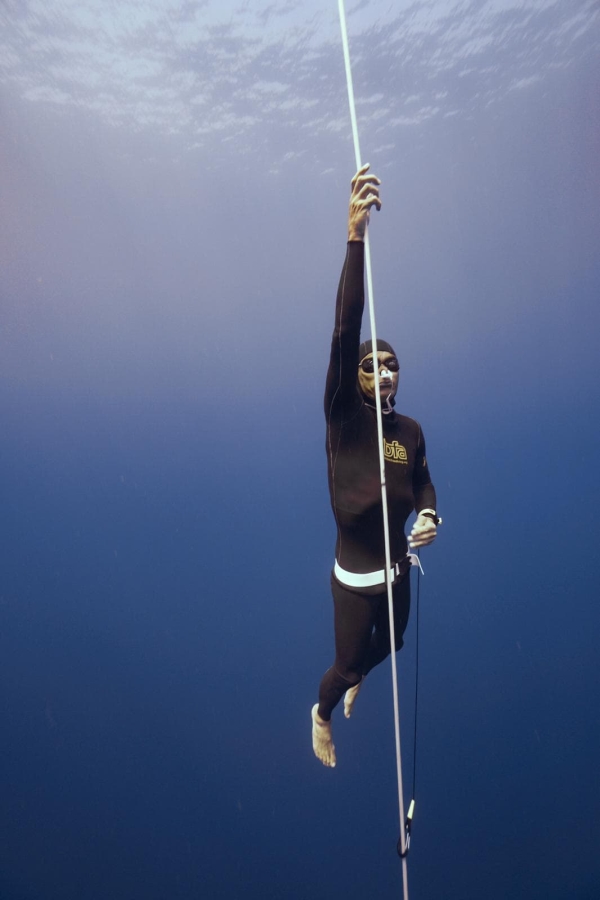 Turns out that's what did happen, early turn at 60 metres and a yellow card.
I was obviously disappointed but I half expected it as that was exactly what had been happening in training.
I tried to take a positive from the dive and thought at least I can equalise to 60 metres so if I can relax I can certainly get a white card in no fins at a much shallower depth.I announced 45 metres even though 43mtrs was my PB. I knew I had the breath hold. I was strong enough, I was mentally ok with that number so it was totally down to equalisation.
I broke my personal rule about announcing deeper than my training dives but this had now become a thing with me. I had spent nearly 3 weeks trying to do a dive I should easily be able to make. I had previously done in competition 36 metres in a 7mm suit in 8 degrees water, also 41 metres in 24 degrees water without any coaching so I was super determined to do this dive after all the hard work I had put in.
As official top came closer I was feeling good, relaxed and calm and ready to get a white card.I started the dive ok and went into freefall.
I took a second mouthfill charge at about 22 meters and then just tried to relax and drop. I really wanted to make sure I had enough air in my cheeks to do this dive so I tried one more small top up.
Massive mistake!!!……
I should have just trusted what I had in my mouth and relaxed. It would have got me there but by the time I took my 3rd charge I was already too deep, it caused me to swallow. All my mouthfill gone! I was screwed from then on.
I did what I could and managed 41 metres but the dive was a mess, coming up from 41 metres with no fins when you're pretty peed off isn't the most pleasant thing I've had to do but I totally deserved it. I should have trusted myself, you don't need three charges to get to 45 metres, you actually shouldn't even need two so it was complete overkill.
Another big mistake made and another lesson learnt.Two yellow cards, another disappointment but at least some big competition experience.There were some top class athletes in the field so it was good to meet a few of them.
I'm now on Gili T training with British record holder
Mike Board
.
Looking back I shouldn't have entered the competition.
I should have stayed training and working on my weaknesses.
It takes time to adapt to new surroundings, new diets, new sounds when you're trying to sleep, different beds and different air and sea temperatures.
I didn't give myself enough time to do this.
My biggest gains were when I stayed in one place for six weeks, so I think it would have been better to stay in Bali or Gili T instead of wedging in another competition.
Missed David's last blog? Catch up with everything, here:
Learn to freedive with Go Freediving
Go Freediving is the longest established, most experienced and friendliest freediving course provider in the UK, led by world class freediving instructor trainer Emma Farrell, and her team of personally trained instructors. No other course provider has such a good instructor to student ratio, safety record and personal touch.
Whether you're a beginner dipping your toes into the world of freediving, a seasoned pro looking to turn professional, or simply a freediver of any level who wants the best freediving holiday in the world, we're here for you!
Also check out our online guide, The Beginners Guide to Freediving by clicking here!
Keep in touch with everything Freediving
Subscribe to our mailing list for weekly newsletters with exclusive articles, news, films, offers and more!
Competitions Countdown!
Results
2019
Mini Comp – Dahab – 52m BiFins
Dahab Championships – 2nd Place!
2018
2nd Place: Double Dip: 48  with mts fim, 36mts cnf and 46mtrs cwt in Sept
3rd Place: Nationals: 124mtrs dyn, 100mtrs dnf and 5.19 static.
3rd Place: Bristol Blue (Team Event)  135mtrs dyn and 5.48 static
Vostok cup: 50mtrs cwt, 50mtrs fim and 41mtrs cnf in Oct
Redccup: 60mtrs fim and 57mtrs cwt
Personal Bests and Achievements
2019
134m DYNB
*New PB!! 9th Feb '19*
118m DNF
*New PB!! 17th Feb '19*
43m CNF
*New PB!! May '19*
2018
Male UK Freediving Champion 2018
135 DYN MONO
100 DNF
5.48 STA
60m FIM
57m CWT
41m CNF
Competitions
2019
UK Nationals –  Bristol – 9th – 10th March
Mini Comp -Dahab – 5th April
Dahab Championships – Dahab – 25th – 29th April
Philippines Diving Champs – Panglao – 18th – 19th May
Double Dip 2019 – Chepstow – 18th July 2019
World Championships – Nice – Sept
Infinity Depth Games – Cyprus – 13th – 20th Oct
More To Be Announced!
2018
UK Nationals – March 2018
Double Dip –  Chepstow – Sept 2018
Vostok Cup –  Kalamata – Oct 2018
RedCcup  – Egypt –  Oct 2018
Bristol Blue – Bristol – Oct 2018
Video Library
2018
January 2019
February 2019
March 2019
April 2019
Abbreviations and Meanings
DYN – Dynamic
DNF – Dynamic No Fins
DYNB – Dynamic Bi-Fins
CWT – Constant Weight
CNF – Constant Weight No Fins
FIM – Free Immersion
STA – Static
CWTB – Constant Weight Bi-Fins
FRC – Functional Residual Capacity
Qualifications
RAID Advanced Freediving Instructor