The Dahab Freediving Championships have ended – so, how did David get on?
Welcome to the not-so-secret freediving training diary of David Mellor!
In David's last diary entry David talked about his final preparations for the Dahab Freediving Championships, and how he needed to increase his protein intake, was trying not to  over train and introduced us to his new stretching toy.  This time we talk to him post competition and hear about the highs and lows of the event.
David talks about his Free Immersion dive at the Dahab Freediving Championships: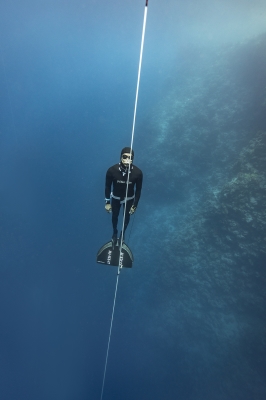 I never touch the line when I go down, but in my warm up dive I did.  I gently put my arm around the line and went into freefall, it felt good and I thought great, I'll do that in my dive and it will mean I'm always close to the line.
Well, on my dive I did exactly that –  I had my eyes closed and went into freefall.
I felt I was freefalling slower than usual so I opened my eyes to see I was leaning over to one side – this happened twice on the dive and so my relaxation was bad – I also swallowed my mouthfill so it was just really messy.
I still managed 64mtrs with all that so I guess I shouldn't feel too bad.
Another lesson learnt and actually I learn a lot from my mishaps.
Training this last week I have made big improvements and was beginning to feel unstoppable, another few days and I was thinking 70mtrs was going to happen but as we all know freediving is not like this so it gave me another slap round the face and now I will once again press the reset button!
Loving the experience of it all though.
David describes his White Card, 55m CWT dive at the Dahab Freediving Championships: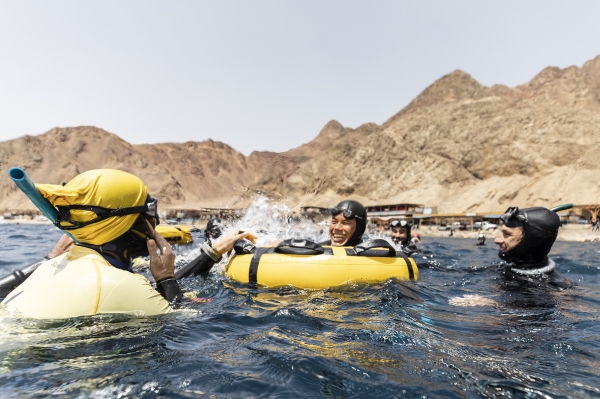 I absolutely love the freefall part of the dive.
I never think about the depth. I break each part of the dive down and only concentrate on that particular part of the dive. So I relax on the surface, I listen for the countdown and calm my breathing.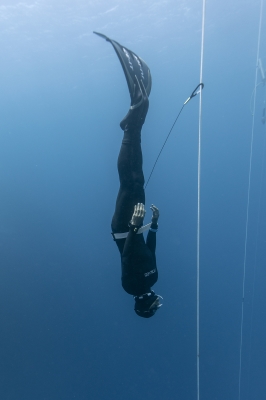 On FIM I start to pull down and think only of equalising and keeping all of my body relaxed especially my legs.
I take mouthfill at 15 mtrs and then pull once more and now I'm in freefall.
I relax my abdomen and think cool now I'm on a ride!
I drop another 5 or 6 mtrs and again think about relaxation and my freefall position. I then top up my mouthfill at around 22 mtrs and again scan for relaxation.
By now I'm dropping pretty quick and loving the sound of my lanyard getting faster.
I try to hold constant pressure with the mouthfill but now and again I pulse my cheeks lightly to ensure I equalise. As I feel the air in my cheeks getting smaller I do one more M charge just to top up my mouthfill.
I'm now at 30mtrs plus and again scan for relaxation in my whole body but pay attention to my abdomen and throat and chest as if you're not relaxed you will feel tightness in the upper chest.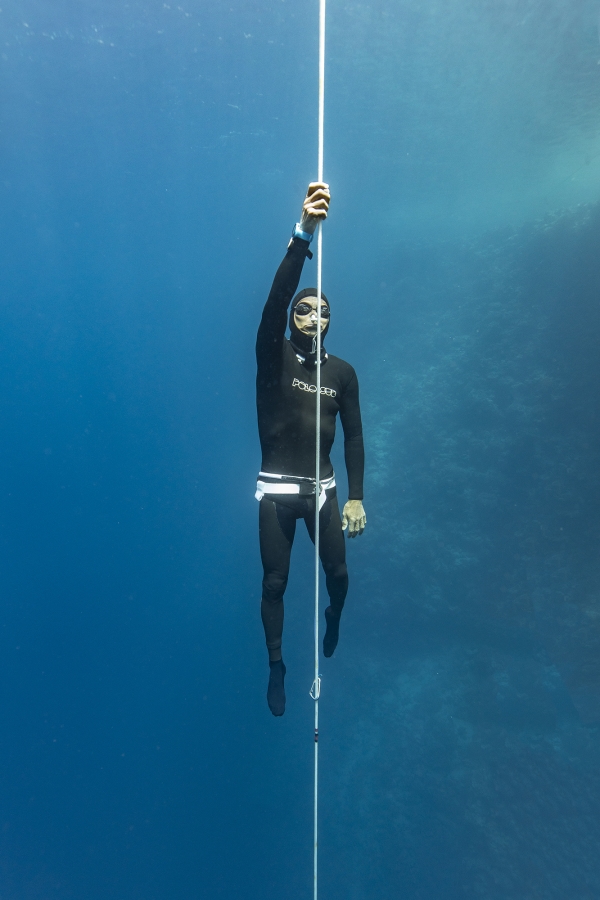 I jab my eyes shut most of the time but slightly open now and again just to check my position on the line. Now the light is changing and the sound of the lanyard is getting even quicker and I'm loving it.
I know I'm getting deep but I only think about equalisation, my mouthfill is now getting smaller but I try to stay relaxed and pulse lightly.
Never at any part of this dive do I think about the depth.
As my mouthfill gets smaller I know I'm nearly there so I reach one arm up to feel for the ball, I grab the tag with that hand and grab the line with my other hand and start my assent.
I don't think about the surface, I only think about each arm pull.
I stay relaxed and calm and again pay attention to relaxation in my legs.
I keep pulling and every pull I think about relaxation. I'm contracting but I'm on my way up so I stay in the moment and keep pulling.
I can feel my buoyancy changing, getting easier.
My eyes are closed but I hear the grouper call of my safety and I'm thinking I'm almost there.
A few more pulls and I'm at the surface, a few breaths and a big smile and I'm super happy.
An amazing high when you get a white card and all the training is worth it!
David came second overall in this event – an awesome achievement!
You can see David here with Hussein the organiser and Harry Chamas – his coach and mentor
during the Dahab leg of the freediving competition circuit.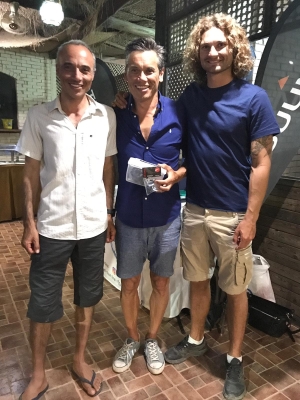 Next stop –  Singapore!
Read Part Thirteen, Now!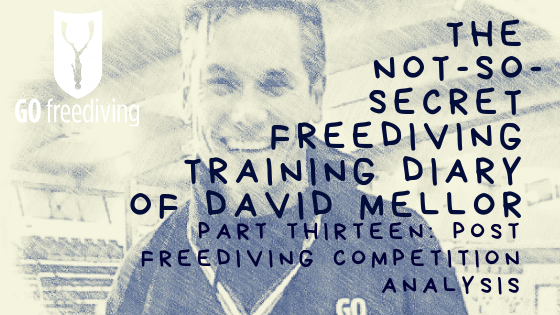 Missed David's previous blog? Check it out, here: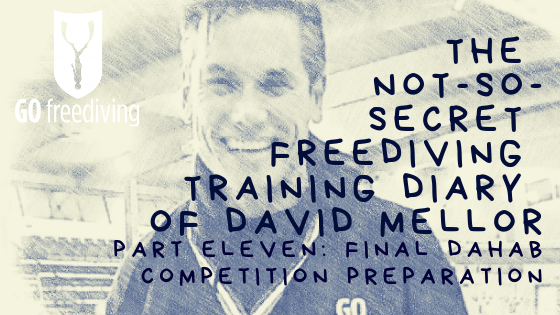 Learn to freedive with Go Freediving
Go Freediving is the longest established, most experienced and friendliest freediving course provider in the UK, led by world class freediving instructor trainer Emma Farrell, and her team of personally trained instructors. No other course provider has such a good instructor to student ratio, safety record and personal touch.
Whether you're a beginner dipping your toes into the world of freediving, a seasoned pro looking to turn professional, or simply a freediver of any level who wants the best freediving holiday in the world, we're here for you!
Also check out our online guide, The Beginners Guide to Freediving by clicking here!
Keep in touch with everything Freediving
Subscribe to our mailing list for weekly newsletters with exclusive articles, news, films, offers and more!
Competitions Countdown!
Abbreviations and Meanings
DYN – Dynamic
DNF – Dynamic No Fins
DYNB – Dynamic Bi-Fins
CWT – Constant Weight
CNF – Constant Weight No Fins
FIM – Free Immersion
STA – Static
CWTB – Constant Weight Bi-Fins
Qualifications
RAID Advanced Freediving Instructor
Results
2019
Mini Comp – Dahab – 52m BiFins
Dahab Championships – 2nd Place!
2018
2nd Place: Double Dip: 48  with mts fim, 36mts cnf and 46mtrs cwt in Sept
3rd Place: Nationals: 124mtrs dyn, 100mtrs dnf and 5.19 static.
3rd Place: Bristol Blue (Team Event)  135mtrs dyn and 5.48 static
Vostok cup: 50mtrs cwt, 50mtrs fim and 41mtrs cnf in Oct
Redccup: 60mtrs fim and 57mtrs cwt
Personal Bests and Achievements
2019
134m DYNB
*New PB!! 9th Feb '19*
118m DNF
*New PB!! 17th Feb '19*
2018
Male UK Freediving Champion 2018
135 DYN MONO
100 DNF
5.48 STA
60m FIM
57m CWT
41m CNF
Competitions
2019
UK Nationals –  Bristol – 9th – 10th March
Mini Comp -Dahab – 5th April
Dahab Championships – Dahab – 25th – 29th April
Philippines Diving Champs – Panglao – 18th – 19th May
Double Dip 2019 – Chepstow – 18th July 2019
World Championships – Nice – Sept
Infinity Depth Games – Cyprus – 13th – 20th Oct
More To Be Announced!
2018
UK Nationals – March 2018
Double Dip –  Chepstow – Sept 2018
Vostok Cup –  Kalamata – Oct 2018
RedCcup  – Egypt –  Oct 2018
Bristol Blue – Bristol – Oct 2018
Video Library
2018
January 2019
February 2019
March 2019
April 2019