David's second freediving competition of the year and it's 52 metres with bi-fins and a white card!
Welcome to the not-so-secret freediving training diary of David Mellor!
In David's last diary entry David talked about his training in Dahab and how he was enjoying finessing skills. This time we speak with David immediately following his first depth competition of 2019. He took part in the Blue Ocean Mini Comp on the 5th April and did a 52 constant weight with bi-fins dive and got a white card for a clean performance.
We caught up with David and he gave us his take on the two weeks of training in the run up to this competition and how his mental processes are changing. Check it out, and also the video of his competition dive!
Freediving competitions in Dahab – David's analysis of his training beforehand
So now reflecting after my two weeks coaching with Harry Chamas  I can see my mental approach is changing.
Before it was all about depth and numbers, a year and a half ago I made a decent jump from 50 metres to 60 metres in 10 days. Looking back I think I got lucky, I got there but I didn't really know how. My equalisation just seemed to work but I didn't know why, and also the dives weren't relaxing, there was no way I was going to get much deeper with what I was doing. The feeling of an un-relaxed dive was masked by the euphoria of achieving a depth PB and I never really analysed my form or my technique.
My thoughts were proven 3 months later because on another trip to Dahab. I struggled to get to 50 metres again because this time my equalisation didn't work but again I didn't understand why.
Working with Harry, depth goals were chucked out the window straight away and we started with technique, firstly arm pulls and turns with FIM and then Monofin and turns in CWT.
I did lots of repeated 30 metre dives in both disciplines until all of the new techniques were mastered, only then was the line dropped.
We then worked on mouthfill. Harry does a really good presentation all about mouthfill and his explanations alongside the presentation gave me a clear and precise understanding of the mechanics I needed to practice so it would enable me to go deeper.
I did dry practice with an Otovent and then into the water. Again, repeated dives to 30 metres until it started to feel more natural.
What I liked about Harry's coaching was his attention to small details. If I came up and said I swallowed my mouthfill we would then analyse what caused that. Too much pressure on the glottis was my usual mistake so then the next dive my focus would be on putting that right.
This has given me a greater understanding and self awareness so that now if a dive doesn't go to plan, I can self analyse and correct it on the next dive.
At the end of the two weeks with Harry I had dived to 52.5 metres. Not yet up to my 60 metre PB but well on the way.
Now I feel better equipped for deeper dives, I have a good foundation to build on, and the 52.5 metre dives feel so much better, more relaxed, something I feel I can repeat and be more consistent with.
The first mini freediving competitions in Dahab, was my chance to put into practice what I had learnt.
The Blue Ocean Mini Freediving Competition – what happened on the day
True to my new plan I only announced what I had done in training –  52 metres bi fins. I had done this dive two days before so I knew the only thing that could stop me was equalisation. My pool training during the winter was paying off, my strength and breath hold were easily good enough for this dive.
My pre-dive routine was some stretches, mainly chest and lung but I also did some leg ones as it was a bi-fin dive and then some dry equalisation practice. Then I rested and chilled for another 10 mins and then got my suit on ready for the water.
I now do a slow 20 metre dive as a warm up just to check equalisation and sinuses and just to feel relaxed underwater. I don't time my warm up dive, I go by feel. But once I surface I look at the dive time, if it's anything from 2.20 – 2.40 I'm happy, it gives me added confidence that I am feeling good for the dive.
As I was trying a new equalisation technique I then did a half breath dive and took mouthfill at 5 metres and was surprised to find myself at the bottom of the 30 metre warm up line. I was now confident all I had to do was do what I had been doing in training and I would get a white card.
The dive going down wasn't my smoothest but I reached the tag without any real problems, I did the new turn that Harry had shown me and off I went to the surface.
Finning up I was expecting to feel the lactic build up but my legs still felt fresh halfway back to the surface and my first contraction came but still I didn't have any lactic in my legs. All the gym work was now paying off. I had slight lactic by the time I got to 10 metres but I was still feeling good. I surfaced fresh and did my surface protocol and got my white card.
I was very happy overall. I still have lots more work to do but I'm happy with my progress. It's slow but I will be a much more solid diver with the new knowledge I have from Harry.
I can focus now more on equalisation as that is my barrier for now. I have another competition in 3 weeks so let's see how I progress in that time.
The good thing now is I will be training the right things in the right way so even if my progress is minimal it will be consistent.
David is now gearing up for the Dahab Championships 25th – 29th April. Tune in next week for part 11 of his freediving training diary to see what he's up to next!
Read Part Eleven, Now!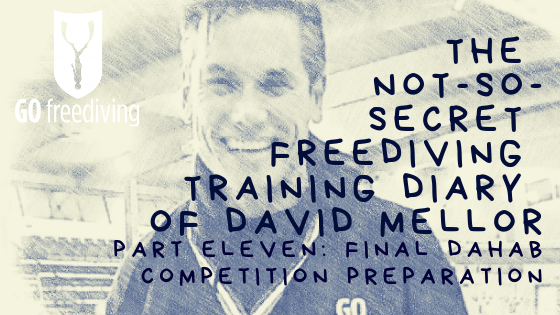 Missed David's previous blog? Check it out, here: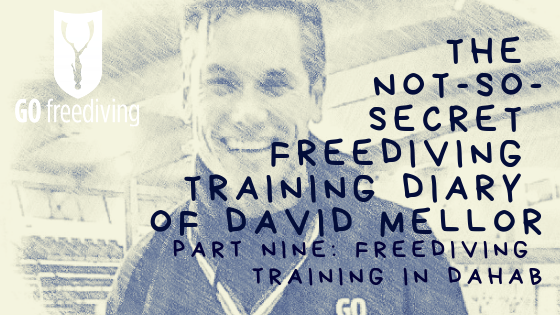 Learn to freedive with Go Freediving
Go Freediving is the longest established, most experienced and friendliest freediving course provider in the UK, led by world class freediving instructor trainer Emma Farrell, and her team of personally trained instructors. No other course provider has such a good instructor to student ratio, safety record and personal touch.
Whether you're a beginner dipping your toes into the world of freediving, a seasoned pro looking to turn professional, or simply a freediver of any level who wants the best freediving holiday in the world, we're here for you!
Also check out our online guide, The Beginners Guide to Freediving by clicking here!
Keep in touch with everything Freediving
Subscribe to our mailing list for weekly newsletters with exclusive articles, news, films, offers and more!
Competitions Countdown!
Personal Bests and Achievements
2019
134m DYNB
*New PB!! 9th Feb '19*
118m DNF
*New PB!! 17th Feb '19*
2018
Male UK Freediving Champion 2018
135 DYN MONO
100 DNF
5.48 STA
60m FIM
57m CWT
41m CNF
Results
2019
Mini Comp – Dahab – 52m BiFins
2018
2nd Place: Double Dip: 48  with mts fim, 36mts cnf and 46mtrs cwt in Sept
3rd Place: Nationals: 124mtrs dyn, 100mtrs dnf and 5.19 static.
3rd Place: Bristol Blue (Team Event)  135mtrs dyn and 5.48 static
Vostok cup: 50mtrs cwt, 50mtrs fim and 41mtrs cnf in Oct
Redccup: 60mtrs fim and 57mtrs cwt
Competitions
2019
UK Nationals –  Bristol – 9th – 10th March
Mini Comp -Dahab – 5th April
Dahab Championships – Dahab – 25th – 29th April
Philippines Diving Champs – Panglao – 18th – 19th May
Double Dip 2019 – Chepstow – 18th July 2019
World Championships – Nice – Sept
Infinity Depth Games – Cyprus – 13th – 20th Oct
More To Be Announced!
2018
UK Nationals – March 2018
Double Dip –  Chepstow – Sept 2018
Vostok Cup –  Kalamata – Oct 2018
RedCcup  – Egypt –  Oct 2018
Bristol Blue – Bristol – Oct 2018
Video Library
2018
January 2019
February 2019
March 2019
April 2019
Qualifications
RAID Advanced Freediving Instructor
Abbreviations and Meanings
DYN – Dynamic
DNF – Dynamic No Fins
DYNB – Dynamic Bi-Fins
CWT – Constant Weight
CNF – Constant Weight No Fins
FIM – Free Immersion
STA – Static
CWTB – Constant Weight Bi-Fins