Welcome to the not-so-secret freediving training diary of David Mellor!
Last time David talked about his training and exercise routine – and made us all exhausted in the process. This week we talk to David about his freediving diet and pre-competition preparation. We look at the food he eats, see more of his punishing gym routine and see him achieve ANOTHER PB in his latest pool session video! This man is on fire!
Diet
The food and drink that forms part of your freediving diet can have a massive effect on your freediving performance. It can impact your ability to equalise, your breath hold, and how quickly you recover from a freediving session. Even though there are general freediving diet rules that apply to most people, we are all individuals and even a food that promotes good health in most people may adversely affect you. So, as with all aspects of freediving, listen to your body, research your own health conditions and take advice from your doctor where applicable.
Find out what David eats and and why eggs don't feature much in his freediving diet! David also talks about how he prepares himself ahead of a competition.
If you've missed any of David's previous diary entries, catch up by clicking on his diary pages in the right hand column.
Emma: With the amount of training you are doing, what does your freediving diet look like? Are you upping the amount of food that you are eating?
David: I wouldn't say that I am upping food for my freediving diet, but I do have a really good breakfast every morning. I have Bircher muesli and I put cinnamon, honey, chia seeds, blueberries, grapes, nuts, spirulina sometimes, and cacao powder in it. So I put all that into my breakfast and on gym day I will have a protein shake with amino acids and creatine.

I have that in the morning and then I will have the same protein shake again after the workout.

I am trying to eat healthily, so quite often I have a nice salad with some couscous and a lot of green leaves and I also add some halloumi cheese to make it a bit nicer and I have that about 2 to 3 times a week.

I eat lots of fruit and veg and fish. I wouldn't say I am eating more food but if I feel have overworked myself I will take a couple of iron tablets.

I get a craving for a steak every now and then so I eat steak maybe once a week.

Chicken I eat quite a bit of but I rarely eat pork. Mainly I eat fish.

I will eat tinned sardines for ease, mackerel, salmon, tuna and herring. I like pickled herring as an easy snack.

I will take a B12 every now and again but not even every week only if I am feeling a bit tired and I feel I better watch myself.
Emma: So, as part of your freediving diet are you cutting down on alcohol?
David: I haven't touched any since New Year, I haven't had any alcohol whatsoever.

If I drink, even if I were to have two glasses of wine after dining tonight, it demotivates me to train. In the morning I am slightly jaded, not hungover or anything, but I like the feeling of not drinking at all.

I like it that when I hit the gym or the pool I am feeling great before I even start, and that's how I like it.

I have been going to bed no later than 11, I get up at half 6 for work. The stretches are a half hour routine, it takes me half an hour to stretch my back and get my back movements in and do the empty lungs stuff and equalization done.

I will probably increase that after I retire. (David is taking early retirement in March 2019).
Typical Breakfast:
Gluten free Bircher muesli with honey, blueberries, black grapes,
chia seeds, cacao, 85% dark choc, cinnamon, mixed nuts,
raspberries and hazelnut milk. Protein shake with amino acids,
creatine, beetroot juice and coconut water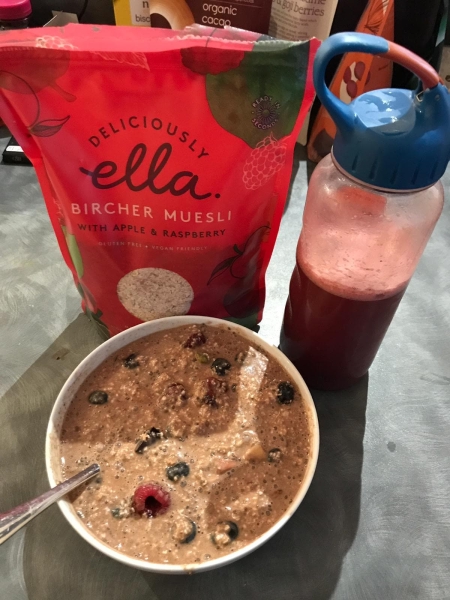 Emma: Do you feel like you are getting enough sleep? Do you fall asleep easily? Do you feel like you are getting your 7 and a half hours?
David: I would say I am getting 7 and a half hours, If I go to bed at 11 and I am asleep by half past. There are very few nights that I don't sleep. The few nights that I don't I put it down to something I ate. When you eat clean you feel the effects of things more, so if I eat some MSG or something like that, I will definitely feel that whereas before I wouldn't have done.
Typical Lunch:
Rib eye steak with mixed salad,
grilled tomato and chips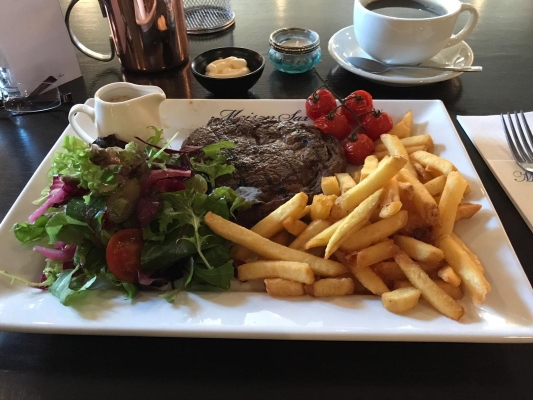 Emma: Does your freediving diet include any caffeine – coffee or tea?
David:  I just had a decaf coffee a minute ago, on a gym day I will have a coffee with caffeine but on a training water day I don't have caffeine in coffee. So I maybe have 3 cups of coffee a week which is nothing really. I don't drink any fizzy drinks or anything like that, I will rather have smoothies or coconut water.
Emma: How are you going to manage your freediving diet when you are away for so long?
David: In Dahab, there are lots of restaurants you can go to, you've just got to be careful which ones you go to. Obviously, it's a slightly different diet but all the other freedivers out there they all eat regularly in good places.  I am not into vegan food but sometimes it feels good in my stomach.
Typical Dinner:
Decaf americano grilled halloumi,
red cabbage, kale, carrot, quinoa,
grapes, chick peas and tomatoes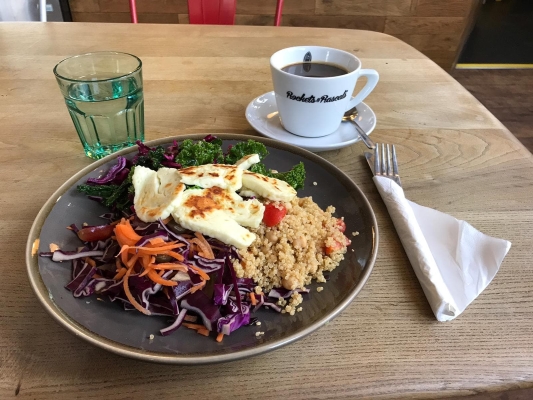 Emma: Do you eat eggs?
David: Sometimes, I don't go out of my way to eat eggs as part of my freediving diet, mostly because they bind me up a bit and with diving, I definitely have to empty my bowels before I dive. If I don't there is just no way I am able to hold my breath for very long I have to go because holding my breath brings that urge on stronger. 
Pre-Comp Preparation
Emma: So you say your freediving diet will be alright when you get out and you say there is a gym in Dahab and there are some weights at Mike's place in Indonesia so you can continue some of your gym stuff. So in terms of pre-competition prep what do you do?
David: I will do some back stretches and obviously some lung stretches, some mouthful practice dry and keep an eye on the clock so that when I reach official time I am all ready. My usual warm-up used to be a hang, if I do 2 minutes 45 in my head I am happy because then I know my breath hold for the upcoming dive is good. If I do a hang for about 2 minutes then that means something is not right. So I will do another one. I used to do a 15 metre hang but now what I am doing is a 20 metre slow dive, slow pull-down and slow up making it last like 2 and a half minutes but getting me used to being underwater for longer and getting me used to equalisation and everything.
Emma: Do you do those pulldowns and hangs using the mouthful or just normal Frenzel?
David: I do normal Frenzel because after that I will do an FRC dive with mouthful with freefall and then that is all I do.
Emma: For depth where do you normally have your neutral buoyancy?
David: Well 10 metres at the moment but as I am starting to dive deeper I may have to change that to maybe 15 metres. At the moment the depths I am diving to it is fine, especially no fins, because no fins, if you took your neutral buoyancy deeper it's really hard so by the time you hit freefall you are already like 15 or 18 metres and it doesn't give you much time to relax because you want everything slowed down a bit and then when you take a mouthful you haven't got all this body trying to relax or swallow or get a contraction or something so I need to deal with that as it happens.

This is the thing about mouth fill and either sequential or reverse packing when you equalise because I have realised that with reverse packing I can do it quite a long way after residual volume so when I blow out everything I've got I can reverse pack for quite a while after so that makes it easy in some ways if you doing no fins because you can swallow you are not trying to hold a mouth fill then you can just pull up some air and then equalise or Frenzel with it. These are things I am going to be working on when I get to Dahab, working out which is the best way for me to equalise. Because in Dahab, mouth-fill is easier because of the nice warm water without any thermoclines, but that won't necessarily work in Nice where you hit a thermocline and suddenly you got the urge to swallow and your mouth fill is gone. I will say as well though with reverse packing is that you risk lung squeezes and other injuries so all of these things are what I am going to work on when I get with Harry.
As well as focusing on his freediving diet and pre-competition preparation, it's easy to forget David is still getting punished in the gym. Check out his latest video! In the pool he completed  5 x 50mtr bifin sprints with 1 min rest in between twice through with 75mtr sprint on the last one (no video of this as there were only two of them at the session).
From David:
I'm really happy to have achieved another DNF Pb but importantly I wanted to talk about the two letters PB.

Whenever I go for a new "PB", I never call it that, I call it a long swim,.. with no end target. My previous PB was 109mtrs but that wasn't in my mind before the dive, my preparation is just to concentrate on the process of the dive.

I know 75mtrs is easyish for me so I tell myself I am going to do 75mtrs and a turn and then see how I feel. When I do the turn I just think about how my body feels and not the 100mtrs mark, this gets rid of any pressure that I would put on myself before I start the dive, and so once I reach the 100mtrs I still feel ok so I do another turn and again just concentrate on how my body feels.

In essence I have broken the dive down into achievable parts without ever thinking about the end result. I remember getting contractions at 50mtrs, if I had allowed myself to think, damn, this is hard and I'm not even half way there yet, I would have easily given up but instead I thought about staying in the present, seeing how I feel at that moment then doing the turn and seeing where it takes me.

We saw this work from previous weeks where some of the other guys would fail on PB attempts because of the pressure built up before the dive and then achieve new PBs the following week just by changing the way they look at the dive.

The PB at the end is so much more achievable if you just follow the process.
And he was right! Check out his latest video!
Read Part Seven, Now!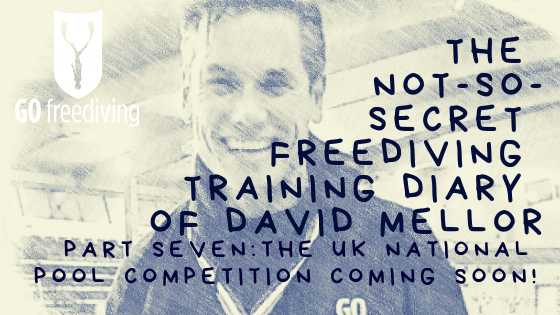 Missed David's previous blog? Check it out, here: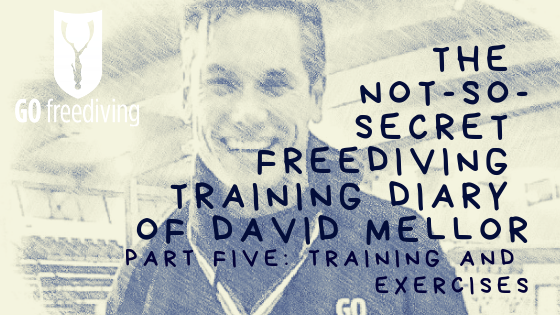 Learn to freedive with Go Freediving
Go Freediving is the longest established, most experienced and friendliest freediving course provider in the UK, led by world class freediving instructor trainer Emma Farrell, and her team of personally trained instructors. No other course provider has such a good instructor to student ratio, safety record and personal touch.
Whether you're a beginner dipping your toes into the world of freediving, a seasoned pro looking to turn professional, or simply a freediver of any level who wants the best freediving holiday in the world, we're here for you!
Also check out our online guide, The Beginners Guide to Freediving by clicking here!
Keep in touch with everything Freediving
Subscribe to our mailing list for weekly newsletters with exclusive articles, news, films, offers and more!
Competitions Countdown!
Personal Bests and Achievements
2019
134m DYNB
*New PB!! 9th Feb '19*
118m DNF
*New PB!! 17th Feb '19*
2018
Male UK Freediving Champion 2018
135 DYN MONO
100 DNF
5.48 STA
60m FIM
57m CWT
41m CNF
Results
2018
2nd Place: Double Dip: 48  with mts fim, 36mts cnf and 46mtrs cwt in Sept
3rd Place: Nationals: 124mtrs dyn, 100mtrs dnf and 5.19 static.
3rd Place: Bristol Blue (Team Event)  135mtrs dyn and 5.48 static
Vostok cup: 50mtrs cwt, 50mtrs fim and 41mtrs cnf in Oct
Redccup: 60mtrs fim and 57mtrs cwt
2019
To be announced!
Competitions
2019
New Dates Announced!
UK Nationals –  Bristol – 9th – 10th March
Mini Comp -Dahab – 5th April
Dahab Championships – Dahab – 25th – 29th April
Philippines Diving Champs – Panglao – 18th – 19th May
Double Dip 2019 – Chepstow – 18th July 2019
World Championships – Nice – Sept
Infinity Depth Games – Cyprus – 13th – 20th Oct
More To Be Announced!
2018
UK Nationals – March 2018
Double Dip –  Chepstow – Sept 2018
Vostok Cup –  Kalamata – Oct 2018
RedCcup  – Egypt –  Oct 2018
Bristol Blue – Bristol – Oct 2018
Video Library
2018
January 2019
February 2019
Qualifications
RAID Advanced Freediving Instructor
Abbreviations and Meanings
DYN – Dynamic
DNF – Dynamic No Fins
DYNB – Dynamic Bi-Fins
CWT – Constant Weight
CNF – Constant Weight No Fins
FIM – Free Immersion
STA – Static
CWTB – Constant Weight Bi-Fins