Welcome to the not-so-secret freediving training diary of David Mellor!
Last time, we introduced our freediving training diary, which will be following David Mellor as he trains for the 2019 freediving competition season.
This time, we find out what he is doing right now, and what he hopes to achieve this year.
Emma: So, David, I can see from your video that you have a personal trainer! Tell me a bit about him
David Mellor: His name is Ricardas Mondola and he is Lithuanian, I believe. I started training with him at the start of the year. He drives me really hard! I come out of there absolutely knackered! It's really good! But it takes me days to recover! Before, I was going the the gym, but not really knowing what I was doing, so I told him what I do and I showed him a couple of videos of me freediving and told him I have a bit of a problem with flexibility and I just need to know that I am making the muscles I need to use, stronger.

He came back almost straight away with a plan, and he varies the training every week. I can really feel that some of them are good for flexibility, so I know he is not just working on strength, he is working on my flexibility and core as well.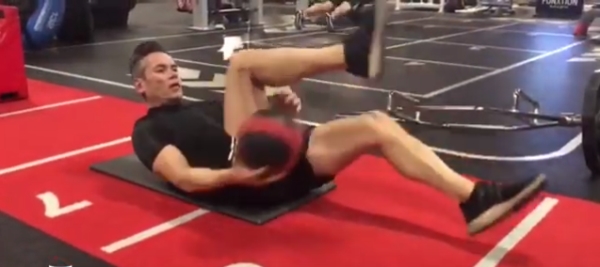 Emma: Brilliant! So, how often do you go to the gym and how often do you have a session with him?
David Mellor: I have a session with Ricardas on a Tuesday, and then whenever possible, I have the pool club session on a Wednesday. I was also going to the gym on a Thursday to work on what Ricardas had shown me, but that session isn't as hard as when Ricardas is there. Then I train in the pool again on Friday and do a park run on Saturday morning. I've also been doing Sunday pool sessions for the last two weeks and then I rest on the Monday. But I feel like it's been too much really. So what I do now is stretch on Thursdays instead of more hard gym work. I am conscious that the pool competition is on the 9th and 10th of March and then I'm off to Dahab on the 14th March, so I am still preparing myself for that by doing stretches and I also do equalisation training as soon as I get up.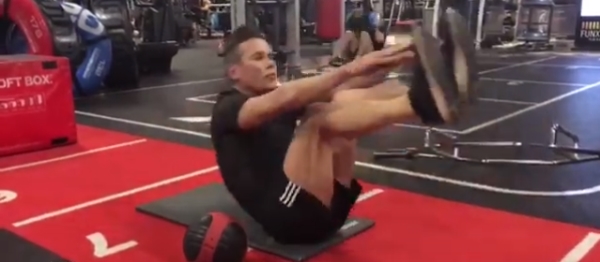 Check out David being put through his paces, in this video!
Emma: What equalisation training are you doing?
David Mellor: Every morning when I wake up, I lie on the bed and empty my lungs out and then reverse pack about 7 times and then I take a mouthfill and then I just lie there doing sequential mouthfills.

When I get to Dahab I am going to be training with Harry Chamas for a week. He's the British variable weight record holder and is based out there. So, I'll be doing some training with him first and then more depth training while I'm out there.
Emma: Awesome! How long are you going to be out in Dahab for?
David: I going to be out there for six weeks, and I've just found out there is a mini competition in April.

So, I get to Dahab on the 14th March, then I've got a week's coaching with Harry and then I'll continue training. Then I want to enter this mini competition on the 5th April and then there is another, bigger competition on the 30th April.

So, the reason I wanted to go to Dahab is to do a competition so that I can get my AIDA points higher because I wanted to qualify for the World Championships. However I've had an email saying they are picking the British team at the end of March which is annoying, because that doesn't give me a chance to get enough competition points in time. By the time the World Championships come around in September, I expect to be in really good form so it would be a shame to miss out.
Emma: What plans do you have after Dahab?
David Mellor: Well, once I finish in Dahab, I am back for one day and then I'm off to Bali for three weeks! I wanted to get a flight from Dahab to Bali, but the flights were longer, more expensive and more hassle, so it was easier to come home first! So I am actually coming back to the UK, staying in a hotel at Heathrow before I catch my flight out to Bali the next day! So, I should be in Bali on the 1st May.
Emma: What are you going to be doing in Bali?
David Mellor: I had planned to train with Mike Board  for three weeks, but I've just found out it is Deep Week the first week I am there, which is mental! So I thought, well if I've been training hard and competing in two competitions in April, I might do some recreational diving around the Liberty wreck and I might do a bit of spear fishing with Akim for the first week and then I'll train with Mike for two weeks, where I might pick up some good tips for competitions. And this was all planned to try and qualify for the World Championships. But if I don't make it – because there are people ahead of me from last year – then all the points I am earning this year will go towards next year. So, hopefully it will happen next year if it doesn't happen this year. I want to qualify, and I'll be super disappointed if I don't, but it is not the be all and end of it for me.
Did you know David is also an accomplished tightrope walker? Check out what he got up to on his last trip to Bali:
Emma: So how are you going to keep up your gym training while you're travelling?
David Mellor: Well there is a gym in Dahab I can use, and when I am with Harry I will go through rest days, water days and all that, to make sure it is all structured. Because that is something I've realised. You work hard training up to a competition and then you go and all of your routine changes and all you are doing really, is diving. Some days you'll literally do a warm up dive, your dive and then you're back out of the water, and that is nowhere near the type of workout I'm putting in in the gym. So I think it is something really important to think about especially when I am travelling the length of time I will be.
Emma: So what are your immediate goals ahead of your departure for Dahab?
David Mellor: In my mind, with all this training, and without putting too much pressure on myself I want to improve my PBs in all six disciplines, so I would be kind of disappointed if I didn't. We're training later today and I am going to try Dynamic with bi-fins out of curiosity because I never have. And, because it is a new discipline for both depth and pool I may even do it in the competition.

Depending how I get on this afternoon, I might switch from dynamic with a monofin to dynamic with bi fins. As it is a new discipline I might even be able to get the first British record in it. I were to do it, I'd like to get a credible record. I don't want to just do 100 because the next person is going to come along and beat it straight away. If I can do 125+ then that would be good. I'm going to see how it goes in the pool. If I can do 100 and a turn then I might stick with it. For me, with my flexibility, the monofin is hard, so I have to relax which means my streamlining goes – but I get by because I am strong and have a decent breath hold. So if I change to dynamic with bi-fins, I think people wouldn't have a big advantage over me, as it's pretty relaxing for me, so I'm going to see how that goes later.
Read Part Three, Now!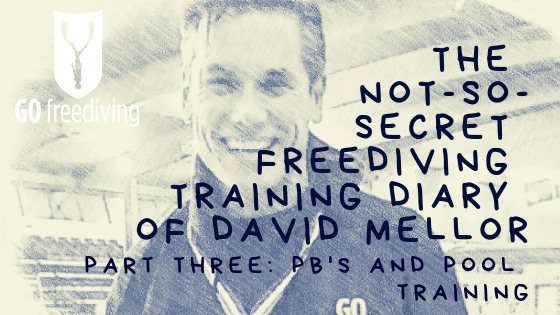 Learn to freedive with Go Freediving
Go Freediving is the longest established, most experienced and friendliest freediving course provider in the UK, led by world class freediving instructor trainer Emma Farrell, and her team of personally trained instructors. No other course provider has such a good instructor to student ratio, safety record and personal touch.
Whether you're a beginner dipping your toes into the world of freediving, a seasoned pro looking to turn professional, or simply a freediver of any level who wants the best freediving holiday in the world, we're here for you!
Also check out our online guide, The Beginners Guide to Freediving by clicking here!
Keep in touch with everything Freediving
Subscribe to our mailing list for weekly newsletters with exclusive articles, news, films, offers and more!
Competitions
2018
UK Nationals – March 2018
Double Dip –  Chepstow – Sept 2018
Vostok Cup –  Kalamata – Oct 2018
RedCcup  – Egypt –  Oct 2018
Bristol Blue – Bristol – Oct 2018
2019
Double Dip 2019 – 18.07.2019
More To Be Announced!
Results
2018
2nd Place: Double Dip: 48  with mts fim, 36mts cnf and 46mtrs cwt in Sept
3rd Place: Nationals: 124mtrs dyn, 100mtrs dnf and 5.19 static.
3rd Place: Bristol Blue (Team Event)  135mtrs dyn and 5.48 static
Vostok cup: 50mtrs cwt, 50mtrs fim and 41mtrs cnf in Oct
Redccup: 60mtrs fim and 57mtrs cwt
2019
To be announced!
Personal Bests and Achievements
2018
Male UK Freediving Champion 2018
135 DYN MONO
100 DNF
5.48 STA
60m FIM
57m CWT
41m CNF
2019
Video Library
2018
January 2019
Qualifications
RAID Advanced Freediving Instructor
Abbreviations and Meanings
DYN – Dynamic
DNF – Dynamic No Fins
CWT – Constant Weight
CNF – Constant Weight No Fins
FIM – Free Immersion
STA – Static