A post freediving competition analysis from David.
Welcome to the not-so-secret freediving training diary of David Mellor!
In David's last diary entry David talked about the highs and lows of the recent Dahab Championships. David has now had some time to reflect on his performance and analyse what he did right and what he did wrong. Read his post freediving competition analysis here.
My Post Freediving Competition Analysis – by David
My Post Freediving Competition Analysis is that I was  pleased with the overall result and how my training went in general.
Freediving Competition Analysis – Health
I was there for six weeks and never got sick once or tired. I put that down to good eating, eating more meat, and also the vitamin supplements I was taking.
Freediving Competition Analysis – Constant Weight (CWT)
Regarding the competition dives I learnt a few more things too.
I had been stuck at 55 metres because of equalisation but two days before the competition I worked something out and was able to equalise deeper.
I did 2 x 65 metres FIM dives and one was just a day before the competition. The dives felt amazing and I know if the line was set deeper I would have kept going.
I decided to stick to my new plan and only announce what I had done in training. As it was a CWT dive that meant 55 metres with a monofin.
I got a white card and I was in full control of the dive and even had more air to equalise with if I had gone deeper.
I was thrilled with my white card. It's such an amazing feeling when that happens and makes all the training worthwhile.
I finished the day feeling really happy knowing that 55 metres was now a really comfy dive for me.
Freediving Competition Analysis – Static (STA)
The second discipline was static.
This is not my favourite and the fact that it was in the sea made it worse as I had never done a proper static in the sea before.
I announced a really short time hoping that would mean I would go first as normally that's what happens in pool comps.
Well it backfired and actually it worked out that I would be last!
My static preparation takes 45 mins usually so I got to the event in good time. What I didn't realise was it was being held from a beach bar and by the time I got there most of the seats had gone along with all the shaded areas so it made my preparation difficult.
Anyway I did what I could and managed 5.05.
I was a little disappointed as I was hoping for nearer 6 mins but it was still a white card in an environment that didn't suit me so I wasn't too hard on myself.
The simple lesson I learnt from that was DON'T DO STATIC Haha!
Freediving Competition Analysis – Free Immersion (FIM)
For the third and final discipline I did FIM.
I slightly broke my new rule by announcing 66 metres -my training dives felt so easy at 65 metres so I was certain I would do it.
My warm up dive went well, I had put my arm around the line on decent so I wouldn't drift from the line, I felt good so I decided to do that on my main dive.
Anyway as previously explained on my main dive it messed up my free-fall and made the whole dive very unenjoyable.
I couldn't relax, I swallowed my mouthfill twice – but still managed to get to 64 metres.
The only positive thing I got from the dive was the fact that even though I desperately wanted a white card in the competition and I could almost reach the tag, I turned. It really wasn't worth risking an injury that would stop my progress in my training for other competitions.
I got a yellow card and wasn't happy, you don't get the euphoria with a yellow but it was still points on the board.
After thinking for a while I consoled myself by saying I was only 1 metre away from my PB on a dive that was just messy and horrible so I know it's just a matter of time before I can beat it.
I did realise a fault in my strategy for this announcement though. My two 65 metres training dives were almost faultless by my standards, they couldn't have gone any better and I got carried away thinking I would soon be doing 70 metres.
Yes maybe I could if everything went like a dream again but of course it never does.
In my announcement I never left enough room for error, especially as it was a competition.
If I had announced 64 metres I would have got a white card, forgot how shitty the dive felt and been super happy with 3 white cards. Again, another lesson learnt for future competitions.
You learn much more from your failures so gaining these experiences is going to make me a better freediver.
With just a week to go until his next competition, David is already in Bali preparing for the Philippines Depth Competition.
I'm now in Bali preparing for the Philippines depth competition.
Check out the difference in my flexibility in just four weeks!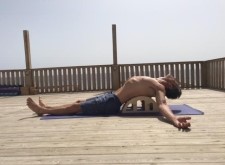 I've decided to do a CNF dive as in warm water and a 2mm wetsuit it will be my best chance to set a PB.
I will also do a FIM dive as it's the best discipline to practice mouthfill
We wish David the very best of luck, and will keep you posted with his progress in our next blog!
Catch up with David's progress in our next blog, coming soon!
Missed David's last blog? Catch up with everything, here:
Learn to freedive with Go Freediving
Go Freediving is the longest established, most experienced and friendliest freediving course provider in the UK, led by world class freediving instructor trainer Emma Farrell, and her team of personally trained instructors. No other course provider has such a good instructor to student ratio, safety record and personal touch.
Whether you're a beginner dipping your toes into the world of freediving, a seasoned pro looking to turn professional, or simply a freediver of any level who wants the best freediving holiday in the world, we're here for you!
Also check out our online guide, The Beginners Guide to Freediving by clicking here!
Keep in touch with everything Freediving
Subscribe to our mailing list for weekly newsletters with exclusive articles, news, films, offers and more!
Competitions Countdown!
Abbreviations and Meanings
DYN – Dynamic
DNF – Dynamic No Fins
DYNB – Dynamic Bi-Fins
CWT – Constant Weight
CNF – Constant Weight No Fins
FIM – Free Immersion
STA – Static
CWTB – Constant Weight Bi-Fins
Qualifications
RAID Advanced Freediving Instructor
Results
2019
Mini Comp – Dahab – 52m BiFins
Dahab Championships – 2nd Place!
2018
2nd Place: Double Dip: 48  with mts fim, 36mts cnf and 46mtrs cwt in Sept
3rd Place: Nationals: 124mtrs dyn, 100mtrs dnf and 5.19 static.
3rd Place: Bristol Blue (Team Event)  135mtrs dyn and 5.48 static
Vostok cup: 50mtrs cwt, 50mtrs fim and 41mtrs cnf in Oct
Redccup: 60mtrs fim and 57mtrs cwt
Personal Bests and Achievements
2019
134m DYNB
*New PB!! 9th Feb '19*
118m DNF
*New PB!! 17th Feb '19*
2018
Male UK Freediving Champion 2018
135 DYN MONO
100 DNF
5.48 STA
60m FIM
57m CWT
41m CNF
Competitions
2019
UK Nationals –  Bristol – 9th – 10th March
Mini Comp -Dahab – 5th April
Dahab Championships – Dahab – 25th – 29th April
Philippines Diving Champs – Panglao – 18th – 19th May
Double Dip 2019 – Chepstow – 18th July 2019
World Championships – Nice – Sept
Infinity Depth Games – Cyprus – 13th – 20th Oct
More To Be Announced!
2018
UK Nationals – March 2018
Double Dip –  Chepstow – Sept 2018
Vostok Cup –  Kalamata – Oct 2018
RedCcup  – Egypt –  Oct 2018
Bristol Blue – Bristol – Oct 2018
Video Library
2018
January 2019
February 2019
March 2019
April 2019