Welcome to the not-so-secret freediving training diary of David Mellor!
Last time David talked about his pool training, achieving personal bests and why it is important to surround yourself with focused, motivated people when training.  This week we follow David as he works through Dynamic Training in the pool.
If you've missed any of David's previous diary entries, catch up by clicking on his diary pages in the right hand column.
Watch David's latest gym training video where he is left a 'crumpled mess'!
If you've been following David's gym training videos and feeling exhausted just watching them, then check this out as he is finally broken by his personal trainer. saying that, his hair is still perfect…
"…So, I have just finished a workout with Ricardas..Oh, man, that was the hardest session I have done. I was going to do some apnea walking but he's finished me off! And now he has gone to another client and left me in a crumpled mess! Recovery time now!.."
Watch David talk about his freediving dynamic training drills.
After his pbs last week and his gym session on Tuesday that left him a 'crumpled mess', this week David's plans to do 50m dynamic training sprints had to be put on hold and instead he's doing a more 'relaxed' 50m dynamic training table in the pool. It's great that he is recognising the risks of overtraining, and pulling back so as not to overdo it.
"…Ok, here we are at the Dolphin for our Friday night training session. The other guys are relaxing.
The dynamic training drill tonight was going to be the 5 x 50 through sprints, but my legs are still really aching, so I am going to do 8 x 50 but slower. I am going to attempt a 45 second break. I haven't done this before with bi-fins so this is new, so I'm going to see how that goes. And the other guys I'm not sure. I think Liz wants to go for near max, so we'll see what happens.
Ok. Bye!.."
Watch as David  performs 50m x 8 with a 45 second rest period and a final of 75 m in his latest dynamic training drill
This video just covers the first three x 50m buddied by Seb, and you can see how relaxed he is. This video also shows how important it is to have a good buddy. Not only is Seb looking after him during the swim, but also taking care of the 45 second rest periods between swims.
After this pool session, David was back in the water on Sunday night, this time training DNF (dynamic no fins).
He did 5 x 50m DNF with one minute rest in between each one and 60m on the fifth 50m.
Stay tuned for his next diary entry!
Read Part Five, Now!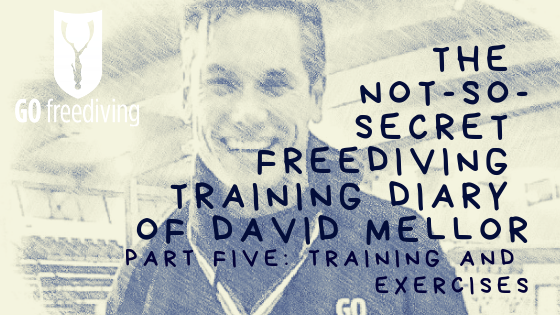 Learn to freedive with Go Freediving
Go Freediving is the longest established, most experienced and friendliest freediving course provider in the UK, led by world class freediving instructor trainer Emma Farrell, and her team of personally trained instructors. No other course provider has such a good instructor to student ratio, safety record and personal touch.
Whether you're a beginner dipping your toes into the world of freediving, a seasoned pro looking to turn professional, or simply a freediver of any level who wants the best freediving holiday in the world, we're here for you!
Also check out our online guide, The Beginners Guide to Freediving by clicking here!
Keep in touch with everything Freediving
Subscribe to our mailing list for weekly newsletters with exclusive articles, news, films, offers and more!
Competitions Countdown!
Personal Bests and Achievements
2018
Male UK Freediving Champion 2018
135 DYN MONO
100 DNF
5.48 STA
60m FIM
57m CWT
41m CNF
2019
125m DYNB
*New PB!! 22nd Jan '19*
109m DNF
*New PB!! 27th Jan '19*
Results
2018
2nd Place: Double Dip: 48  with mts fim, 36mts cnf and 46mtrs cwt in Sept
3rd Place: Nationals: 124mtrs dyn, 100mtrs dnf and 5.19 static.
3rd Place: Bristol Blue (Team Event)  135mtrs dyn and 5.48 static
Vostok cup: 50mtrs cwt, 50mtrs fim and 41mtrs cnf in Oct
Redccup: 60mtrs fim and 57mtrs cwt
2019
To be announced!
Competitions
2019
New Dates Announced!
UK Nationals –  Bristol – 9th – 10th March
Mini Comp -Dahab – 5th April
Dahab Championships – Dahab – 25th – 29th April
Philippines Diving Champs – Panglao – 18th – 19th May
Double Dip 2019 – Chepstow – 18th July 2019
World Championships – Nice – Sept
Infinity Depth Games – Cyprus – 13th – 20th Oct
More To Be Announced!
2018
UK Nationals – March 2018
Double Dip –  Chepstow – Sept 2018
Vostok Cup –  Kalamata – Oct 2018
RedCcup  – Egypt –  Oct 2018
Bristol Blue – Bristol – Oct 2018
Video Library
2018
January 2019
Qualifications
RAID Advanced Freediving Instructor
Abbreviations and Meanings
DYN – Dynamic
DNF – Dynamic No Fins
DYNB – Dynamic Bi-Fins
CWT – Constant Weight
CNF – Constant Weight No Fins
FIM – Free Immersion
STA – Static
CWTB – Constant Weight Bi-Fins