We recently had the pleasure of introducing Foxy and Aldo to the amazing world of freediving! Check out the video below!
If you don't know who Foxy and Aldo are, then here is a quick intro:
Jason 'Foxy' Fox
Jason Fox is a former Royal Marine Commando, Special Forces Sergeant and now TV presenter and author.
Foxy is ex-Special Forces, serving with the Special Boat Service (SBS). Jason has been involved in operations including hostage rescue, counter terrorism, counter insurgency, maritime counter terrorism, surveillance, body guarding and counter narcotic missions.
Foxy also trained as a combat swimmer, demolitions expert, Special Forces dog handler and jungle survival expert.
Foxy is best known for his role in  Channel 4's hit series SAS: Who Dares Wins and the ground-breaking series he was involved in with Aldo called Meet The Drug Lords: Inside the Real Narcos, hailed as one of Channel 4's flagship shows.  Jason has since leapt to the forefront of documentary film making & presenting. He is also an author (Battle Scars and Life Under Fire) , in demand in the corporate world, and is actively involved in charity work too.  He is co-founder of charity Rock 2 Recovery, which helps preserve lives of distressed servicemen, veterans and their families, and an ambassador for Veterans 4 Wildlife for the prevention of wildlife crime and an Osprey Ambassador. He also hosts his popular podcast – The Book of Man
Aldo  Kane
Aldo Kane is a former Royal Marine Commando Sniper and now extreme locations adventurer and presenter.
Aldo joined the Royal Marine Commandos aged 16 and became one of the youngest Snipers in the UK armed forces. He spent ten years operating around the globe in all environments, including war in the Middle East.
Best known now as a  TV Adventurer, author and world record holder, Aldo has over 20 years experience working in some of the most extreme, remote and inhospitable places on the planet.
If you have watched any adventure TV in the last ten years, then it is likely you have seen his work, either behind or in front of the camera working with Hollywood A listers. Aldo has regularly appears on-screen for the Discovery Channel, BBC, Nat Geo, Channel 4, ITV and Channel 5, to name but a few, with programmes such as Expedition with Steve Backshall, First Man Out with Ed Stafford, 2 x BBC Horizon films, Fifth Gear (Channel 5), Down The Mighty River with Steve Backshall (BBC2), Steve Backshall Extreme Mountain Challenge (BBC2), The Real Narcos with Jason Fox (Channel 4), Our Guy in China (Channel 4), Jungle Volcano (BBC2) Driven To Extremes (Discovery) and One Strange Rock (Nat Geo). Aldo has also presented Drones – Britain's Next Air Disaster? on BBC Two.
Who are 'Foxy and Aldo' – the team?
Foxy and Aldo served in the Royal Marines, living and working through everything imaginable (and unimaginable) together. This background and friendship was the perfect combination for compelling viewing on TV and they quickly became the household names they are today. Their fans have followed their adventures through storms in the atlantic,
trips to South Africa with charity Veterans for Wildlife, and  worked together on the Channel 4 documentary series about South American drug cartels.
You can also hear more about their adventures on Jason Fox's podcast 'Wild Tales' in Book of Man
They have even entered the record books after being part of  the fastest crew to row the longest route across the Atlantic Ocean – despite capsizing three times. They have rowed into the record books by becoming the first team to row unsupported, crossing the Atlantic Ocean from east to west, non-stop from mainland to mainland. And they have also become the first crew to row non-stop and unsupported across the Atlantic from mainland Europe to South America.
So, Why Did Foxy and Aldo Want to Learn To Freedive?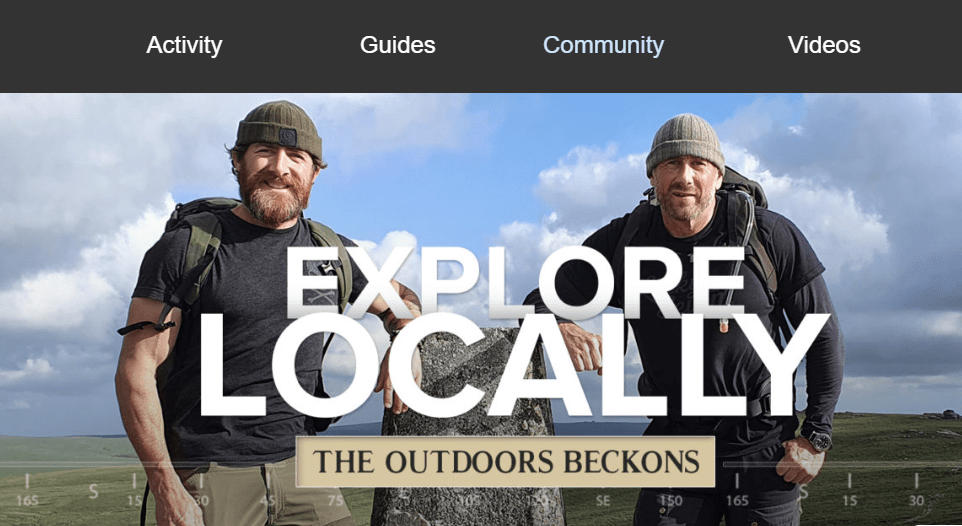 As part of a desire to remind people what is available on their doorsteps, Osprey Ambassadors Foxy and Aldo, explored their local area in a three day action filled adventure around Devon and Somerset.
Aldo said:
"With lockdown coming to an end and a desire to get back outside, Foxy and I both decided to have an action packed local adventure, taking on as many activities as we could on each day. The key points were to do it responsibly, be outside for as much of it as possible and to show just how much there is to do in your local area.

When I started to research what was possible in the UK within 100 miles I was blown away. It reminded me of all the things we did when we were kids and brought back the flame of adventure after lockdown had snuffed it out. Both Jason and I spent many months of the year seeking out adventure in far flung places but who knew that 2020 would be the year that we would start to explore what was right under our own nose, to explore locally."
Foxy and Aldo Learn to Freedive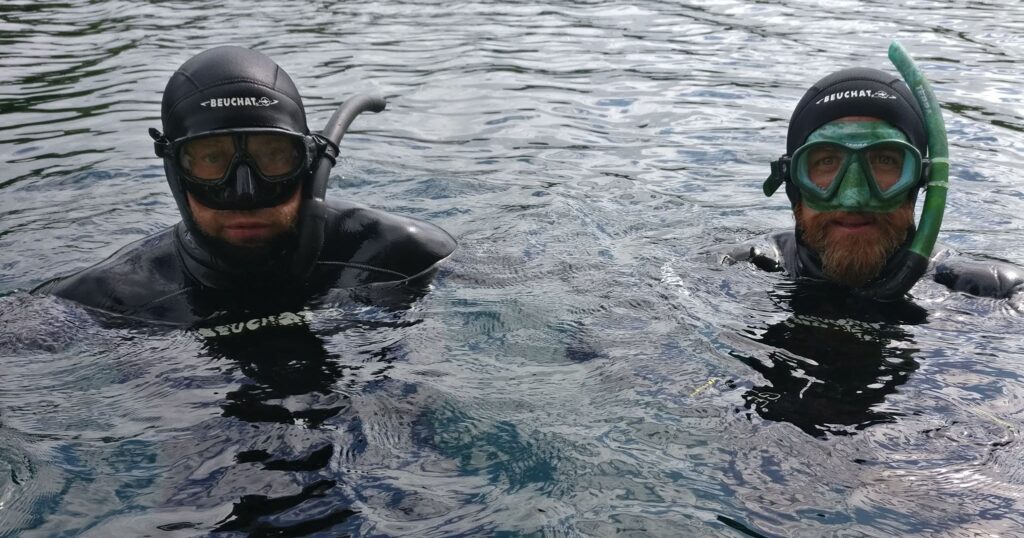 I first met Aldo in London when I attended an incredible talk he did about his career in the military and TV, and so when he contacted me to ask if I could give him and Foxy a freediving lesson, I jumped at the chance to see what they could do in the water. I've taught many current and former military personnel over the years and they are always fantastic to teach as they listen intently and then (generally) do exactly what they've been told.
Vobster had also just opened back up after lockdown so it was a fantastic opportunity to get back into the water after an unexpected break. The water was 19 degrees on the surface, with fantastic visibility – we could easily see the top of the plane from the surface – and we practically had the whole site to ourselves (autograph and selfie hunters aside)…
We started out of the water for a recap on the most important skills for freedivers – correct breathing and equalisation. Before you teach anyone how to hold their breath, you always need to see if they know how to breathe properly in the first place which often comes as a bit of a surprise. After checking Foxy and Aldo for relaxed abdominal breathing, I moved on to teaching them how to maximise the oxygen available to them on a dive by taking the biggest breath their lungs and flexibility would allow. You can see in the film I made, just how much air they could get in. Then it was time to teach correct recovery breathing – a counter-intuitive breathing practice but one that can mean the difference between a clean dive and a black out.
After teaching Foxy and Aldo how to breathe for freediving, we moved onto equalisation skills. The two of them are extremely experienced scuba and rebreather divers, but it's easier to equalise if you have a never ending amount of air, and more time to equalise, as well as often descending feet first or only at a slight angle. With freediving, the amount of air you have to equalise gets smaller the deeper you get (you've lost half the volume by ten metres), and it's also more difficult to equalise head first and at speed. I taught Foxy and Aldo the Frenzel equalisation technique  and Aldo even managed to accessorise his Frenzeling with an impressive ear wiggle.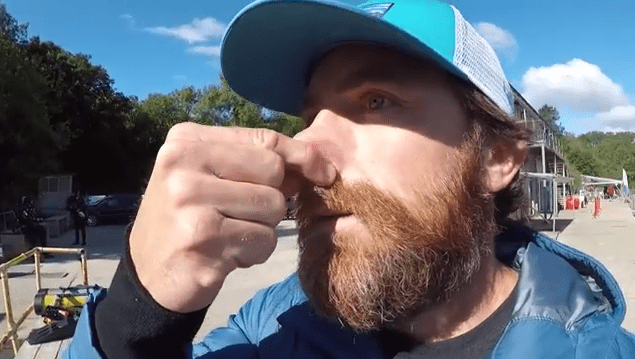 It was now time to move onto teaching Foxy and Aldo how to use a freediving line and what steps they should undertake before leaving the surface. I always liken learning to freedive as learning to drive a car. The first time you try, there seems to be so much to do all at the same time that you forget some steps and wonder if you'll ever be able to remember it all. It takes time and practice to remember everything. In addition, if you're an experienced and proficient scuba diver, like Foxy and Aldo are, then the skills needed for correct scuba diving will be ingrained in them. These skills, such as body position and finning are very different in freediving and it can take time to unlearn them.
Even before we got in the water, they went on a virtual dive, practicing the skills in the right order out of the water, in order to make them less unfamiliar once we got into the water.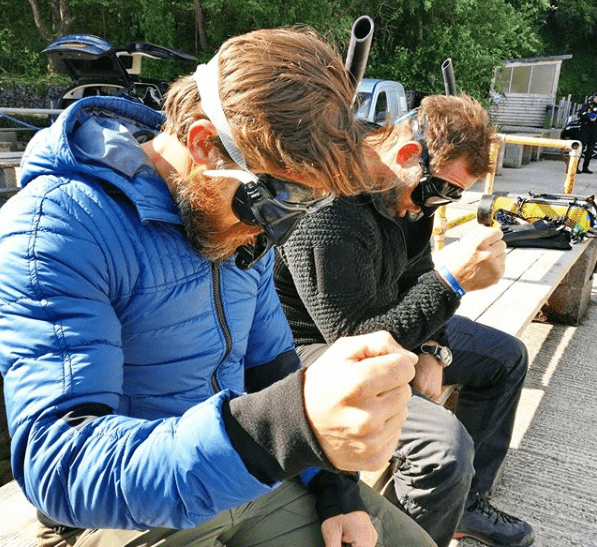 Time to get (wet) suited up!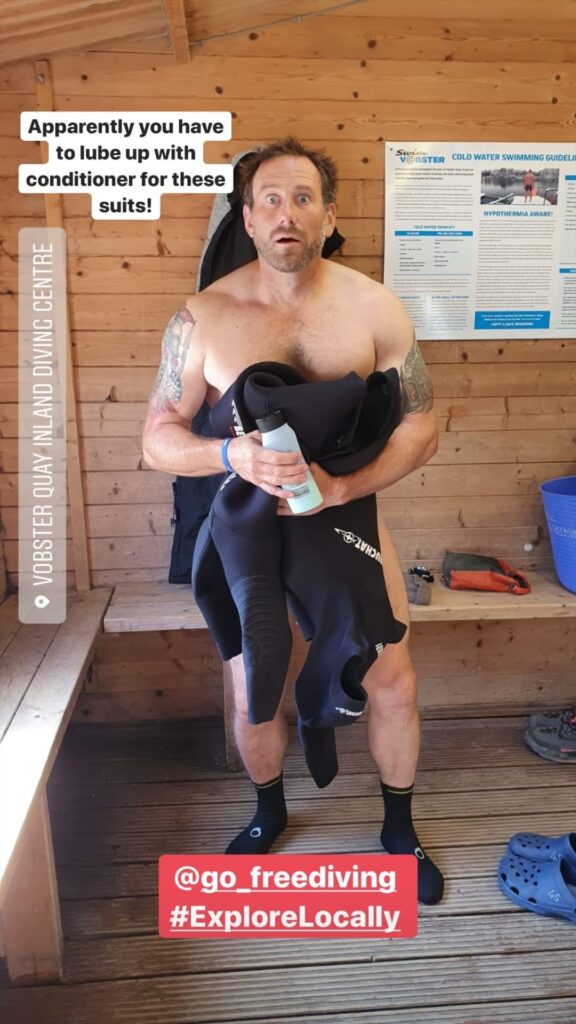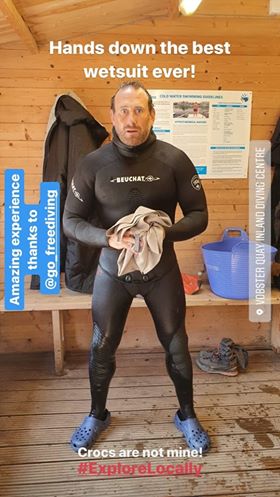 Foxy and Aldo have worn wetsuits and drysuits for decades but this was the first time they had worn freediving suits. The hire suits we currently use (and sell!) are made by Beuchat and are incredible quality. They are made of the highest quality neoprene and are super warm, super flexible and super comfortable. Even though Foxy has worn custom made suits in the past, he said that our freediving suit was hands down the best suit he had ever worn. Both him and Aldo were so impressed that they bought a suit each at the end of the day – you can't get a better endorsement than that!
Foxy and Aldo freedive a plane
So with all the dry training done, it was time to get in the water. Vobster has a huge array of cool things you can freedive on – from boats, to trucks, to cars, to platforms, to a sea king helicopter and more. One of my favourite attractions however is an aeroplane that is cut into three sections. It sits on the bottom of a 13m deep long ledge, and is deep enough to be a challenge for new freedivers, whilst at the same time, shallow enough to get to, even for a quick look from higher up.
We freedived the centre section of the plane, which is the least visually interesting but the most accessible if you want to easily swim through without pulling through a small door (daunting the first time you do it!). I started by teaching Foxy and Aldo 'free immersion' diving, which is pulling on the rope to get you down. This is the safest way to start freediving, as it gives you plenty of time to make sure you are equalising your ears. And if head first equalisation is difficult then you can pull down feet first, which is what I did for my first year as a freediver.
Once Foxy and Aldo were confident with their ears and equalisation, I started to up their challenges, and by the end of the day they were freediving through the plane!
I had an amazing time teaching Foxy and Aldo how to freedive and can't wait to be back in the water with them soon.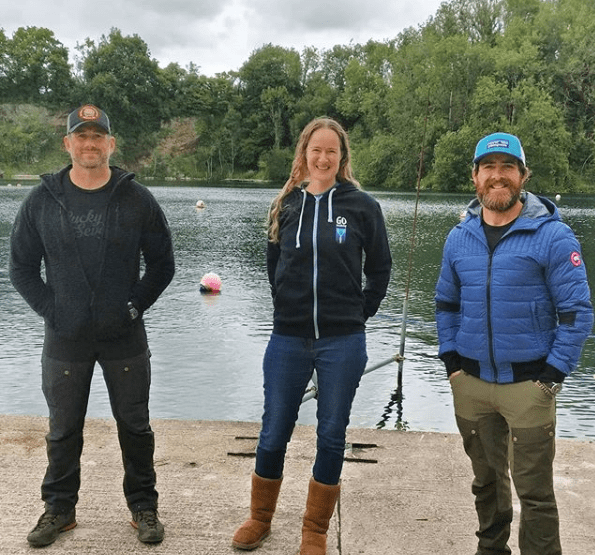 Looking Good!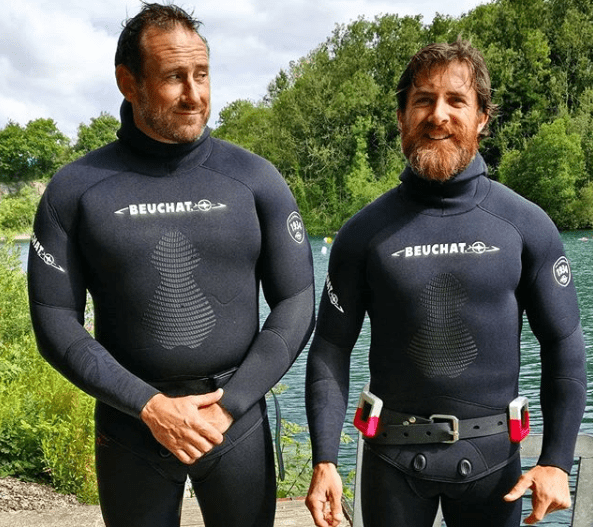 Want to learn to freedive like Foxy and Aldo? Learn to freedive with Go Freediving!
Go Freediving is the longest established, most experienced and friendliest freediving course provider in the UK, led by world class freediving instructor trainer Emma Farrell, and her team of personally trained instructors. No other course provider has such a good instructor to student ratio, safety record and personal touch.
Whether you're a beginner dipping your toes into the world of freediving, a seasoned pro looking to turn professional, or simply a freediver of any level who wants the best freediving holiday in the world, we're here for you!
Also check out our online guide, The Beginners Guide to Freediving by clicking here!
Keep in touch with everything Freediving
Enjoyed reading about Aldo and Foxy learning to freedive? Subscribe to our mailing list for weekly newsletters with exclusive articles, news, films, offers and more!