Our freediving camp training holiday in Tenerife has quickly shot to the top of our most hotly anticipated calendar events of the year – and with good reason! This land-based holiday has all the ingredients a freediver could possibly want on a freediving camp holiday. It has an awesome pool for practising static, gorgeous clear ocean water for plenty of line diving over an incredible wreck, an amazing trip to swim with turtles, and this year we experienced the thrill of no limits tandem diving too!
Land-based activities include masterclass equalisation workshops and  daily yoga as well as exploring the island as little or as much as we like – whether it was shopping, dining, hiking – or even biking, the whole holiday could be tailored to whatever the individual wanted to make of their time on the island.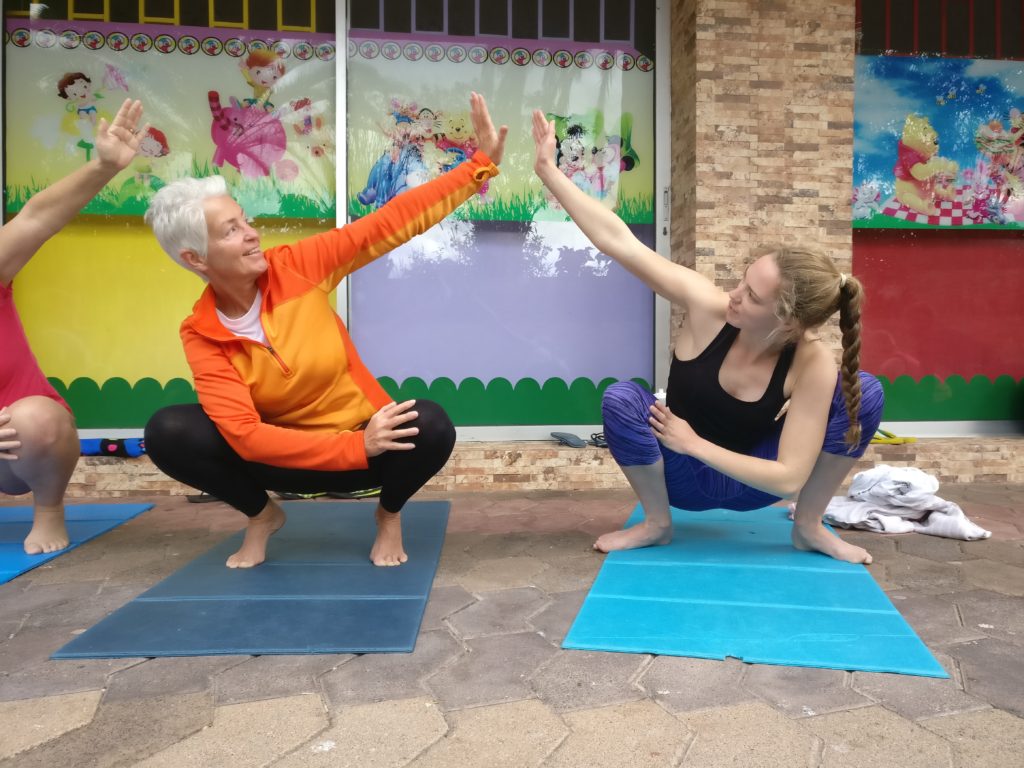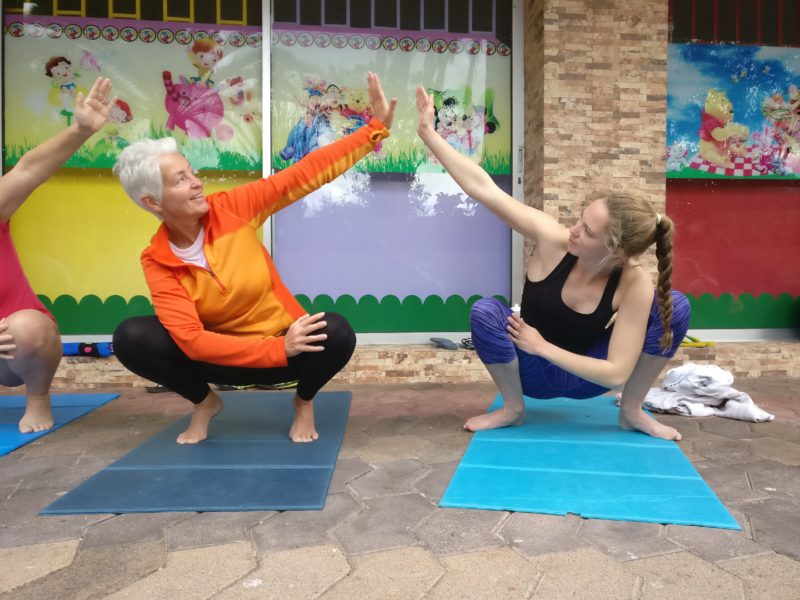 What is even more incredible is that for the last two years we have managed to keep this holiday priced at less than £1000 per person! And, we're doing it again in 2020 (Find out about our next Tenerife trip, on our holiday page here).
Benefits of a land-based freediving camp holiday
A land-based freediving camp holiday is very different to our liveaboard holiday (where, as the name suggests, you live aboard a chartered boat for the entire week). This year, we saw couples and solo freedivers join the trip and have an awesome time.
Here are just some of the benefits they said made their freediving camp holiday so amazing!
Cost (we strive to keep this trip under £1000)
Holidaying with like-minded people and sharing experiences, techniques and working together to overcome challenges that may have been holding you back
The instructors
The quality of teaching
The turtles
Great location with easy access to accommodation, shops and restaurants
Great way to continue improving and progressing in freediving in the winter season
It is a short haul flight, so you can easily be diving within a few hours of leaving the UK
It is great for solo travellers as well as couples
It's warm – and so is the water!
There is sunshine!
Plenty of opportunity between diving and trips to enjoy paddleboarding, snorkelling, swimming or just relaxing
The marine life
The wreck diving
No limits Tandem freediving
The masterclass workshop instruction
Partners can come on the holiday – even if they do not want to do any freediving, they can still scuba dive and enjoy a week of winter sun
There is no pressure to dive. You can do as much (or as little!) as you want to
Great socialising in the evenings too!
Birthdays, birthdays and yet more birthdays!
But that's not all! Find out what else this year's group thought of their Freediving Camp Holiday!
Tenerife Freediving Camp Training Holiday 2019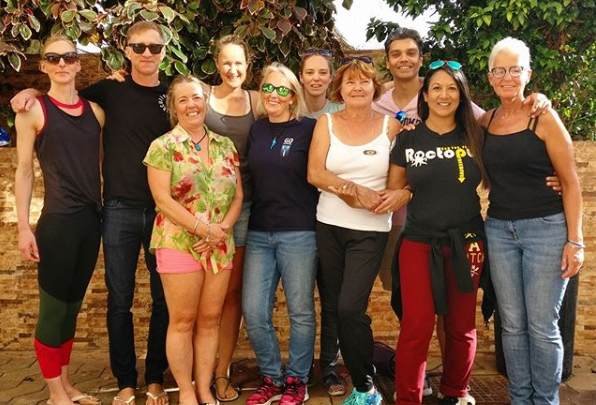 I decided to come on this freediving camp holiday because of my previous holiday experiences with Go Freediving, and I wanted to be with safe Emma in case anything went wrong. I liked the idea of freediving in Tenerife, and the cost as well, as most freediving holidays are quite expensive but this one was a good price.

I have discovered that I can freedive and that Pash Baker is awesome.

I came on this holiday thinking I may not be able to freedive again due to my inner ear, but it has been brilliant. The highlight for me has been the group, they have been amazing. It has been a particularly good group. Another highlight was all the teaching. All the teachers are patient, nothing is timed, so nothing is rushed and it is relaxed. I loved the turtles.

The benefits of this holiday is that it is easy here. There's easy access to the water, easy location with accommodation and shops. I like the fact that the group is all together so everyone can learn from each other. The guys at the centre are also really good. I would recommend this holiday because I really enjoyed it.

Mandy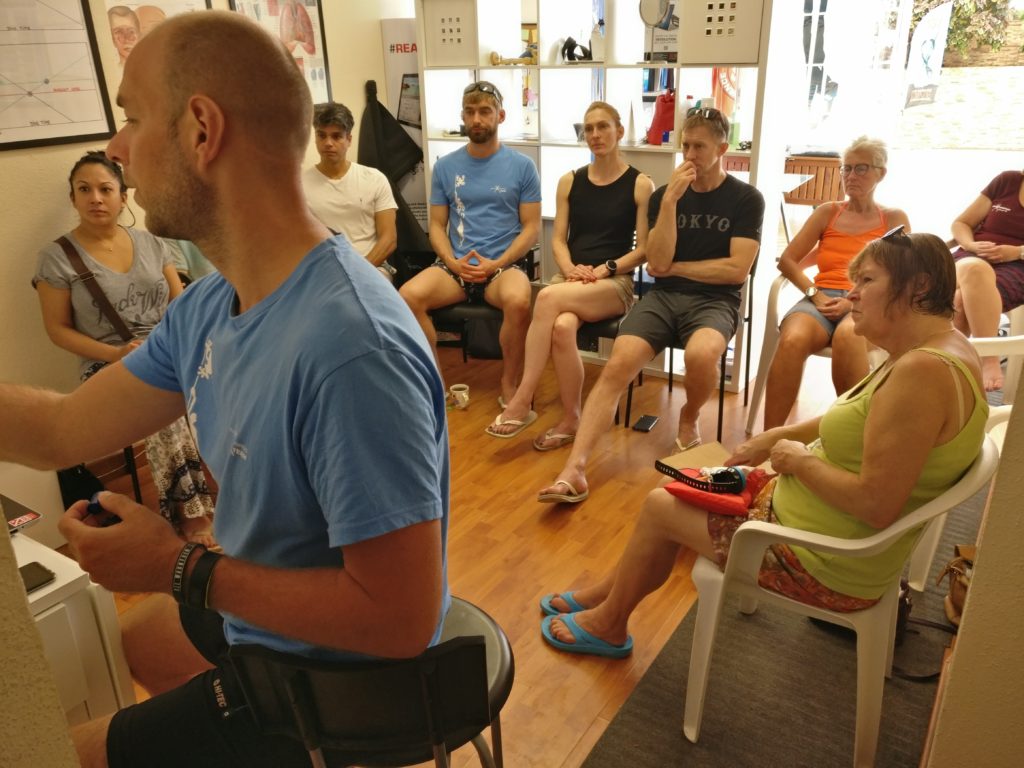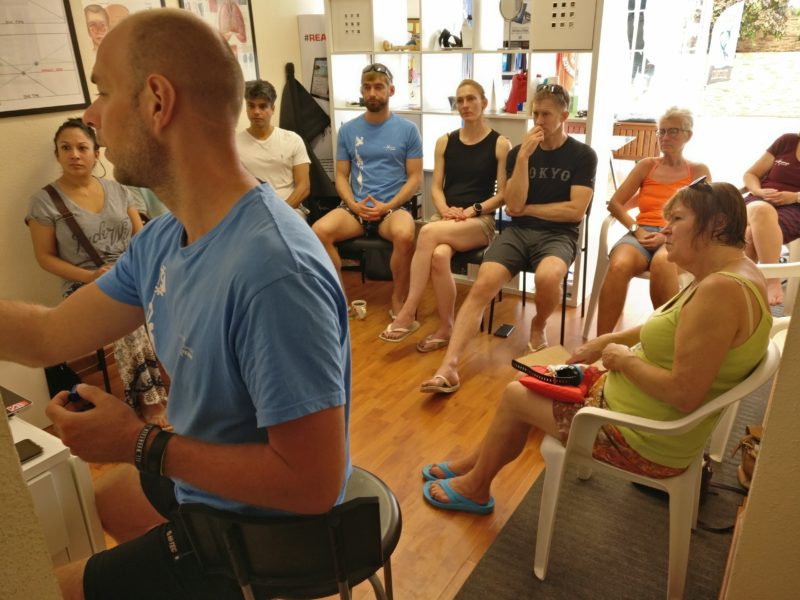 After I did my course at Vobster I needed to find a way to carry on. I don't live local to the clubs and this trip was not too far away or horrendously expensive so it seemed like the perfect opportunity. I was initially nervous because I was coming on my own and it was quite impulsive for me, but this trip has really changed my mind and it has been absolutely awesome.

Coming on this trip I have discovered that I really want to keep doing freediving and I want to do it more. There are all different people and different ages in the group and everyone is amazing. I have learnt that there are awesome places to go and freedive without having to go miles away from home and without having to go out on a boat.

The thing I liked most about the freediving camp week was the diving and having so much time with instructors and been able to try stuff. Just getting to have so much time in the water, and with the turtles was amazing.

The benefits of coming on this holiday is that you get so much time diving with instructors that you really get to improve and also diving with the others in the group really brings everyone together. You get to have sunshine and be somewhere warm in November and it is a great place to do the RAID Advanced Freediver Course.

I would recommend the course for all of the above and being able to see all the fish and enjoy the water. What more could you want?!

Alice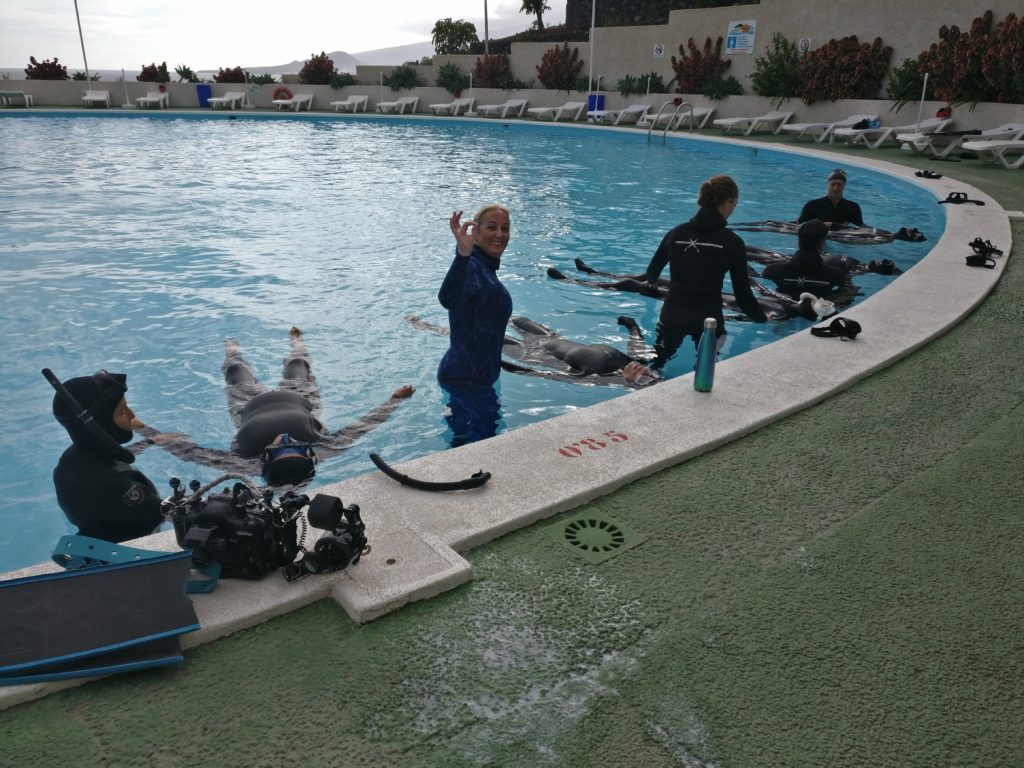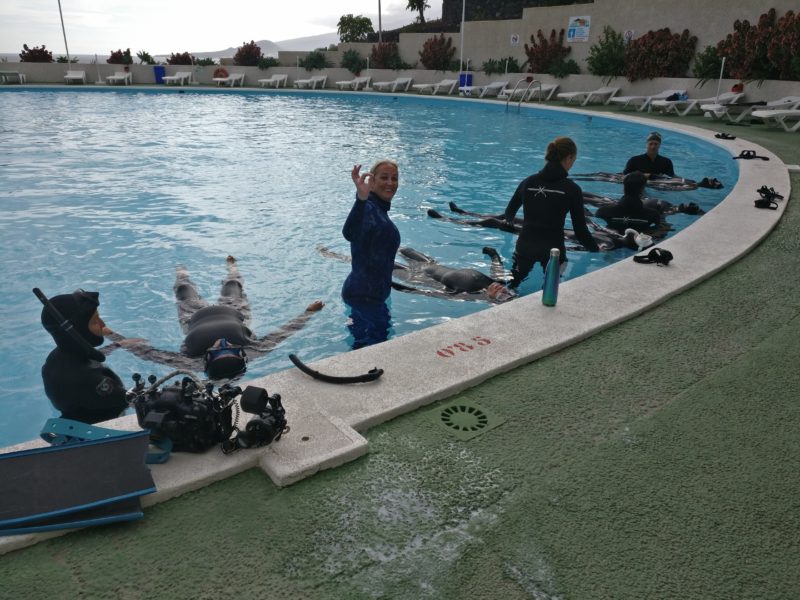 I came on this holiday because I wanted to extend on what I had achieved on the red sea trip. Coming on this holiday I reached a personal best depth. It has been a fantastic group with amazing chemistry and very supportive. I think Pavol is a first class instructor, he picked apart what I was doing incorrectly and he got me down to a PB.

I think that what is really great here is that you literally just wander out, you get your kit and you walk 200 yards and you are in the water. Access is really, really good. I really enjoyed the turtle day and I got the most amazing shot of a turtle for my Grandson.

The benefits of this holiday is that it extends your freediving season, the camaraderie and the sense of freedom. The health benefits of doing an activity intensely everyday is really good for me.

I would recommend this trip because of the easy access, the great group of people and the chance to spend a week in the sun.

Carol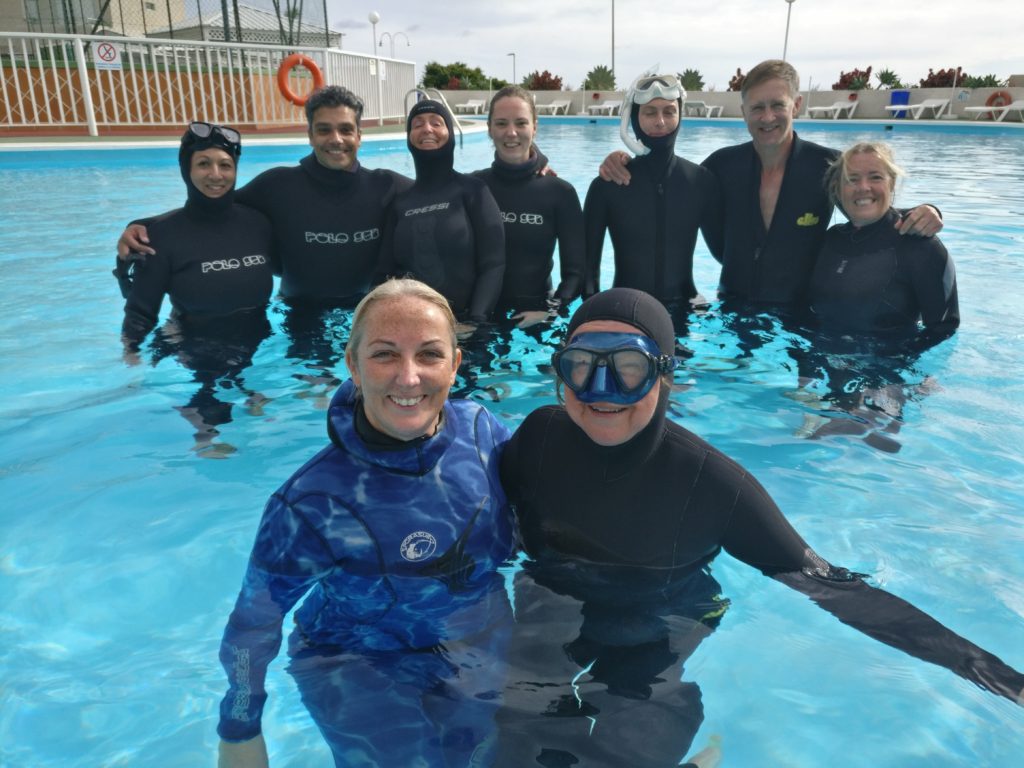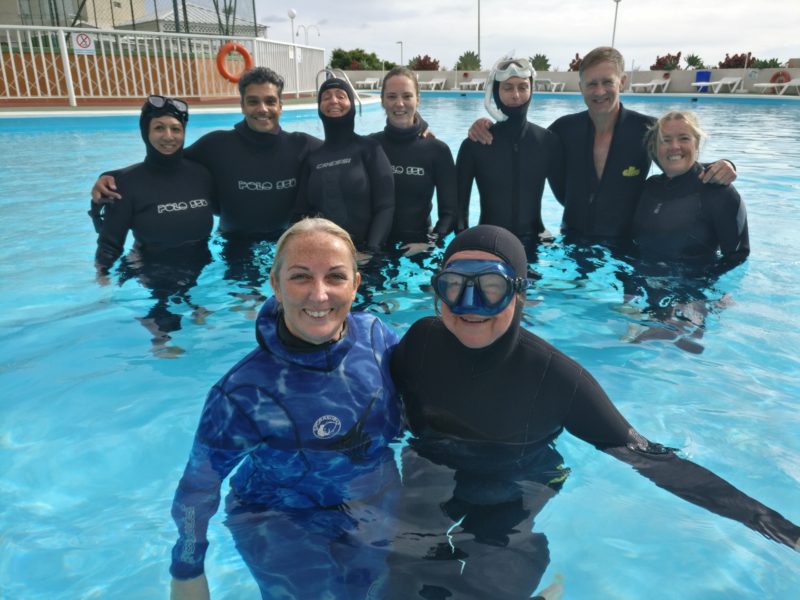 I did this trip because I just couldn't keep away from my dive buddies and because we had such a fun time last year. It was such a great group of people and this year it has been even more amazing. It's been fantastic, great activities and I just loved the turtle diving. I loved all the activities to do with freediving. It was a nice balance of concentrating and learning loads of new skills and also having expert tuition. All the hints and tips have given me a lot more confidence which is brilliant. Also having some really nice rest time, going out and doing some snorkeling. I loved the No Limits which was amazing and I also got try out Pash's carbon fins which was awesome.

It has been an amazing week with such lovely people. The benefits are that it is relaxed and you get to learn a lot in a very short period of time. It is very well organised by Scuba Travel and there were no hassles at all. Having the benefit of being able to bring my husband who is a scuba diver along and have him enjoy it was great. The turtle actually took his mask off his face and went off with it but it has been a great holiday for both of us.

I would thoroughly recommend this trip because it good value for money with a great group of professional people but learning in a very relaxed way with no stress, so if you want a break from work this is just for you. You are surrounded by lovely people in a great environment.

Claire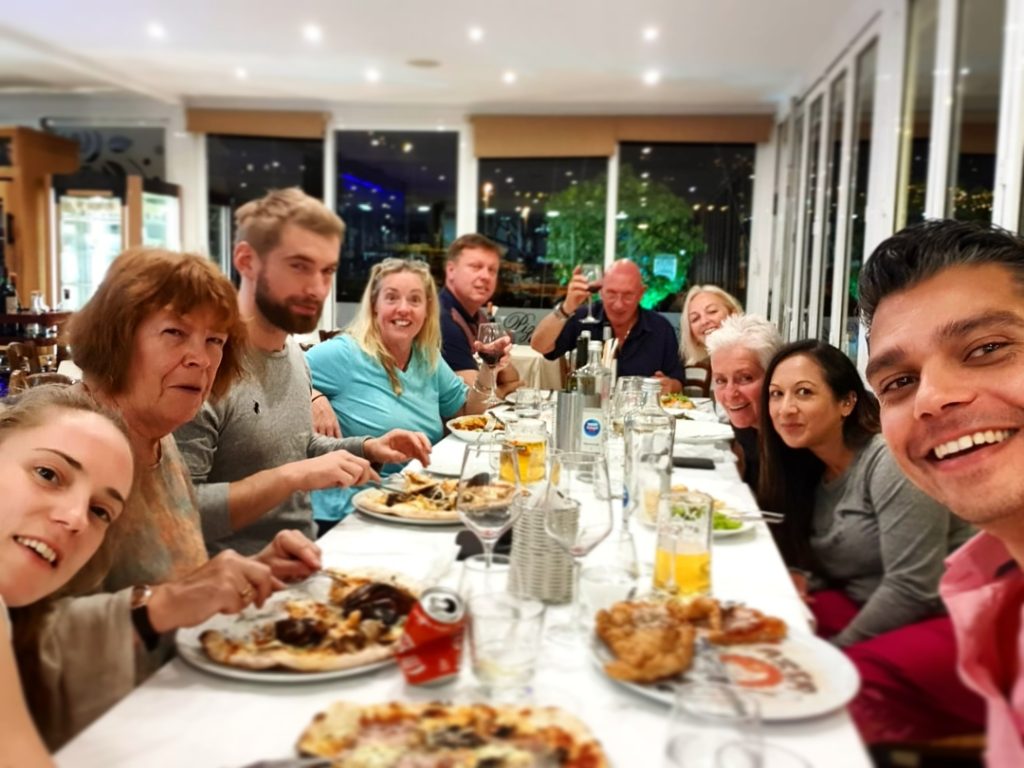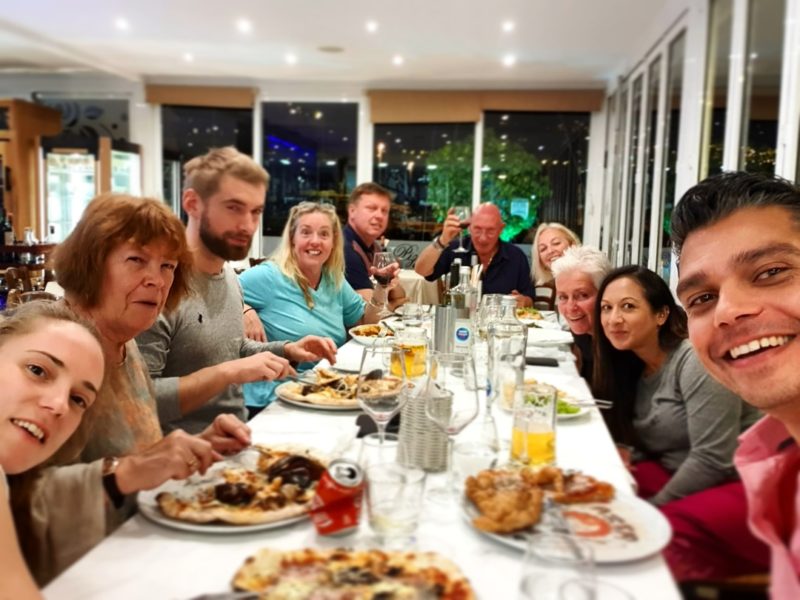 I came on this trip to support Katherine in something that she loves to do and I wanted to see if I could take freediving further and I thought that spending a week in a dive centre in warmer water would help me to do that. I have discovered that I can clear my ear, I can hold my breath longer and be more comfortable underwater and each day I improved.

The highlights for me were being able to clear my ear easily and equalise. Swimming with the turtles was a fantastic day and doing numerous dives at 20m was mind boggling as I never thought I would get down to 10m. Getting input from all the different instructors was great. I have really enjoyed the week.

The benefits of the holiday are that you get more time to focus on the freediving and techniques. I would recommend this holiday because it gives you time to be in the water without distraction. You have got more time in the water, more experience and you achieve more than you thought you would, which is what happened with me.

Elliot

I have been to the Red Sea with Go Freediving in the past so that and the great price made me come on this trip. Being on this trip has improved my technique, duck diving and finning and I achieved greater depths than before. The thing I liked most was the line diving above the wreck and overcoming the challenge. Doing the No Limits and diving with the turtles was brilliant. It was nice having great visibility and going down and seeing the wreck and all the fish was great. It allowed me to challenge myself which was good.

The benefits of this holiday are that without a doubt you will improve your technique with four instructors giving you advice. You will improve your confidence and allow to to push yourself. The atmosphere is relaxed and downstairs is the dive shop and then you literally walk into the water so there is no faff and it is just a really nice week away from work without any thoughts of work or anything else, it is just amazing.

I would recommend this freediving holiday because the location is perfect for freediving. Having the wreck to dive is like a gift. Everything feels safe and secure and the water is clear so you can see lots of stuff. The price is ridiculously low.

Katherine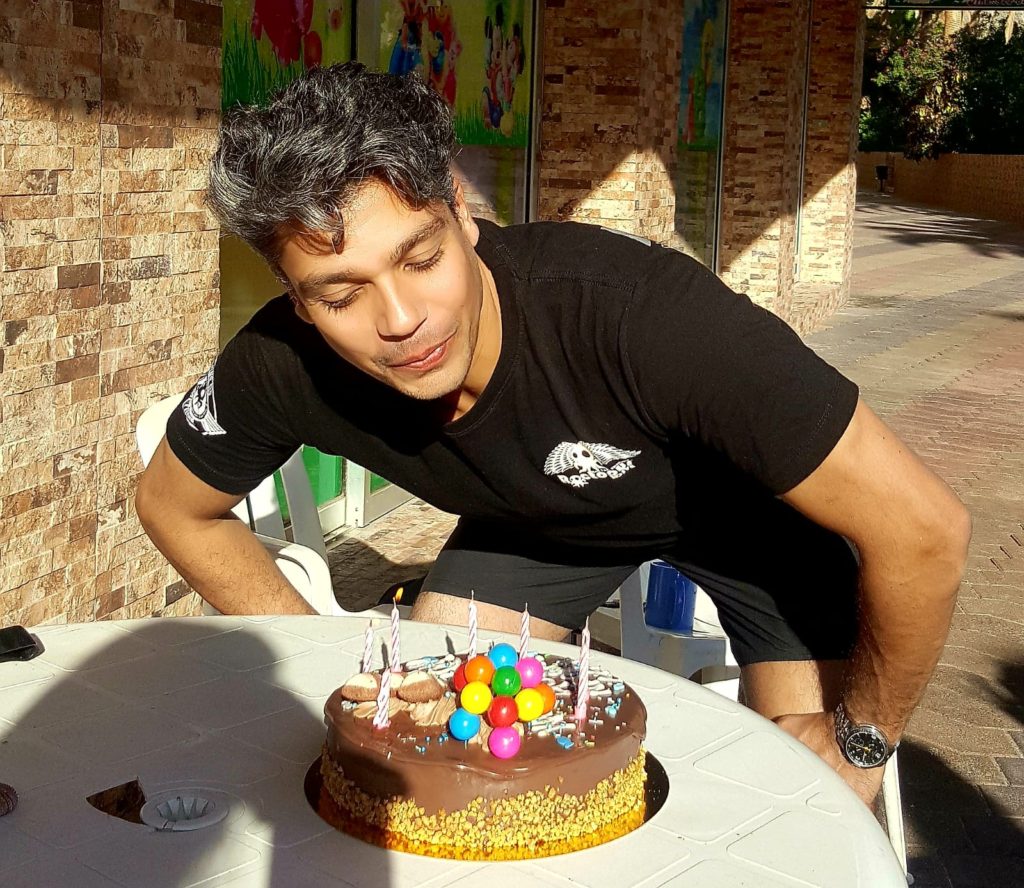 The trip was a gift but freediving is something I have always wanted to get into. I did some training about two years ago but didn't keep up with it. I love the ocean and I love being in the water. Debbie did some research and found Go Freediving and the history and what you have done before was well received so we decided to go on the trip and learn with you. The opportunity to spend a full week diving with you and your experience was a great opportunity to improve on our skills and techniques.

I have discovered that I was overthinking things and overcoming that has helped me improve my freediving. There are lots of things I liked about the trip. The group was great and really relaxed and it was interesting to be around people who enjoy freediving. The techniques we have learned here go so much further than the AIDA course that I did before and have given me so much more confidence. I feel more confident in my ability to buddy and the safety techniques. Getting feedback from the instructors on every dive helped to tweak our techniques and go further on each dive which was brilliant. We don't spend enough time in the water, living and working in London, so the one week is great and allows you to get comfortable and adapt to the suits and equipment.

The benefits of a freediving camp training holiday is the sharing of everyone's experiences, which helps everyone and is hugely important. The techniques are very important for gaining confidence which allows you to relax and do so much better in your dives. The sense of humour between Emma and Pash helped us relax and made it so much fun.

I would definitely recommend this holiday because it gets you to unlock so many things that are preventing you from going deeper and improves your freediving.

Naden 

Naden and I did an AIDA course about two years ago and never completed our level 2 so we wanted to get back into freediving. I thought a holiday would be a nice way to get back into it and be nice and relaxing whilst getting to spend time one on one with an instructor over a longer period of time. Through an internet search I came across this trip which was affordable, close and easy to get to.

Going on holiday with a group is not something we would normally do but I was eager to do some freediving and was excited to come on the trip. This week has been like 200% incredible, we have learned so much and I realise that there is more to freediving. It started with the people and I have come out of it with a group of new friends that also love freediving. I never felt pushed or pressured into doing anything I couldn't do. The experience everyday was just incredible. I felt like it was just growing and growing into a sport that I have always wanted to do but never thought I would be able to go to depths or push boundaries in my mind that I have done this week.

The equalisation workshop was amazing and it helped me understand a technique I haven't really grasped in my head. Having different instructors everyday was very beneficial, and the people, the company has been wonderful and the turtles were great. Overall I just loved it all.

This holiday provided the time and space to work on anything that was holding me back. It helped having divers around that were on the same level as me. It was relaxed and everyday offered something that helped me to grow and learn and I want to come back again on another holiday.

I would recommend this trip because it is great value for money, the location was great, the diving was brilliant everyday and I was aware that I didn't have to dive everyday if I didn't want to and there was no pressure.

Debbie
Learn to freedive with Go Freediving
Go Freediving is the longest established, most experienced and friendliest freediving course provider in the UK, led by world class freediving instructor trainer Emma Farrell, and her team of personally trained instructors. No other course provider has such a good instructor to student ratio, safety record and personal touch.
Whether you're a beginner dipping your toes into the world of freediving, a seasoned pro looking to turn professional, or simply a freediver of any level who wants the best freediving holiday in the world, we're here for you!
Also check out our online guide, The Beginners Guide to Freediving by clicking here!
Keep in touch with everything Freediving
Subscribe to our mailing list for weekly newsletters with exclusive articles, news, films, offers and more!