Carl Atkinson has been bitten by the freediving competitions bug. He started his freediving journey with Go Freediving and hasn't looked back. In fact Go Freediving recognised his talent straight away and now sponsors his freediving competitions, development and training.
We caught up with Carl and discussed  his final constant weight training in the build up to one of the most coveted of all freediving competitions – The 2016 AIDA World Championships – which was held in Kalamata, Greece.
Emma: Great to catch up again! Tell us where you spent your training
Carl Atkinson: I headed out to Dahab, Egypt and spent two weeks diving at the Blue Hole – a familiar place for me to train. It was where I started freediving competitions (Triple Depth 2015). My intention was to focus on constant weight training, to get my body exposed to the pressures of depth training.
I was pretty excited about coming back here, as this was the first time I had ever done depth training for more than a week in one block. I was hoping by giving my body more time to adjust I could get a new Personal Best. It was 73m before going out there.
Emma: And, did you achieve any new Personal Bests?
Carl Atkinson: I did! Several in fact. And I finished my last day with an 82m Personal Best dive.
Emma: Fantastic! What do you think helped you achieve that?
Carl Atkinson: I learned a lot during those two weeks and tweaked many things about my dive and pre-dive routine which I am certain will improve my form for any freediving competitions I enter in the future.
Emma: Such as…?
Carl Atkinson: Well, firstly I changed my dry warm-up routine from doing around 7 – 10 reverse packed diaphragm stretches, to doing some dry breath holds with full inhale, passive exhale and full exhale. I found I was putting too much strain on my epiglottis and leading to a leaky mouth-fill during my dive, so this kept my epiglottis fresh and strong and started to get my dive reflex kicking in.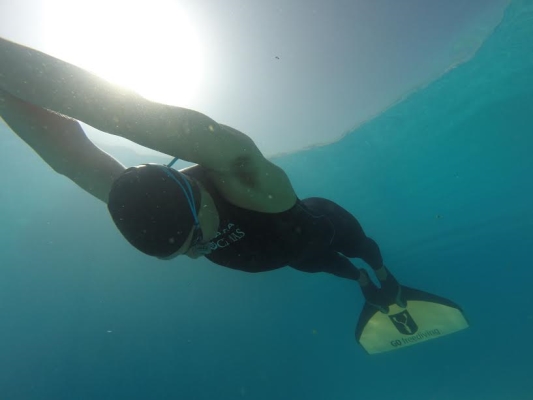 Emma: You mentioned changes to your dive too, what did you change?
Carl Atkinson: My warm-up dives changed from two to three 30m hangs with about 3:30 dive time, to a single 50m pull down dive very slow and easy to rehearse my mouth-fill. With my warm-up dives I found the "less is more" principle to be true for me and that the hangs were unnecessary and just tiring me out.
Emma: That's something I would completely agree with! Did you learn anything for future freediving competitions while you were there?
Carl Atkinson: Absolutely. The great thing about training at the Blue Hole is the many other divers training there who you can pick up different techniques from. This led me to change the way I did my mouth-fill. Previously, I would do a single fill at about 25m. I changed this to doing a few different fills – a half fill at about 15m, fill it at 20m and then a top up at 30m. This made each fill much more relaxed – and easier than trying to do one rushed fill.
Emma: Fascinating stuff! Can't wait to hear about the competition!
Read about Carl's experience at his first World Championship soon.
Learn to freedive with Go Freediving
Go Freediving is the longest established, most experienced and friendliest freediving course provider in the UK, led by world class freediving instructor trainer Emma Farrell, and her team of personally trained instructors. No other course provider has such a good instructor to student ratio, safety record and personal touch.
Whether you're a beginner dipping your toes into the world of freediving, a seasoned pro looking to turn professional, or simply a freediver of any level who wants the best freediving holiday in the world, we're here for you!
Also check out our online guide, The Beginners Guide to Freediving by clicking here!
Keep in touch with everything Freediving
Subscribe to our mailing list for weekly newsletters with exclusive articles, news, films, offers and more!