Have you been looking at freediving courses in the UK? Perhaps you are a scuba diver who wants to discover the beauty of freediving without all that kit, a spearo looking to improve your skills and techniques, or a complete novice who has never tried diving before and is simply curious or keen to become involved. If so, Go Freediving's schedule of freediving courses in 2018 is bigger and better than ever before.  We have a whole year's worth of freediving courses already planned, which can lead on to enjoying a whole host of activities offered by Go Freediving – from indoor swimming pool club nights and club days atVobster Quay to fantastic holiday dives to Egypt's Red Sea and other gorgeous far flung destinations as well as UK based freediving trips too (sharks anyone?) we run the whole gamut of fabulous trips and events, so there is something for everyone.
Emma and her dedicated team at Go Freediving have more than a decade's experience teaching thousands of students both in the UK and abroad, and Emma herself has personally taught many Olympians, notable sportspeople and even celebrity chefs the pleasures of freediving. We are the most knowledgeable, friendly and safest freediving course provider in the United Kingdom, with an unrivalled instructor to student ratio.
What to expect from our RAID freediving courses in 2018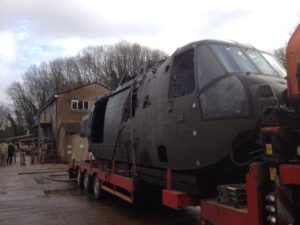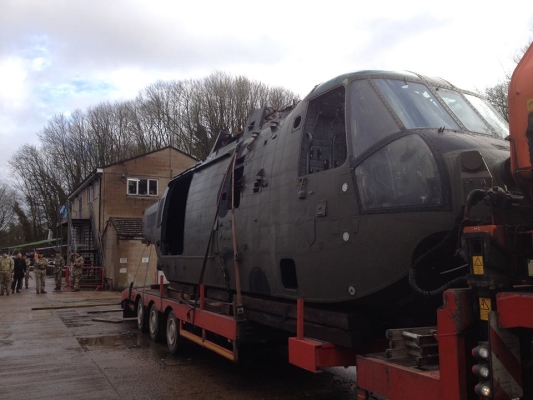 Our UK based RAID freediving courses in 2018 run from mid-April to the end of October and typically last for two days over a full weekend (there is some basic theory work that students are required to complete online before attending too).
The first morning a class and indoor pool-based session at the wonderful Glebe House (which is also an incredibly popular accommodation choice for students). Then after lunch on day one we head outside for open water training at Vobster Quay Inland Dive Centre, where the entire second day's input also takes place.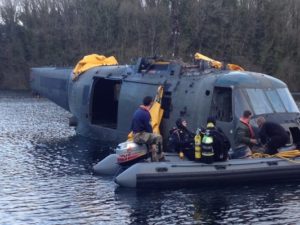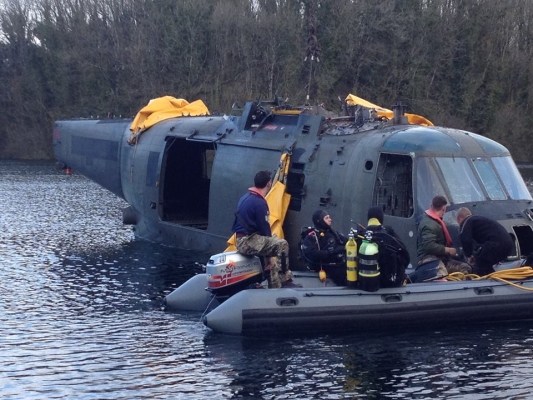 Here, beneath the surface, divers can navigate the wrecks of a car, a caravan and an aeroplane – and this year Vobster has a new addition in the form of a sunken Sea King helicopter! (check out these photos of it being submerged!). These fantastic attractions, coupled with the amazing amount of marine life thriving underwater, makes Vobster the best inland dive centre in the UK and one we are so proud to be using for our students for all of our UK based freediving courses in 2018
Every student who visits Vobster is thrilled that there are no currents or waves to contend with, the visibility is stunning all year round, and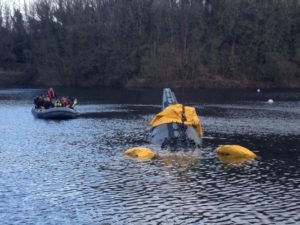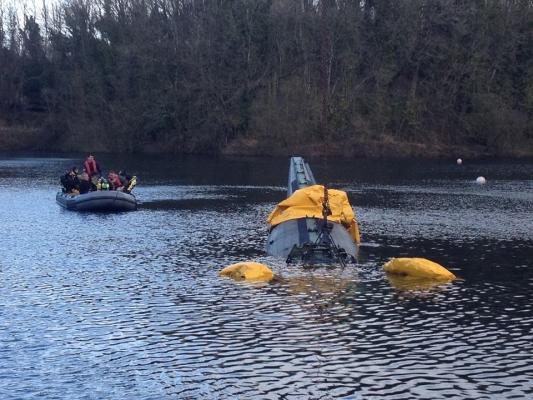 with summer water temperatures reaching a balmy 20+ degrees the conditions are spot on for learning, enjoying and exploring.Our instructors have a fantastic reputation for encouraging and developing each and every student so that they are able to maximise their experience at a pace and intensity they are comfortable with,  while still ensuring they feel encouraged to explore and discover their limits and achievements.
Freediving courses in 2018
Class of 21 – 22 April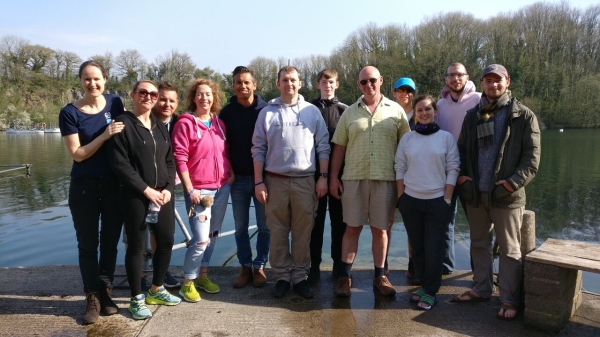 And so it begins! Our new season of freediving courses in 2018 started with a splash! Our first course this season was with our amazing students James, Jeff, Tom, Jack, Tom and Tabitha as well as a couple of returning students wishing to complete their skills (all students have the opportunity for continued learning with us, and we encourage returning students at all times).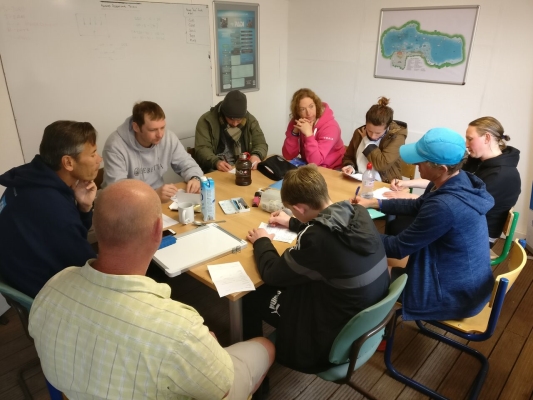 We know everyone is keen to get in the water, but there is a massive amount of learning that can be achieved on land too, so with a couple of short classroom based sessions throughout the weekend we can really explain all the techniques, skills and safety to students ready for them to put into practice in their open water sessions.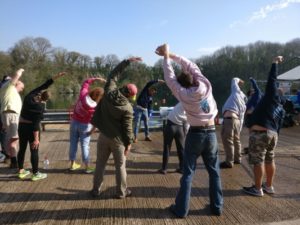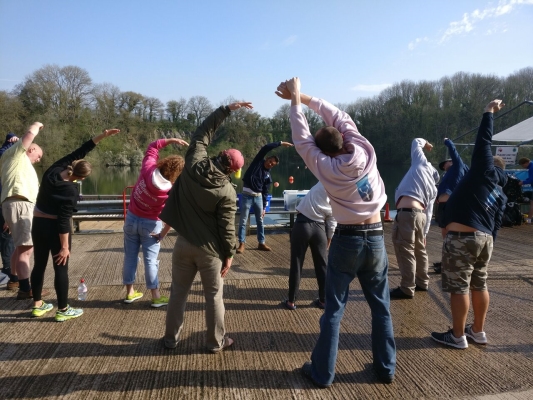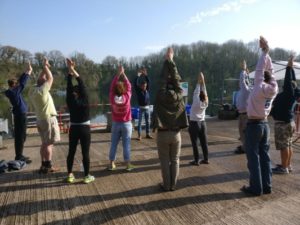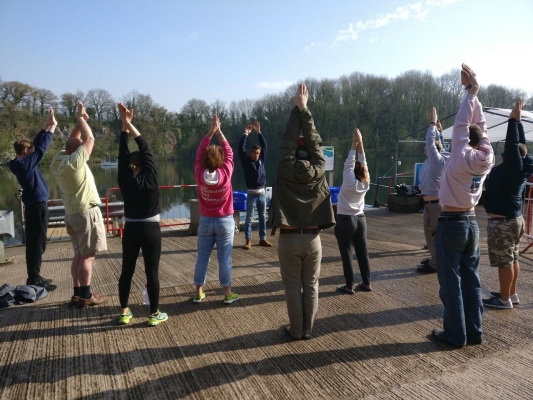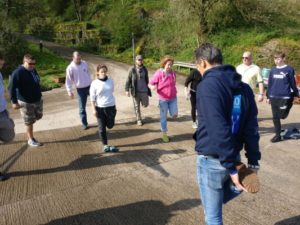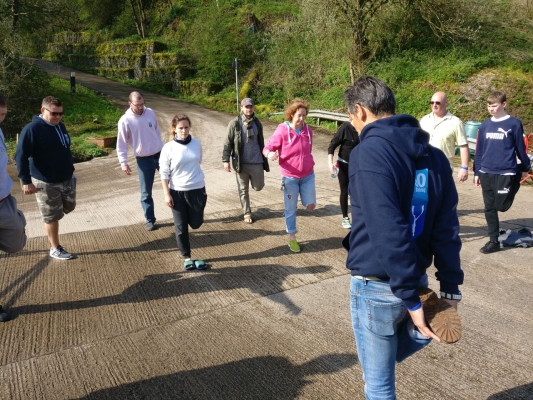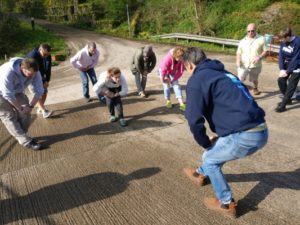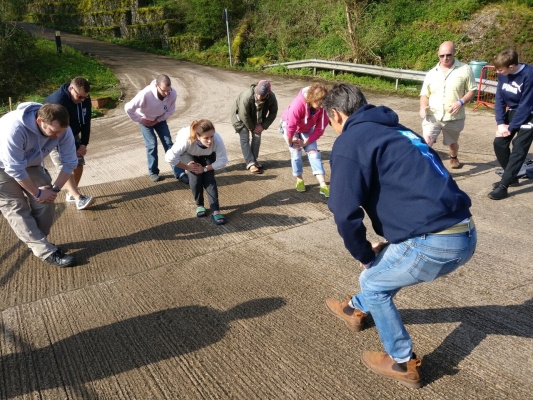 Our students are encouraged to stretch before each session.  The more flexible, open and relaxed your body is, the easier it will be to move through the water, equalize and avoid cramp. Stretching the body can help facilitate this. It also helps to rid the muscles of lactic acid and move lymph. Many freedivers have a specific stretching routine they perform before and after a dive session. Stretching  is a very personal thing that should be based on your body, the conditions you find yourself in, and personal choice. You can read more about this, here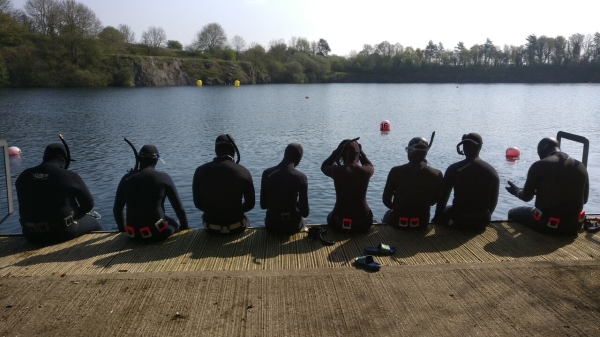 The first of our freediving courses in 2018 was last weekend. The course enjoyed glorious sunshine at Vobster  with water temperatures reaching a respectable 12 degrees. Our students for this course crossed the full range of ages, experience and fitness and were simply fantastic!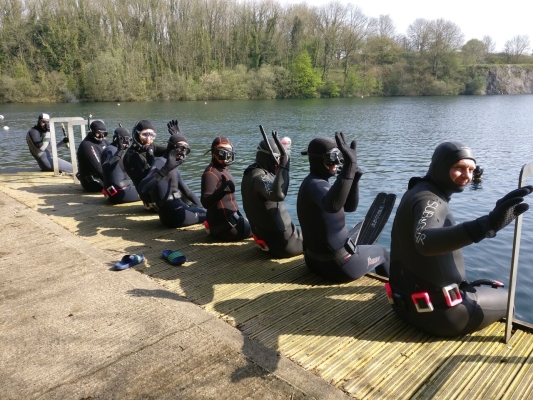 The first of our freediving courses in 2018
Meet the students!
I was attracted to freediving because it is a challenge. I do a lot of other sports such as triathlons, ultra-running and swimming. I enjoy the challenge, it's more about getting through them. I don't know, I think it is more about mind control. I do get overly excited about things and see it as overcoming mental obstacles. It's quite effective. It's like one of your instructors said about the breathe out thing, because it's instantly hard and within a few seconds you need to breathe. Mostly I've breath-held in the pool and the most I've done is 3 ½ minutes and thought wow, but the interesting factor has been the ears rather than the breath.

I wanted to be able to do it safely. We went to holiday in Antigua last summer and we were snorkeling and I was going down about 5 metres and though 'oh, my ears' I didn't really know what I was doing. And then, you want to go a bit further, but you're not sure.

I wanted to do my course with you because it was a weekend course. I have been talking about doing a freediving course for years. I have discovered that it is actually a lot harder than I thought. What I liked about the course was that the company was good. The benefits of this course is you know you are doing it safely and learn the principles of the buddy system. I would recommend this course. It has been really good   James Dewick 
My son wanted to do a freediving course, so I joined him. We found the course last year, but pursued it after the winter. I have discovered how interconnected it all is – dive, breathing, anxiety, relaxation, the fast pace of life. You can see people's traits come out after a while, but is is surprising how many people use breathing techniques.

I've liked that is has been friendly. It's good all round and very encouraging for my son. The benefits of doing a freediving course are broad and wide – and more wide-reaching than you think they would be. It's about more than just going into the water, the external stuff's very important. It's quite a good community where people know each other all around the world. There's not many freedivers compared to scuba divers, so it is more closer-knit. You all seem to be very patient. I would definitely recommend this course for all the reasons I have given you. – Jeff Creamer
I have done diving before. I am a scuba diving instructor, but I had to stop diving after an injury which meant tanks and equipment became cumbersome so I thought I would try out freediving so that I had a little bit less equipment  to deal with. It was something I had tried before and wanted to learn how to do it properly, rather than just winging it.

I was looking for freediving clubs around the Oxford area and saw an old post from when Go Freediving used to train in Oxford. I looked around and saw that Go Freediving offered a course that interested me because it was from an organisation that appears to be a little bit different from what I was familiar with with PADI so went for it.

I have discovered that there is even more in the brain than you think there is. Because I had done some of it before I knew it was more of a mental game than getting the techniques right, but it is even more about the brain side of things. Even if you can hold your brain for ages, your mentality once you get down a couple of metres really changes. So I definitely developed that side of it!

My favourite part of the weekend has been the assistant instructors, purely because of having done some freediving before I was able to progress slightly easier than some of the other people, so passed all the skills quickly. So the other course students got to be looked after on a more one on one basis with the main instructors and I got to spend more time with the assistant instructors who developed my practice alongside what I was being taught by the main instructors.

The three benefits of doing this course is that it builds your confidence, it changes your mindset towards freediving and encourages you to keep going.

I would definitely recommend this course to people who have some experience already but are not formally qualified or are complete newbies to try this out. If you have some idea of what you are doing – you probably don't! So it is really good to start learning how to do it properly and if you don't have any idea it is a perfect stepping stone into freediving because it is not about how deep you go, how long you do it, it's about where you go from where you started and when you leave on the final day.  Thomas Nuttall-Smith
I really wanted to do a freediving course. I discovered that freediving was harder than I thought it was going to be. It really is. The depth was really hard for me, but I did like trying new things and learning new skills. Definitely.

I've learned how to equalise much better, I've learned new techniques like finning, I have a longer breath hold and also definitely improved on my duck dive.

I would definitely recommend this course. I have learned a lot from it and I think others will benefit too.    Jack Creamer
I was freediving  in Barbados on holiday and it was a beautiful sight under the water and I have fallen in love with it and I thought my diving technique could be better especially after seeing the amazing videos of a French man going into a cave very deep, so I thought why not go and kill two birds with one shot, so I went to Barbados to enjoy diving and also enjoy the serenity of the underwater. I found you guys online – I searched a few websites but as far as I was concerned you were the only ones that were offering the deep water experience which was more than 5 m deep. All the others I found were only in a swimming pool and I cannot see how we can do freediving in a swimming pool without having the depth. Go Freediving doesn't seem to have much competition there!

The most important thing I discovered doing this course is that the whole pleasure of freediving comes from being relaxed, so if I am in the right mood and not stressed, the dive just goes beautifully. It's nice and easy, there's no stress, I have all the time in the world down there at 11 m. At the beginning it was a bit of a stress but I have a dive with Dave and I was 'yeah, I'm absolutely fine'. So I took my time, positioning correctly, and it was all good. That was the break-through. That moment was my favourite part of the course. I realised the problem was in my head, so I went on a confidence trip at 5m and staying there as long as possible. Straight away I knew I could stay there a lot longer. After this 11m was very easy!

The benefits of this course is that you actually have your equipment fitted correctly, my scuba mask gave me mask squeeze – but it was good that it came out in a controlled environment and you gave equipment advice and I could change to a low volume mask. Another was there was plenty of specialist knowledge which is not written anywhere. It can only be passed around the campfire.

I would recommend this course for people who are stressed out, because this course is about learning to relax. It for people who have too much in their heads and cannot relax.Thomas Putko
If you fancy trying freediving courses in 2018, then check out
19 – 20 May 2018
09 – 10 June 2018
23 – 24 June 2018
14 – 15 July 2018
28 – 29 July 2018
11 – 12 August 2018
25 – 26 August 2018
15 – 16 September 2018
29 – 30 September 2018
13 – 14 October 2018
05 – 14 October 2018 on our holiday to Indonesia
27 – 28 October 2018
If you're ready to dive into a new challenge you can book your place now:
Learn to freedive with Go Freediving
If you are looking for freediving courses in 2018 Go Freediving is the longest established, most experienced and friendliest freediving course provider in the UK, led by world class freediving instructor trainer Emma Farrell, and her team of personally trained instructors. No other course provider has such a good instructor to student ratio, safety record and personal touch.
Whether you're freediving in November or any other time of year, a beginner dipping your toes into the world of freediving, a seasoned pro looking to turn professional, or simply a freediver of any level who wants the best freediving holiday in the world, we're here for you!
Also check out our online guide, The Beginners Guide to Freediving by clicking here!
Keep in touch with everything Freediving
Subscribe to our mailing list for weekly newsletters with exclusive articles, news, films, offers and more!