Searching for freediving courses in October? Welcome to Go Freediving! We offer courses up to and including the middle of November. Why not enroll on our RAID freediving course? You might think that freediving courses in October, would be cold and uncomfortable, but in our experience this is one of the most popular times for courses. The water is still comfortable (plus we provide thick wetsuits for those who feel the cold easily), Vobster Quay is glorious, and activity there is a little less busy.
Go Freediving is the most experienced, friendly, safest freediving course provider in the UK. We've been teaching people how to freedive in the UK and abroad since 2003 and have taught thousands of people how to freedive.
Check out the latest movie from our RAID Freediver course on 7th – 8th October 2017 and see for yourself what you get up to when you learn to freedive in the UK with us!
Why freediving courses in October are so good!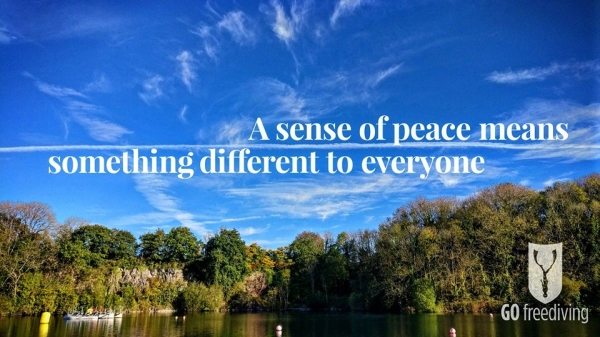 See this beautiful photograph? This was taken this October course weekend on Sunday morning as the airplane contrails swept across the blue sky. Autumn weather can be stunning and freediving courses in October are often about long sunny days in the clear water of Vobster Quay, checking out the fish and watching the autumn foliage change colour all around the lake.
We freedive in the UK generally between the spring and early autumn and our freediving courses run from the end of May to early November.
We have courses, club meets and events running weekly throughout the season and also run courses on our freediving holidays abroad all year round.
No other course provider has our level of experience and expertise. Our team of instructors are second to none and have all been personally trained by Instructor Trainer Emma Farrell, to guarantee you'll be learning from the best.
Freediving courses in October start from the moment you register and receive our tailored online learning package and course materials. At your own pace you will learn freediving theory so you feel prepared on the morning of your freediving course.
Our RAID Freediver Courses  continue in the classroom where you learn about breathing for freediving and the equipment you'll be using. You then move to the pool to put what you've learnt into practice and try long fins for the first time.
After the pool sessions we move to Vobster Quay for more theory and the open water dive sessions of the course. Even though you've completed your online theory before the course starts, we offer informal classroom sessions throughout the weekend. This is a chance for you to ask any questions, no matter how silly you might think they are. It's also a chance to learn from our incredibly experienced instructors and deepen your knowledge.
Here you can see Go Freediving instructor Heather, alongside fellow instructor David, going over Dalton's law and freediving safety.
On your freediving course you also are taken through a stretching session, which help get the body prepared for a freediving session. Here, Heather leads the students in a stretching session by the side of the water.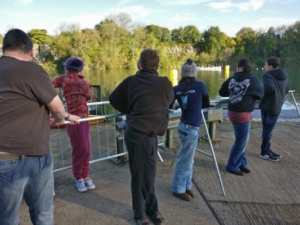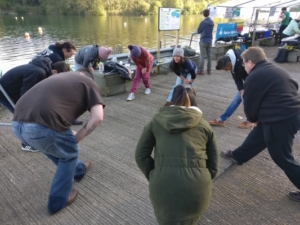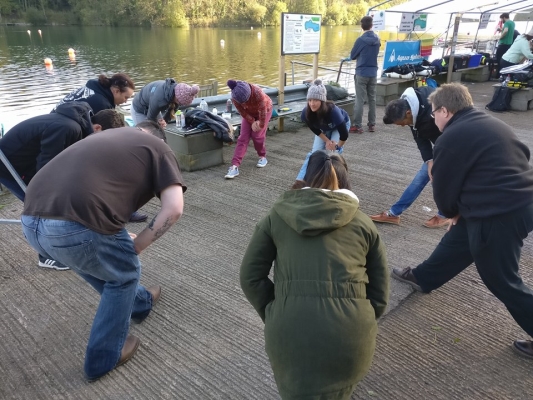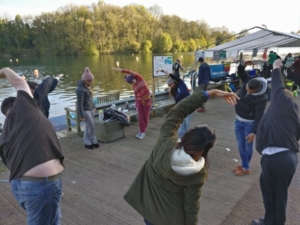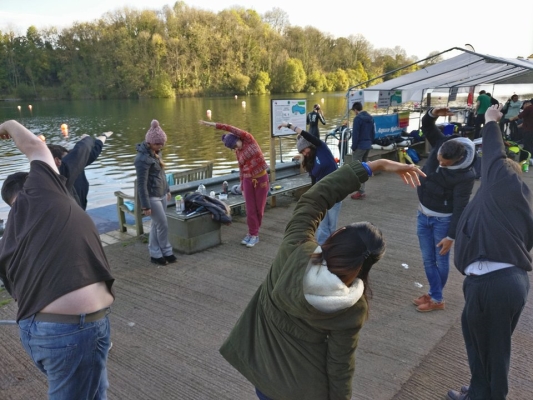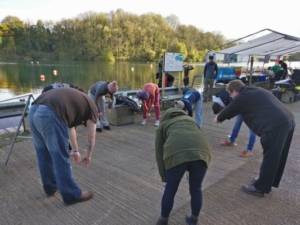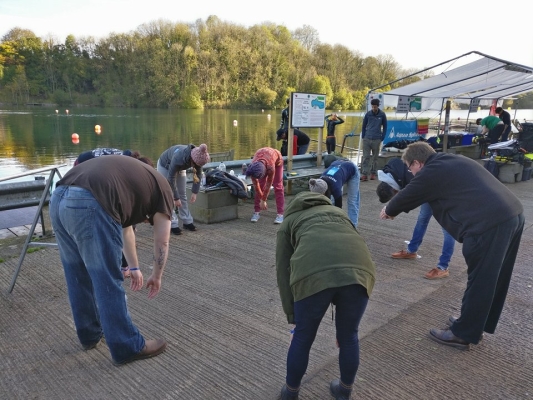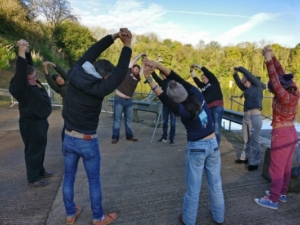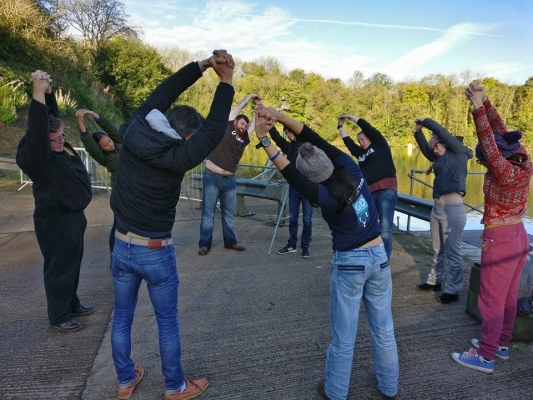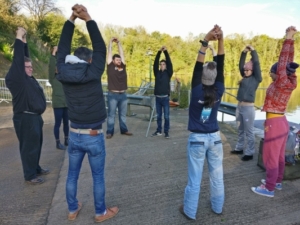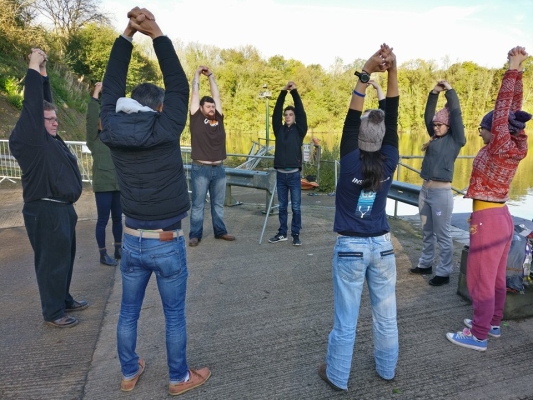 No other location in the UK is as perfect and consistent when you learn to freedive in the UK as Vobster is. Freediving courses in October still offer fantastic visibility; loads of fish, mussels and plants and masses of underwater attractions to freedive. You can dive to a truck at 5 metres, boats submerged at 6 metres, planes at 10, and structures, caravans, more boats and much more to be found deeper. And best of all, there are no currents, waves or tides to worry about! This week the weather was absolutely glorious! The sun was shining, visibility was fantastic and the students worked and played really hard!
And when you've finished your freediving session, hot showers and hot food are five yards away from the water…
Freediving courses in October  – Meet the students!

Read what this weekend's students thought of their freediving course with Go Freediving!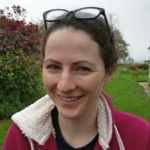 I've always fancied freediving but never got around to it, so decided to start looking this year. And then I found the Try Freediving course and really enjoyed that and thought it would be really good  to do it with some depth and do a bit more of an advanced course. I've done scuba for about 2 years but gave up scuba in the UK because of all the kit.
I've discovered you can do a lot more than you think. If we tried holding our breath on land we would probably get to a minute and think we need to breathe, but actually you can do more than you imagine. It's resisting those urges. Before I thought the urge meant I needed to breathe, but it doesn't mean I need oxygen.
I enjoyed yesterday because I didn't have any problems with my ears. I enjoyed the swimming down. The pool was really good, but it was good to do the depth work because it was completely different and then trying to think of everything while doing that, so the equalising and the breath hold. So I enjoyed it when we swam down and touched the plane for the first time. That was an achievement. It was like 'yes! I went down to 10 metres!' That was the best part.
I liked that the theory was online, so you could do it on the weekend or fit it around work. I think this course would be very good if you are not a very relaxed person because it would make you relaxed. And, it helps you not think of anything else other than the course, because you are under the water and can't think of anything else. You're free. It's just you and the water.
I would recommend this course if someone wanted to feel more relaxed or more comfortable in water. And if you do snorkeling and you wanted to improve. Because when you snorkel you go down and think you have reached your limit and pop back up. And learning to do it safely as well. Because if you haven't done the course, you wouldn't know how far to push it. We get to practice pushing our limits with you guys watching and you guys are going to stop us way before we get to any limits. You can't practice this on your own.
Sarah Turner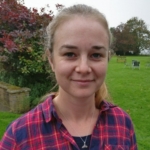 I've done scuba diving before and decided to challenge myself at something else. I've always been interested in freediving but never really looked into it all that much. And then Sarah said 'Let's go and do it' so I said 'yes'. Sarah is the one that did the main research into it and she said that Go Freediving had a really good reputation, so we booked onto the Try Freediving course about a month ago and really enjoyed it. We spoke to Emma a little more and were made to feel really comfortable, really happy, really kind of safety conscious from the instructors. And talking to Emma about the other courses it sounded like the RAID Freediver course was the best kind of course around so carried on diving with Go Freediving.
On this course I've discovered I can hold my breath for a lot longer and I've discovered how to zone out – which I thought I was pretty good at, living in London. But actually, it's not until you have to concentrate on zoning out and focusing on what you have to do to achieve the depth or breath hold that actually, you need to focus on it a lot more than I actually did.
What I liked most about the course was the instructors – they have always made us feel really at ease. And we've had a joke with them and they can take a joke and can also give one too. It's been a really nice, relaxed atmosphere. But they still keep pushing you to achieve the next step which is really nice.
The benefits of doing this course are that it really gives someone a chance to look at their health and how they are living their life. It certainly has me. It's not about who can go the deepest or hold their breath the longest it's actually encompasses food, dietary habits. It's been really nice to step away from life and just focus on 'right let's not hyperventilate, let's take those breaths and go for a dive'. Other benefits; I think the friendship and I've never felt that I can't ask questions. And being able to eat really hot, stodgy food to warm you up! Also, for me I think learning the equalisation techniques for when I am teaching in Australia and also getting my future students to calm down and give them the confidence to do it. One day I am hoping to become a freediving instructor – there are not many in Australia and what an amazing area to do it!
I would definitely recommend this course. My brother is not interested in scuba diving at all, but I think I could get him to come on a course like this because he wouldn't have to think about equipment or gas and things like that. I think my parents would really enjoy it too.
Alice Marno

I decided to a freediving course because my cousins spearfish in Greece and I always wanted to join in.
The reason I chose to do it with Go Freediving because you seem like the best freediving school and you are the closest to us, which is convenient.
I discovered that freediving is not all about the breath holding, but I find the equalisation is much harder. But I am slowly getting it with the help of all the instructors and how they are so friendly. Freediving is not just something you do on the weekends, it's all about your mental state and stuff like that.
The best part was when we had finished free immersion and were coming back and we weren't doing any depth diving, we were just diving down looking at the fish and the underwater scenery and that was amazing!
I think one of the the main benefits of this course are that is calms you down as it is all about the breathing which helps you stay calm and number two is the physical benefit – you get fit and get more control of your body. And, number three, you really get to know yourself – your strengths, your weaknesses and how to improve.
I would highly recommend this course. Definitely! Of course! All the instructors were so friendly, so much help. It was great!
Ben Cadec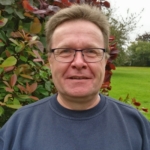 The kids in my snorkeling group out-beat me, so I needed to come on a freediving  course! You are the only one's on the internet that in reasonable driving distance that offers the whole course over a weekend.
I've really enjoyed the atmosphere. The instructors, the students, the lot!  It has been really good.
I now know that I can hold my breath a lot longer than I initially thought and I can teach my snorkeling students techniques that are correct and makes sense. And I will be coming back!
I would absolutely recommend this course, it is perfectly safe, good fun and you learn an awful lot. Theory is done in advance which makes perfect sense. If it wasn't so far away I would be here every week.
Volker Ewens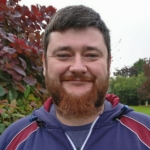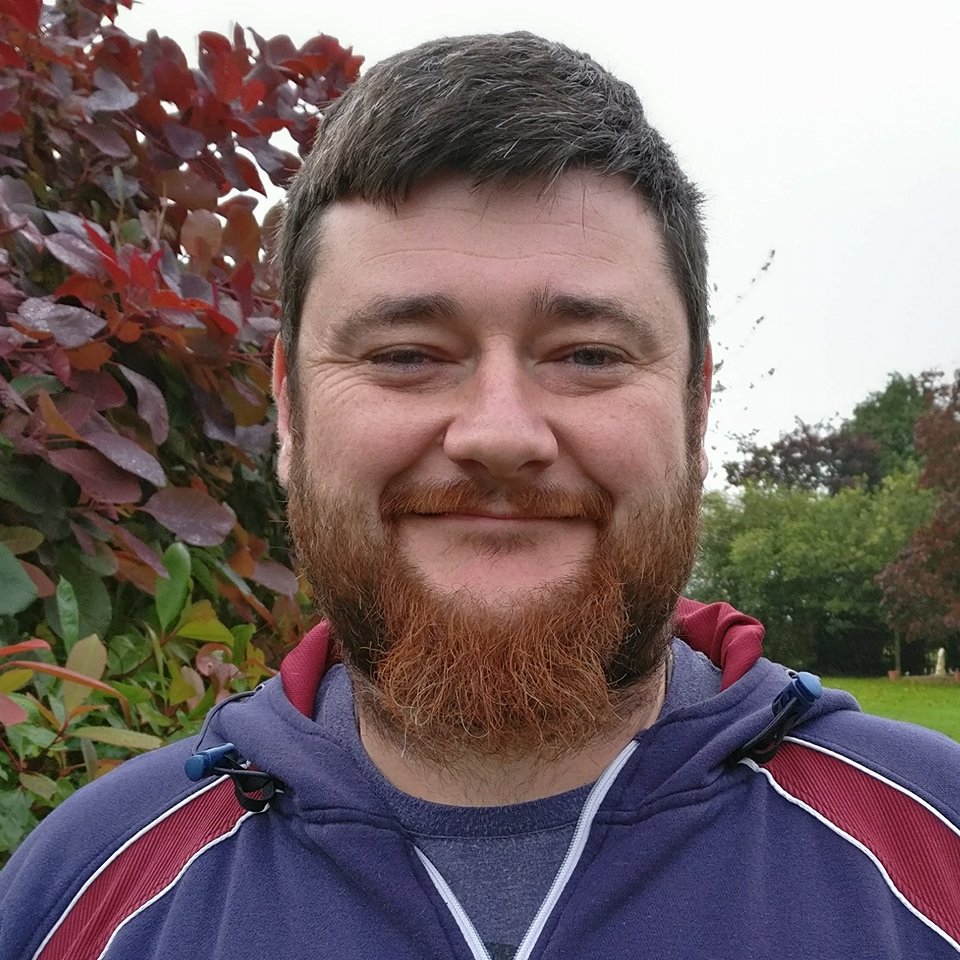 A friend sent me a video of a couple of people freediving around a wreck  and thought that looks pretty interesting and that was it, I started having a look.  I found three places that taught it. Your email was really enthusiastic, that really made a difference. It made you more approachable.
I discovered that I can't equalise…yet! I've also discovered that I am not quite as calm and relaxed as I think I am  – particularly when I'm 10 metres underwater!
What I enjoyed most was touching the plane. It plays such a big part of your videos, and I knew it was within reach. And especially after yesterday and not getting on with equalisation and not getting any way near the plane, to hit it several times today was fantastic. I was well pleased!
The benefits of this course is it is really relaxed, all the instructors are great! David has managed to help me without even realising he's helped a couple of times. The facilities are great as well. It's great down here. Even when it's busy there is still enough room for everybody.
I would recommend this course because it's approachable, great instructors and good facilities. In fact I've got a friend who I would bring when I come down to do the next course – they can do the beginners.
Peter Smith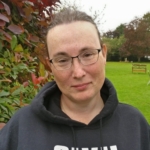 I've been wanting to freedive for a long time. I've always put it off because life has been very busy for the last 6 years, but over the last year or so I've just been thinking about it more and I've read that people do it not just as a sport but as a way to relax and for me I took it up thinking yes, I could learn a new skill and also relax my mind because of my autism. I've come away with a really great mindset and I've learned some great skills as well and that's why I took up freediving.
I chose you over all the other people because of your website. It has videos, the way it is presented – it looks and feels professional, but doesn't look business-like. It is personal, inviting, friendly and has your character. For me when I read something and think, that's good, I want to be a part of that organisation. And for me, it was the right choice.
I haven't been at peace for a very, very long time and although I haven't passed the course, I have achieved so much and look forward to working with you, to build upon my skills, learning more and keep doing so well into the future, It's been brilliant.
People who know me, know that I have to work twice as hard as everyone else because of the way my brain works. So I have a certain way of doing things. So for me, this has been absolutely brilliant.
I've discovered that whilst I was reading some of the pre-course notes about the breathing element, I found a new way of concentrating, for someone with autism that was brilliant.  And then, being out on the water with great instructors who know their craft and have masses of experience over the years, I find that I'm really confident. They want to teach, they want people to move forward and I felt really comfortable, and this is a new skill that I can achieve and keep progressing with.
What I have liked most about the course is the amazing people, everyone is like-minded, I never felt under pressure, the student to instructor ratio, the way you delivered the course. It was friendly. It's just been really good. I've learned new skills, basics like putting on a wetsuit. Being out in the water, having the confidence. I feel really comfortable. Finning skills, how to breathe, concentration on what you need to do. Basically, all the skills are going to come in and I'm going to feel yes I've got it! Maybe the Red Sea should be something I should be thinking of next!
The benefits of this course for me personally are inner peace, calm, a new skill to go and explore the oceans, seas and inland sites. Enjoy myself while doing it and continue to learn new skills and things about myself.
I would recommend this course because it is an ideal way to come into freediving. By exploring and learning about that environment in that way it also makes you feel at one with it.
It takes you out of your head and into your body. You're learning new skills and about yourself and you focusing on things you want to do. I would recommend Go Freediving because the way you instruct people, your method of teaching, the website it is all done really friendly. There is a lot of vicarious learning. You have a package that all comes together, to make freediving students very welcome to this new sport. I would definitely recommend it!
Kristiana Pearce
And you can read more testimonials here!
Learn to freedive with Go Freediving
Go Freediving is the longest established, most experienced and friendliest freediving course provider in the UK, led by world class freediving instructor trainer Emma Farrell, and her team of personally trained instructors. No other course provider has such a good instructor to student ratio, safety record and personal touch.
Whether you're a beginner dipping your toes into the world of freediving, a seasoned pro looking to turn professional, or simply a freediver of any level who wants the best freediving holiday in the world, we're here for you!
Also check out our online guide, The Beginners Guide to Freediving by clicking here!
Keep in touch with everything Freediving
Subscribe to our mailing list for weekly newsletters with exclusive articles, news, films, offers and more!