Wondering why so many people chose to take their Freediving Courses with RAID? Go Freediving – the most experienced, friendly, safest freediving course provider in the UK –  truly believe Freediving Courses with RAID are the most comprehensive freediving courses around. We've been teaching people how to freedive in the UK and abroad since 2003 and have taught thousands of people how to freedive.
Check out one of our most recent Freediving Courses with RAID , held on 19th – 20th August 2017 and see for yourself what you get up to when you learn to freedive in the UK with us!
Why Freediving Courses with RAID are so good!
When you join one of Freediving Courses with RAID, your course starts from the moment you register and receive our tailored online learning package and course materials. At your own pace you will learn freediving theory so you feel prepared on the morning of your freediving course.
No other course provider has our level of experience and expertise. Our team of instructors are second to none and have all been personally trained by Instructor Trainer Emma Farrell, to guarantee you'll be learning from the best.
We freedive in the UK generally between the spring and early autumn and our freediving courses with RAID run from the end of May to mid Oct. We have courses, club meets and events running weekly throughout the season and also run courses on our freediving holidays abroad all year round.
On the first morning of your course, you start in the classroom, learning about breathing for freediving and the equipment you'll be using. You then move to the pool to put what you've learnt into practice and try long fins for the first time.
After the pool sessions we move to Vobster Quay for more theory and the open water dive sessions of the course.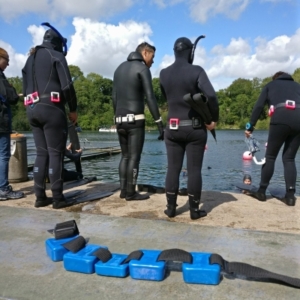 In this picture you can see how many weights one of our students started diving with. By the end of the course they were able to remove all of these weights! It's common for spearfishers to learn to freedive with us, and without proper instruction they rely on using weight to descend, not technique, which is very dangerous. On our courses, with the right technique they can remove most of the extra weight they were wearing. This weekend a student went from 9 kilos down to zero and in the past we've had students who come to us wearing 20 kilos!!!
No other location in the UK is as perfect and consistent when you learn to freedive in the UK as Vobster is. Freediving Courses with RAID in Vobster offer fantastic visibility; loads of fish, mussels and plants, warm water (up to 23 degrees on the surface in the summer), and masses of underwater attractions to freedive. You can dive to a truck at 5 metres, boats submerged at 6 metres, planes at 10, and structures, caravans, more boats and much more to be found deeper. And best of all, there are no currents, waves or tides to worry about!
And when you've finished your freediving session, hot showers and hot food are five yards away from the water…
Freediving Courses with RAID – Meet the students!

Read what this weekend's students thought of their Freediving Courses with RAID!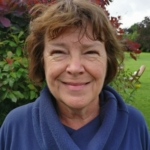 I decided to do this course because I scuba dive, and I wanted to make my scuba diving better.
During the course I've discovered that I can hold my breath much longer than I ever thought. And that I shouldn't use my determination so strongly!
The instruction has been really good. I think the instructors worked very hard to help us through our fear or apprehension.
This course has taught me how to be better at scuba diving, better and safer snorkelling – and I've had fun!
I'd definitely recommend this course because of the quality of the instruction. Also Vobster is a very good venue, because you're able to practice without the hazard of waves, currents, wind, tiger sharks etc. I wish I'd known about this place years ago.
Carol Austen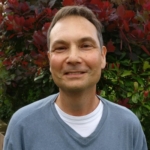 I've done quite a lot of scuba diving in the past and when I found out about freediving it appealed to me. The fact that you're much less encumbered with heavy gear getting in and out of the water. That feeling of freedom – being able to dive in with the minimum of equipment.
I liked learning new skills, finding out about something I knew absolutely nothing about – which is harder as you get older, challenging myself and being in a new environment with new people.
The benefits of doing this course is that it can boost your confidence, teach you something about yourself and it helps you to relax which is an added benefit, because you can't really do freediving unless you are relaxed.
If someone wants to do freediving I would wholeheartedly recommend this course. The quality of the tuition is very good, the environment is very good and it is well organised.
Tony Muir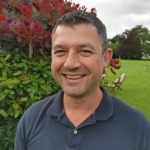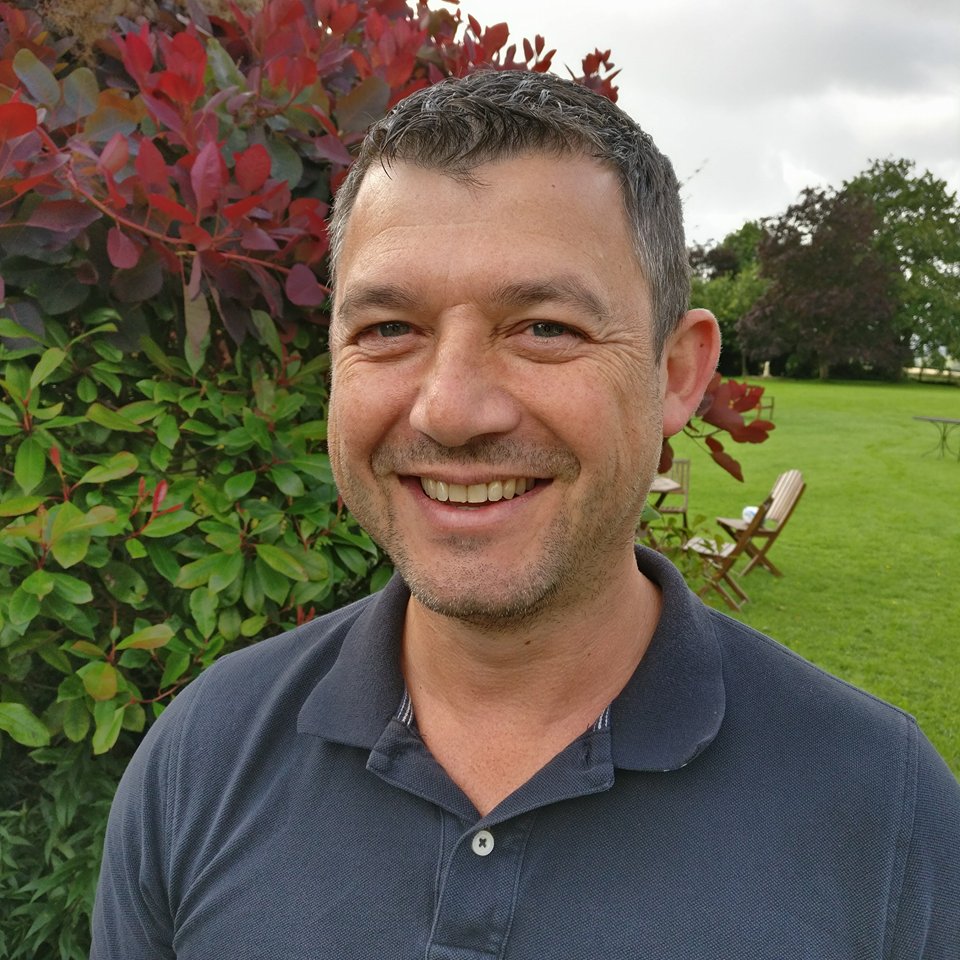 The best part of the course for me was the freediving in the water. Seeing other people going into the water with their scuba diving gear – I don't envy them at all. It just feels much nicer to be in the water with nothing else. I've have done scuba diving before and it was enjoyable, but I prefer this – especially when I get to depths that would be more exciting. The course was very well run, the instructors were brilliant and so were the facilities. The information pre and post course has been great and the facilities at Vobster were equally as impressive.
The benefits of this course is that the tuition was relaxed, friendly and very, very professional. Certainly much better than any scuba diving training I have had. Much safer. And, the location – the water is amazing. I've really, really enjoyed it.
I would recommend this course. This was a mixed group of ages and abilities, but everyone was catered for and I felt completely safe at all times, and I've seen people succeed who were apprehensive at the start. It was really good.
Steve Woolls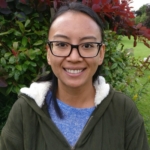 I think this course helps me control my anxiety with surfing – I'm always scared of getting caught under so being able to get myself out of it instead of panicking, I feel a lot calmer now just for that safety reason. I would be panicked after every dunk of the wave.
This course has taught me to deal with the unknown when you're being crushed by a wave and  just being able to say 'it's OK' – being in control and being able to trust yourself.
The best part of the course is that the trainers like Jorgen are very calm when he explains things, so it doesn't stress you out. He made you feel like you've done ok and tells you what you can work on, so you feel like you have achieved something. It was really good.
I would definitely recommend this course. All my friends definitely need to hear about this course and they need to do this course! We need trainers in Australia teaching this.
Novita Yamin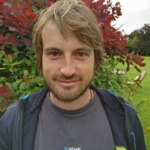 I grew up along the sea, and have always snorkeled and done some spearfishing, but felt it was time to do something to improve the quality of my snorkelling and spearfishing.
The benefits of this course is that you feel safe – every teacher is really confident. You can see they are like fish so you are in good company on this course. It was a great learning curve and it was a great atmosphere. I was very happy to be here. I enjoyed it lot.
I would recommend this course because there are quite a lot a spearfishers in my area, but not many freedivers, and I think we go about it in a bad way without knowing any rescue  – I don't think we have proper techniques for diving properly or equalising. So for that  I would definitely advise them get to this course and at least learn rescue so that everyone is safer.
Sven Le Moinebauer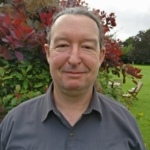 The main motivation to do this course was to improve my scuba diving.  I did some snorkelling a couple of years ago and didn't get to grips with the snorkel so thought I would give it a go and see if I could get better.
What I liked most about the course was that the whole team was really great at looking after us and making it a good experience, helping us all through our individual problems. That was really the best thing.
The benefits of this course is that it teaches you a lot about yourself, you get better in the water, no matter what water sport you do, and I think controlling your breath helps you with that.
I would recommend this course because it was an interesting experience, the team was simply fantastic, and I felt safe all the time and very well looked after. I made a lot more progress than I thought I would. Brilliant.
Andreas Leibl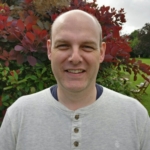 I've been interested in freediving for a while. I did a Try Freediving course first, and now I've done a freediving course – which I passed!
I've learned a lot about the oxygen in your lungs and how you shouldn't breathe it out, as opposed to scuba diving.
I liked the very structured way in the course was taught, there was a lot of support and help and people around you.
I would recommend this course because it is safe, it is a controlled environment – the location is great – and the equipment is provided. I liked the instructors a lot.
Mark Burgess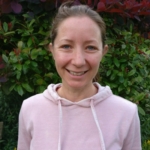 It was Sam's idea to book a snorkelling holiday and so we're going to dive with humpback whales in the Dominican Republic. So we're doing the course to build our confidence up and learn to swim underwater properly, get that depth, be confident doing it safely. I
I've learned how to hold my breath – which I think was my big fear with water. And now I can hold my breath and I should have confidence in my own abilities. My confidence has grown. And Sam is amazing so I know she can rescue me on holiday if I need it!  I loved pushing my limits. I've come on leaps and bounds.  Two years ago I wouldn't even put my face in the water!
The whole course is a benefit. The breathing training is absolutely amazing, the guys are so good. They give you the confidence to do it. I know the Dominican Republic is going to be 100% better than it would have been now that we have done this course. It's brilliant, awesome, ten out of ten.
I would definitely recommend this course. 100% . And if I know anyone who has a fear of water, this is what I'll tell them to do, not what I did, spending a whole year of jumping in and out of swimming pools and having heart attacks. I should have just come here! I need to write to my hypnotherapist and tell them to send people freediving!
Jennifer Dodd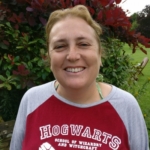 So, last year I went snorkelling with Whale Sharks. Lots of people were swimming with the Whale Sharks and diving down but I wasn't confident enough  so when I came back I said to Jen there's a holiday snorkelling with humpback Whales in the Dominican Republic, I'm definitely going and you should come too.
We wanted to do something that was certified and in a safe environment, and everything about what you did sounded relaxing and controlled. There's a structure to it. A lot of other companies you read, and you just go out in the sea and do a bit of freediving. That's not what I want. I want someone to tell me exactly what I'm going to do and then I'll do that.
There was no point where I felt scared and I really thought I would! I loved the feeling of it, the diving. I was very excited to touch the plane! Just feeling that I had achieved that. At one time I thought it was out of reach, but I did it. In one weekend, it's incredible really.
Samantha Skelton
And you can read more testimonials here!
Learn to freedive with Go Freediving
We believe Freediving Courses with RAID is the best option for beginners and advanced freedivers. Go Freediving is the longest established, most experienced and friendliest freediving course provider in the UK, led by world class freediving instructor trainer Emma Farrell, and her team of personally trained instructors. No other course provider has such a good instructor to student ratio, safety record and personal touch.
Whether you're a beginner dipping your toes into the world of freediving, a seasoned pro looking to turn professional, or simply a freediver of any level who wants the best freediving holiday in the world, we're here for you!
Also check out our online guide, The Beginners Guide to Freediving by clicking here!
Keep in touch with everything Freediving
Subscribe to our mailing list for weekly newsletters with exclusive articles, news, films, offers and more!