Recently, I was honoured to be invited as a guest speaker to talk about freediving in the army and to present an award at the 11th (Royal School of Signals) Signal Regiment annual sports persons dinner and awards evening in Blandford Camp in Dorset.
As a number of our freediving students and club members come from military backgrounds it was an unexpected pleasure to be asked to come and talk about freediving in the army with a unit so clearly passionate about (and talented at) sport. It was also a rare chance to dress very glamorously AND talk about freediving – what's not to love?!
The Army Sport Award categories were:
Sports Personality of the Year
Sports Coach of the Year
Sports Team of the Year
Regimental Colours
The Order of the Evening:
The event, was, understandably very formal and traditional commencing with guest and VIP arrival, a Dinner call, opening address and Grace.
After our starter the awards for the Regimental Colours were presented.
Following our main course Major Sandy Hennis presented her speech and also presented the Sports Team of the Year award.
Major Sandy Hennis is a Reservist Officer who started her career in the army as a radio technician before working for the Royal Signals. She has toured Kosovo, Iraq and Afghanistan before leaving the army to become a reservist and now splits her time between leading overseas expeditions, outdoor instruction and team building and leadership development and has an impressive list of outdoor physical challenges she has undertaken from mountaineering across Europe and the US to Kayak marathons and mountain biking.

Her talk was incredible and about her world record setting human powered trek across a record-breaking expedition across Antarctica as part of a six-women group called Ice Maidens who spent 62 days trekking across the frozen and often treacherous environment, travelling for 10 hours and up to 27 miles a day in temperatures as low as – 56C!
My speech was after dessert and it seemed fitting that the speech should focus on freediving in the army – the actual sport of freediving, rather than any conservation or environmental concerns freedivers face.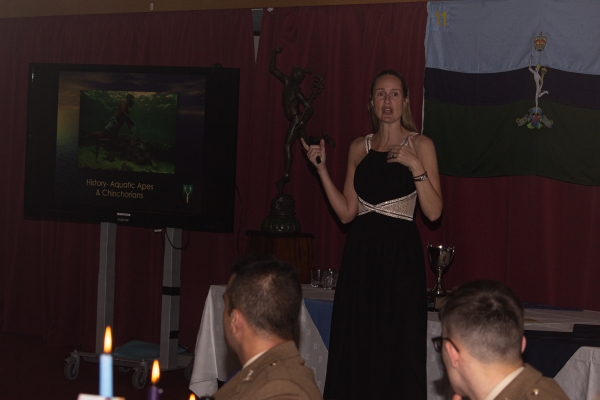 I wanted the guests to see how dynamic (no pun intended) and diverse freediving in the army can be, from recreational freediving and competitive freediving right through to future careers in freediving including filming, underwater photography, stunt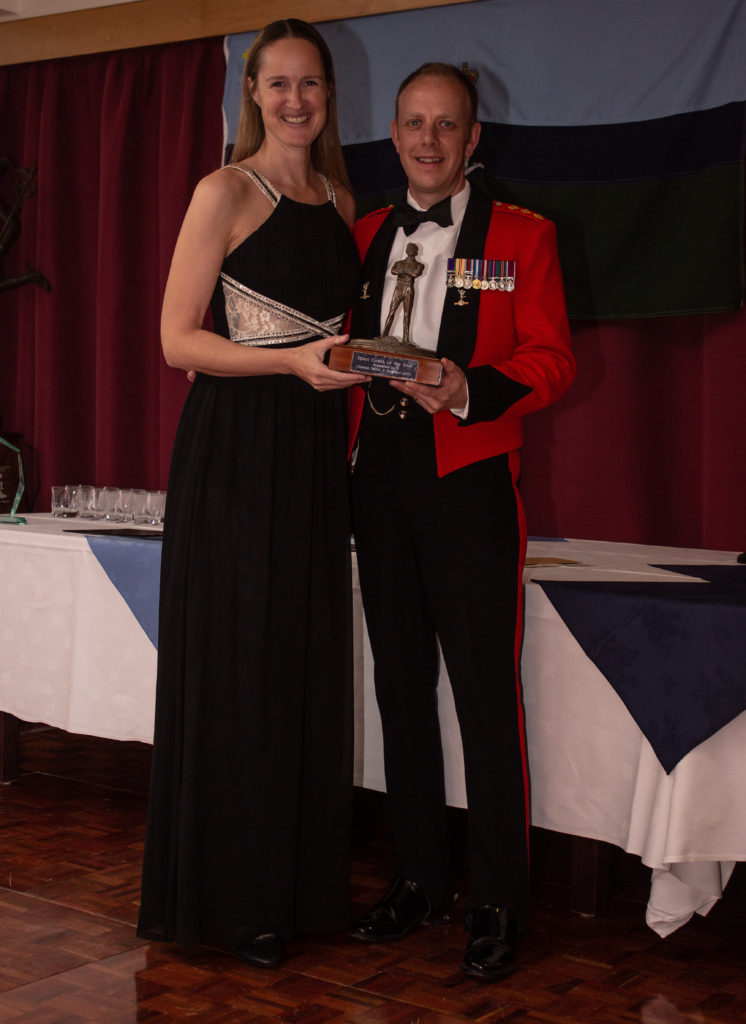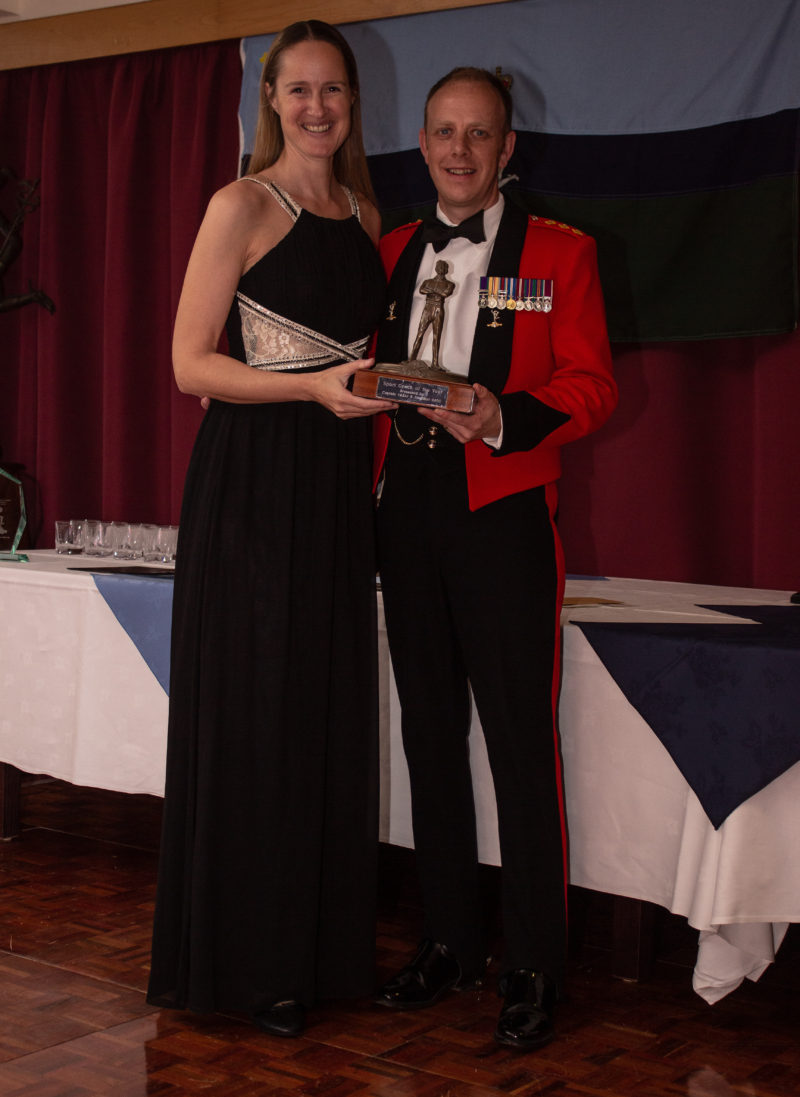 work, rescue diving, environmental protection or research and more.
I talked about how freediving has evolved and how are bodies are much more capable of going beyond the limits we believe we are restricted by. I think this very element of freediving resonated with the guests who through military training and background have a common understanding of this.
There were many young trainees straight out of school in the audience and I wanted to inspire them to keep pushing their own boundaries and discover new sports that can be life changing, as freediving has been for me.
Following my speech I was honoured to present Captain Burton with the award for sports coach of the year.
The closing address was presented by Lt Col C L Jardine who stated:

Sport in the Army is vital to the development of  'espirit de corps' and therefore operational effectiveness. It contributes to fitness, teamwork, leadership, self-discipline and courage. It plays an important part in service life overall, including recruiting, retention and physical development, but sport also provides an outlet for service personnel from the stresses of military life.

As a regiment we have an excellent sporting pedigree. We have fielded soldiers and officers who have played sport at all levels, from regimental competitions through to international championships.

When the regiment enters a competition 'Team 11' are most certainly a team to be reckoned with. In 2018 we won the Major Unit Army Sports Trophy for being the most successful unit in the Army at sports. We look forward to continued success in our sporting endeavours this year, whilst developing personally and professionally.
After Dinner, it was time to retire to the bar and mingle.
The whole evening was wonderful. The 11th Royal Signals were wonderful hosts and the organisers did an amazing job of making the ceremony look effortless.
I would like to extend my personal thanks, once again, to everyone who made me feel so welcome. I hope I have inspired even more students to explore freediving in the army!
Learn to freedive with Go Freediving
If you have been thinking about trying freediving in Yeovil why not visit Go Freediving in Bath? We're not too far away and are the longest established, most experienced and friendliest freediving course provider in the UK, led by world class freediving instructor trainer Emma Farrell, and her team of personally trained instructors. No other course provider has such a good instructor to student ratio, safety record and personal touch.
So, whether you are a beginner dipping your toes into the world of freediving in Yeovil, a seasoned pro looking to turn professional, or simply a freediver of any level who wants the best freediving holiday in the world, we're here for you!
Also check out our online guide, The Beginners Guide to Freediving by clicking here!
Keep in touch with everything Freediving
Subscribe to our mailing list for weekly newsletters with exclusive articles, news, films, offers and more!