Recently, I had the unexpected pleasure of being invited to speak at the headquarters of Screwfix for their week of learning. They had a number of speakers attending throughout the week, but the topics they wanted me to talk about were plastic pollution and freediving in Yeovil. While these two topics are incredibly different, there are some important connections between the two (the biggest being the ocean) and I was delighted to be able to share my insight as a freediver with the audience.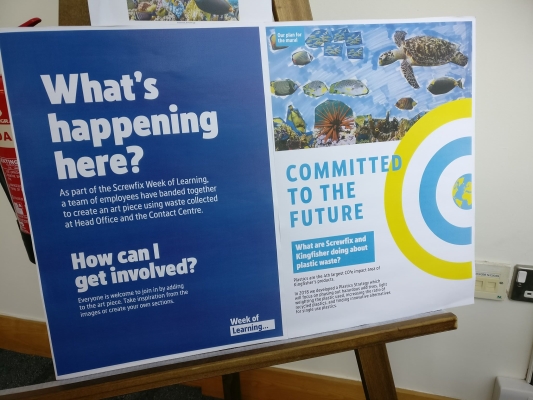 Why I wanted to talk about Plastic Pollution and Freediving in Yeovil
Everyone knows about plastic pollution and that it's 'very bad for the environment' and that 'plastic bags last forever', so I decided that the talk should be more about sharing information than lecturing – and by sharing, I mean I wanted to learn about Screwfix and their position on plastics too.
When I arrived it was clear that the staff and visitors at Screwfix were not obliged to attend the talk, they actually WANTED the talk. They were genuinely interested in discovering more about freediving in Yeovil and also how plastic pollution is invading every crevice of our planet and  is already in our food chain. The staff had been set a challenge to create a piece of art work from plastic waste from the building. How poignant that they had chosen an ocean scene for this: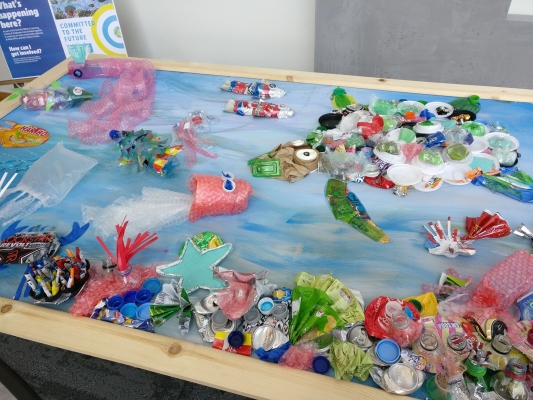 It is well known that Screwfix are large producers/users/distributors of plastic, but they actually have a very clear sustainability policy relating to sustainability, responsible sourcing, energy and waste.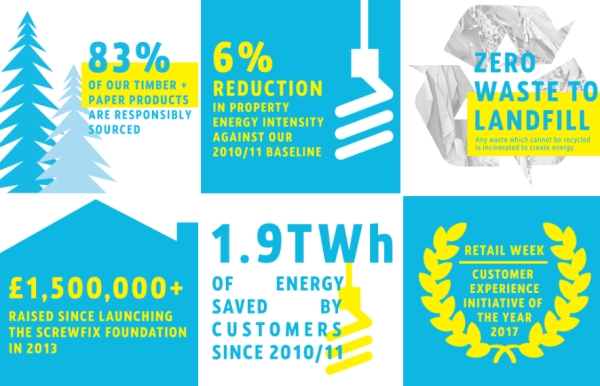 In relation to waste, the Screwfix policy states:
We want to reduce the environmental impact of our growing business so we have worked hard on the best disposal route for the waste we create. We generated nearly 12,000 tonnes of waste in 2016/17; our main types of operational waste are wood, paper, cardboard, metal and plastic.

We have achieved zero waste to landfill from our all Stores and Distribution Centres by reorganising our waste management process. Our Stores sort their waste and we then transport it in our delivery vehicles back to our Distribution Centre.

All recyclables are extracted and any non-recyclables are sent for incineration which, in turn, produces energy. This gives us more control and means our employees all play a role in this achievement. Even our Head Office waste is sorted then recycled or incinerated – only a small percentage went to landfill in 2016.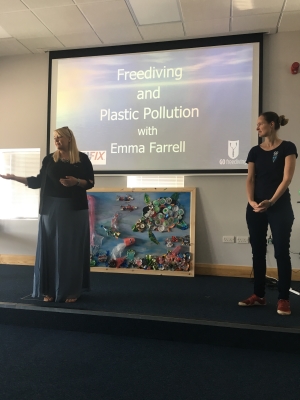 This is heartening to see, and hopefully indicative of all responsible businesses operating in the UK. But my talk wanted staff to understand that we can go further, we NEED to go further to help reverse the snowballing plastic waste epidemic that we are facing, and that in some cases very small changes can make very big differences.
The topics Screwfix had asked me to present were a perfect way to show the beauty and beast of our oceans. How freediving uses very little, leaves no waste, causes minimal disruption to the marine life and is a harmonious activity that is pretty much part of our evolutionary make up and has not needed to evolve in order to survive. Yes, of course we have improved techniques and streamlined and designed our kit as improvements are discovered, but essentially freediving as a skill is pretty much unchanged. It is still an activity that relies on our ability to adapt underwater and is a deeply relaxing, calm pursuit.
As there are so many people who don't actually dive (freedive or scuba), they never get to see life beneath the ocean waves. It remains a mystical place where knowledge comes from television or internet and in many cases can be biased, sanitised for viewing purposes or is simply throwaway entertainment for the short time they are immersed in this world.
I really wanted to show them how beautiful and diverse our oceans are, and why these amazing eco-systems are under such threat – and of course what the impact of that has on all of us.
So, I showed them images such as freedivers with our biggest marine life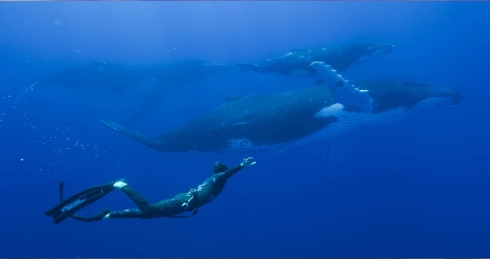 And also images of the beauty of freediving in our oceans – as they should be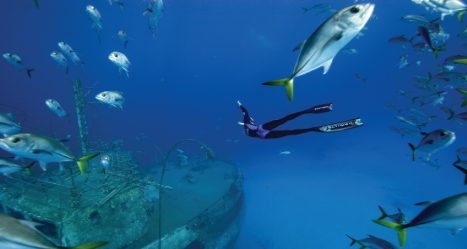 I was also delighted to be able to banish a few myths about freediving, too!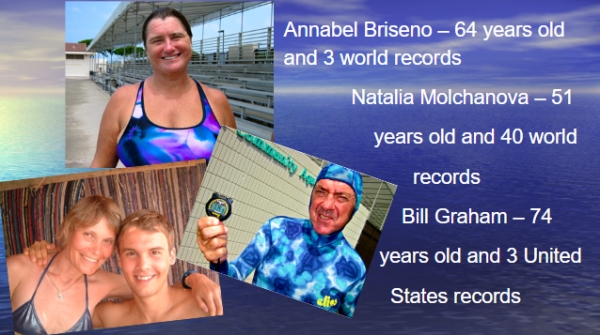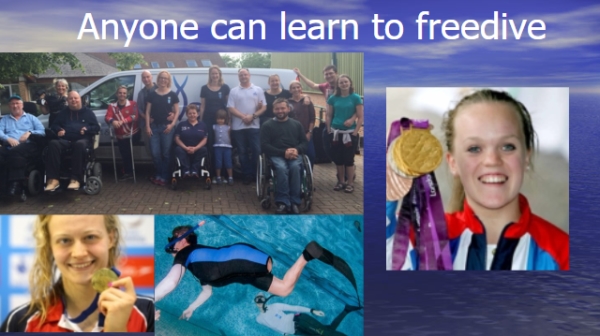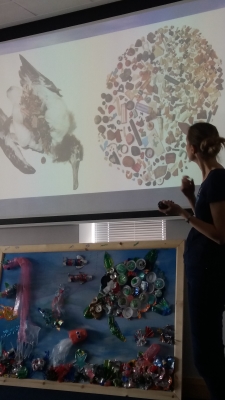 After my  talk about freediving in Yeovil and how beautiful our oceans are, I moved on to the topic of plastic pollution. During my research for the talk – and even though I was aware of scary facts such as plastic now being found in places such as the Mariana Trench and also in the tissue of fish and even earthworms – I was still shocked to see not only the damage caused by plastic pollution, but the extent of it – and that it is still growing at a phenomenal rate.
I shared images of animals injured or killed by becoming entangled in or consuming plastic and also graphics showing the rising levels of plastic waste and pollution everywhere – from the deepest places on earth to the stomachs of the tiniest insects on our planet. Our own food chain now contains plastic.
The following image was devastating to share, but it is even more devastating when you realise this is NOT an isolated case, and  that this plastic and debris didn't just arrive overnight after some awful tsunami or storm.This built up over years and years.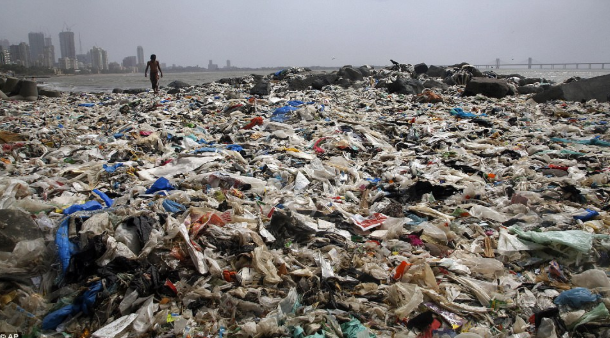 There is actually a wonderful ending to this particular beach pollution story
– watch the video below:
This entire story proves that one person really can make a difference. By the act of one person (Afroz Shah, a lawyer for the Bombay High Court), more followed, and then more, and then more – until an entire beach loving community of over 2000 volunteers completed what has been described as the worlds biggest beach clean up operation by The United Nations Environment Programme (UNEP). In recognition of Mr Shah's volunteer work, he was awarded the Champion of the Earth award by the United Nations. He is said to be the first Indian to achieve such a feat.
More and more companies are finding innovative ways to help reduce or reuse plastic, thereby contributing to a slowing and eventual reversal of plastic waste on our planet.
I thoroughly enjoyed my talk at Screwfix and it was wonderful to know that companies are not just ticking boxes to comply with government directives. Businesses and their employees have a genuine interest, dare I say passion, to reflect and act on the knowledge that how they behave today is having a direct impact on our tomorrow.
Learn to freedive with Go Freediving
If you have been thinking about trying freediving in Yeovil why not visit Go Freediving in Bath? We're not too far away and are the longest established, most experienced and friendliest freediving course provider in the UK, led by world class freediving instructor trainer Emma Farrell, and her team of personally trained instructors. No other course provider has such a good instructor to student ratio, safety record and personal touch.
So, whether you are a beginner dipping your toes into the world of freediving in Yeovil, a seasoned pro looking to turn professional, or simply a freediver of any level who wants the best freediving holiday in the world, we're here for you!
Also check out our online guide, The Beginners Guide to Freediving by clicking here!
Keep in touch with everything Freediving
Subscribe to our mailing list for weekly newsletters with exclusive articles, news, films, offers and more!