Check out Go Freediving on The Wild Weekenders THIS FRIDAY 8pm on Channel 4. See Emma Farrell teaching TV presenter Arthur Williams how to freedive in Devon.
The Wild Weekenders is a new TV show from Little Gem for Channel 4. It takes comedian Adam Buxton, Paralympics presenter Arthur Williams and food lover Clem Green to Devon to showcase the amazing range of places, food and adventures to enjoy in the county and hopefully inspire viewers to try something new.
In the first episode of the season, TV presenter, pilot, former Royal Marine and athlete Arthur Williams learns to freedive in Devon with Go Freediving's Emma Farrell.
Arthur told Sunday Brunch on Channel 4
"The idea of The Wild Weekenders is to inspire people to do those things like freediving themselves in the UK. When Channel 4 mentioned freediving to me, I was thinking about these guys in the Caribbean, with massive flippers that go down until their lungs explode, and I thought 'You can't do that in Great Britain', and then they said it was breath hold diving, where you literally just hold your breath, and I thought 'I've done that before, and I get to about two metres at the local leisure centre swimming pool and my ears start to hurt.'
But I went out with Emma Farrell, and she's one of the world's leading freedivers, and she showed me some breathing techniques. Now, I've been in my skin for quite a number of years, but she showed me techniques and methods of using my own body, to get down to 12 metres underneath the English Channel, just off the coast of Torquay. And it was epic, it was just epic. It took me half a day. It's incredible.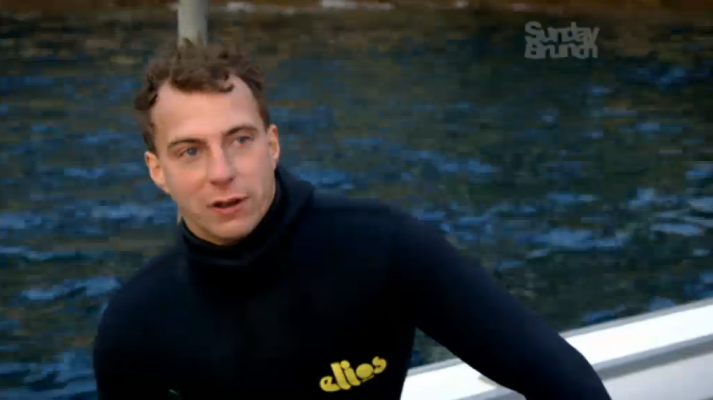 With the freediving, I was speaking to Emma and I said 'You've got to be really super fit to be able to that' and she said 'no, I have people that come that are really heavily overweight, I had a ninety-two year old that came and had a go at it' so everyone can come and have a go. If you want to get away from city life for the weekend, just jump on the M4 and you're there and you've managed to get away from it all"
Arthur met Emma on the quayside in Torquay for a freediving theory lesson and then headed out into Tor bay to teach Arthur how to put freediving theory into practice.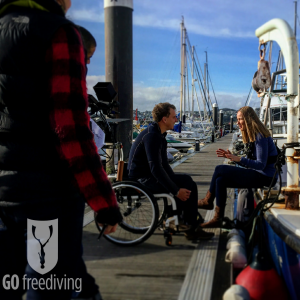 Freediving on The Wild Weekenders in Devon
The Wild Weekenders was shot on a beautiful November day in 2016. It was Arthur's first experience of freediving and he took to it like a proverbial duck to water.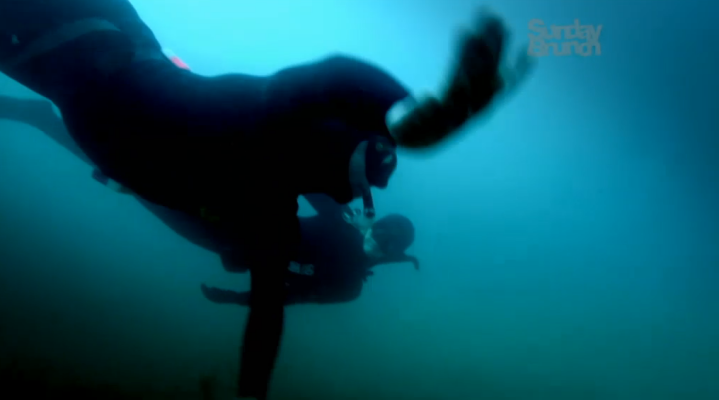 Emma says:
"I couldn't believe how comfortable Arthur was in the water. Once he'd quickly mastered how to to equalise, he pulled down to 12 metres and then set off freediving across the sea grass beds, using his ams to propel him along the sea bed. Every time I thought he'd decide to come back to the surface, he just kept going. His breath hold was phenomenal and he was a natural freediver. Part man, part fish!"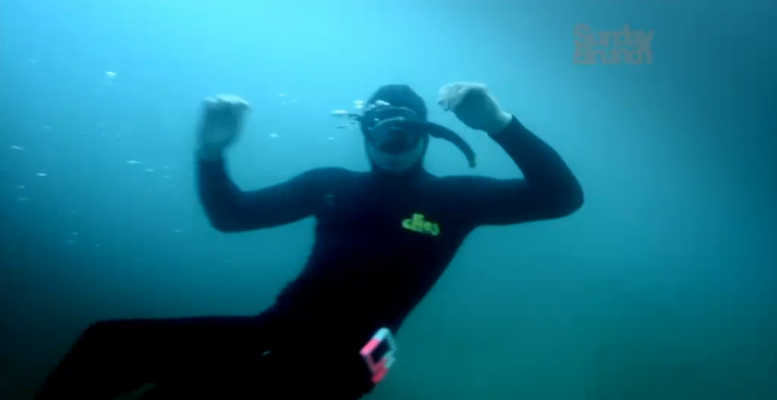 Freediving on The Wild Weekenders was the highlight of Arthur's experiences working on the Channel 4 show:
"I'm lucky enough to constantly be trying crazy things but I haven't experienced anything as genuinely fun and rewarding as free diving with you and the guys. It really was brilliant and I genuinely surprised myself at how capable the human body can be when shown how to push it to its max potential."
And this photo shows just how much Arthur and Emma enjoyed Freediving on The Wild Weekenders!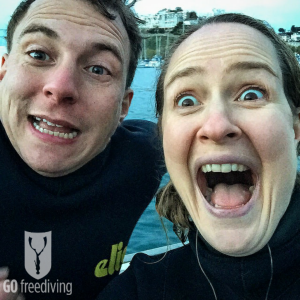 You can check out Freediving on The Wild Weekenders on Friday 14th April on Channel 4 at 8pm and also watch it on catch up for 30 days after the show airs.
We'll have more info about the day and Arthur's experiences for you soon!
Learn to freedive with Go Freediving
Go Freediving is the longest established, most experienced and friendliest freediving course provider in the UK, led by world class freediving instructor trainer Emma Farrell, and her team of personally trained instructors. No other course provider has such a good instructor to student ratio, safety record and personal touch.
Whether you're a beginner dipping your toes into the world of freediving, a seasoned pro looking to turn professional, or simply a freediver of any level who wants the best freediving holiday in the world, we're here for you!
Also check out our online guide, The Beginners Guide to Freediving by clicking here!
Keep in touch with everything Freediving
Subscribe to our mailing list for weekly newsletters with exclusive articles, news, films, offers and more!