Freediving with Orcas has to be one of the most incredible experiences ever, and Go Freediving Instructor David Mellor filmed his experiences just for us! Not only did he freedive with Orcas, he also got to dive with humpbacks. Check him out diving with these majestic beasts and find out more below!
Freediving with Orcas in the wild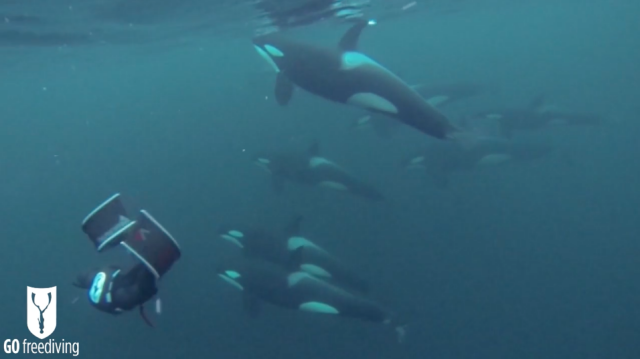 One of the best places to experience Freediving with Orcas in the wild is in the Arctic circle in Norway. They come here during the winter months to feed on herring near the shore, and journey in their pods up and down the coast, in and out of the fjords.
There is a big difference between seeing an Orca in captivity and in the wild, their natural home. In the ocean the interactions are done on their terms. If they don't want to dive with you then they won't. They can easily swim away from a tiny freediver.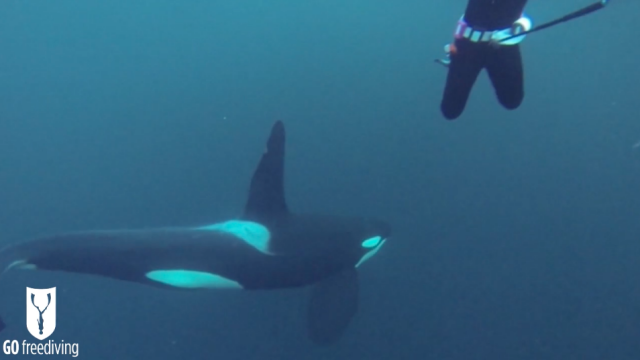 Freediving with Orcas: Do's and Don'ts
As with freediving with any ocean creature, when you go Freediving with Orcas the most important thing is not to harass them. Slipping gently into the water nearby gives you the opportunity to freedive with them and let them come and check you out.
Orcas, along with other marine mammals, are very sensitive to sound, so David visited Norway with Jacques de Vos from Arctic Freediving and stayed on a sailboat which could sail up to the pods without disturbing them. Plus the orcas found the boat interesting so often came to check it out.
And the most unexpected encounter David had whilst in the fjords of Norway was with former Go Freediving student and multiple freediving record holder Anna von Boetticher who had also come to experience freediving with orcas and humpbacks!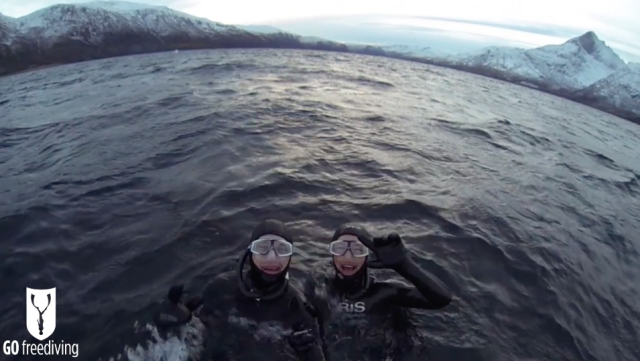 Freediving with humpback whales
The other big marine mammals that David dived with were Humpback whales and he got so close he could even take a selfie with them! Humpbacks are graceful, majestic and peaceful creatures, growing up to 15 metres long and are found in many parts of the world, including on our holiday in Sri Lanka (see below).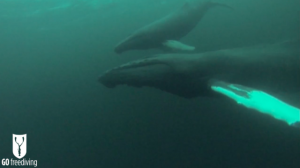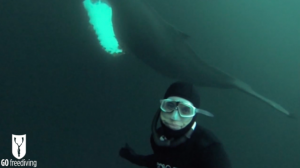 Come on your next freediving holiday with us!
Go Freediving is the longest established, most experienced and friendliest freediving course provider in the UK, led by world class freediving instructor trainer Emma Farrell, and her team of personally trained instructors. No other course provider has such a good instructor to student ratio, safety record and personal touch.
Whether you're a beginner dipping your toes into the world of freediving, a seasoned pro looking to turn professional, or simply a freediver of any level who wants the best freediving holiday in the world, we're here for you!
And like the idea of freediving with whales? Then come on our trip freediving with whales and dolphins, including blue whales in Sri Lanka!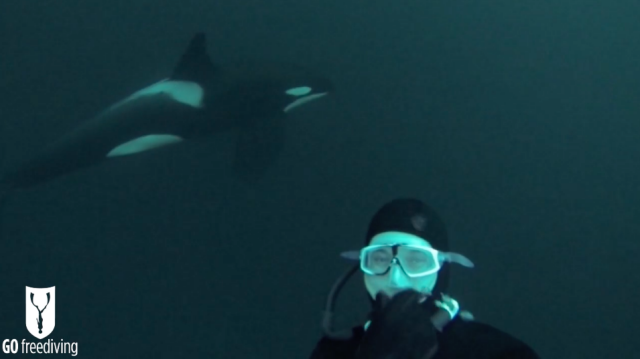 Keep in touch with everything Freediving
Subscribe to our mailing list for weekly newsletters with exclusive articles, news, films, offers and more!