Join us at our weekly Bath freediving club nights where we practice static and dynamic training and apnea fun and games.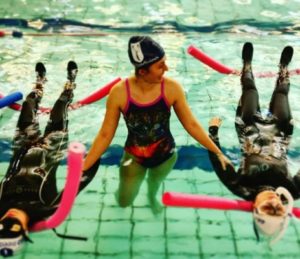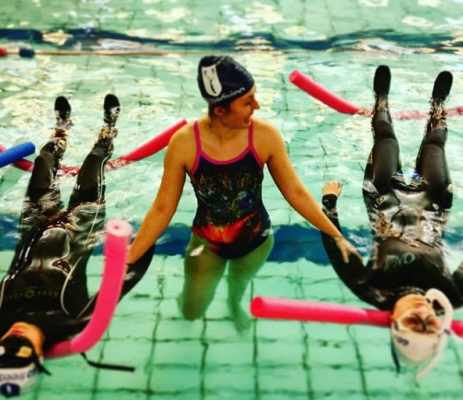 We always have at least one freediving instructor present and we also run monthly Try Freediving courses depending on demand and pool availability. Our Bath freediving club nights take place at Midsomer Norton Sports Centre near Bath and are open to anyone who has completed the Try Freediving course or higher.  The pools we use are 25m long with depth ranging from 1-2 metres, perfect for both static and dynamic apnea. We also have plenty of underwater toys to make training lots of fun!
Our instructors work with complete beginners up to advanced freedivers so each session can be tailored to your requirements. The sessions last 1 hour (numbers permitting) with time either side to change and we will always provide you with a friendly buddy.
A small amount of freediving equipment is available for hire (not wetsuits) although we recommend you always bring your own equipment. If you would like to purchase a pool wetsuit please get in touch as we do have available. The pool is around 26 degrees warm and you will need at least a triathlon wetsuit for practicing dynamic and at least a 3mm wetsuit for practicing static.
You are not able to just 'turn up' to our sessions as we have limited spaces available. Please contact us in advance and we can book your space for you.
Requirements:
In order to attend Bath Club you must either:
Be a qualified freediver
Have undertaken a RAID Freediver Course (even if you have not completed skills yet)
Have undertaken a Go Freediving Try Freediving Course
Kit Requirements:
Mask
Snorkel
Fins
Weight belt and weights
Pool suit/Triathlon suit/3mm suit (optional)
Costs:
Sessions cost £50 for 5 sessions, paid in advance in one block.
Annual club membership costs £129 (£149 for the first year)
Kit hire costs £20 per session, though we highly recommend purchasing kit early on as this will quickly pay for itself. Contact us in advance if you have any kit requirements.
Guests are welcome to attend one taster session. This costs £15
Details:
Sessions run every Friday evening 8.30 – 9.30 pm
Location is Midsomer Norton Dragonfly Leisure Centre
Sessions are always Instructor led
Venue Details:
Gullock Tyning, Midsomer Norton, Radstock BA3 2SY, United Kingdom
Contacts
If you'd like to join us for a club night, please get in touch: info@gofreediving.co.uk
Want to keep in touch with our Bath Freediving Club?