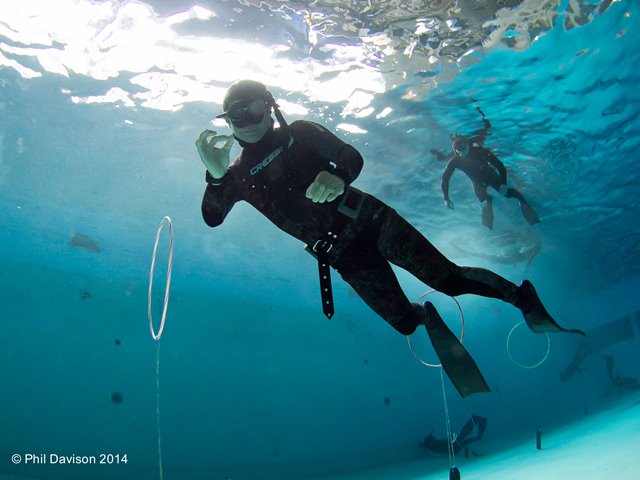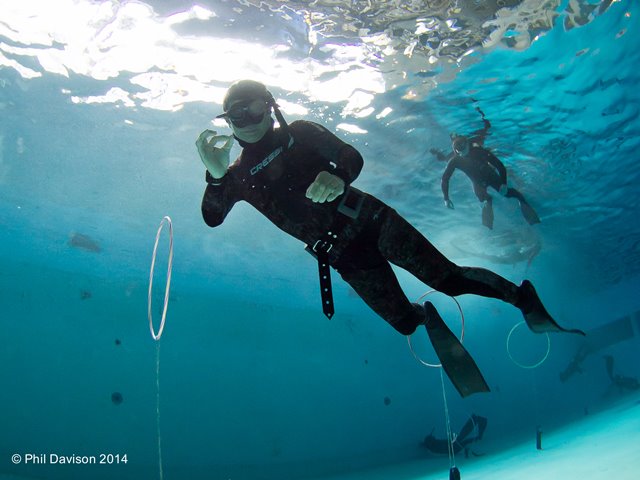 Join us at our weekly Poole freediving club nights where we practice static and dynamic training and apnea fun and games
Our Poole freediving club nights take place at Rossmore Leisure Centre in Poole and are open to anyone who has completed the Try Freediving course or higher. The pool is 25m long with depth ranging from 1-2 metres, perfect for both static and dynamic apnea. We also have plenty of underwater toys to make training lots of fun and at least one freediving instructor present every session.
Our instructors work with complete beginners up to advanced freedivers so each session can be tailored to your requirements. The sessions last 2 hours with time either side to change and we will always provide you with a friendly buddy.
A small amount of freediving equipment is available for hire (not wetsuits) although we recommend you always bring your own equipment. The pool is around 26 degrees warm and you will need at least a triathlon wetsuit for practicing dynamic and at least a 3mm wetsuit for practicing static.
Prices
Non-members £15
Club members £12 per session or £6.40-£8 if you pay by monthly standing order
Here are the standing order details you need to book 2 sessions a month:

HSBC
Go Freediving Limited
40-09-19
02587378
£24
Ref: Poole Club Mem2xm

For an extra £8 a month you can have unlimited sessions (4-5 a month). To book this, here are the details:

HSBC
Go Freediving Limited
40-09-19
02587378
£32
Ref: Poole Club Mem

All payments should go out on the 15th of each month and are payable in advance for the following calendar month.
Cash payments are still payable on the evening to the instructor, but to promote commitment and efficiency we encourage all members to set up standing orders.
Contacts
If you'd like to join us for a club night, please get in touch with David Mellor on 07968 825 635
David can help you source a wetsuit, too, if you need to hire one.
Want to keep in touch with our Poole Freediving Club?
Wednesday evenings
The session is guaranteed for at least one hour, two hours if we have sufficient numbers
9 January 2019 | 7:00pm – 9:00pm
16 January 2019 | 7:00pm – 9:00pm
23 January 2019| 7:00pm – 9:00pm
30 January 2019 | 7:00pm – 9:00pm
6 February 2019 | 7:00pm – 9:00pm
13 February 2019 | 7:00pm – 9:00pm
20 February 2019| 7:00pm – 9:00pm
27 February 2019 | 7:00pm – 9:00pm
6 March 2019 | 7:00pm – 9:00pm
13 March 2019 | 7:00pm – 9:00pm
20 March 2019 | 7:00pm – 9:00pm
27 March 2019 | 7:00pm – 9:00pm
3 April 2019 | 7:00pm – 9:00pm
10 April 2019 | 7:00pm – 9:00pm
17 April 2019 | 7:00pm – 9:00pm
24 April 2019 | 7:00pm – 9:00pm
1 May 2019 | 7:00pm – 9:00pm
8 May 2019 | 7:00pm – 9:00pm
15 May 2019 | 7:00pm – 9:00pm
22 May 2019 | 7:00pm – 9:00pm
29 May 2019 | 7:00pm – 9:00pm
5 June 2019 | 7:00pm – 9:00pm
12 June 2019 | 7:00pm – 9:00pm
19 June 2019 | 7:00pm – 9:00pm
26 June 2019 | 7:00pm – 9:00pm
3 July 2019 | 7:00pm – 9:00pm
10 July 2019 | 7:00pm – 9:00pm
17 July 2019 | 7:00pm – 9:00pm
24 July 2019 | 7:00pm – 9:00pm
31 July 2019 | 7:00pm – 9:00pm
7 Aug 2019 | 7:00pm – 9:00pm
14 Aug 2019 | 7:00pm – 9:00pm
21 Aug 2019 | 7:00pm – 9:00pm
28 Aug 2019 | 7:00pm – 9:00pm
4 Sept 2019 | 7:00pm – 9:00pm
11 Sept 2019 | 7:00pm – 9:00pm
18 Sept 2019 | 7:00pm – 9:00pm
25 Sept 2019 | 7:00pm – 9:00pm
2 Oct 2019 | 7:00pm – 9:00pm
9 Oct 2019 | 7:00pm – 9:00pm
16 Oct 2019 | 7:00pm – 9:00pm
23 Oct 2019 | 7:00pm – 9:00pm
30 Oct 2019 | 7:00pm – 9:00pm
6 Nov 2019 | 7:00pm – 9:00pm
13 Nov 2019 | 7:00pm – 9:00pm
20 Nov 2019 | 7:00pm – 9:00pm
27 Nov 2019 | 7:00pm – 9:00pm
4 Dec 2019 | 7:00pm – 9:00pm
11 Dec 2019| 7.00pm – 9:00pm
18 Dec 2019 | 7:00pm – 9:00pm