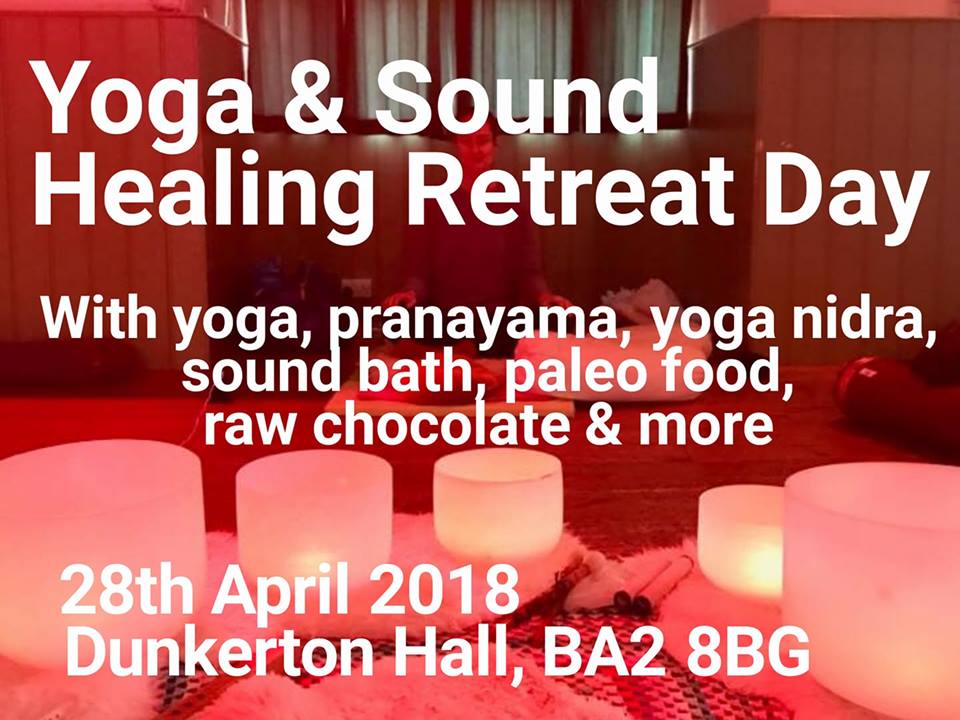 Treat yourself to an incredible retreat day
with Emma Farrell and Gemma Fox.
Pamper yourself with two yoga classes, deep relaxation and fantastic food. Not only that, but there will be yoga nidra, raw chocolate, and an incredible sound bath with crystal bowls!
Emma and Gemma are yoga teachers with decades of experience, they are also specialists in yoga nidra, Ayurvedic yoga massage and fabulous cooks.
During the day, come and experience:
Welcome, introductions and delicious drinks
Sivananda Yoga, Pranayama & Himalayan School Yoga Nidra
Break and delicious snack
Rejuvenating Yoga and Meditation 
Vibrant, healthy and spectacular paleo lunch (all diets catered for)
Nature walk
Satyananda School Yoga Nidra
Sound bath with crystal bowls
Reflections, raw chocolate and golden milk
The day is suitable for everyone, including complete beginners and we guarantee that you will feel incredible afterwards!
food on the retreat day will be homemade, mainly organic, and paleo.


On our last retreat the menu was:

A selection of fruit and herbal teas
Water with lemon and orange
Water with cucumber and mint
Vegetable crisps
Hot smoked tarragon, fennel and tarragon quiche
Vegan shiitake mushroom, leek and thyme quiche
Vegan jackfruit kebabs
Chicken teriyaki kebabs
Spiralised beetroot salad with blood orange, caramelised walnuts and cumin seeds
Cauliflower humous
Guacamole with coriander and lime
Three types of smoked salmon with beetroot, orange and champagne
Parma ham wrapped around medjoul dates
Mixed leaf salad with toasted seeds and pomegranate
Black olive and rosemary plantain bread
Roasted coloured carrots with cherry tomatoes and rosemary
Chocolate plantain cake with raspberry chia jam and raw cacao nibs
Salted caramel ice cream
A selection of raw chocolates
Golden milk with turmeric, black pepper, ginger and cardamon 
All diets are catered for so please let Emma know if you have any dietary requirements
TO BOOK
Either pay Emma directly or transfer money to the following account:
40-09-19
02587378
£75 or £85 after March 31st
Reference: Yoga Retreat
Phone or text on 07980 648 892
or email emma@yummymummyyoga.co.uk or emma.farrell@gmail.com to confirm
When
Sat 28th April 2018
9.30am – 5pm 
Where
Dunkerton Parish Hall
DunkertonBath
BA2 8BG
Directions
Dunkerton Parish Hall is on a road called 'The Hollow' which is off the main road into the centre of Dunkerton. There is plenty of free parking available at the hall.
Price
£75 before 31st March or £85 after
What to bring
A yoga mat, foam blocks or cushions so that you can sit on the floor comfortably (chairs are also available), and enough blankets and pillows to make you snug and warm during yoga nidra. If you're not sure what to bring for yoga nidra then we recommend you start with three pillows and a blanket in addition to your mat
You can hire a package of mat, block, cushion, pillow, sheepskin and blanket for £10 if you book in advance.
Extra thick mats are also available to buy at £20 each
What to wear
Loose, comfortable clothes such as a t-shirt and jogging bottoms
for more information
Phone or text on 07980 648 892 or email emma@yummymummyyoga.co.uk or emma.farrell@gmail.com
Discover what previous participants thought of
the last yoga retreat
with Emma and Gemma below!


I've not done yoga for a while and I've missed it so the retreat felt like a good way to get back into things. I think price would have been the only reason I might not have booked, but actually, it was very reasonable for how much was covered.

On the day I remembered how much I love yoga and how good I feel afterwards! Also, as well as being delicious, the lunch was really interesting. I'm keen to learn more about better ways I can eat and how as a family we can nourish ourselves better.

The thing I liked most about the day was the sound bath. It was super tingly!

The benefits of doing a retreat with Emma and Gemma is lots of time for relaxation which feels quite indulgent, a chance to focus on yourself and a reminder for how important self care is.

I would definitely recommend this retreat day. I think it was a great reset button for me and, as above, a reminder to take the time to look after myself. I had a lovely day and felt so relaxed afterwards! Thank you!
Sarah L

I haven't done much yoga but I had enjoyed Emma's mum and baby yoga classes and wanted to try and do more. I had also never had a sound bath or tried yoga nidra and have been interested for sometime in learning more about paleo food. I hoped I would feel less anxious, stressed and tired.

On the day I discovered yoga nidra, sound baths, paleo food is gorgeous and that we only mainly breathe through one nostril at a time! I loved yoga nidra the most!

Three benefits of doing the retreat day would be meeting nice people, learning and experiencing new things, and time out for myself.

I would recommend this retreat day because it is a fun, friendly, supportive atmosphere and prior yoga experience is not necessary.

I have learnt that I struggle to breathe through my nose and routinely mouth breathe. The breathing exercises have been really helpful. I feel like I'm mainly breathing through my nose now, thank you!

Thanks for making us all feel so welcome, I really enjoyed the day! X
Heidi L

Thanks for the yoga retreat day, I really enjoyed it! I booked on it as I was interested in the sound bath and I thought it would be a lovely relaxing day.

I discovered that I enjoyed yoga much more than I thought and I really enjoyed paleo food, it was fab!

The benefits of the retreat are that it gives you a chance to relax and rebalance, learn more about yoga and meditation, and learn more about great food.

I would recommend coming on a retreat day as it's a great chance to relax, stretch and spend a day focussing on yourself. Everyone should do this!

I so enjoyed the day and felt amazing the days following. I felt the way you put the class together and the way you delivered each section was so professional and done so well. I'm so pleased I was fortunate to enjoy this fantastic day. Thank you!
Kim R