We did it! Or rather, our AMAZING, AMAZING Go Freediving instructors David Mellor and Tom Elliott truly 'did the double' at the Chepstow freediving Double Dip competition!
Two Winners!
We're so unbelievably proud of them!
David took first place and was crowned UK Depth Freediving Champion. And Tom grabbed second place!
We managed to catch up with them to find out their thoughts of the build up and the whole competition experience.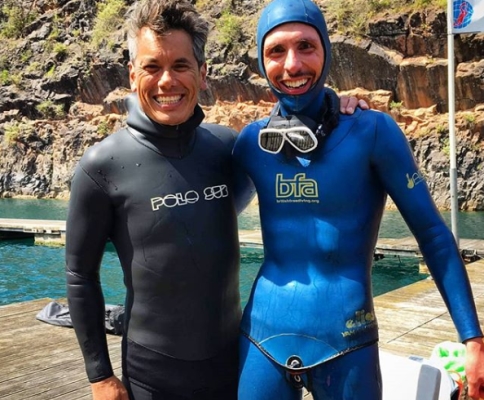 The weather couldn't have started better. Beautifully clear and sunny and just what everyone wanted – even if the water was a bit cold! David and Tom managed to get really good confirmation dives. Tom felt totally relaxed and used the time to check on kit and technique and overall feeling leading up to the weekend. David felt that his training sessions there started really tough, but improved enough by the end for him to feel he had worked out some of his equalisation problems and was feeling more confident.
It also gave them time to meet and catch up with fellow competitors (and of course check out the competition)  and meet and chat with the safety team.
However, by the time the competition started the weather had changed and competitors saw howling winds and pouring rain mixed with breaks of glorious sunshine! Tom had left his warm kit in the car, so even had to borrow kit to keep warm but this didn't stop them both getting in some good warm up dives.
Chepstow Freediving Double Dip – The Events
Constant Weight Bi Fins (CWT Bi)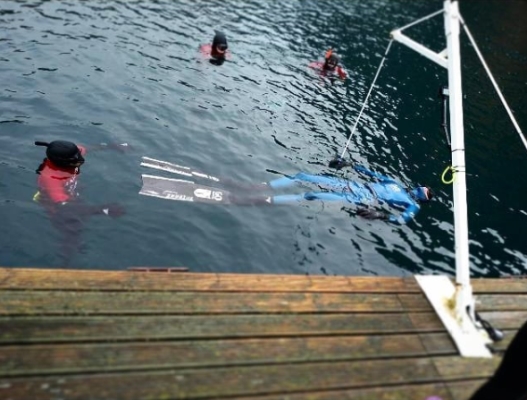 Tom 30m
Tom hadn't dived below 20 metres this year and told us that he made the mistake of finning too hard after the turn and cramped up almost immediately. He managed to ride it all the way, but felt the strain remained with him for the rest of the competition.
David 49m
This is an event David likes, so he went in feeling confident about the dive. However, turned early after equalisation issues and even though the official watch read 49.6 metres, he earned a yellow card, and with penalty points the dive was down graded to 45 metres.
Constant Weight No Fins (CNF)
Tom 35m
Tom decided to go for a personal best for this event. He was confident, equalisation was working well and his legs felt good, so he added an extra 2 metres to his PB to declare 35 m. His instinct proved to be correct and this event turned out to be his best dive! He set a new Personal Best and found the dive itself easy.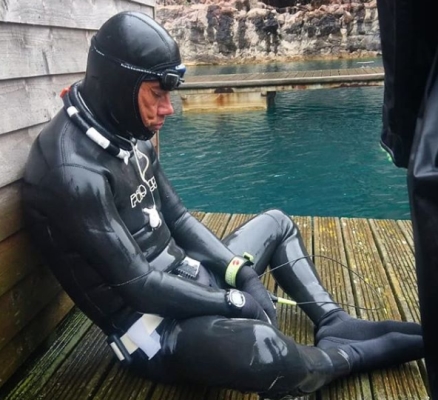 David 42m
For David, this is the one discipline that he has slight concern about, because he considers it the hardest. There was a strategy though. By doing this discipline first, he hoped by getting it out of the way he would be more relaxed for his remaining dives. David reached 42 metres comfortably and surfaced nice and fresh and got his white card.
Constant Weight (CWT)
Tom 35m
Tom declared 35 metres for CWT on the off chance that his equalising would be ok and his legs had recovered enough by the afternoon. As it turned out, he didn't struggle at all and completed the dive without any problems.
David 50m
Because of David's two previous yellow cards he changed his depth from 52 metres to 50 metres, so that he would still have a challenging dive. It worked! He hit the plate nice and relaxed, got his tag, and with a clean surface protocol  got his white card and was very happy!
Free Immersion (FIM)
Tom 30m
Tom was unsure how much energy he had left in his legs for this event so kept an achievable depth. As it turns out, the copious amounts of stretching and loosening off he did before the dive seemed to have the desired affect and he had no trouble completing his dive.
David 49m
David announced 53m for his dive. He had dived this depth before, but not in such cold conditions. Unfortunately he missed an equalisation and couldn't get it back. He had to turn at 49.7 which was downgraded to 49 mtrs and received a yellow card so the dive was finally downgraded to 44 mtrs.
Chepstow Freediving Double Dip – The Daily Results Tables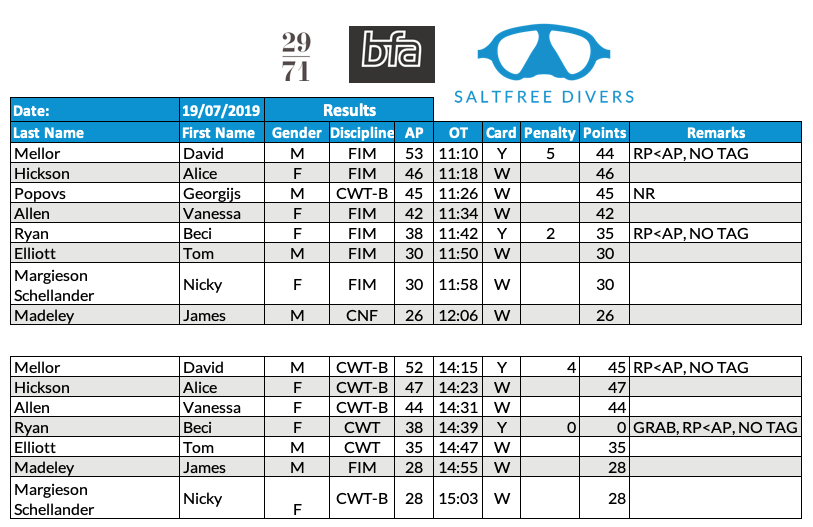 Chepstow Freediving Double Dip – The Final Results Table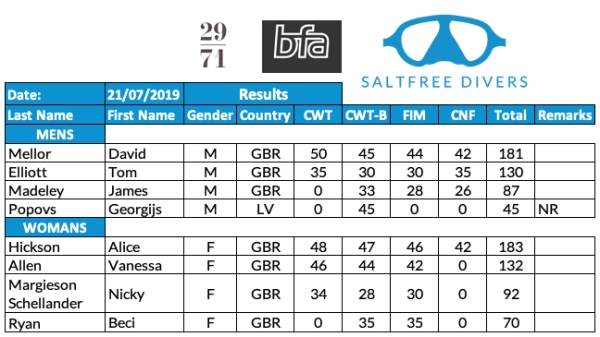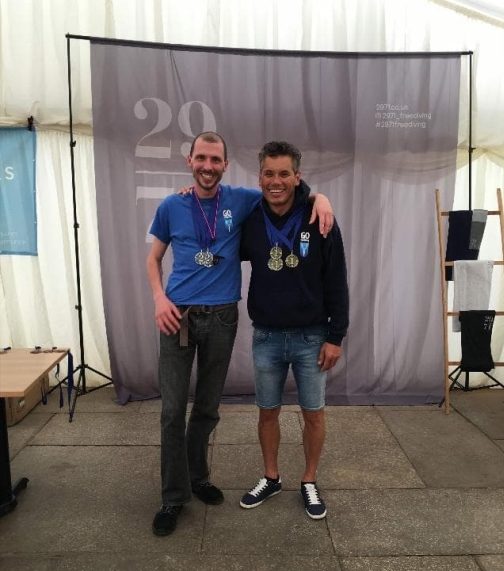 Tom's thoughts about the competition:
"…The organisation was incredible and the safety team flawless. I could not have dived as relaxed I did if I had not trusted the safety team and Judges as much as I did. Competitions like these should not be seen as a competition among athletes and the atmosphere reflected this beautifully. In no other environment is so much care and organisation taken in order for one person to go on such a unique trip into their own mind as there is in free diving. It can not be understated the difference between a dive with your friends on a buoy to see some fish and that one dive you get in a comp where everything just had to work first time…"
David's thoughts about the competition:
"…The competition was over and I was super happy to find out that I had won 3 of the 4 disciplines and was placed as the overall men's winner but it was even sweeter when I realised the competition was classed as the BFA depth championship…"
Freediving Courses With Go Freediving
Go Freediving is the longest established, most experienced and friendliest freediving course provider in the UK, led by world class freediving instructor trainer Emma Farrell, and her team of personally trained instructors. No other course provider has such a good instructor to student ratio, safety record and personal touch.
Whether you're a beginner dipping your toes into the world of freediving, a seasoned pro looking to turn professional, or simply a freediver of any level who wants the best freediving holiday in the world, we're here for you!
Also check out our online guide, The Beginners Guide to Freediving by clicking here!
Keep in touch with everything Freediving
Subscribe to our mailing list for weekly newsletters with exclusive articles, news, films, offers and more!
And check out  You Tube!