Gift Vouchers from Go Freediving!
If you're looking for the perfect gift for the freediver, mermaid, spearfisher, scuba diver, snorkeler or surfer (or anyone else who loves adventure, challenges or simply being in water – this list is not exhaustive!) in your life, these gift vouchers are bound to be a winner!
Our gift vouchers can be used for absolutely anything Go Freediving offers. So, if you don't see a gift voucher here, let us know and we can create one – just for you! Also, if you would like your gift voucher personalised or to include any message, we can do that too!
For gift vouchers over £150 as well as the downloadable e-voucher we provide, we also offer a printed, full colour, double-sided A5 card. The gift voucher can be posted direct to the recipient, or back to you with a spare envelope.
As all gift vouchers are individually created, please complete the contact form below or contact our team at info@gofreediving.co.uk to order yours, today!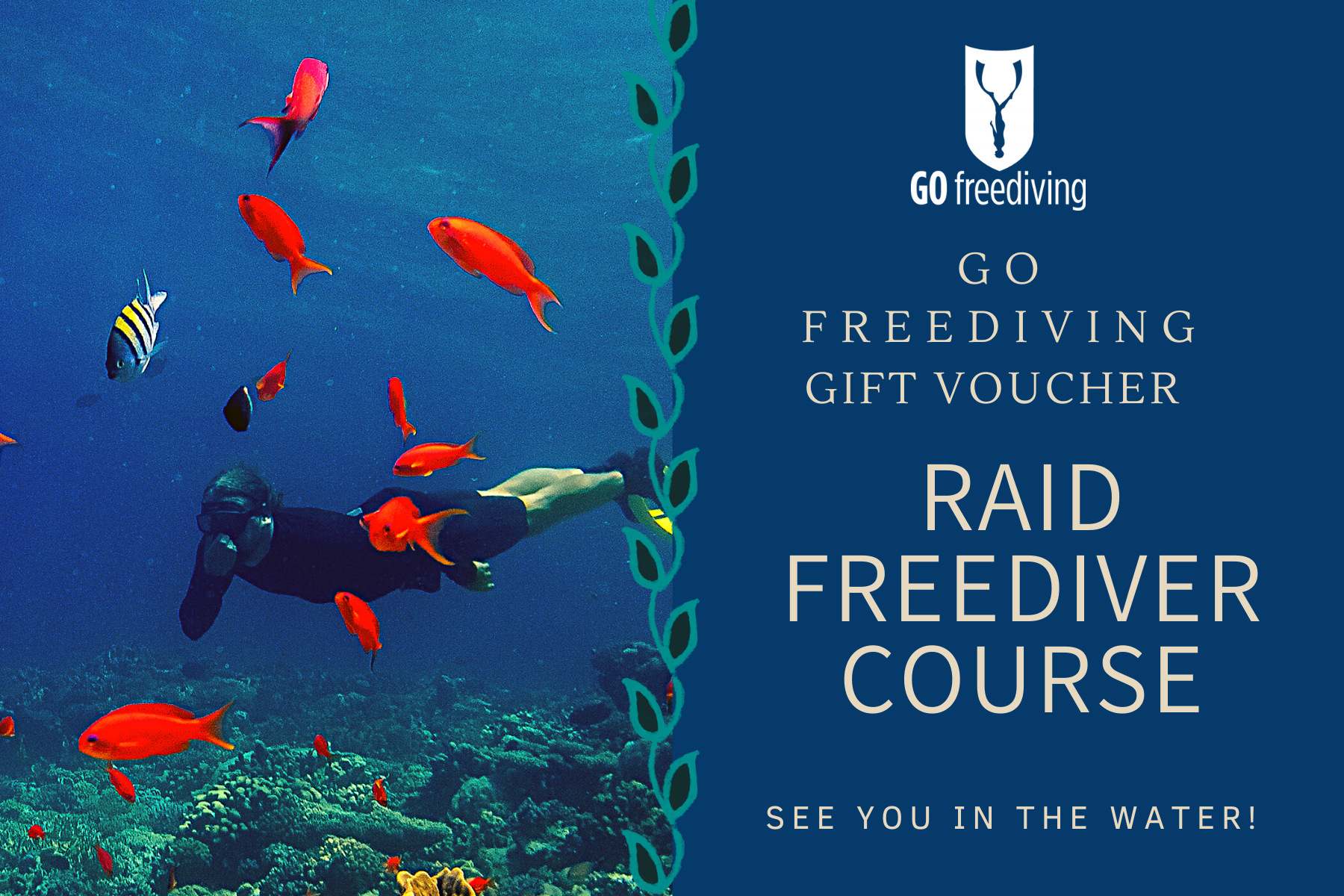 COST £349
(BONUS EARLYBIRD DEAL – Buy before December 31st 2020 and get a one week free pass to Emma's online breathing optimisation and yoga classes!)
Our RAID Freediver Course is perfect for all levels.
Suitable for students aged 12 and over, this course includes all kit, theory, tuition and certification and is our BEST SELLER! Check out our testimonials page to see just how much our students love this course!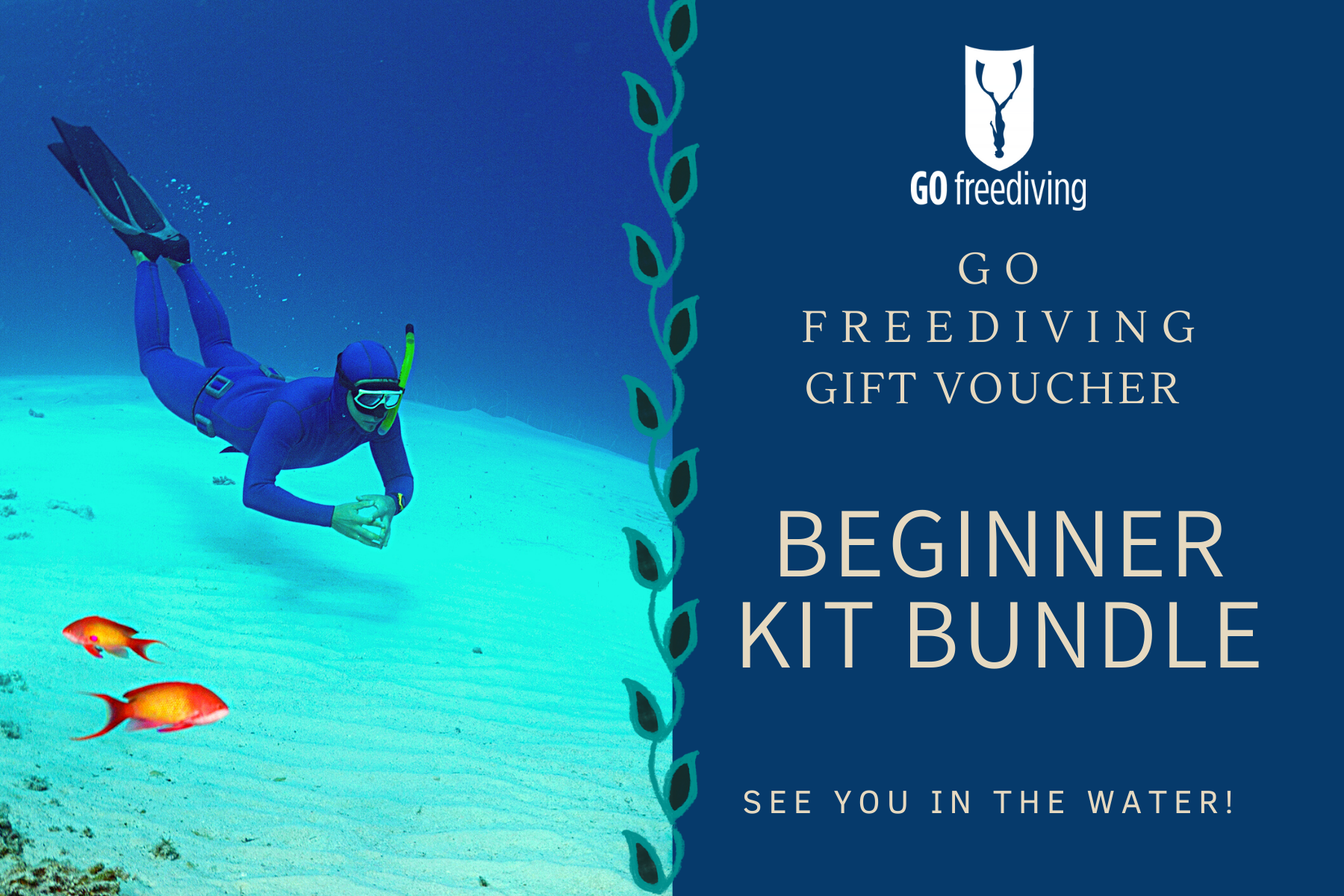 COST £210
Our Beginner Kit Bundle contains everything a freediver needs to start their freediving journey. It includes a choice of top freediving mask, freediving snorkel, freediving fins, weight belt, 3mm fin socks, fin retainers and a signed copy of Emma Farrell's book, One Breath, a Reflection on Freediving, with a personal message
We have a wide selection of kit to choose from, and will discuss best fit and sizes with the lucky recipient, once they get in touch with us! All kit is in stock and available.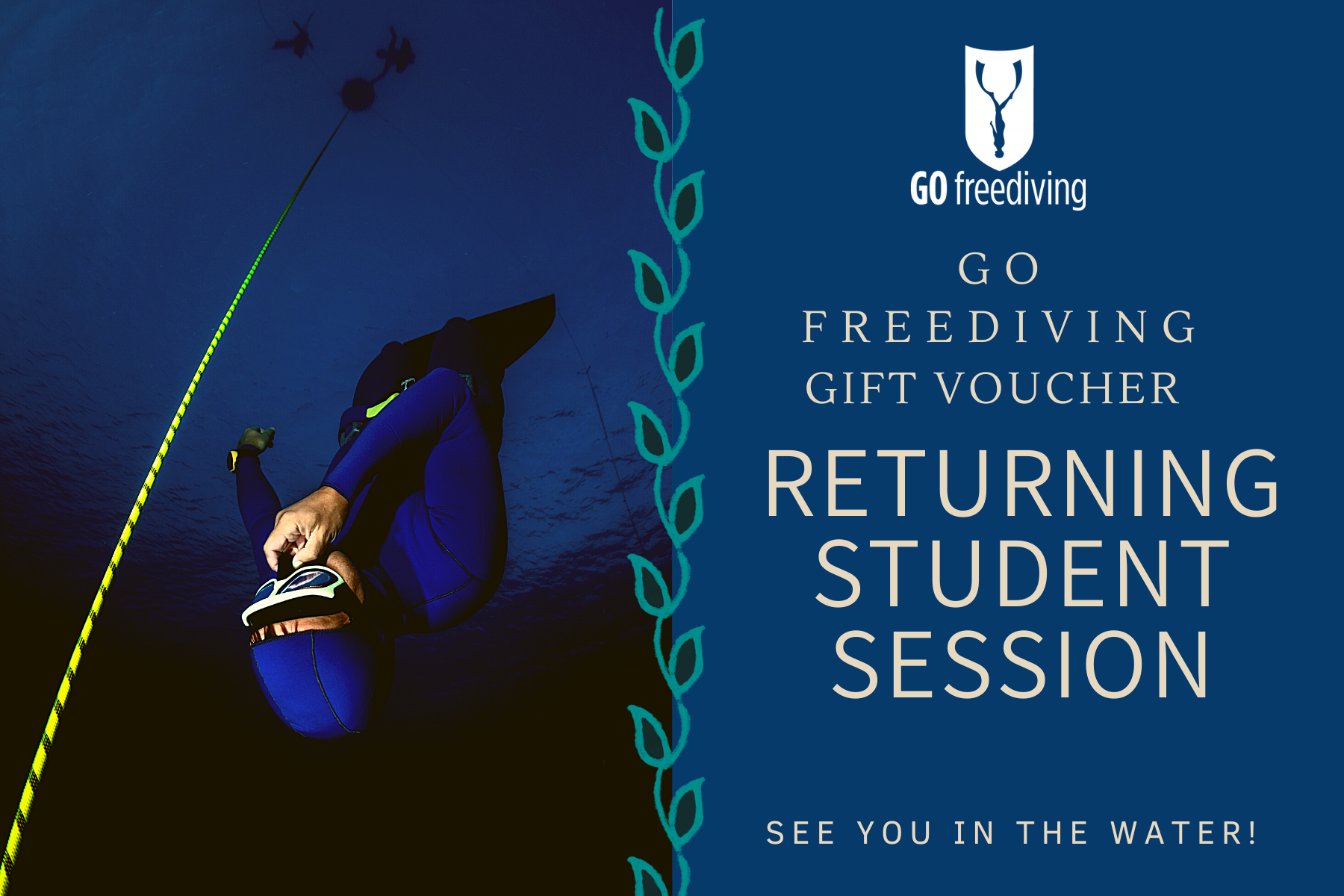 COST £120 PER DAY
(INCLUDING ALL KIT AND WETSUIT HIRE)
If you know someone who has already started their freediving journey, but hasn't finished their qualification, or perhaps they just haven't had time to get in the water recently, why not treat them to a returning student session?
The returning student session  student joins a course with us and enjoys the full course experience, practising techniques, gaining confidence and keeping up to date with the latest freediving safety guidelines. They will spend a full day with us and have two full dives. If they have any skills that need to be signed off, our instructors will be able to assist them.
COST From £350 PER DAY
(including wetsuit and equipment hire)
Want to give someone the full VIP treatment? Our instructors can provide exclusive freediving training. This has become a popular choice for students looking for one-to-one tuition for anything from increasing water confidence and technical improvement through to courses and even preparation for employment roles or elite sports training.
Tuition can be booked on a date suited for the student.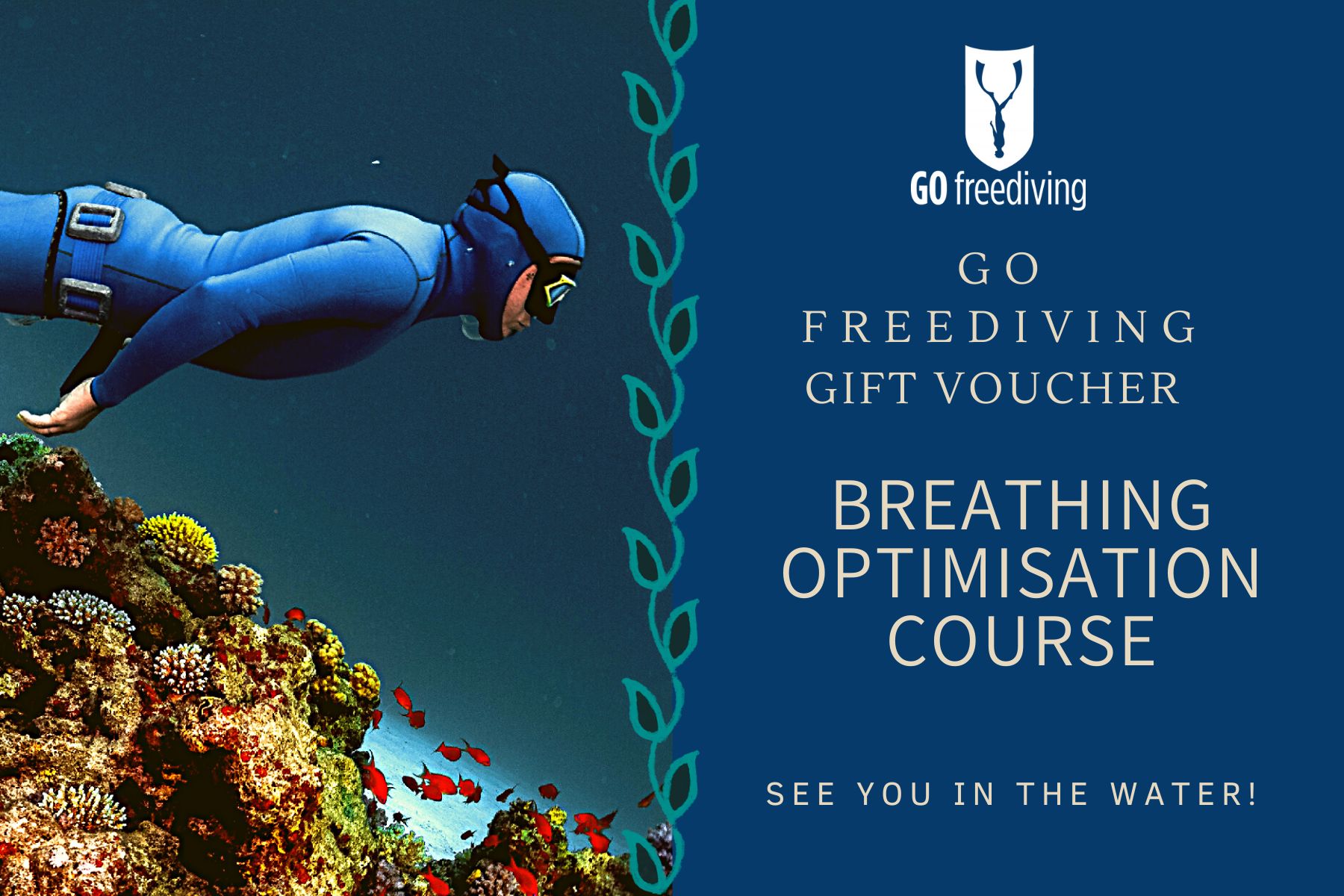 COST £110
(For 12 ONLINE sessions. Other packages available)
In 2010, Emma was invited by UK Sport to help Olympic athletes improve their performance in the run up to the 2012 Olympic Games. She developed a programme using techniques from freediving, yoga, and the Buteyko method and started working with an Olympic cyclist. After six weeks of taking Emma's programme, the full time athlete gained a 10 percent improvement in her lung function, improved her asthma, increased her confidence, and her Olympic cycle was brought forward by four years. Since then, over the last decade, Emma has rolled her programme out to Olympic and Paralympic swimmers with great success. Now she shares her knowledge and expertise with twice weekly classes  online designed to be accessible to everyone, no matter their health, age or fitness.
All students have access to the class recordings so they can continue their practice in between sessions.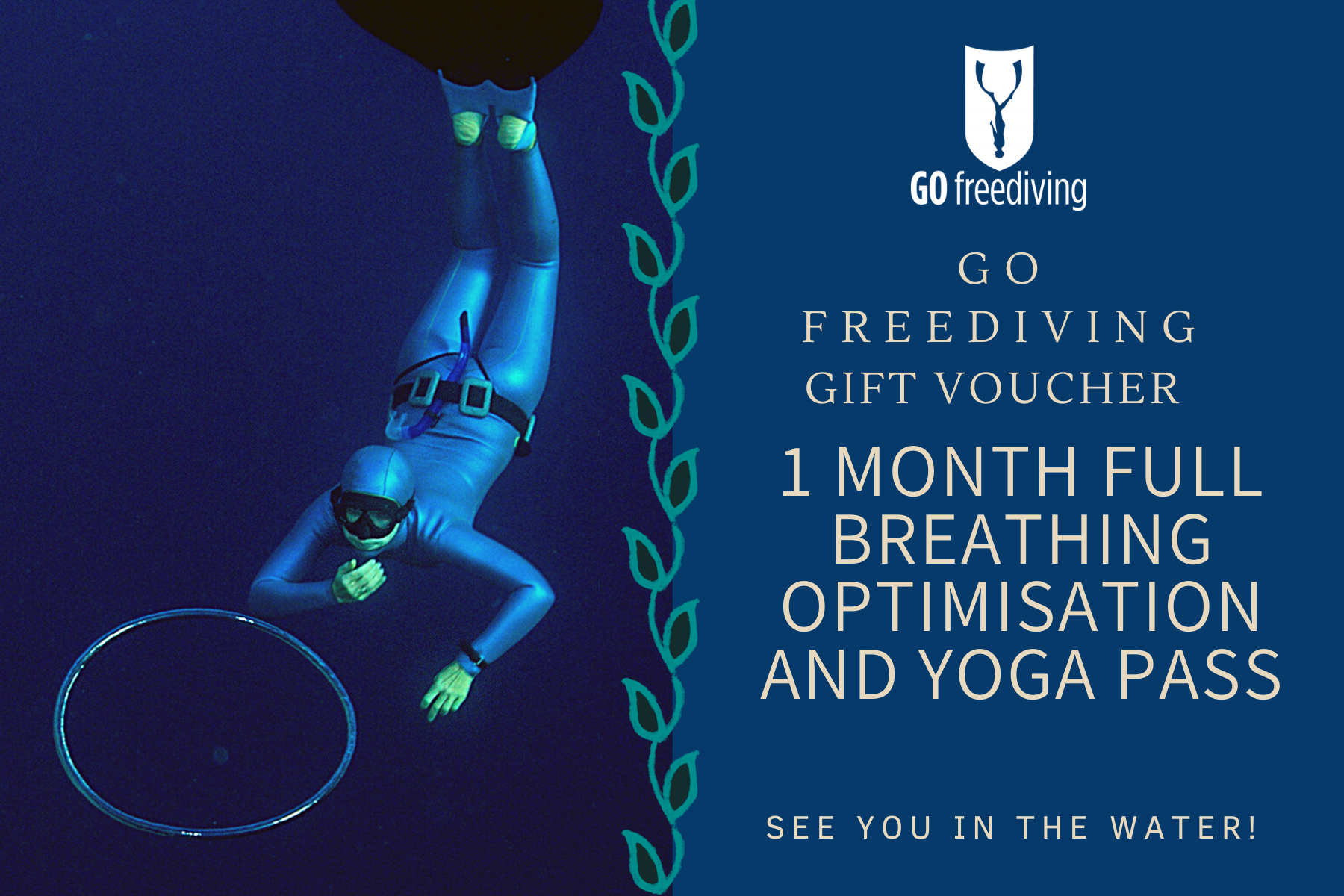 COST £100
(Special Deal Alert! Normal Price £117!!)
Know someone looking to kickstart their freediving winter training? This one month ONLINE pass will give them:
8 x 30 minute online breathing optimisation classes
1 x one hour online breathing optimisation masterclass
1 x  45 minute Mammalian Dive Reflex activation class
4 x 90 minute Yoga with Yoga Nidra sessions
All classes come with a recording, so they never need miss a class.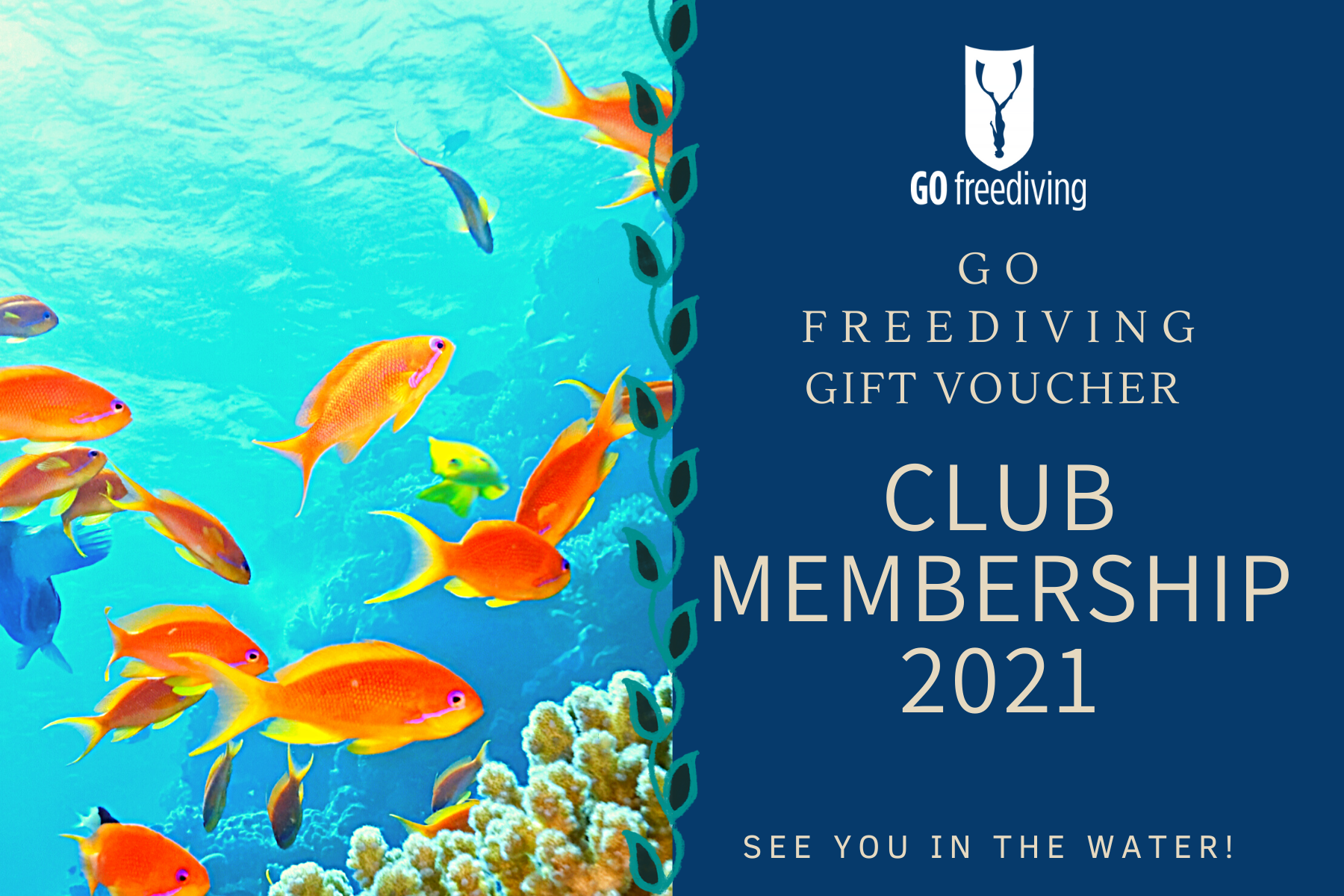 Cost £149
If you know someone who has fallen in love with Freediving, why not buy them a  Go Freediving Club Membership? Here are just some of the benefits:
FREE Go Freediving T-shirt worth £20 to blend in with your new freediving friends
FREE Go Freediving beanie worth £10 to keep you warm when diving with us in the UK
FREE Go Freediving swim hat worth £7 so you can show off down the pool for free!
FREE Yoga Nidra for diving download worth £4 to make you even more relaxed…
FREE club days at Vobster EVERY WEEKEND (May-Oct) so that you SAVE £30 on each session you attend!
£50 OFF ANY COURSE taken on one of our holidays so that you can smile as much as the dolphins!
UP TO £50 OFF every course and event in the UK so you can save as you learn from the best!
Worldwide freediving liability insurance up to 5 million so you can freedive with confidence!
Discounts on all Divemaster insurance policies such as travel insurance to give you more coverage for less money!
Discounts on clothing and kit from computers to masks and much more so you've always got the best for less!
If you want to, we can even send all the goodies to you, so that you can get them wrapped and under the tree for Christmas!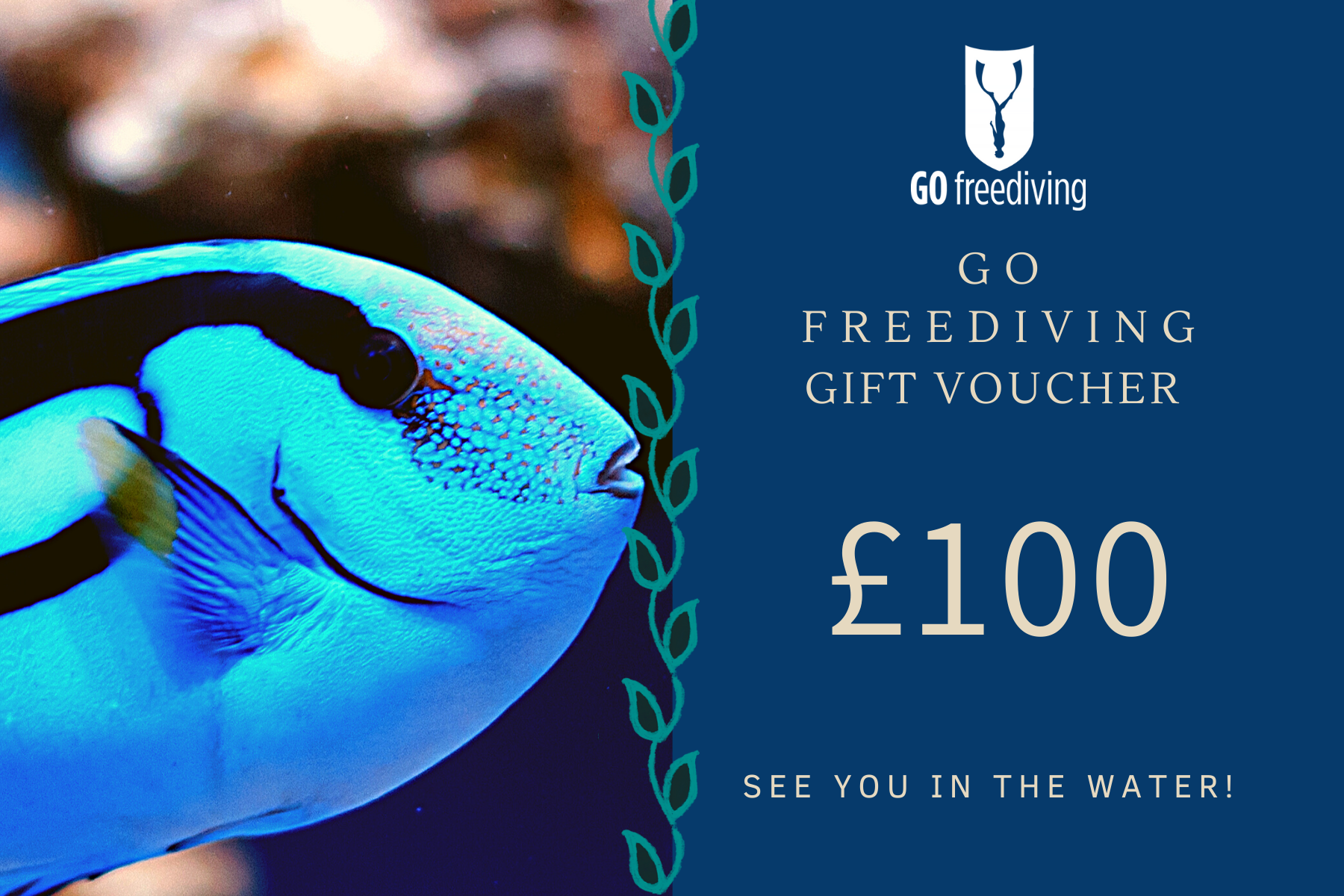 COST £100
Not sure what they have or want? No problem! Our gift vouchers can be for any amount you want (over £25) and we still offer any personalisation you want on the card.
We have plenty of kit and accessories in this price range and this gift voucher is the exact amount needed for a deposit on any of our courses! So why not inspire them to start or progress their freediving in 2021?
Our £100 gift voucher is the perfect gift and guaranteed to make you a champ this Christmas!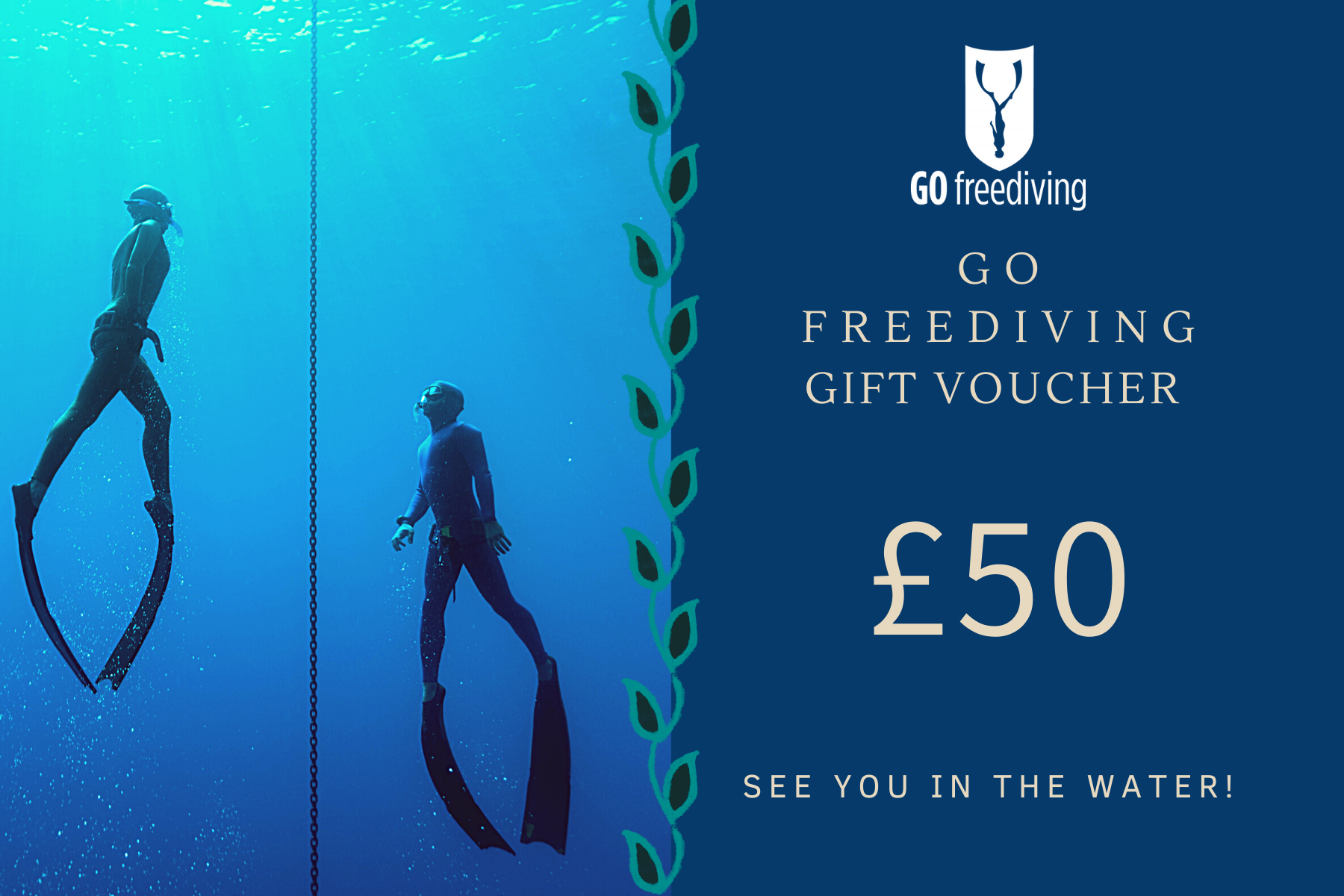 COST £50
Not sure what they have or want? No problem! Our gift vouchers can be for any amount you want (over £25) and we still offer any personalisation you want on the card.
We have plenty of kit and accessories in this price range from masks, snorkels, lanyards and weight belts, through to any of our distinctive Go Freediving Merchandise! So why not let them chose?
Our £100 gift voucher is the perfect gift and guaranteed to make you a champ this Christmas!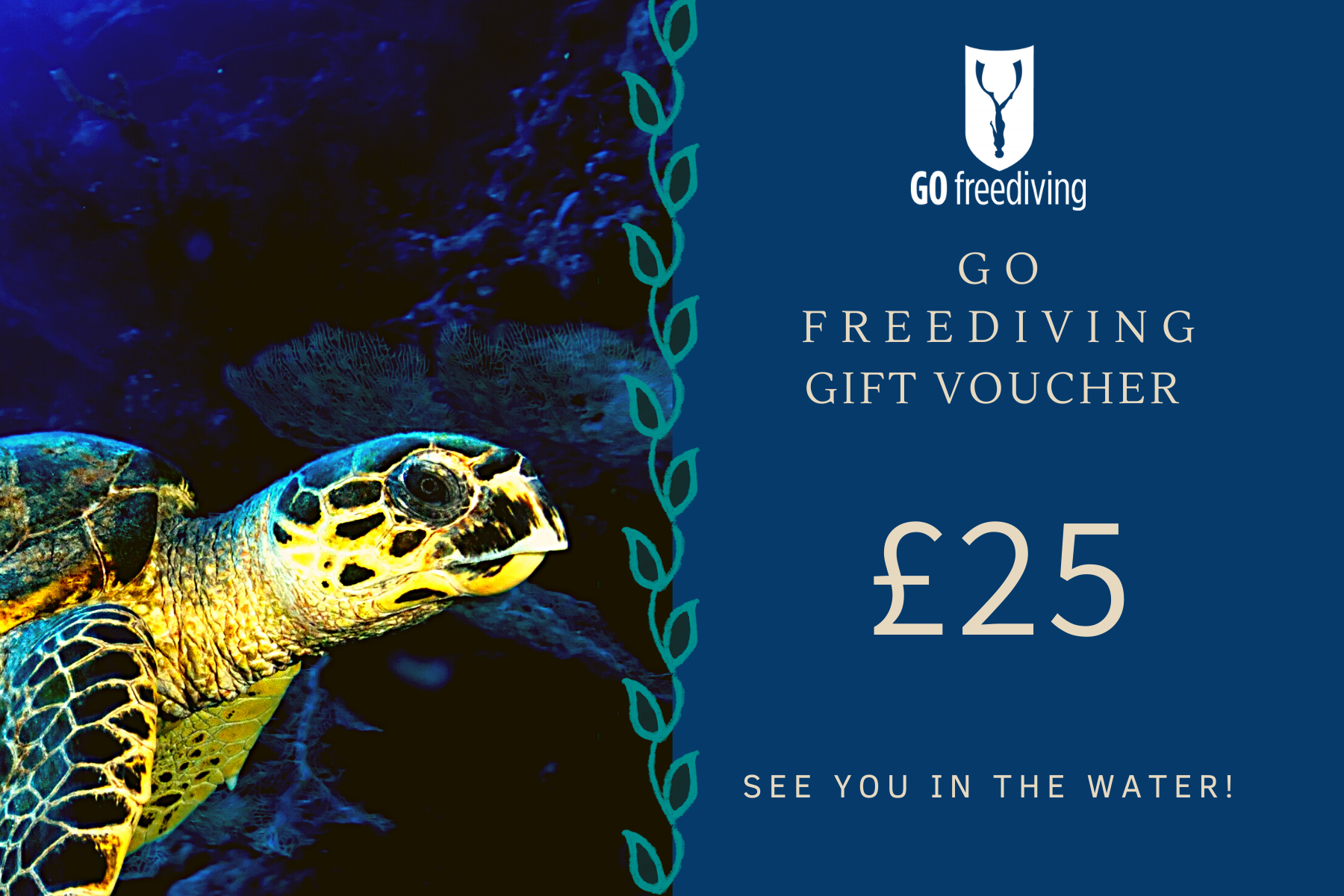 COST £25
Not sure what to buy, or would rather just play it safe?
Our smallest gift voucher still packs a punch!
We have plenty of kit and accessories under £25 and their gift voucher can still be used as part payment towards any other kit, course or holiday we offer.
Our £25 gift voucher is the perfect stocking filler and guaranteed to put a smile on anyone's face!
If you would like to order a gift voucher from us or have any queries, please provide as much information as possible in your message so that we can ensure we answer as fully and quickly as possible for you.