See the film from the Master Freediving Course at Vobster Quay in the UK during July and August 2016 and discover what it takes to get to the pinnacle of recreational freediving. See dives to over 30 metres depth, breath holds of nearly five minutes, 85 metres dynamic dives, deep skills, variable weight and much more!
What happens on a Master Freediving Course?
The Master Freediving course is the apex of the recreational freediving program. It is the final qualification before you become a freediving instructor.
Unless you take the course with us on one of our holidays, we split the course over two long weekends, to enable to you absorb and practice what you have learnt on the first weekend.
Theory is started at home with learning and your own pace and online quizzes and exams. Theory sessions continue over the two weekends to consolidate your knowledge and enable you to ask the instructors questions.
The course has four pool sessions to enable you to practice static, dynamic, dynamic no-fins diving and buddying and rescue skills.
In open water at Vobster Quay you get to freedive on the custom designed freediving platform, as well as on underwater boats, trucks, planes, caravans, metal structures and much more, accompanied by thousands of schooling fish.
The advantage of taking your freediving courses at Vobster Quay is that you always have perfect conditions, great visibility and a purpose built freediving platform.
And Go Freediving is the freediving course provider with the greatest depth of experience, headed by instructor trainer Emma Farrell, who has been teaching people to freedive since 2002.
Chris and David with instructors David and Emma after part 1 of their Master Freediving Course, July 2016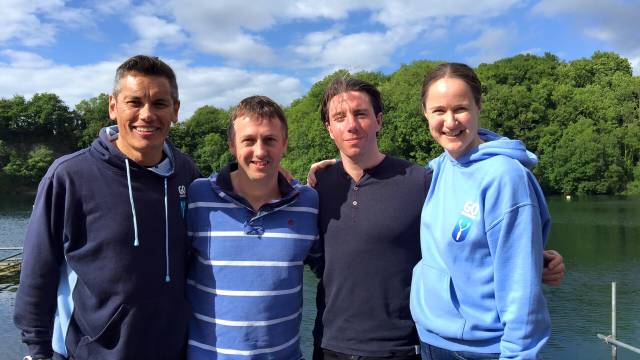 Chris and David with instructors Giles, Emma and Heather after part 2 of their Master Freediving Course, Aug 2016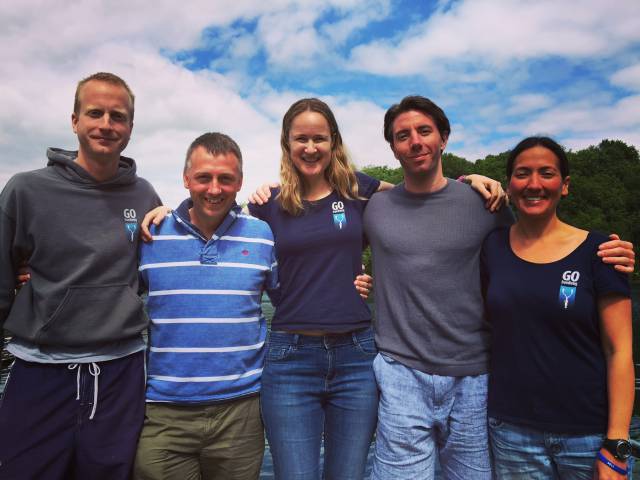 Find out what our Master Freediving Course students thought of their course with us!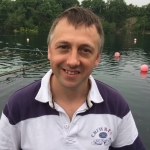 I wanted to do the master freediving course to get my freediving completely locked down, get that one-on-one, get that expert training and make it all a lot better.
The master freediving course has really helped with headspace, relaxing and getting different people's perspective on how they relax before, during and even after a dive, that's really helped. And working on the techniques to do with frenzel and other equalization, that's really really helped I think. That's been my main point of improvement.
I've had a lot of one-on-one time, and that's been really good. Spending a lot of time that is specific to me, especially today, going out and having a look at what I'm doing wrong, and being able to pin point the problems, so that's been really good, definitely.
Benefits of doing the master freediving course would be equalisation, open up that whole new level of going deeper than what you were able to before. Relaxing again, so you can really enjoy the other stuff we've been doing, being on the wrecks longer. The stretches as well, it's been good.
The dry training stuff was funny, and interesting. I'm not going to lie, the reverse packing stretches were horrible! But it's good to do and better to do it here in a safe environment, the dry training, because you don't always get the chance to get in the water and have that exposure to depth, so being able to have that extra training available, that's been great, definitely. And like I've said, the big take away for me was the one-on-one time. There's been so much time spent with us as individuals that that's really helped.
I'd definitely recommend the master freediving course. It's a really safe sport when it's done properly and that's the main thing. Anyone can jump in and get a snorkel and start holding their breath, but doing it properly here has really opened my eyes to how I should be doing it and how I should be watching out for other people who are around me, so I'd definitely recommend it to people.
Chris Rich
First and foremost I've enjoyed all the courses I've done with you. You're a great course provider and then the idea of taking it to that more advanced stage was very exciting, and then having a really good buddy and knowing that he was going to be on the course, that was enticing as well, so the combination of your training, Chris as a buddy and the enticement of taking things to the next step, so it fell into place and it was better than I thought it would be, it was really really cool.
And the separation of the master freediving course worked out nicely I think. It was nice to get an understanding of the more advanced stuff and then have a little bit of time to take it in and think about it and get ready to use it for the final stage.
I discovered that there are so many facets to it. It's opened my eyes even more. So I didn't think I was any good at static, I thought I was much better at dynamic, and then I surprised myself and out-performed what I thought I'd do in static. It's really fascinating. I feel like I'm doing different components in different areas, so I'm meditating in the static, and mindful of technique in the dynamic, but I know that if I kept pushing that, it would all fall into place subconsciously and I'd start going into a more meditative space, and so I'd be able to be more relaxed for a longer time. So doing the static, taking a hold to the point where your body really starts to fight and you want to breathe and then pushing that for a time that scares you a little bit, it's quite fascinating because you've never felt like that but there's still more time there. It's a real discovery of what you could do, and your boundaries.
And there's so many great people on the master freediving course. It's fascinating to see. So I've got my own thing with static and it's interesting to talk to other people and see what they're thinking about and what they're visualizing with their static. It opens your eyes to different ideas.
I thing I like best about the course is the overall vibe that you put in place. I think that's such a big thing. The relaxed vibe, everyone's enjoying themselves and it's a good energy. The stretching has been great, that's been a really important part, apart from the reverse packing stretches! But it does simulate depth and you can definitely see how, and it's weird because 30 metres on the line, during the Advanced freediving course seemed like a long long way, and then doing 33 metres yesterday on the Master freediving course felt really quick. And it felt like the equalisation was quite comfortable, there weren't any issues.
Benefits of doing the Master freediving course with you would first and foremost safety, undoubtedly. Just being really mindful of relaxing, and if something goes wrong, just take it easy, be calm, think about it and then obviously the second thing is having rehearsed so many rescue scenarios, trying to get it to be second nature, and so you're straight away into the correct body position and hold. Then you also feel much more relaxed being with a diver who's gone through the same training and you're both on the same page, so when you're diving, you're very relaxed.
I'd definitely recommend the Master freediving course. It's a great course, anyone who's done the stepping stones before, don't put a limit on yourself. You do the correct training and you'll be amazed how much you can progress. It's quite amazing. If you get proper coaching and you absorb it, the sky's the limit really. Becoming more efficient and relaxed, there's a massive jump to be made and it's really rewarding.
David
And you can read more testimonials here!
Take your Master freediving course with Go Freediving!
Got an advanced level qualification and want to learn the skills to take you to 30m and beyond? Then come along to the next Master Freediving Course!
Want to watch more freediving course movies?
Then keep in touch by subscribing to our mailing list for weekly newsletters with exclusive articles, news, films, offers and more!