Plastic Oceans is one of our chosen charities, with this in mind we decided to take a closer look at the impact of ocean plastic pollution and what different industries are doing to curb the impact of this everlasting pollutant.
This statement alone sums up why Plastic Oceans exists:
"More than 8 million tons of plastic are dumped in our oceans every year."
Frightening.
So what does Plastic Oceans hope to achieve?
They say:
What sets Plastic Oceans Foundation apart as an organization is that through our film we have gained a global view of the issue and have worked with scientists from around the world, on the ocean and in the laboratories, to develop a unique 3 pillar approach that turns the messages of the film into actions – creating a wave of change that we need.
Here is their official film trailer:
As part of their unique three pillar approach Plastic Oceans has developed a comprehensive education curriculum, works with businesses and entrepreneurs to find solutions to the existing and future impact plastic pollution is having on our oceans, and sharing scientific evidence in the form of awareness campaigns to influence policy change and comsumer attitudes towards the use of plastic.
So, while this amazing organisation is dedicated to making a difference, what are other organisations doing?:
Ocean Plastic Pollution and the Fashion Industry:
The fashion industry has always been keen to explore new ways to create and manipulate materials in order to continue generating new seasonal trends. And now it seems plastic – recycled plastic to be precise – is, well, fashionable. Well known brands such as Timberland and G-Star have joined home-grown talent such as Stella McCartney to make recycled plastic a sustainable, durable and desirable product.
Ocean Plastic Pollution and the The Sport Industry:
The line between fashion and sportswear can be pretty blurred, but that hasn't stopped sports brands such as adidas and Nike taking a keen interest in the development of recycled plastic. In the 2010 South Africa games, each jersey worn by participants sponsored by Nike were made with 100% recycled plastic taking 13 million used plastic bottles out of landfill.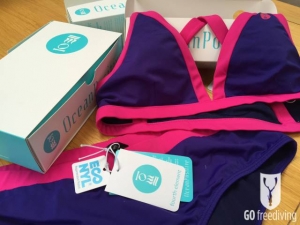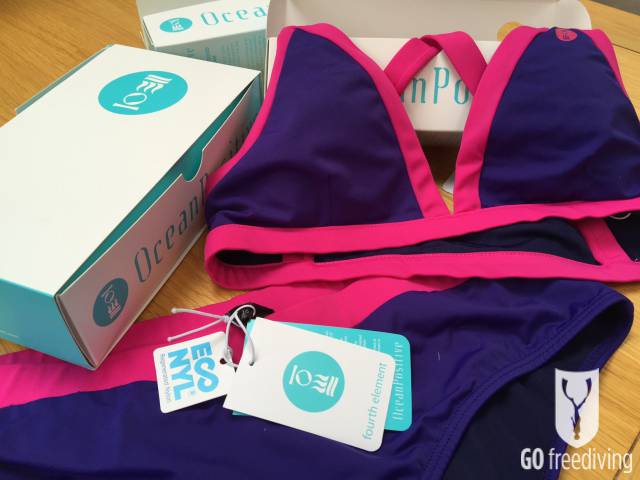 Fourth Element's own Ocean Positive swimwear range is made from 78% recycled plastic. Before a Go Freediving Maldives holiday, I picked up two bikinis from the Ocean Positive Swimwear range and reviewed them during the holiday.
Bureo is another company helping to reduce ocean plastic pollution. In an effort to keep plastic fishing nets out of our oceans, they recycle them to make skateboards. They also partnered with Karün to develop Sunglasses from 100% recycled plastic nets.
Ocean Plastic Pollution in the home:
There are now numerous companies using recycled plastic to produce new plastic bottles – such as shampoo bottles and other cleaning liquid containers. The company Method has an amazing project where they joined forces with local volunteers and beach clean-up groups in order to collect ocean plastic pollution debris washed up onto the shores of Hawaii. This debris is used to create their soap bottles.
Recycled plastic is now big business. It's biggest market is in synthetic fabrics for clothing but it is also used in carpeting, bags, packaging, the motor industry and more. It is however, disappointing to learn that massive companies such as Coca Cola reportedly only use 7% recycled plastic when producing their bottles.
I recently spoke at a week of learning event at Screwfix headquarters in Yeovil. The topic of my talk related to both freediving and plastic pollution. These were the two topics the company had asked me to talk about – which is an encouraging sign that businesses are not only complying with governmental directives to put sustainability policies into place, but are proactively looking for ways to help employees understand why the policies are needed. It is only right that companies should consider government directives as the minimum target for their own plastic policies, and not the maximum target.
Ocean Plastic Pollution – What about the future?
In January of this year as part of a new dedicated plastics strategy the European Commission set out a road map outlining their strategy  (including action on marine litter) and describe it as '… the first comprehensive policy response to the plastic challenge, tackling design, manufacturing, use and disposal – a truly strategic approach…'
They stated:
"…Modern life is unthinkable without plastic, but there's a catch. Some of the properties that make it so useful, like its low cost, light weight and durability, also make it hard to dispose of….
To make things worse, millions of tonnes of this waste end up in the oceans. Birds, turtles and sealife get tangled in plastic bags and abandoned fishing equipment, or they die from eating plastic debris. Over time, larger pieces of plastic break down into tiny particles called microplastic, which can form a sort of plastic soup. These particles can soak up chemical additives and endocrine disruptors, and when they are eaten and enter the food chain, they can end up on our plates.
It's a large-scale problem, and it needs a global response. Part of the answer can be found in the Sustainable Development Goals adopted by the UN, which include a target to prevent and significantly reduce marine pollution of all kinds, including marine litter…"
Ocean Plastic Pollution – What needs to be done?
The Oceanic Society says there are 7 ways people can help reduce plastic waste:
1. Reduce Your Use of Single-Use Plastics
2. Recycle
3. Participate in a Beach or River Cleanup
4. Support Bans
5. Avoid Microbeads
6. Spread the Word
7. Support Organizations Addressing Plastic Pollution
The National Geographic adds another vital point  '…Persuade the world's people to stop littering.."
Check out this video trailer from Plastic Shores which further highlights ocean plastic pollution
Ocean Plastic Pollution  – Making clean-ups fun with freediving
On our summer schools in Greece and Malta, Go Freediving students used their freediving skills to remove plastics and other wastes and also turned it into a competition. Over an hour, students were sent out across a heavily littered area. The more waste they took out of the water, the more points they won. And you know what points mean?! Prizes! It was quite incredible how much litter we managed to remove, whilst having fun in the process.
The best way to deal with plastic pollution is to reduce our need for it. Then find ways to re-use or re-purpose it. And finally, if we can't do that, then we need to recycle it, or dispose of it in an environmentally conscious way that does not involve it getting into the water and also into the food chain.
If you are looking for more facts, figures and information about ocean pollution check out this fantastic guide from SLO active
Learn to freedive with Go Freediving
Go Freediving is the longest established, most experienced and friendliest freediving course provider in the UK, led by world class freediving instructor trainer Emma Farrell, and her team of personally trained instructors. No other course provider has such a good instructor to student ratio, safety record and personal touch.
Whether you're a beginner dipping your toes into the world of freediving, a seasoned pro looking to turn professional, or simply a freediver of any level who wants the best freediving holiday in the world, we're here for you!
Also check out our online guide, The Beginners Guide to Freediving by clicking here!
Keep in touch with everything Freediving
Subscribe to our mailing list for weekly newsletters with exclusive articles, news, films, offers and more!