Ocean Positive swimwear is a brand new range of swimwear and rashguards from Fourth Element made from recycled ghost fishing nets. Designed by divers for divers, find out more about the range in our review of the Tiga and Maluku bikinis.
What is Ocean Positive swimwear?
The Ocean Positive Swimwear range from Fourth Element is a a collection of swimwear and rashguards entirely made from so called 'ghost' fishing nets. These are fishing lines and nets that have been caught on reefs and wrecks and then abandoned by their owners when they couldn't be untangled.
Ghost fishing nets are a massive threat to ocean ecosystems and trap and kill millions of marine animals every year.

Across the world, teams of divers have come together in a global initiative to combat this problem. In often hazardous work, they remove the nets, bring them to the surface and send them to be recycled. The recycled nylon, known as Econyl, is then made into the Ocean Positive Swimwear range. Read more about the Global Ghost Initiative here.
The swimwear in the collection is designed for people who like active watersports and there are no clasps or clips that might get entangled in wetsuits or damage them.
Ocean Positive Swimwear Review
Before our Maldives holiday, I picked up two bikinis from the Ocean Positive Swimwear range, the Tiga bikini in Purple/Pink and the Maluku bikini in Navy/Aqua.
The first thing which makes the bikinis so great is that you can mix and match the sizes which suits people like myself who have a big bottom and a small top. The bikinis are non adjustable but have shorter than usual over the shoulder straps which mean that they fit securely and aren't going to go anywhere.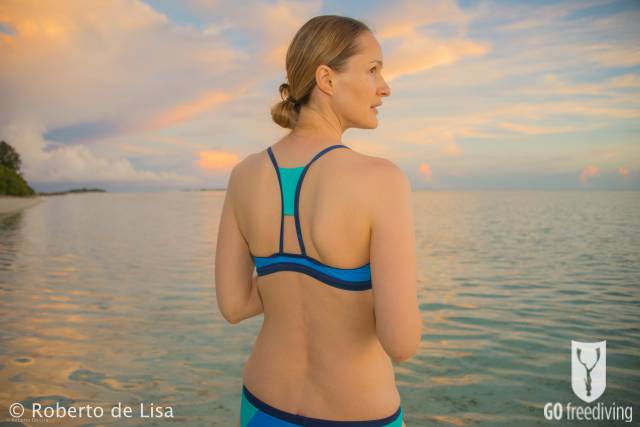 The straps also cross over and come together at the back which makes them extra secure.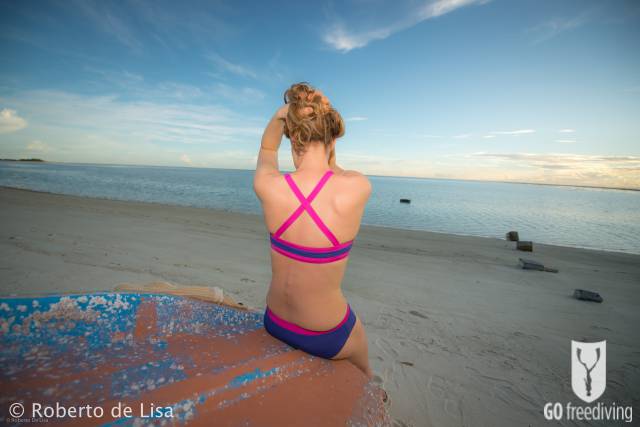 The Maluku bikini is slightly padded which prevents nipples showing through if you are very cold and is a definite plus in the design. This wasn't a feature of the Tiga bikini but it was easy to remedy as I cut a small hole in the underside of the cup lining and pushed through padding from another bikini.
When I spoke to the designers of the range and the head of Fourth Element, they said that they were looking to provide some level of padding for all their female swimwear in the future.
I loved the designs and the colours and the packaging is stunning, low tech and recyclable, everything you want from such an eco friendly product.
Sizing for Ocean Positive Swimwear
The sizing of the female Ocean Positive Swimwear range goes from 8 – 18 and will fit most figures, however ladies with bigger breasts will probably get on better with the one piece swimsuits rather than the bikinis.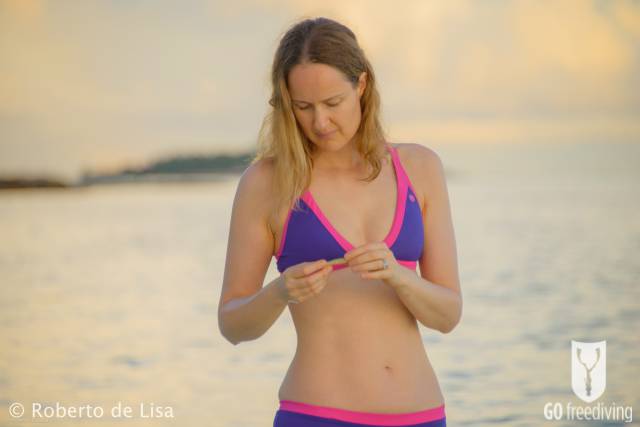 I have a large bottom so found that the coverage in my case was not complete. However this is an issue with all swimsuits and bikinis I have and the Tiga and Maluku bikinis were no worse than others I have had in the past and felt very comfortable under a wetsuit.
In fact the bikinis felt like a second skin and were brilliant to use during our ten day trip to the Maldives where they were worn almost all day, every day.
Want to see the whole range of Ocean Positive Swimwear?
Then please visit the ocean positive website!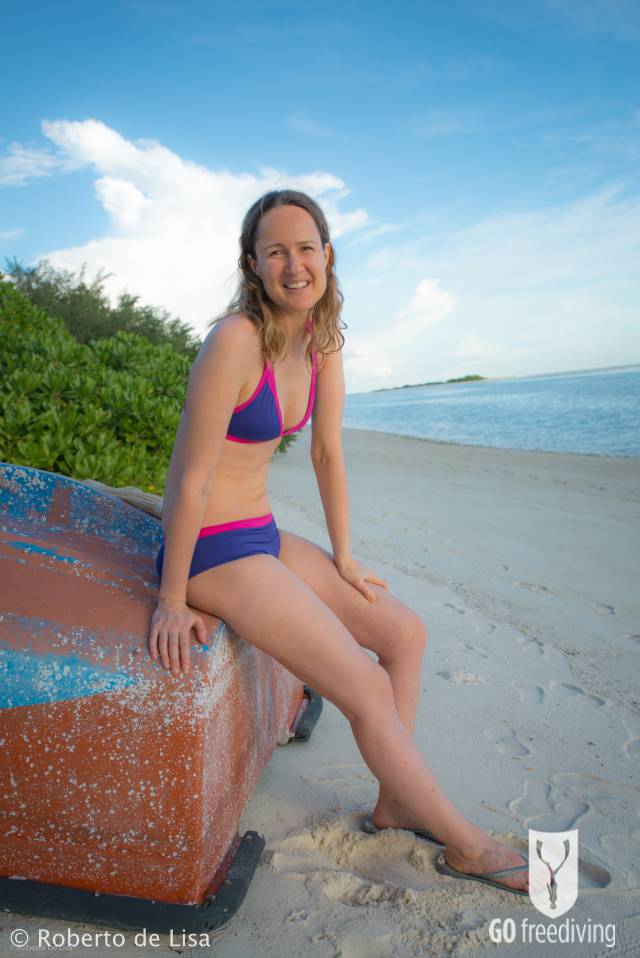 And want to read more reviews like this one?
Then keep in touch by subscribing to our mailing list for weekly newsletters with exclusive articles, news, films, offers and more!