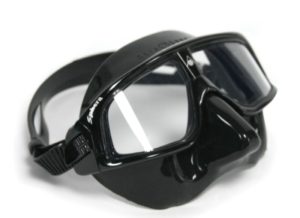 The Aqualung Sphera freediving mask is considered to be among the best of freediving masks on the market and is very popular among freedivers of all abilities and levels.
The Sphera mask has an ultra-low profile and has all the qualities you need from dive and swim masks to provide perfect vision under water.
The frame and lenses are designed to provide you with a 180 degrees visibility range while the streamlined frame aid effortless movement through water.
Available in Black or Arctic White
Price: £35 NOT INCLUDING SHIPPING
Features:
Patented Plexisol® lenses provide 100% UVA & UVB protection, a great plus for free divers spending time at the surface
Ultra-low profile
Narrow Bridge Separates Curved Lenses
True 180° degrees range of vision
Lens curvature provides amazing surrounding awareness
Anti-fog and scratch-resistant lenses
Slimmed Down Mask Strap, Ratchet Buckle System Minimize Drag
Easy to adjust buckles, even with gloves