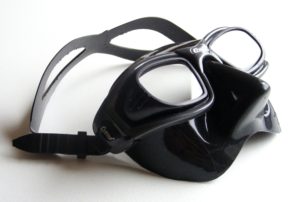 The Cressi minima was inspired by the Galileo Swim Goggle and specifically designed for  freediving and is a very low volume mask.
Its low internal volume allows minimum effort when equalizing at depth making this mask an excellent choice for those looking to obtain maximum depths. The mask also has an  excellent field of vision.
The soft silicone mask strap comes with easy and quick adjusting buckles to help provide a comfortable and secure fit.
Price: £30 NOT INCLUDING SHIPPING
Features:
Extremely low internal volume for deep diving
Dual tempered glass lenses
Easy adjustable mask strap and buckles
silicone frame