Equalisation Bundle for Freediving.
£40 (including posting and packing)
Includes:
Doc's Proplugs for equalisation
Doc's Proplugs for equalisation are one of my freediving equipment essentials. Even if I'm diving in Tropical waters I always use them. They make equalisation easier and protect against exostosis (surfer's ear). Find out how more about how they work and how to get the right size for your ears below.
Otovent Dive for equalisation
This is an incredibly simple yet effective device to train equalisation for both beginner, intermediate and elite freedivers. It can identify and train the frenzel equalisation technique, improve ear drum flexibiliy, equalisation strength, as well as teach various exercises needed to master mouthfill equalisation.
One hour Equalisation and Otovent session recording
This is a pre-recorded class session run by Emma specifically designed to improve equalisation.
Equalisation and Otovent Practise Download Sheet
This handout contains a variety of exercises to assist and improve your equalisation.
BONUS! Free Online Breath Optimisation Class recordings with Emma

Improve your breath hold and lung function, and improve your freediving.
The Breathing Optimisation Classes are based on the programme Emma devised for Olympic and Paralympic athletes across cycling and swimming, and have been used successfully since 2010.
The exercises are designed to teach you how to breathe fully and efficiently, improve CO2 tolerance, increase breath hold capacity, increase Vital Capacity, decrease Residual Volume and improve diaphragm flexibility.
Emma's program uses techniques from yoga, freediving and the Buteyko method, and have been proven to improve lung function and performance.
You will have access to breathing optimisation recordings (but you are always welcome to join her live for her weekly sessions too!) More details here: https://gofreediving.co.uk/online-courses
More about Docs Proplugs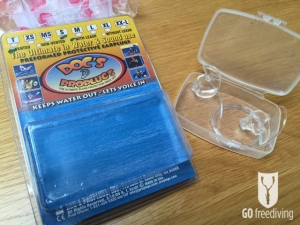 Doc's Prolugs are silicone plugs that fit inside the outer part of the ear. They come in all different sizes, from children up to adults and are either vented or non-vented.
Vented Proplugs are what divers and freedivers want to use as they have a tiny hole in the part that fits inside your ear canal, that allows tiny amounts of water to enter the space between the Proplug and the eardrum, preventing baratrauma.
Vented Proplugs are either made from red or clear silicone and non-vented come in pink or blue. They also can come with a leash connecting the Proplugs which makes it easier to keep track of them as they are small and can get lost inside a wetsuit hood if you forget you are wearing them when you change.
They come in different sizes and you will be fitted for the right size for you on your course or club day. If you are placing an online order then contact us to discuss how to select the right size for you.
More about Otovent Dive
The Otovent Dive was devised from the original Otovent which was developed and launched in 1993 by Kestrel Medical to help people suffering from glue ear.
Realising the potential for the Otovent to help glue ear in adults as well as children, as well as helping people deal with pressure changes during flying (plus the fact that the Otovent was already being used as an equalisation aid for freedivers and scuba divers), the development team decided to market the Otovent towards divers and diving.
The principle of the product remains the same, with the nose plug and balloons, however with slightly different size and strength balloons and different packaging.
As many freedivers will attest (myself included), equalising correctly can be one of the most difficult aspects of learning to freedive.  Most freedivers are limited not by breath hold or physical ability, but by their ability to move tiny amounts of air through their eustachian tubes to equalise the middle ear. In addition, a baratrauma (pressure related injury)  can keep you out of the water weeks, sometimes months and so we want to make sure we always equalise correctly and often enough. Any equalisation aid for freedivers that is available in my opinion should be utilised if you do not find equalisation easy and automatic.
It is a very simple device, and because it works as a visual aid it can also help the user, as well as any instructor, identify whether the user is performing the Frenzel equalisation technique correctly. Mastering the technique of inflating the device is a great indicator as to whether the user is 'on the right tracks' in terms of learning to use their tongue to equalise.
When learning the Frenzel, the balloon will inflate when the back of the tongue is engaged, creating positive pressure in the mouth and nose. And because the balloons provided in the kit are pressurised, this encourages the Eustachian tubes of the ear to open when inflated via the nose.
Once the Frenzel is mastered, the Otovent can be used to train the mouthfill equalisation technique using a variety of exercises.
Each kit contains:
1 x nostril piece
3 x pressurised balloons
1 x carry case
Replacement balloons can be purchased too.