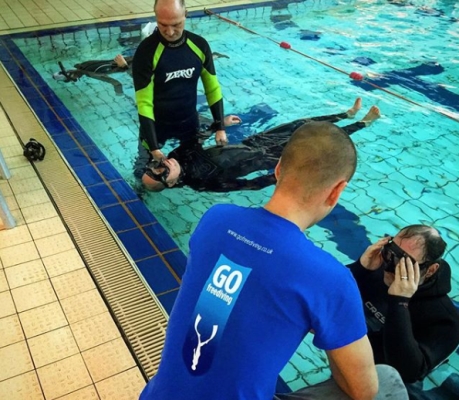 You want to become a freediving instructor! Congratulations!
Go Freediving provides an established, professional, experienced Freediving Instructor course programme.
Qualifying to join our Freediving Instructor course is not guaranteed. This is because above and beyond becoming a freediving instructor under the banner of Go Freediving, we place great emphasis on safety, teaching and attitude (these actually factor higher than being an elite freediver).
In fact, if during your training we identify the attributes we look for, you may even be approached and recruited by us! So we have an interest in producing the best freediving instructors we can!
At present, the entire course is run by Go Freediving who follow the world respected RAID Freediving Instructor and RAID Advanced Freediving Instructor course modules.
This course involves, theory, one to one sessions, practical coaching, regular assessments  of skills and abilities, and knowledge checks. We like to describe it as an apprenticeship.
This course is password protected, and can only be purchased after contacting Emma.