Congratulations to our latest RAID Freediver Course Students
Mohamed, Tarik, Abde, Redouan, Mark, Rhys and Chris
and returning student
Richa

Watch their awesome video, here:
And, find out what they thought of their course, here: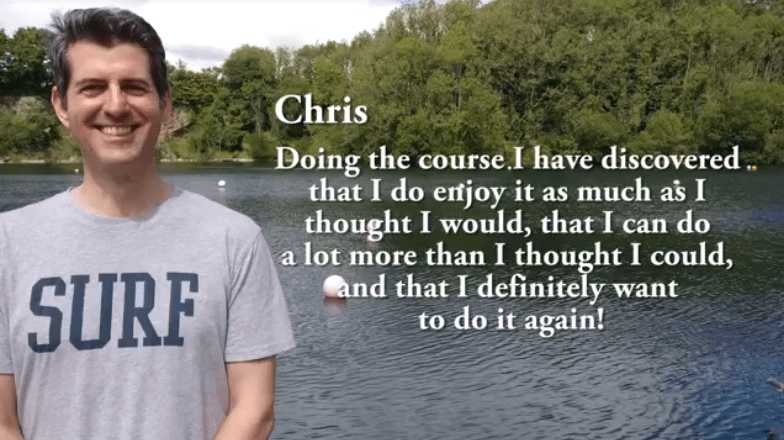 I have always had the urge to do freediving. I don't know why but I have always just felt the need to do it. Whenever I am in the water, I always feel so relaxed and at home.

I have seen freediving in the movies and I have seen freedivers out and about, and I thought it looks like so much fun without all the equipment, it looks so peaceful down there. So, I looked around and I found Go Freediving and that there was a course available. From the look and feel of the website and their background, they  just seemed like they were the most experienced and they were also recommended by others.

Doing the course I have discovered that I do enjoy it as much as I thought I would, that I can do a lot more than I thought I could, and that I definitely want to do it again!

When I am freediving it is the one time I feel like I can just relax and feel calm. I have really enjoyed how much time we got to spend in the water and how many times we could do the exercises. The instruction has been really, really good. I did not think it would be possible to reach 10m, but it helps you to realise and overcome your limits. I liked that feedback was given straight and not sugar coated. The small groups were great, everyone was really friendly, and you just want to keep going and going!

The benefits of learning to freedive is that it is relaxing, calming and you learn more about yourself and what your limits are and how to just push through them –  which you can apply to other areas of life. I also loved the exploration and getting to meet new friends.

I would absolutely recommend this course because of what you can learn. Anybody who thinks they can't really do it and it is scary; it is definitely not. You can do it! It is not scary at all and it is great instruction. The guidance beforehand is great as well.

Chris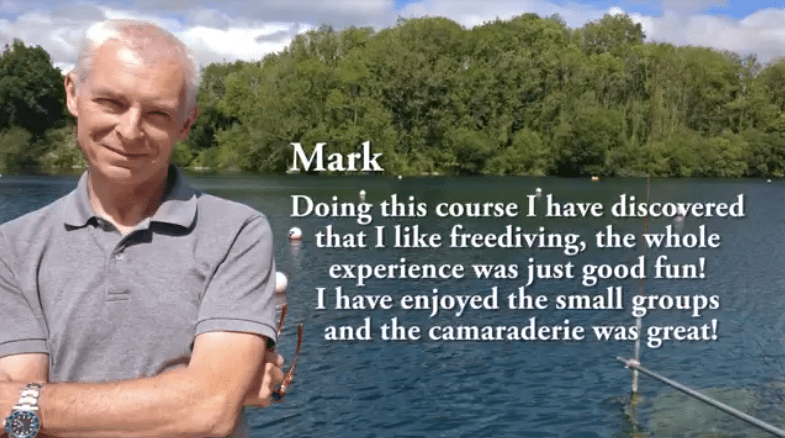 I saw freediving advertised when I was living in Asia but never got to do it. I found Go Freediving with lots of good reviews and I was emailed back within a few hours and signed up!

Doing this course I have discovered that I like freediving, the whole experience was just good fun! I have enjoyed the small groups and the camaraderie was great!

The benefits of freediving are self confidence and enjoyment and I want to do some more! I will be signing up to join one of the freediving trips to go and do it somewhere warm!

I would definitely  recommend this freediving course!

Mark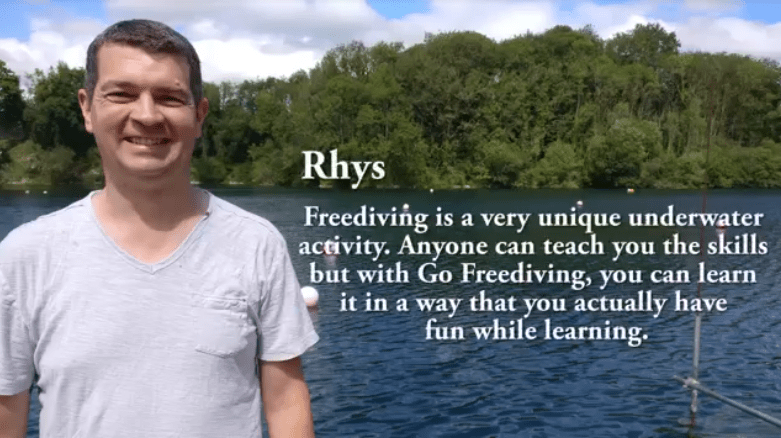 The film The Big Blue is what made me want to learn to freedive.

I have always done scuba diving so I wanted to see what I could do without all the kit. I was recommended to do the course by one of the Go Freediving instructors, Tom.

Doing this course I learned more about myself physically and that you need to be more mentally prepared than with scuba. I enjoyed the team and the instruction and the banter and the laugh.

Anyone can teach you the skills but with Go Freediving, you can learn it in a way that you actually have fun while learning. The benefits of learning to freediving are physical awareness, fitness and physiological preparation. Doing it with Go Freediving you get to have a laugh while doing it.

I would recommend the course to people who are in the place to do it. I am not physically fit anymore but I have learned more about myself psychologically that I need to develop a lot more.

It is a very unique underwater activity that I have never done before. From the point of view that when you are down there, it is you against yourself.

Rhys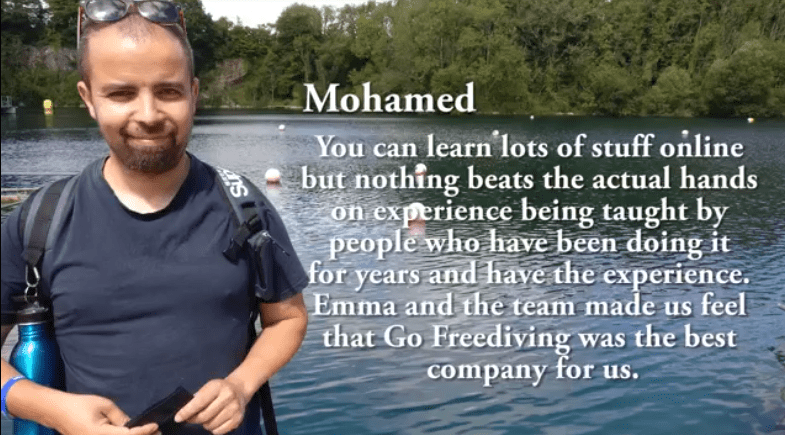 I saw a lot of inspirational videos online and it looked like a fantastic fun sport so I thought I would give it a try.

We needed some type of recognized qualification and RAID seemed appropriate and looking around and looking at the Go Freediving website and doing a bit of background research on Emma and the team made us feel that Go Freediving was the best company for us.

Doing the course I have discovered that it is a tough sport and you need to take it seriously. There are a lot of safety aspects that you may not be aware of and need to take into consideration, so we have learned a lot about that. We have also learned that it is just as much fun as we expected it would be. The weather has been great and it is a great weekend away.

The benefits of learning to freedive is confidence and independence to be able to go away for a weekend and hit the shores.

Freediving gives me a great feeling of freedom. I can just pack my bag and go knowing that I have covered some safety aspects and have knowledge of how to stay safe with my diving partner.

I would definitely recommend the course and Go Freediving, because the main focus of the course is safety.

You can learn lots of stuff online but nothing beats the actual hands on experience being taught by people who have been doing it for years and have the experience.

Mohamed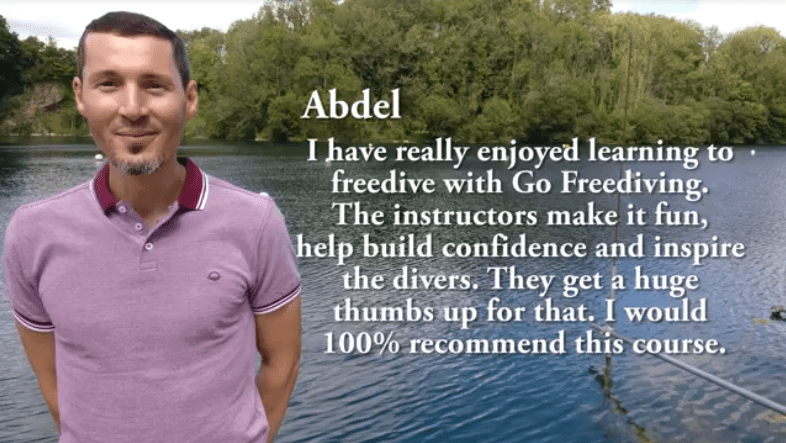 I decided to do a freediving course on the recommendation of Mohammed. I am always into trying something new. I have discovered that there are still things I need to learn and get used to and once I am there I will be alright. It is just a matter of time.

I have really enjoyed learning to freedive with Go Freediving. The instructors make it fun, help build confidence and inspire the divers. They get a huge thumbs up for that.

The benefits of learning to freedive is that I will be able to do spearfishing – that's my goal.

I would 100% recommend this course, even if you don't want to carry on with the sport it is a very good skill to have. It is the kind of skill that comes in useful generally in life. It will make you more confident in life and it takes the fear out of being in the water. It is 100% good for your confidence.

Abdel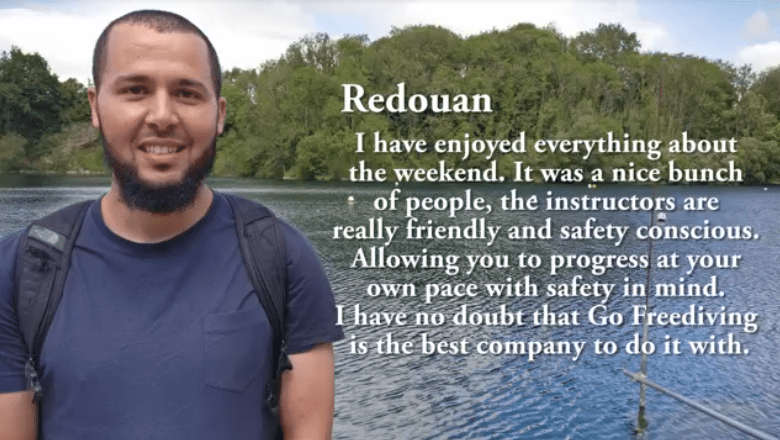 I have been scuba diving before when on holiday in Morocco and Egypt and absolutely loved it, the underworld is just amazing!

The thought of being able to do it as a freediver more professionally is a pull and I have been wanting to do it for a while. Go Freediving came across as the most reputable and safety conscious and had all the information on the website. There are others but they didn't seem to offer the same assurances. Up front information and the RAID formal certification is something that we wanted as well.

I have discovered that freediving is something that I need more practice at. I have enjoyed everything about the weekend. It was a nice bunch of people, the instructors are really friendly and safety conscious. Allowing you to progress at your own pace with safety in mind. The benefit of learning to freedive is that it is a skill that will stay with you forever and the best way to achieve that was to do it with a reputable company and that is why I chose Go Freediving.

I would recommend the course absolutely because if you are going to do freediving I have no doubt that Go Freediving is the best company to do it with. Everything comes across better than what I would have expected, and we got everything that we wanted out of the course.

Redouan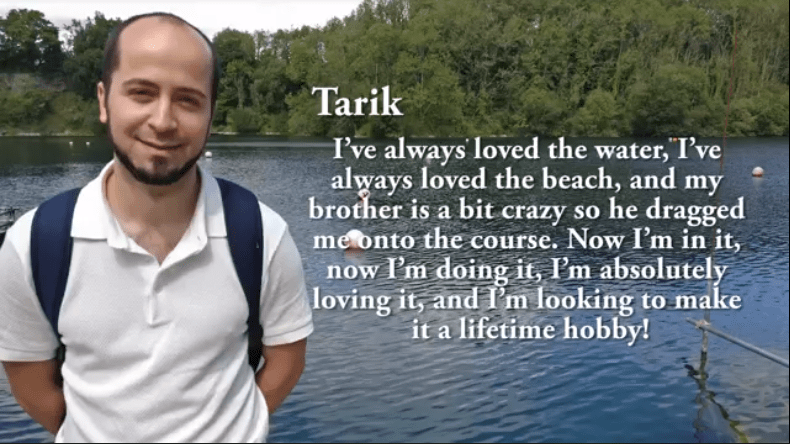 I've always loved the water, I've always loved the beach, and my brother is a bit crazy so he dragged me onto the course. Now I'm in it, now I'm doing it, I'm absolutely loving it, and I'm looking to make it a lifetime hobby, definitely.

My brother looked for the most reputable company and the organisations with the best comments and testimonials out there, and he found Go Freediving is one of the best there is, so we just jumped in. And Emma is very friendly, very informative and very helpful.

I have made some incredible discoveries this weekend. I never realised you could hold your breath for four minutes with some training, I actually crossed that barrier, and I was like 'wow'! I thought you'd die after four minutes if you held your breath for that long, so discovering certain things that your body can do, for me, has just been a huge learning curve, so I'm very impressed with the whole process.

The thing I've liked most about the weekend is literally just going up and down, doing the duck dive, going down, relaxing, switching off underwater and absorbing that vibe, it's just an absolutely magical feeling, it really is.

What I've loved about the course is learning to freedive in general. To be able to know how you can handle the water, whether it's in the beach, or even in the swimming pool, learning to relax, how to hold your breath is hugely beneficial.

You can also use it to encourage others to relax in the water. You cross certain thresholds and you realise there's really nothing to worry about, the water can be quite a friendly place.

Also, with a freediving club that Go Freediving has, there's a lot of people that you want to stay in touch with, and you get a lot of advice in terms of good places to go, to freedive, to rent equipment. There's a whole load of great advice that you can get being part of the Go Freediving club. And in general it just gives you a brilliant, brilliant hobby, to look forward to. You can start planning really interesting holidays. A beach will never be the same again!

I would absolutely recommend your course, I think everyone should try freediving. I feel that every human being needs to do it, and have the ability to be out in the water. I feel it's part of our nature really.

Tarik 
I wanted to come back as a returning student, because I enjoyed my course last week, and I wanted to finish off the course with Go Freediving, rather than going somewhere else and not really having that consistency of the way you guys train, and the things you cover.

I requested Pash as my instructor as she's a really good instructor! I felt really calm, and I didn't feel pressurised to be at a certain point –  it was just whatever I felt comfortable doing was the approach she was going with. So with Pash I felt really comfortable and stress free. That's the mindset you need to be in when you are starting out, so you know to be calm. Pash has that influence. She's a really calming person, so that's why I wanted to go with her.

I think coming back as a returning student has been amazing! I couldn't have asked for it to be better, and it ended up being one on one! It was a really good day because we could do everything at my own time, so I did all the skills in the first session, and then the second session it was a case of – where did I want to go and dive, and what did I want to see? And so it was literally all in my own time so it was really good!

If someone has done the RAID Freediver course and hasn't completed all the skills, the first thing I would say is to try and come back as soon as possible, that way you remember what you've been taught and you're not forgetting anything. If you have the same instructor, they know where you're at as well.

I think it's been really good, because, at least for me, in the first session you do all the skills, and then the second session was just fun dives. When I was actually doing the course, I was so focussed on trying to complete all the skills. As a returning student, the pressure is just lifted.  I could just swim about and have a look at stuff.

I would absolutely recommend coming back as a returning student. I'm so glad I did!

Richa Parihar – returning student

Want to learn to freedive with the best? Learn to freedive with Go Freediving!
Go Freediving is the longest established, most experienced and friendliest freediving course provider in the UK, led by world class freediving instructor trainer Emma Farrell, and her team of personally trained instructors. No other course provider has such a good instructor to student ratio, safety record and personal touch.
Whether you're a beginner dipping your toes into the world of freediving, a seasoned pro looking to turn professional, or simply a freediver of any level who wants the best freediving holiday in the world, we're here for you!
Also check out our online guide, The Beginners Guide to Freediving by clicking here!
Keep in touch with everything Freediving
Subscribe to our mailing list for weekly newsletters with exclusive articles, news, films, offers and more!