Congratulations to our latest RAID Freediver Course Students
Ryan, Harry, Peter, Tessa, Celina and Leo 
and returning students
Alice, Judith, Naden, Debbie and Carol
Watch their awesome video, here:
And, find out what they thought of their course, here:
I am a scuba dive master and I've got back problems. I love being in the water but was getting a bit bored of scuba, so thought I would try and do a proper freediving course. I did a freediving course ten years ago, but didn't get on with the people who ran it.

I'd seen you advertised through Scuba Travel, so I joined your Facebook group last year and I like your approach and the way you advertised – none of this machismo nonsense. One of your holidays I was really interested in, but then Covid happened, but now I'm here!

Doing this course I've discovered I can do more than I expect I can. I've done a lot of messing around on my own underwater before the course, so I've also learned that a lot of what I was doing is not sensible and what not to do. I've also learned to trust my body and my limits and that you can do much more when you are calmer, which I definitely felt today.

I've loved not thinking about work! I've not had a day off since March and I was in the water thinking "wow I have not actually thought about work for a few hours!" And also the people, I wasn't quite sure what it would be like on the course with the other people, but you have all been really nice.

Learning to freedive there is something really mindful about it, being very in touch with your body and pushing through what you think are your limits gives you a real sense of euphoria. And diving with you guys, you also have a camaraderie which was really nice. You all have a sense of humour which I like!

I would recommend this course! The reasons are different for everyone doing the course but for me it's the pure escapism – no one can get to me when I am underwater! And I think that ability to physically push yourself and do other things like go on one of your holidays is just great!

Tessa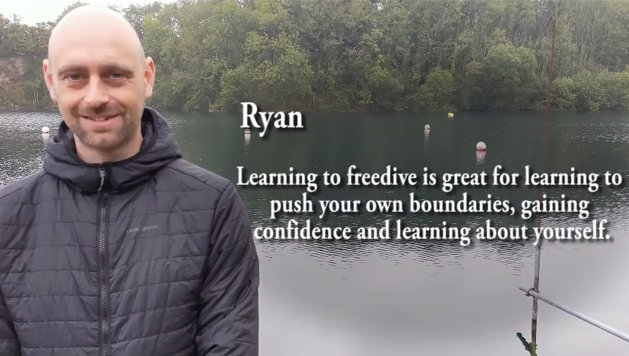 I wanted to do this freediving course because I wanted to learn the aspects of freediving safely. It's something you could have a go at and lose your life over, so I think you need to learn from the right people, which is why I chose you guys.

The accolades on your website were great and you seemed very well qualified. You were the right choice.

I discovered that I was out of my depth within about five minutes! There is lots to learn, but I am in good hands and feel I can only progress!

I enjoyed the whole weekend. I've enjoyed slowly making progression. I don't feel like I've been doing too much that I can't achieve, but at the same time it is a challenge, so I think it is a nice balance.

Learning to freedive is great for learning to push your own boundaries, gaining confidence and learning about yourself really. It's an alien environment and you are sent head first into it really! It's a different world.

I would absolutely recommend this course! I think you need to learn things properly, rather than pick up bad habits and then go back a step to try and get rid of the bad habits. Learn properly and then you learn the right way.

Ryan

I met Emma at The Outdoor Show about 5 years ago and we talked about freediving, but I have been renovating my house so it took me 5 years to get here! I'd really wanted to experience it for a while!

Learning to freedive is definitely a different experience to just snorkelling or something like that, which is what I thought it would be like. Just being able to control the reaction to wanting to breathe has been a real insight to control that, stay relaxed and to enjoy being down under the water and be able to appreciate things rather than worry about breathing.

The best part was being able to freedive the plane, but everything has been really good. Meeting everyone has been great too!  I've enjoyed being able to hold my breath longer, meeting people, learning about your physiology and looking forward to new experiences.

I would definitely recommend this course. I recommended it to a lot of people last night already!

Pete

My mate studies Orcas in Norway and I have always wanted to crew for him and he said if you ever want to get in the water you have to have your freediving nailed and you can't panic when an Orca comes at you. I thought just in case the opportunity ever comes up I need to be able to freedive, and also I like the idea of spearfishing as I really like the idea of knowing where your food comes from.

I swim at Vobster as I do triathlons, saw you guys here, it looked cool so I thought 'yes, I'll do that!' and then a spot came up and I went for it.

Doing this course I have discovered that you can hold your breath longer than you think. If you just relax there is so much more you can do. As soon as there is an ounce of doubt in your mind, everything goes wrong! It is just incredible what you can do. After spending so many years on top of the water, when you get down into it, it is incredible! Today has just been amazing! Being with David. He is so unbelievably knowledgeable!

The benefits of learning to freedive is you learn how to control your breath. It also makes you more aware of yourself in terms of your fitness and what you are putting into your body and how you prepare for a dive. And when you socialise you get a plethora of skills. Everyone has been so friendly!

Leo

I've been scuba diving for a long time and got to quite a high level in it, but it has always been in the back of my mind that I can't freedive – which I think is a very important skill if you spend a lot of time in the water. It should be a fundamental water skill really. And also with some of the jobs I am doing, freediving is becoming more popular, so you don't get the chance to do it on scuba.

I'm an underwater photographer and work a lot with sharks and out of the country a lot, but I live quite close to Vobster. I googled for courses and you just looked really, really good.

Doing this course I have discovered that I cannot equalise upside down. That was the biggest surprise, because obviously I never think about it in scuba. I'm a PADI instructor, I've got over 1000 dives, a technical diver to the highest level and I can't equalise a metre under the water!

There are so many things I have liked about the course! When I got home last night I was so happy because it is totally the opposite to what I have been doing.  It's nice to do something new. Yesterday I felt like I was moving forward, so it was really nice to have that feeling again, like I am learning. I've looked at people doing it for a long time and wanted to do it myself!

One of the many benefits of freediving, I think, are the health benefits. I'm obviously a bit out of shape at the minute because of the scuba diving. I have given up alcohol and am trying to exercise more and I just want a healthier lifestyle and this is part of it, because I am not getting any younger and that's scaring me! Another benefit is that it will be really nice to be able to get in the water and not have to take a truck-load of kit with me. And another is that it is going to be a handy skill to have in my toolbox for my job. At the moment I just flap around when I am supposed to be freediving, so it is going to be very nice to be able to do it properly.

I would recommend this course 100% because my instructor has been fantastic. I have been very, very impressed! All of you are so professional but also so friendly and I feel you really know what you are doing and that's the most important thing. I have absolute trust in you and that really comes across to me. I've been around lots of freedivers before, all over the world and it is obvious that you are tip top.

Harry

I wanted to do a freediving course because I wanted to do something completely different, to get out of my comfort zone and try something new so I thought 'why not'? I like water, I do some paddleboarding and I thought maybe going underwater would be nice. So I did some searching online and your school had the best reviews, so I just went for it!

I have learned that when I am more relaxed I can go deeper. Today I reached 8 metres whereas yesterday I was thinking this is not my place. When I started to relax, I became happier and could dive much deeper, so that was cool.

I think the benefits of freediving are relaxation. I always have a problem with stressing out and overthinking, but I think today I have learned that I can manage those feelings – so that's a big thing for me. Also, I came to this course on my own and had to come a long way – which for me was also a big improvement and meeting amazing people!

I would recommend this course. For me, the first day was hard, but I came today and everything was the way I expected it to be. If anyone asks, I'm sending them here!

Celina

I came back as a returning student because there is so much help and support – a really massive support network which really feels great. And for friendship alone just knowing there is going to someone there, not judging and just working with me and that is such an amazing gift, it makes me want to cry!

I have discovered my own ability and that I am not as useless as I thought I was! I''ve enjoyed the friendship and the ease. It's been joyful.

The benefits of coming back has definitely been working on my skills. It was good to have someone look at you and advise you. That was a massive benefit. Applying the skills and seeing how much more efficient it is and feeling those two things together and how much more relaxing that is.

I would recommend coming back on this course, as you won't want to get out of the water!

Jacqui – returning student

I came back as a returning student because I really enjoyed my course last year, but didn't get as far as I wanted to. I wanted to come back, get all my skills and I knew it would be chilled out and I could get on with it and there would be no pressure. And I did it all before lunchtime yesterday because there was no pressure. It was just lovely!

I have discovered as a returning student that it is perfectly OK not to finish the first time. There is no 'oh well you didn't do that'. It was all 'it's all good, carry on, keep going at your own pace, 'it doesn't matter if you don't finish this time' which was just lovely!

I've loved coming back! It is just fun with everybody. There is no competitiveness or 'you have to do this'. Everyone is just offering advice, everyone is just calm and chatting. It's just lovely to see everybody.

Coming back as a returning student builds your confidence. If there is anything you are worried about, it helps you get over that hump. But also, you can consolidate everything you have done before and just relax and enjoy it. As a returning student you've got more time to just do the recreational diving and just really enjoy being here and chilling out.

I would absolutely recommend coming back as a returning student because as I say, you can consolidate, get over any fears and also there's no pressure to do it. You're not looked at as having failed you're just coming back to have another go.

Jude – returning student

I came back as a returning student as I am determined to master the Frenzel technique and equalise and go deeper head first.

I've learned more about how to equalise and how my body works and it was literally at the last minute I think I mastered the Frenzel head up which I hadn't been able to do until now. So now I need to come back again and master it!

This weekend was so much fun and I loved being underwater, it was just lovely. It's a really good laugh!

I've heard that the people who struggle the most become the better divers and I know that most of the instructors have struggled with equalising, so that gives me hope that if you are determined you can do it. And I think you become more understanding if other people are struggling too.

I would definitely recommend coming back as a returning student as you can perfect your skills when there are people there to look after you. It just makes sense to do it.

Alice – returning student 

Want to learn to freedive with the best? Learn to freedive with Go Freediving!
Go Freediving is the longest established, most experienced and friendliest freediving course provider in the UK, led by world class freediving instructor trainer Emma Farrell, and her team of personally trained instructors. No other course provider has such a good instructor to student ratio, safety record and personal touch.
Whether you're a beginner dipping your toes into the world of freediving, a seasoned pro looking to turn professional, or simply a freediver of any level who wants the best freediving holiday in the world, we're here for you!
Also check out our online guide, The Beginners Guide to Freediving by clicking here!
Keep in touch with everything Freediving
Subscribe to our mailing list for weekly newsletters with exclusive articles, news, films, offers and more!