I love doing underwater photobombs myself, particularly when someone has their selfie stick out. Mine are usually infantile and rude, and I certainly can't compete with our aquatic friends below. They've got a wicked sense of humour and you only need to take a look at their underwater photobombs to know they've got us sussed and are chortling away in their little shoals as they tell their tails (pun intended) to their buddies of how they ruined our 'special moments'.
So here they are, my five favourite underwater photobombs.
Underwater Photobombs #1 – The Wedding Proposal
An underwater proposal. How sweet! What could possibly go wrong…?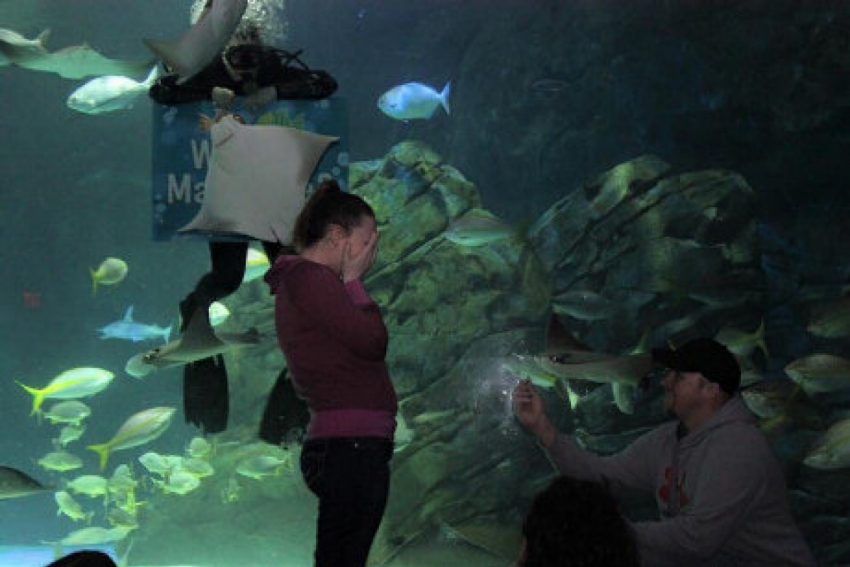 So, what do you think? Is he:
Stealing their thunder
Making a bid for freedom and hoping they'll adopt him
predicting they indeed 'Will Marry' (he's almost as clever as Paul the Octopus)
trying his hardest to stop the proposal from happening at all (he's just jealous)
Well, it worked out in the end…
Underwater photobombs #2 – The 'Gillette' Shot
You know what it's like… you get up early, travel a couple of hours, get on the boat, get your kit on and then look in the mirror and damn! Forgot to have a shave. Now you know your mask will be leaking, and you forgot to pack the vaseline as well. You're thinking no worries, it can't be that bad, until the photo comes back and you look like Desperate Dan on a bad day…Oh, wait… it's just an underwater photobomb from a puffer fish…phew, lucky escape. Oh no, my mask is still leaking…
Underwater Photobombs #3 – When things get a little too friendly!
(Ok. Not strictly an underwater photobomb, but seeing as about 70% of their bodies are underwater, I'm going with it.  Anyway, it's one of my favourite photobombs).
There's always one, isn't there? You and your girlfriends are just chillin' and there's this guy that just won't take no for an answer. He's been following you around all day and as soon as the camera pops out he's there, fins around the lot of you, flashing his perfect smile acting like your best mate.
Underwater photobombs #5 – Daaa-d! Muuu-m!
You know when you go for a dive you can enjoy the tranquility, the silence, the feeling at one with nature… And then there's always something that reminds you that you're a parent…. like a seal… tapping your head constantly for attention or tugging at your clothes, just because, you know… you haven't played with them for oh, 10 seconds…the same thing over and over… Yes, that's what it's like to be a parent – just in case you wondered.
And I love this shot as well because it's a selfie, taken by the amazing Alex Mustard, and you can tell he's trying not to laugh and flood his mask…
So what are your favourite underwater photobomb? Tell us in the comments below!
Learn to freedive with Go Freediving
Go Freediving is the longest established, most experienced and friendliest freediving course provider in the UK, led by world class freediving instructor trainer Emma Farrell, and her team of personally trained instructors. No other course provider has such a good instructor to student ratio, safety record and personal touch.
Whether you're a beginner dipping your toes into the world of freediving, a seasoned pro looking to turn professional, or simply a freediver of any level who wants the best freediving holiday in the world, we're here for you!
Also check out our online guide, The Beginners Guide to Freediving by clicking here!
Keep in touch with everything Freediving
Subscribe to our mailing list for weekly newsletters with exclusive articles, news, films, offers and more!