On 22nd – 23rd February 2020, follow the amazing success last year, the second annual Go Diving Show will take place at the Richoh Arena, Coventry.
The Go Diving Show promises to be even bigger and better than last year, with four stages.
The Main Stage – hosted by TV presenters Andy Torbet and Miranda Krestovnikoff, this will cover everything from all aspects of the world of diving. They will be joined by Steve Backshall, Monty Halls and award-winning underwater photographer Alex Mustard MBE, who will also be unveiling the winners of the prestigious Underwater Photographer of the Year 2020 competition on the Saturday afternoon.
The Inspiration Stage – stories to lift your spirits, and drive you on to greater heights in diving, whether that is simply getting your entry-level certification, climbing on to the first rungs of the professional ladder, or some other aspect of diving. Be inspired! Speakers already signed up include PADI Course Director, technical diver and photographer/videographer Luke Inman, and acclaimed UW photographer and conservationist Jorge Hauser.
The Tech Stage– awe-inspiring tales from some of the biggest names in the world of technical diving, including Phil Short, Garry Dallas, Mark Powell, Tim Clements, Ian France and John Kendall.
The Underwater Photography Stage – Covering all aspects of underwater photography, this boasts a veritable who's who of top-class 'snappers', including Jason Brown, Stuart Philpott, Martyn Guess, Mario Vitalini, Saeed Rashid, Paul Duxfield, Bryan Stanislas and David Diley.
As well as the stages there are an enormous number of trade stands attending this year. You can see who is coming HERE!
Amazing memories from last year's Go Diving Show!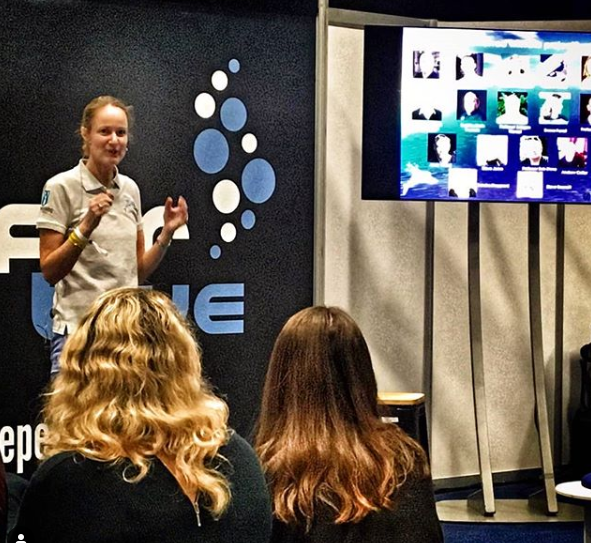 If you haven't been to the Go Diving Show before, prepare to be in for a treat!
The whole weekend is an opportunity to meet and speak with some amazing individuals and businesses who are passionate about diving – from learning to dive, equipment, holidays, environmental or just to have  fun, there is so much to keep you entertained!
I thoroughly enjoyed my time there last year on the Freediving stage  where I was invited to present two talks over the course of the weekend all about Blue Abyss!
Here are just a few of the highlights for me:
During the  weekend I met with Linden – a truly beautiful person .. I mean, mermaid,…inside and out!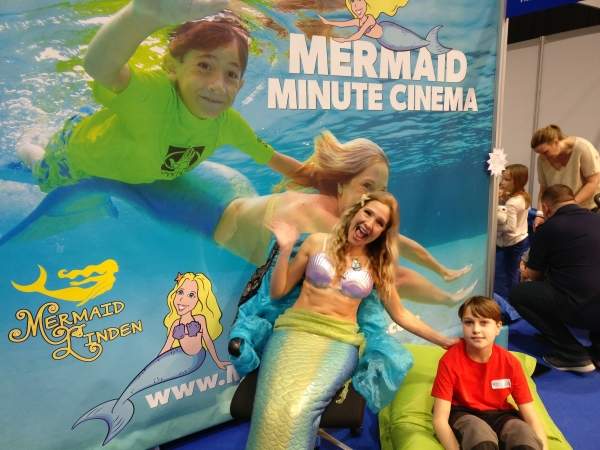 As you can see we had plenty of mermaid-y stuff to discuss ….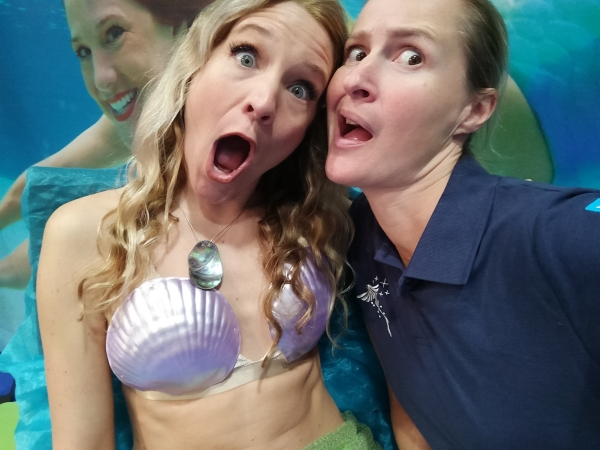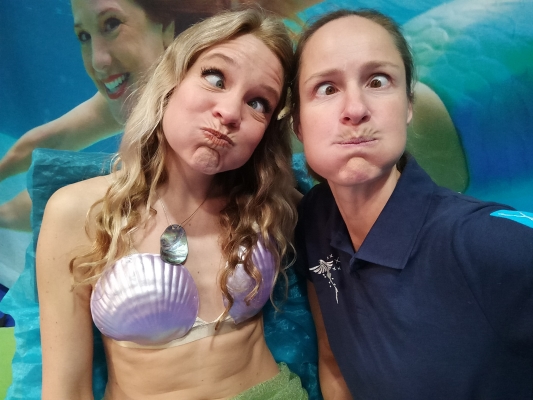 And, just in case you didn't know, mermaids move around on dry land in wheelchairs or swivel chairs. I have proof!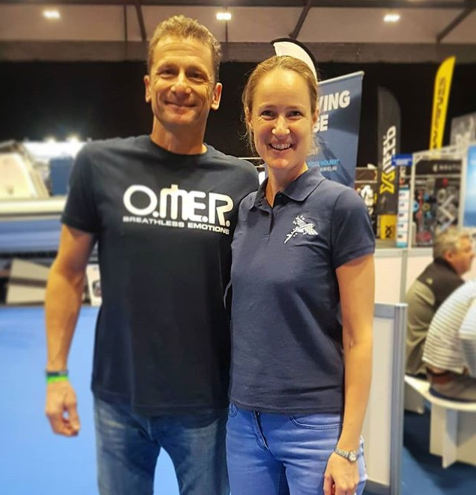 I also met the legend that is Umberto Pelizzari.
(I also have an amazing recording of his masterclass which I will be sharing with you very soon).
and of course, the awesome Stig Severinsen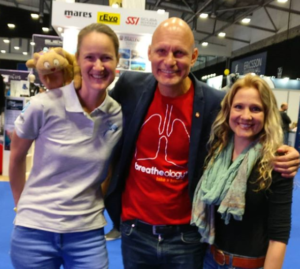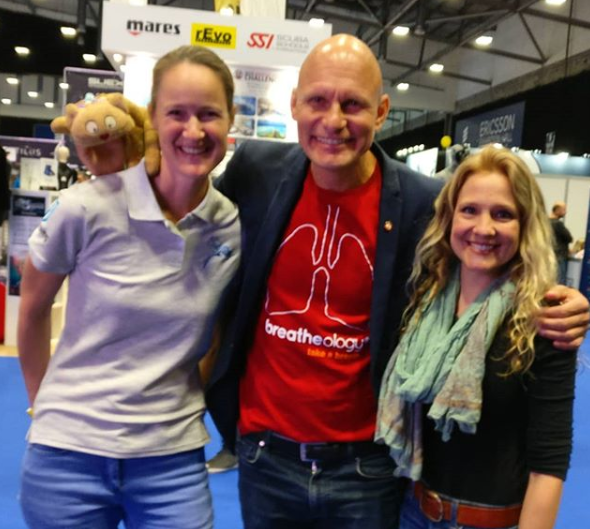 Meeting this lovely lady was such a highlight for me too!
I saw Mehgan Heaney-Grier on TFI Friday in the late nineties hold her breath for three minutes and this sparked a secret dream inside me to be a freediver.
In 2000 I made it happen and look where that journey has led me!
Mehgan is a freediving pioneer, an incredible athlete and such an awesome and wonderful person. It was such a honour and pleasure to meet her and I can't wait for the next time!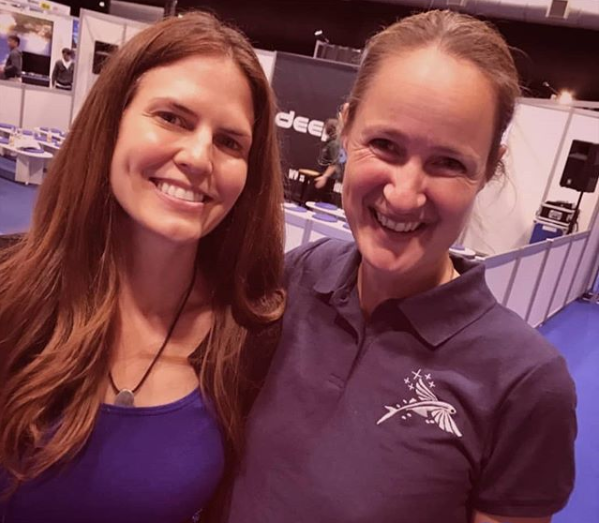 I smashed it at the Virtual Reality stand – they almost had to fight me to get it back! This is the coolest thing I've ever done at a dive show – even if I did lose control of the controls! John Kendall has done maps of some of the most amazing deep wrecks he has dived and it's so so real!!!Who would have thought freediving could be almost as awesome on dry land?!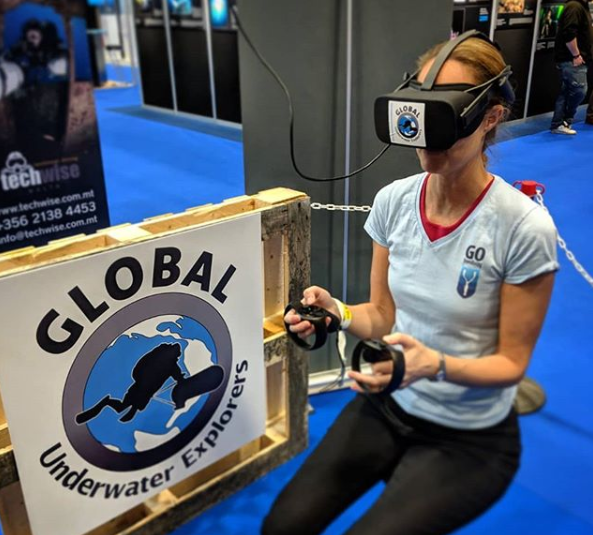 Head of raid UK and Malta, James Rogers also handed out the first ever RAID recognition award to Kevin Edwards for services to the diving industry.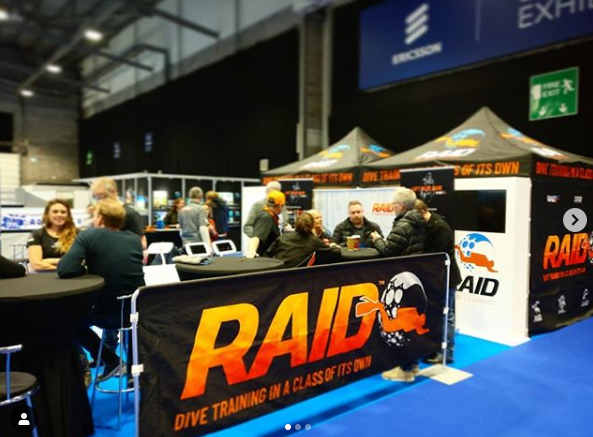 So many great moments! So you won't be surprised to hear that I got my tickets for the 2020 event as soon as I could! No presentations this year! I won't have time if they let me loose on the Virtual Reality stand again!
Wishing all the organisation team the very best of luck for another awesome event!
If you haven't bought your tickets yet, you can do so HERE
Hope to see you there!
Learn to freedive with Go Freediving
Go Freediving is the longest established, most experienced and friendliest freediving course provider in the UK, led by world class freediving instructor trainer Emma Farrell, and her team of personally trained instructors. No other course provider has such a good instructor to student ratio, safety record and personal touch.
Whether you're a beginner dipping your toes into the world of freediving, a seasoned pro looking to turn professional, or simply a freediver of any level who wants the best freediving holiday in the world, we're here for you!
Also check out our online guide, The Beginners Guide to Freediving by clicking here!
Keep in touch with everything Freediving
Subscribe to our mailing list for weekly newsletters with exclusive articles, news, films, offers and more!