Why take an advanced freediving course? For some people it's about being safer in the water, others about a career path to becoming a freediving instructor, and for others it's about a personal journey deeper down and deeper inside. Check out our latest film to see what happened to Chris and David on their RAID Advanced Freediver Course this June.
Meet the two new advanced freedivers
Chris is training to be a freediving instructor. Already an experienced freediver, he's now progressing through his levels in order to gain his instructor qualification and go and teach abroad. David is a stunt man who did his first freediving course with Go Freediving five years ago in order to add more strings to his stunt man bow. Now back, he was keen to expand his knowledge and go deeper safely.
What happens on an advanced freediving course?
The advanced freediving course starts with the mini quizzes and exams which are completed at your own time at home. The next step is two pool sessions, run back-to-back on the Friday night before the start of the course. It's a chance to perfect static and dynamic apnea. See Chris and David hold their breath for over three minutes (the advanced freediving course requirement is 2:30). Then see them swim underwater for over 55 metres.
The next day is at Vobster, for two open water sessions interspersed with theory sessions. These help consolidate the home learning and give the students a chance to ask any questions.
The open water sessions of the advanced freediving course take the core skills of the RAID Freediver program further. There is a deeper rescue and other skills, and students dive up to 30m. They experience 'freefall', the magical moment when negative buoyancy is achieved, and how to finely tune their neutral buoyancy.
Another key part of the course is thoracic stretching, to help dive deeper and reduce the risk of injury. As a freediver starts to dive deeper, it's vital they learn about the risks, from lung squeeze to decompression sickness, and how to avoid them happening.
So what did our students think of their advanced freediving course?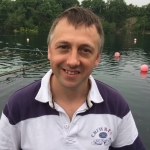 I'm working towards my instructor qualification at the end of the year so this course as about building that gap between the two, get some more experience, and get to that end goal.
I discovered on the course that there's a lot more to it. At the basic level you learn it on the beginners course, but going back over those basics again reaffirms it and helps you be a better freediver when you're going about it. The efficiency, the buoyancy, every aspect of it really, even the preparation and the mind space. There's a lot to learn on it.
I think it's more relaxed for me being in the water now, going in, even just on Saturday morning, I think I feel a lot more relaxed. Zoe's really helped with getting into that right mindset, the techniques again, going through with you, the buoyancy stuff, trying to slow it down just before you reach the freefall aspect, then going hard on the way up, and then slowing it down and stop at the end as you come up, that's really helped. And actually with Jorgen as well, learning about my freak of nature hands free ability, he actually went through what was going on and that's quite interesting to understand what's actually happening there. There have definitely been a few benefits from doing the course.
I would definitely recommend the course, it's definitely relaxed me, and it's made me a lot more efficient, so that's going to lead to more bottom time and better results really with freediving, so yes, definitely recommend it.
Chris Rich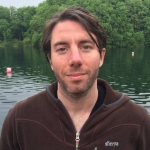 I decided to do the course because it had been a while since formal dive training, and over the years I've preferred freediving to scuba and then I enjoyed the training I did with you in 2011 I think it was, so I thought I'll get in contact and it seemed like the sensible step was to see if I could take it to the next level.
I discovered that I find it much easier to dive when I can see things and be distracted by things or with people, or dive alongside people, whereas diving deeper but in the sort of static mind frame I found quite difficult and it might have been fatigue adding to that, but I did notice there was a weak spot in being able to internalize and stay super relaxed. But doing the rescues, and stuff, had no problem with that, I really enjoyed the depth and found it really engaging, certainly liked every time I was doing the buddying, I found that really cool.
Despite the fatigue it finished on a real high, diving as a massive group, it was just awesome. Visually it was just great.
A massive benefit of doing the advanced course would be progressing the understanding of the dangers and how to dive safely, really reinforcing the fundamental principles you get in the first course, but obviously taking it a step further and really refining the techniques and how to buddy and all the protocol and how to meet the diver and how to hold then and the rescue scenarios, getting to a level where it's second nature, making diving safer and more enjoyable really.
I'd definitely recommend this course, because it's a very niche sport and there's only a handful of providers, and I think you've definitely got to go with the provider that is true to freediving, which I think is basically about creating a relaxing environment, and I was super relaxed!
David Collom
And read more testimonials here!
Want to join us on the next one?
We'd love to see you there! Click here to find out more and book your place!