Spearfishing Fundamentals
Spearfishing Fundamentals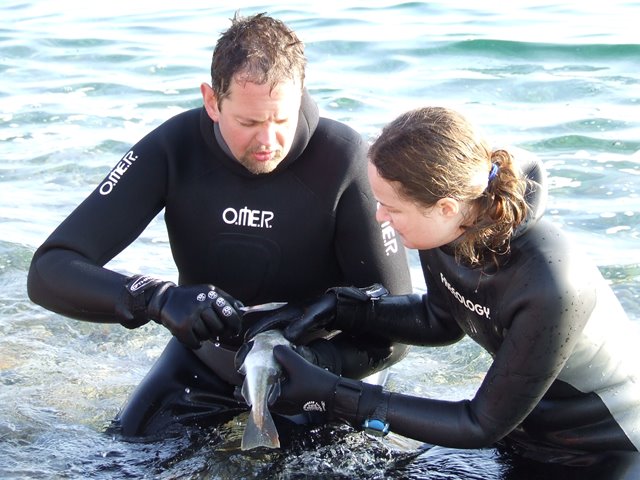 The most rewarding and sustainable way of catching seafood
Learn to spearfish and you'll be able to hand-pick the freshest fish for your table, learn about the environment, keep fit and, most importantly, have fun. When you spearfish properly there's no by-catch and no wastage, making it the most sustainable way of putting seafood on your dinner table.
Our Spearfishing Fundamentals course will equip you with all the knowledge you need to safely spearfish in the coastal waters of the UK. You'll learn about all the gear, how to prepare and set up your speargun, as well as about the sea you'll be diving in. You'll find out about buoys, knives, correct weighting and the legalities surrounding spearfishing.
Most importantly, you'll learn how to stay safe in the water, including maintaining correct surface interval times to avoid decompression sickness, how to prevent shallow water blackouts and practice rescue drills.
Of course, we'll also look at what you should be catching – both fish and other seafood. You'll practice shooting at targets and learn tips and techniques to improve your aim.
Course details
The Spearfishing Fundamentals course lasts a day, split between theory work on the beach and practical work in the water. We'll provide you with all the kit you need apart from a wetsuit. We keep course numbers low so you can learn at your own pace under the watchful eye of our skilled, experienced instructors.
You'll be taught by one of our extremely experienced spearfisher instructors in a very small group – we never have more than four students per instructor. As safety is paramount, we only teach with one speargun per group.
After the course you'll benefit from the Go Freediving lifetime guarantee*, giving you our continued support on your spearfishing journey.
Before booking please make sure you read our Terms and Conditions and medical statement
What's included
Theory material
Tuition
Equipment hire (exc. wetsuit hire)
Lifetime guarantee*
* Lifetime guarantee details
For as long as Go Freediving is trading, we will happily answer your questions and provide advice via email, telephone or in person about freediving (within the scope of your course). So if you have any queries about kit, training, where to go freediving abroad, or how to improve your technique, we'll be there for you.
Wetsuits
Wetsuit hire is not included in the price of our Spearfishing Fundamentals courses. Scuba wetsuits are suitable as long as they're at least 5mm thick. Triathlon suits tend to be less suitable as they don't have hoods – although the course is held in a heated pool, you can get cold during static apnea.
Dorset
Lulworth Cove

New dates coming soon
To take part in our Spearfishing Fundamentals course you must be:
16 years of age or older
Able to swim 100m unaided
You will be required to complete this self-certifying medical form before the course. If you answer 'yes' to any of the conditions listed you must get approval from your GP.
Club members can save £25 on a Spearfishing Fundamentals course
These people loved it!
There was such a relaxed atmosphere on the course. We discussed about other topics and this helped to get a bigger picture of the freediving world!
I loved the calmness of the instructors, their good humour, laid back approach and professionalism!
"I don't think you guys realise how much you give to people. I just want to make sure you know that YOU (you and David and the whole gang) have already made a huge impact on my life."