Perfect for beginners and intermediate freedivers, the RAID Freediver course is a comprehensive introduction to our rewarding sport
Taking place over a two days, usually a weekend, the RAID Freediver course from Go Freediving covers all the fundamental freediving skills you need and offers continued development for snorkelers or spearfishers.
Starting in the classroom, you'll learn how to breathe before and after a dive, how to hold your breath safely and about the freediving equipment you'll use. You'll then move to the pool, learning how to move with ease and grace under the water, developing the skills you'll need in the open water.
In the afternoon of the first day you'll move to Vobster Quay and begin diving in open water. We'll make sure you never exceed your own limits or comfort zone – you set a pace that you're comfortable with. By the end of the weekend you could be diving to depths up to 20m in the most relaxed and safe manner possible. You'll dive submerged boats, trucks, cars and planes, through shoals of beautiful fish and learn new skills to take your freediving to the next level.
The advantage of learning to freedive at Vobster Quay is that there are no tides, no waves, no currents, and fantastic visibility due to the zebra mussels filtering the spring water. It may sometimes rain, but the diving conditions are always perfect and our courses are never cancelled due to bad weather or sea conditions.
We also have the highest instructor/student ratios on our RAID Freediver courses so, coupled with our very personal approach, you're free to progress at your own pace. Taught by some of the world's most experienced instructors and providing unrivalled materials and support, no other course offers such a comprehensive package or wealth of experience. We even provide a lifetime guarantee, so after the course you have the benefit of our continued support on your freediving journey.

Course details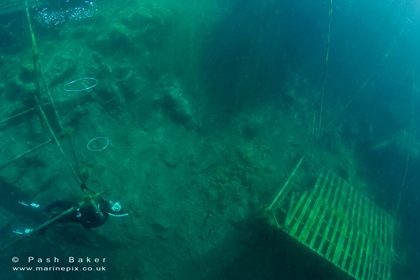 Your RAID Freediver course begins when you book your place, when we'll email you an information pack containing everything you need to know about the course, our suggestions for preparing, as well as information about accommodation and logistics.
We'll also send you a link to the RAID Freediver theory materials and course handbook, which is provided online by RAID. All of your course materials are accessed online and they're kept up-to-date by RAID, so that after your course you'll have lifetime access to the very latest guidance and information. Home study means you can familiarise yourself with the basics at your own pace and will mean more time for you in the water over the weekend of the course.
You must complete the theory and pass the final exam before the date of your booked course or you will not be allowed in the water.
Before booking please make sure you read our Terms and Conditions and medical statement
Course availability
We have a pool of incredible instructors so almost always have spaces on our courses. Please pay for the course and then email emma@gofreediving.co.uk with the date you want to attend!
What's included
Pool hire
Theory material
Tuition
All freediving equipment hire including: Freediving long fins, low volume mask, snorkel, freediving weight belt, weight, neoprene socks and gloves, and freediving wetsuit
Course certification and certification card (dependent on performance)
Lifetime guarantee*
Not included
Vobster Quay entry fee (details)
Personal travel and subsistence costs
* Lifetime guarantee details
For as long as Go Freediving is trading, we will happily answer your questions and provide advice via email, telephone or in person about freediving (within the scope of your course). So if you have any queries about kit, training, where to go freediving abroad, or how to improve your technique, we'll be there for you.
Wetsuits
Wetsuit hire is included in the price of your course however if you have one of your own we suggest you bring it to ensure you have the best fitting suit for you. If you own a scuba wetsuit you can use that – we recommend a minimum suit thickness of 5mm. Triathlon wetsuits are not suitable as they tend to be too thin and usually don't include a hood.

Want to see what happens on our freediving course weekends? Check out some of our videos! Just click on the group photos to view each course video.
2019
2018
2017
2016
Payment options and deposits.
£100 of your course cost is considered a non-refundable deposit. We now offer the option to pay a deposit to secure your place at checkout.
Want to know from our students why it's best to learn to freedive with us? Check out our glowing testimonials! 
Bath
Every course has space on it unless stated below so please go ahead and book!
28 – 29 September 2019 FULLY BOOKED
5 – 6 October 2019 EXTRA DATE!
2 – 3 May 2020
16 – 17 May 2020
30 – 31 May 2020
13 – 14 June 2020
27 – 28 June 2020
11 – 12 July 2020
25 – 26 July 2020
22 – 23 August 2020
5 – 6 September 2020
19 – 20 September 2020
3 – 4 October 2020
17 – 18 October 2020

Venue:
Glebe House, Frome Road, Writhlington, BA3 5UD
&
Vobster Quay, Upper Vobster, Radstock, BA3 5SD
Gift vouchers are also available
To take part in our RAID Freediver course you must be:
12 years of age or older
Able to swim 200m unaided
You will be required to complete this self-certifying medical form before the course. If you answer 'yes' to any of the conditions listed you must get approval from your GP.
These people loved it!
After doing the course I understand a lot more and feel 100% more confident now. The setting and location is really, really good. The instructor to student ratio is great and it helps you to progress faster.
The whole setup was fantastic, the instruction superb and the knowledge gained priceless. I want to say a big thank you to Heather and David.  The course had a great balance of fun whilst still delivering the instruction. I'm really pleased I chose to attend a course with Gofreediving.
The entire weekend has been relaxed and good fun. The instructors have been great and I have achieved more than what I was expecting. You get to learn to do freediving safely and correctly in a fun and relaxed atmosphere!
The course is definitely a growing experience and gives you a skill that you can transfer to anything. You can do what you want with it and it gives you the chance to do freediving again and again.
 Besides learning to freedive the benefits of the course are that you actually learn to do it safely as well. Also being around and getting to experience the freediving lifestyle is pretty cool. 
I would recommend the course because all the instructors are professional but approachable at the same time, it never felt intimidating and was run with care and planning. I felt safe the whole time and it is an amazing thing to do.    
I absolutely would recommend this course. You guys are amazing! Everyone should do this! If you are stressed out in life, or have a busy job just take a little time out. It's really good for your health.     
The benefits of this course are the relaxation, the health benefits – it's a hell of a workout, and, it is just an amazing thing to be able to do – to go out into water and have no real fear.
I would recommend this course because it is all within your own limits, everyone is going at their own pace even if they are in the same group, everyone gets along and there is no pressure. 
I would 100% recommend this course because it is just hilarious fun, you get to meet people and experience new things.
I would definitely recommend this course because the skills you learn are very valuable and the instructors are very flexible, allowing you to do more things if time allows it and also I got one on one time with an instructor which was brilliant.
Thank you! It's been really extraordinary and well organised. I am a useless student, and because I'm an academic I'm usually very critical, but its been effortless to learn – which is quite rare for me. 
The most important thing I discovered doing this course is that the whole pleasure of freediving comes from being relaxed, so if I am in the right mood and not stressed, the dive just goes beautifully.