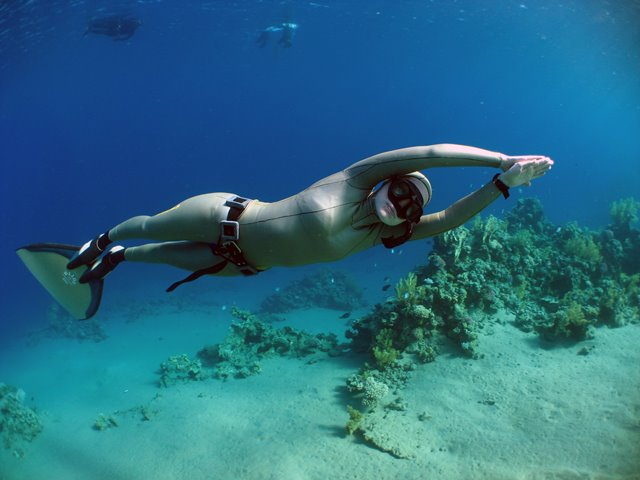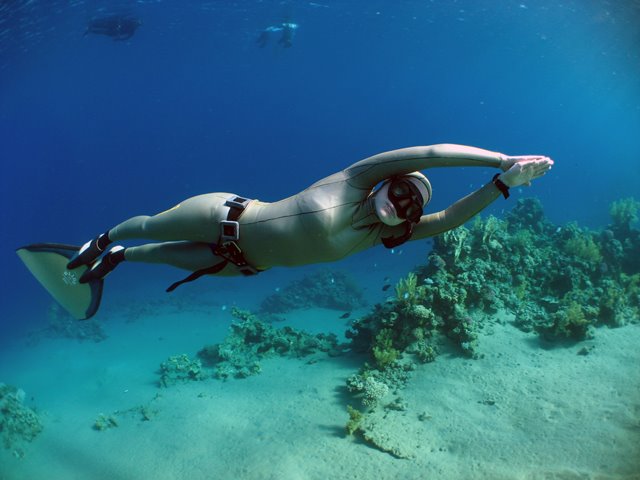 Take your freediving experience to the next level with the RAID Advanced Freediver course
Improve your freediving performance with the RAID Advanced Freediver course. Sophisticated techniques and further knowledge of the mammalian diving reflex will help improve your body's response when freediving, enabling you to dive deeper and longer.

In the pool you'll train to hold your breath for at least 2 minutes 30 seconds and practice dynamic apnea for 55 metres. In open water at Vobster Quay you'll learn new, advanced equalisation techniques and training methods to carry you past 20m and up to depths of 30m. Diving from the freediving platform with lanyards, you'll learn to dive deeper and gain advanced rescue skills. You'll also have the chance to enjoy recreational freediving on some of the deeper attractions.
Course details
Your RAID Advanced Freediver course begins when you book your place.  We'll email you an information pack containing everything you need to know about the course, our suggestions for preparing, as well as information about accommodation and logistics.
We'll also send you a link to the RAID Advanced Freediver theory materials and course handbook, which is provided online by RAID. All of your course materials are accessed online and they're kept up-to-date by RAID, so that after your course you'll have lifetime access to the very latest guidance and information. Home study means you can familiarise yourself with the basics at your own pace and will mean more time for you in the water over the weekend of the course.
Your course starts on the Friday evening at the pool, perfecting your static and dynamic skills, and then moves to Vobster Quay for the weekend. Here you'll build on your freediving skills and knowledge, taking your confidence and experience to the next level with the most experienced instructors in the UK.
You must complete the theory and pass the final exam before the date of your booked course or you will not be allowed in the water.
You also need to have a current (within the last 2 years) CPR and First Aid course certificate. You can do the course with us. Find out more by clicking here!
Before booking please make sure you read our Terms and Conditions and medical statement
What's included
Pool hire
Theory material
Tuition
Equipment hire including wetsuit hire
Lifetime guarantee*
Not included
Vobster Quay entry fee (details)
Personal travel and subsistence
* Lifetime guarantee details
For as long as Go Freediving is trading, we will happily answer your questions and provide advice via email, telephone or in person about freediving (within the scope of your course). So if you have any queries about kit, training, where to go freediving abroad, or how to improve your technique, we'll be there for you.
Wetsuits
Wetsuit hire is included in the price of your course however if you have your own we suggest you bring it so you get the best fit. If you own a scuba wetsuit you can use that – we recommend a minimum suit thickness of 5mm. Triathlon wetsuits are not suitable as they tend to be too thin and usually don't include a hood.
Want to see what happens on our advanced freediving courses? Then check out the films below!
Watch the film from the June 2016 RAID Advanced Freediver course here!
Watch the film from the July 2016 RAID Advanced Freediver course here!
Watch the film from the Aug 2016 RAID Advanced Freediver course here!
Watch the film from the Sept 2016 RAID Advanced Freediver course here!
Watch the film from the Oct 2016 RAID Advanced Freediver course here!
And want to know what people thought of their advanced freediving course with us?
Payment options and deposits.
£100 of your course cost is considered a non-refundable deposit. If you wish to pay a deposit separately to secure your place rather than the full amount upfront, then please contact us to arrange a bank transfer payment.
Bath
2 – 4 August 2019
2 – 4 August 2019

Venue:
South Wansdyke Sports Centre, Midsomer Norton, Bath, BA3 2UG
&
Vobster Quay, Upper Vobster, Radstock, BA3 5SD
*Please note the course starts at 6.30pm on the Friday evening at the swimming pool and ends at around 5pm on the Sunday at Vobster Quay
To take part in our RAID Advanced Freediver course you must be:
15 years of age or older
Able to swim 400m unaided
RAID Freediver or AIDA 2 star or SSI Level 1 qualified
You will be required to complete this self-certifying medical form before the course. If you answer 'yes' to any of the conditions listed you must get approval from your GP.
Club members can save £50 on a RAID Advanced Freediver course
These people loved it!
There was such a relaxed atmosphere on the course. We discussed about other topics and this helped to get a bigger picture of the freediving world!
I loved the calmness of the instructors, their good humour, laid back approach and professionalism!
"I don't think you guys realise how much you give to people. I just want to make sure you know that YOU (you and David and the whole gang) have already made a huge impact on my life."