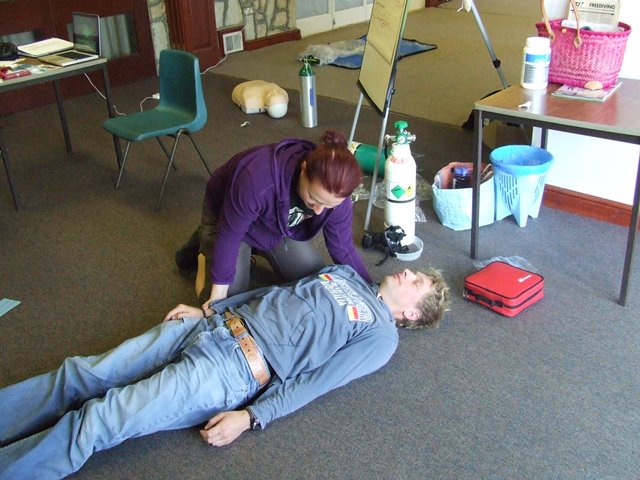 Learn how to save a life and earn an internationally-recognised first aid qualification
Discover how to deal with all kinds of emergency situations, as well as administer first aid, in a fun and supportive environment with Go Freediving.
Freediving involves diving underwater without the aid of external breathing apparatus, such as a scuba oxygen tank. This means that while freediving is extremely rewarding, it can also be extremely dangerous if you haven't got the proper training or you misjudge your capabilities. This is why most people who are interested in learning how to freedive also do a CPR and first aid course so that they can help out their fellow divers if they need any medical assistance. With our CPR and First Aid course, you'll be taught how to revive divers if they lose consciousness and treat injured divers while you wait for the emergency services.
We teach the EFR Primary Care/CPR and Secondary Care Courses, which conform to the HSE standards for appointed persons in the workplace and has the added benefits of teaching oxygen administration and how to defibrillate someone using an AED machine.
For freedivers, the CPR and First Aid course is mandatory for the RAID Master Freediver and SSI Level 2 courses.  If you've already done a similar course, you must refresh and update your skills every two years. There have been lots of changes recently in the field of emergency care and this course will give you the ideal opportunity to learn about them.
Early booking is essential as spaces are limited and you'll be required to read a manual and complete two knowledge reviews prior to attending the course.
Course details
The CPR and First Aid course lasts a day, split between theory and practical work in the classroom.
Before booking please make sure you read our Terms and Conditions
What's included
Tuition
Equipment hire
Bandage and barrier pack
Full colour manual
Knowledge reviews and exams
Certification and card lasting 2 years
Bath
12th November 2017

Venue:
The Conygre Hall, North Road, Timsbury, Bath, BA2 0JQ
There are no requirements for the CPR and First Aid course. However, you must have read your manual (this will be posted to you upon booking) and completed two knowledge reviews prior to the course date.
Club members can save £26 on a CPR and First Aid course
These people loved it!
There was such a relaxed atmosphere on the course. We discussed about other topics and this helped to get a bigger picture of the freediving world!
I loved the calmness of the instructors, their good humour, laid back approach and professionalism!
"I don't think you guys realise how much you give to people. I just want to make sure you know that YOU (you and David and the whole gang) have already made a huge impact on my life."