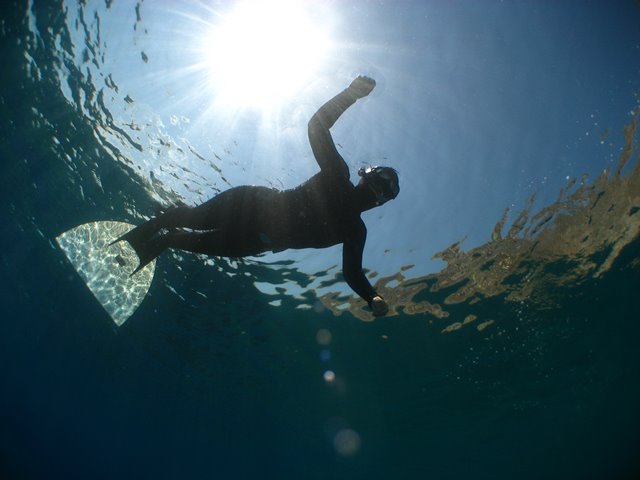 Experience freediving in a whole new way with a monofin

Our Monofin Fundamentals course will introduce you to monofin freediving, equipping you with the knowledge and skills to take advantage of this wonderful piece of kit.

The day starts with theory, exploring at the history of the monofin, its construction and design, and the wide range of models on the market. You'll learn the different techniques required for monofin freediving, analyse different styles and learn about protect and transporting a monofin. We'll then move onto strength and flexibility exercises that will prepare your body for monofin freediving.
Then we'll move to the pool and put everything into practice, first with bi-fins and then with a monofin. At the end of the day you'll perform a max dynamic and, if you're interested, design a personalised training program to improve your monofin performance.
Course details
The Monofin Fundamentals course lasts a day, split between theory work in the classroom and practical work in the pool and open water. We'll provide you with all the kit you need apart from a wetsuit. We keep course numbers low so you can learn at your own pace under the watchful eye of our skilled, experienced instructors.
After the course you'll benefit from the Go Freediving lifetime guarantee*, giving you our continued support on your spearfishing journey.
Before booking please make sure you read our cancellation policy and medical statement
What's included
Tuition
Equipment hire (exc. wetsuit)
Lifetime guarantee*
* Lifetime guarantee details
For as long as Go Freediving is trading, we will happily answer your questions and provide advice via email, telephone or in person about freediving (within the scope of your course). So if you have any queries about kit, training, where to go freediving abroad, or how to improve your technique, we'll be there for you.
Wetsuits
Wetsuit hire is not included in the price of our Spearfishing Fundamentals courses. Scuba wetsuits are suitable as long as they're at least 5mm thick. Triathlon suits tend to be less suitable as they don't have hoods – although the course is held in a heated pool, you can get cold during static apnea.
Freediving wetsuits can be hired for £15.00 a day from Vobster Quay. If you'd like to reserve one, contact us with your height, weight and build (slim, average or large).
Club members can save £25 on a Monofin Fundamentals course
These people loved it!
There was such a relaxed atmosphere on the course. We discussed about other topics and this helped to get a bigger picture of the freediving world!
I loved the calmness of the instructors, their good humour, laid back approach and professionalism!
"I don't think you guys realise how much you give to people. I just want to make sure you know that YOU (you and David and the whole gang) have already made a huge impact on my life."