Ho Ho Ho Go Freediving Christmas Party!
It's that time of year again when David dresses up as Santa and Emma as a Christmas tree. A time of yogic peace and love on earth followed by festive fun, frolics and food down the pub! 
Date: Saturday 2nd December 2017
Locations and times:
12.30 – 1.45 pm – Yoga, breathing and yoga nidra
Midsomer Norton Sports Centre, Gullock Tyning, Midsomer Norton, Bath, BA3 2SU
Please bring loose comfortable clothes, a yoga mat, and as many pillows, duvets, sleeping bags etc as necessary to make you comfy during yoga nidra. If you need to buy a yoga mat, Emma has them for £15.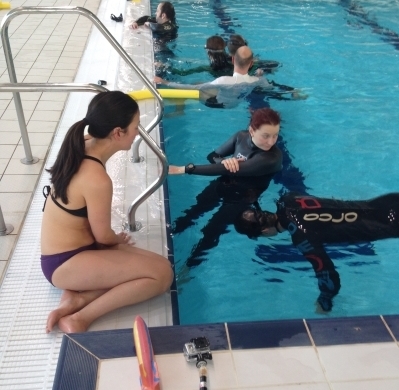 2 –  4pm – Pool Session
Midsomer Norton Sports Centre, Gullock Tyning, Midsomer Norton, Bath, BA3 2SU
Two hours of apnea training followed by apnea games (prizes will be up for grabs…)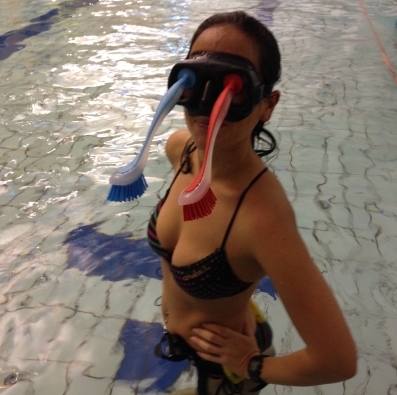 Then…
 6pm – late: Buffet, Secret Santa and Christmas Capers at the Rose & Crown Inn, Hinton Charterhouse, Bath, BA2 7SN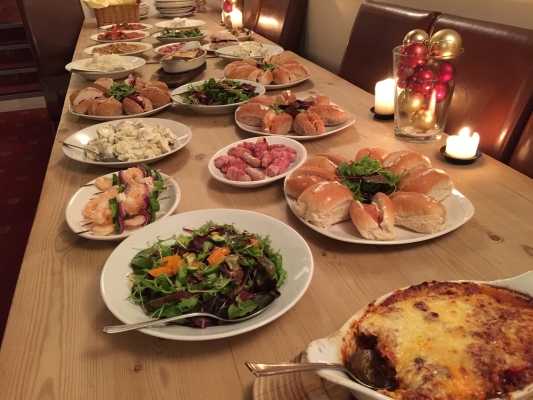 Main Dishes
Spaghetti bolognaise (hot dish)
Vegetarian lasagne (vegetarian, hot dish)
Saddle of turkey
Home-cooked ham with mustard and honey glaze
Mushroom stroganoff (Vegetarian, hot dish)
Lamb curry (hot dish)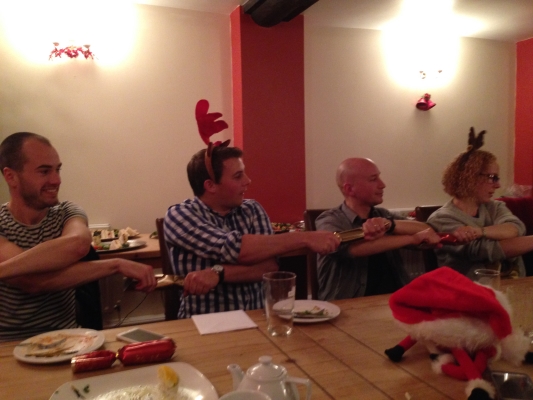 Sides
Rice (hot dish)
Potato salad
Mixed leaf salad
Tomato and basil salad
Desserts
Homemade mince pies (vegetarian and hot)
Homemade Christmas Pudding (vegetarian and hot)
Cream and custard
Tea and coffee (green tea, mint tea and fruit tea available)
Gluten free, vegan and other specialist diets can be catered for, just let us know!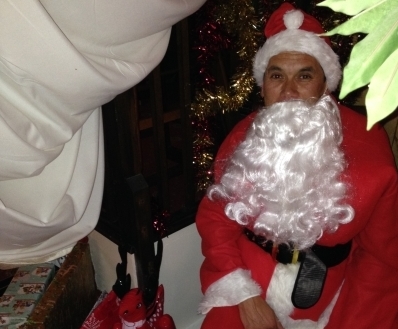 After dinner it's the return of BAD SANTA!!!!!
It doesn't matter if you've been naughty or nice, it's time to sit on Santa's knee and receive a gift that keeps on giving…
David/Santa will be giving out Secret Santa presents, so make sure you come to the party with a wrapped Christmas gift that must be under £5 and preferably bought from a charity shop!
Then we move onto our Christmas games!
Have you ever played the Chocolate Game? Or Tippit? Or Pucket? Or been on an airplane ride? Well you just haven't lived! Join in and discover just how competitive you can be, and how you should stand clear when Emma is armed with a knife and fork and a bar of chocolate…
There is plentiful parking at the pub and children and family members are very welcome! Only qualified freedivers can attend the pool session, but everyone is welcome to the yoga, dinner and games. Places must be booked by the 25th November so reserve your place now!