Canaries freediving holiday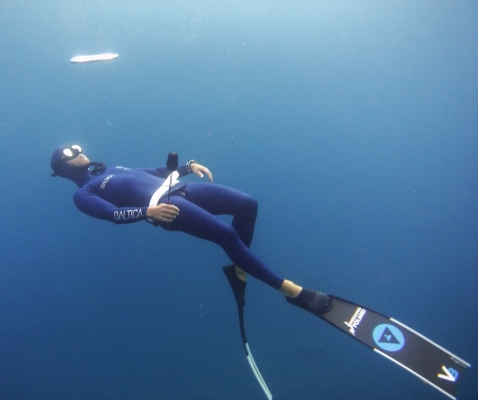 Welcome to the Fourth year of our amazing freediving holiday to the gorgeous island of Tenerife, in the Canaries.
The holiday is primarily for training, but with plenty of down time available too, this is the perfect getaway for those who want to improve their freediving in clear warm waters, whilst also enjoying some all year round sun.
The week is suitable for all abilities (please note if you are not undertaking a Freediving course during the holiday you must be a minimum of RAID, Padi, SSI, Aida 2* qualified) and will combine yoga sessions, 6 days of freediving with a trip to dive with super friendly turtles and rays.
Check out the video from out 2018 trip  and our 2019 trip, where we enjoyed glorious winter sun, daily dives, wreck dives, recreational trips, yoga, masterclasses, explored the island and enjoyed all the social aspects of holidaying in a charming unspoiled fishing town.
Canaries Freediving Holiday – Itinerary
This holiday consists of 6 days of amazing freediving training, including the use of a freediving centre (shower, bathroom, kit storage, stretching mats, weight rental, buoy rental and set up), the use of the pool for static and dynamic, use of two extra local freediving instructors (in addition to Emma Farrell and another Go Freediving Instructor TBC). There will be two depth sessions available per day with unlimited use of the pool outside of this time, plus an equalisation masterclass and more.
Please note: in the event Emma Farrell is unable to attend the trip or any workshops (for whatever reason) a suitable free diving instructor will attend in Emma's place. Customers will not be charged extra or given any kind of discount if Emma is not the group lead instructor. 
Your Canaries Freediving Holiday – Diving
Your holiday is located in the quiet village of Tabaiba
Your accommodation is located only 40 steps away from the shore.
Their training spot is located in the bay of Tabaiba, walking distance from the doors of the Freediving center.
After an easy entry you can reach depths from -20m up to -100m, all within short swimming distance from shore.
The main attraction is also a famous dive site, renowned for its well preserved wreck lying at the bottom at the depth of -30m
Tandem No Limits Freediving
Tandem No Limits Freediving
Following the success of the Tandem No Limits freediving we are delighted to be able to offer Tandem No Limits Freediving into part of the trip package (this is an additional cost). This is an exciting freediving experience, and one I highly recommend trying!
Turtle Trip
The popular Turtle Trip is not included in the cost of the holiday but is a fantastic experience! The turtles are so friendly that they previously ate the hair of one of our divers and then stole his mask!
Canaries Freediving Holiday – Accommodation

Your accommodation during the holiday will be in a shared room in a self catering apartment. It offers a  sea view,  a fully equipped kitchen, and is walking distance from supermarkets and restaurants. You also have free access to the local sport club ( gym, pool, tennis, bar and restaurant) and free wifi.
Your freediving instructors for the week
Your lead instructor will be Go Freediving owner and freediving instructor trainer Emma Farrell, so you'll have the chance to learn at your own pace  with one of the world's most experienced instructors. Emma will also be teaching yoga each morning. you will also be taught by another Go Freediving instructor (TBC) and two local freediving instructors.
Your Canaries Freediving Holiday – Price
This trip is incredibly good value. The price per person will be £1325 (depending on which airport you fly from) on a shared basis. This includes flights from Gatwick, transfers, accommodation and diving as above. We also offer departures from the regional airports of Bristol, Manchester and Edinburgh.
Your Canaries Freediving Holiday – About Tenerife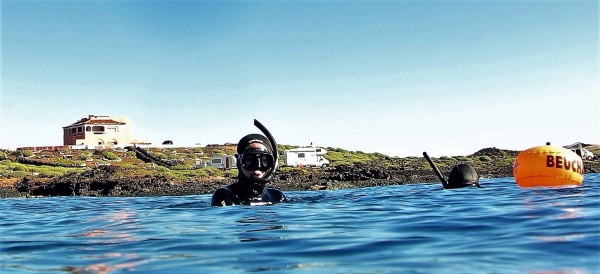 The volcanic island of Tenerife is the largest of the Canary Islands, located west of Africa and southwest of the coast of Morocco. By being on the same latitude as Sahara desert, Tenerife enjoys a warm weather all year round.

The beauty of this volcanic island has attracted freedivers for many years. And this year it is our turn! If you are joining the trip but don't fancy diving (or if you are coming with someone who is) there is no shortage of beautiful attractions, beaches shops and more to keep you entertained. On the south of the island you will find many tourist oriented beaches and resorts, whereas on the north are more local towns and charming local villages.
The temperature of the water in this part of the Atlantic Ocean ranges from 26 degrees in the summer/autumn to 18 degrees in the winter.
We will be staying in the Bay of Tabaiba – a ideal diving location, sheltered from almost all directions. There are no currents and the surface is always calm, giving perfect conditions for diving, including a stunning visibility.
Your Canaries Freediving Holiday – Extras (not included)
All meals and drinks, kit hire if needed (on top of weight hire which is included),
Local photographer to photograph you
No Limits Tandem Freeediving
Ring the travel team on : +44 (0)1483 411590
5th – 12th Oct 2022
*£1325 per person from Gatwick
Flights, self-catering accommodation, and six days diving and yoga is included. Bookings are handled by Scuba Travel and are ATOL protected.
*Flights are also available from regional airports
To book your place ring Scuba Travel on : +44 (0)1483 411590 or email dive@scubatravel.com
More details of what is included please see below
5th October| Fly from selected airport to Tenerife South, transfer to Tabaiba
5th – 12th October | Staying at Tabaiba
12th October | Fly from Tenerife South to selected airport
£1325 per person (inc. taxes)
Flights from selected airport are included as well as return airport transfers, self-catering accommodation in a shared room, 6 days diving, unlimited use of pool at centre, weight hire, equalisation masterclass and daily yoga and pranayama.
Local Extras
All meals and drinks
Kit hire if needed
Local photographer to photograph you
No Limits Tandem Freediving
Book now by calling the travel team on 01483 411 590 or emailing dive@scubatravel.com
All bookings are handled by Scuba Travel and protected by ATOL.
Before booking please make sure you read our cancellation policy and medical statement
Flights from selected airport and transfers (trip is also available without flights if you are arriving from a different country).
7 nights self catering accommodation in a shared room
Morning yoga/pranayama classes

Use of the pool for static and dynamic

Use of two extra local freediving instructors (in addition to Instructor trainer Emma Farrell and another Go Freediving Instructor TBC)

There will be two depth sessions per day with unlimited use of the pool outside of this time

An equalisation Masterclass
All meals and drinks
Kit hire if needed (weight hire is included in the price)
Local photographer to photograph you
No Limits Tandem Freediving
Course fees (if undertaking a course)
RAID courses