The Ultimate Freediving Holiday In Indonesia – Murex Bangka
Searching for the Ultimate Freediving Holiday in Indonesia?
We think you've just found it!
If you have been searching for a truly relaxing, unforgettable freediving holiday in Indonesia, join one of the world's leading freediving instructors Emma Farrell on the holiday of a lifetime as we travel to the Murex Bangka Resort Manado on the beautiful Bangka Island. Situated just 90 minutes from Manado airport, on a palm-fringed white sand beach, Murex Bangka offers a luxury Robinson Crusoe style experience.
Here, in the translucent waters of Indonesia, you can freedive in one of the most incredible places on earth, explore the beautiful waters and marine life, swim, snorkel, or simply drift away in a hammock while listening to the waves lapping on the shore. There is also the option to paddle-board or enjoy a sun-downer while watching the glowing sunset over the ocean.
For those wishing to have the most luxurious freediving adventure possible, the dives will be at a leisurely pace, with plenty of time for you to build on your new skills. There can be no doubt – this is learning to freedive in style!
Diving
This trip is first and foremost a recreational freediving holiday. There are amazing opportunities to explore further afield, but with such a rich, vibrant reef on your doorstep you would be excused for not wishing to stray to far from the powder white beaches!
Dives will be organised to offer a morning and afternoon dive, plus an optional night dive. You will be able to enjoy one line dive per day and also one recreational dive each day. And don't forget; if you are coming with a buddy, or have someone willing to be your buddy, you can gorge on freediving all day if you like!
An explosion of color and kaleidoscopic soft corals, Bangka dive sites are a sensory overload where the pristine reefs are teeming with life. Pelagics and critters, Bangka has it all! Their beautiful House Reef is just a step off the beach and is a sloping reef descending down to a white sand bottom. Along the slope there are diverse corals and beautiful bommies which are shrouded in schools of glass fish and hiding frogfish. The House Reef is home to numerous unique critters including pygmy seahorses, blue ribbon eels, mantis shrimps, cuttlefish, reef octopus, a variety of nudibranch species – and look out for passing eagle rays!
Quick Overview:

Topography:
Rock pinnacles, white sandy bottoms and sloping reefs

Water Temperature:
28 – 29 degrees year round

Visibility:
Up to 25m

Difficulty level:
Year round diving with warm water, good visibility and easy conditions although there are some current sites for those who like drifts.
Unique species include resident dugongs, dolphins and pilot whales, several species of pygmy seahorse, harlequin and tiger shrimps, blue ring, mimic, reef and wonderpus octopus, ghost pipefish, Ambon scorpionfish, frogfishes, turtles, reef sharks, eagle rays, tuna, great barracuda, schooling fish including snappers, fusiliers, cardinals and mackerel.
Explore More
Explore more of North Sulawesi during your stay and take a day trip to Bunaken Marine Park or to the Lembeh Strait. Bunaken marine Park is famous for it's colossal coral walls and diverse marine life. The Lembeh Strait offers the world's best muck and critter diving. These are usually three dive trips with lunch served on the boat.
The Boats
Murex dive boats are purpose built for  comfort, safety and to deliver a smooth ride. With 7 boats which range in size, they are able to offer flexible schedules and cater for private boat options as well as for larger groups. Facilities on board include:
Shaded areas below and sun deck
Toilet facilities
Non-slip steps
Long ladders for easy boarding
Individual gear space
Fresh water box for cameras
Cushioned seating
Hot and cold refreshments
Personal towels for each guest
First aid kits and emergency oxygen
Spare equipment
Communication devices
Life jackets
Freediving Courses
If you want to become a qualified freediver during your trip, we are offering RAID Freediver Courses.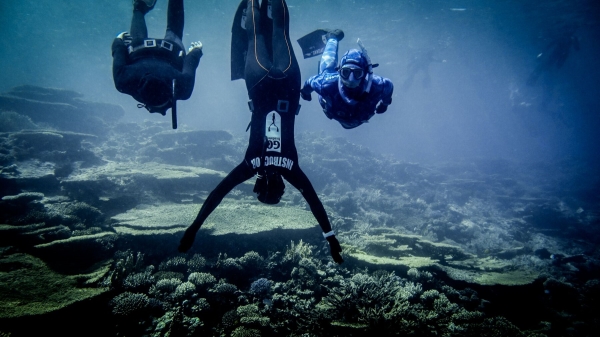 If you would like to spend part of your holiday becoming a qualified freediver, our lead instructor Emma Farrell will be conducting a number of courses, so you'll have the chance to learn at a relaxed pace from one of the world's most experienced instructors and her friendly and experienced team.
This is the most popular course for those interested in freediving, spearfishing and improving snorkeling and/or scuba diving skills.
You can arrange to complete this course during your trip. The course is an additional extra cost.
Your Home For The Week
Your accommodation during your stay is pure luxury, yet mindful of maintaining a low eco-footprint.
Pick from traditionally styled timber bungalows or more modern duplex rooms, which have adjoining doors and are perfect for families. All rooms are oceanfront with stunning views. Rooms have private verandas, en-suite bathrooms, air-conditioning throughout the night, and either a king size or twin beds.
Ocean front accommodation features:
Private verandas with seating
En-suite hot water bathrooms
AC throughout the night
King size or twin beds
Complimentary drinking water
Ocean views
Restaurant and Dining
Three plentiful buffet meals a day are served in the main beachfront restaurant which features an open-air terrace for those who prefer dining al fresco. Cuisine is varied and combines a tantalising mix of International and Asian flavours using fresh local ingredients. The team of western trained chefs are able to cater for special dietary requirements upon request.
Activities Available During Your Freediving Holiday In Indonesia
Included in the package for your freediving holiday in Indonesia is yoga with Emma, including the profoundly relaxing practice of yoga nidra under the stars.
Additional resort facilities include:
Designated camera room with personal preparation areas, plug sockets, bright lighting and air conditioning
Beach loungers
Beach hammocks
Massage service
Indoor and outdoor dining spaces
Flat-screen television for viewing marine life presentations and underwater videography
Stand-up paddleboards
Beach barbeques
free Wi-Fi in the restaurant area but because of the remote location, signal strength is not guaranteed.
We're ready! Are you??
*January/February 2023 (to be confirmed)
From £2295pp including flights!
Bookings are handled by Scuba Travel and are ATOL protected.
*This holiday is a postponement of our 2022 trip, caused by Covid restrictions
This is for 7 nights in an ocean front cottage (full board, 2 people sharing), 12 dives and airport transfers,  with Scuba diving also available
£2295 per person (inc. taxes)
All bookings are handled by Scuba Travel and protected by ATOL.
Course Prices
RAID Freediver + £299 (£249 for club members)
Please note, your materials will be sent to you prior to the trip and you must complete the mini quizzes and exam before the trip starts.
Before booking please make sure you read our cancellation policy and medical statement
Flights from London Heathrow and transfers (trip is also available with alternative flights if you are arriving from a different country)
7 nights accommodation, including food and drink.
2 – 4 daily dive sessions, confined water sessions, recreational and night diving on numerous beautiful sites around the island
All weight hire
Tuition, course materials, manuals and log book (where applicable)
Certification (where applicable)
Soft or alcoholic drinks
Local excursions