Red Sea freediving liveaboard holiday onboard Whirlwind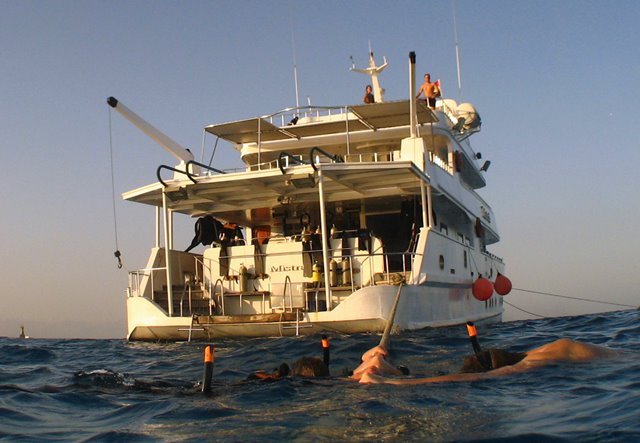 Freedive with dolphins in the crystal clear waters of the Red Sea
Building on the phenomenal success of our freediving and yoga holidays in Egypt, we are now running multiple itineraries in the Red Sea for 2019. Get away from it all on a secluded voyage to Abu Nuhas, Gubal and Ras Mohammed. This itinerary has been designed just for you, and the sites have been carefully selected. You'll dive on incredible wrecks and stunning reefs and there's a wide choice of dive sites, sheltered from current and offering a range of depths – ideal for freedivers!
There's also a resident pod of wild bottlenose dolphins and although we can't promise dolphins, we've been fortunate enough to dive with these wonderful creatures on every freediving trip we've ever had – something that's always a highlight of our freediving holidays. On our last trip as well as Dolphins, Clownfish, Blue Spotted Rays, Octopus and so much more, we saw a Manta!
Departing from Hurghada, you will spend 7 nights on board on a full board basis (twin share cabin). Your trip will be fully guided with 2 expert Red Sea guides plus freediving instructor trainer Emma Farrell.
Living on a luxury boat for the week
You'll be living onboard the Whirlwind a 36 metre boat, voted liveaboard of the year multiple times. This is 5 star Red Sea diving at affordable prices… just one of the reasons UK divers keep coming back to this superior liveaboard. She has a well deserved reputation for the quality of finish on board, her long standing crew are the definition of attentive and she has all the award winning hallmarks of Tornado Marine fleet (from the decor to the tasty food)! Discover today how effortless diving can be when your liveaboard has been designed by divers for divers.
There are 10 cabins in total, all with twin beds, en suite, air con and safe. The storage is plentiful and the showers are some of the most powerful you will find on a boat!
Whirlwind has everything the modern diver could want on board. The dive deck is one of the most impressive aspects – no more kitting up in a crowd on this boat! There is a camera table, 2 rinse tanks and plenty of space for all your dive kit. And for your relaxation between dives, there are 2 sundecks and the jacuzzi. Catch some rays, relax with a book or enjoy the hot tub. The saloon is kitted out with a modern entertainment system and a well stocked bar. Quite simply no element of this liveaboard has been overlooked. From sun up to sun down, Whirlwind is the perfect home away from home in the Red Sea.
Freediving and yoga activities
Over the week you'll have a chance to train on the lines, in confined water, and recreationally freedive on the reefs and wrecks around the Red Sea where you can see the most incredible array of underwater life including pods of wild dolphins. You'll also dive the Thistlegorm wreck, a true highlight for freedivers and one of the most famous wrecks in the world.
You'll also get two yoga and breathing classes a day, including the profoundly relaxing practice of yoga nidra under the stars, and each evening, Emma will be giving talks and workshops on everything from head massage to equalisation, to dolphin behaviour!
Freediving courses onboard
RAID Freediver, Advanced Freediver and Master Freediver courses will be available during the week for an additional charge; you must be at least RAID Freediver qualified or booked to do the RAID Freediver course in order to come on the holiday. If you do a course then your materials will be sent to you prior to the trip and you must complete the mini quizzes and exam before the trip starts.
Children under 12 can take the BSAC Dolphin Snorkeller programme. Please let us know if you would like to prebook any courses on board.
Your lead instructor will be Emma Farrell, so you'll have the chance to learn at a relaxed pace from one of the world's most experienced instructors and her friendly and experienced team.
Scuba diving onboard
If you're a scuba diver then you can come too! The trip is set up to accommodate Scuba divers, and they'll have the opportunity to take part in all yoga activities, the talks and presentations, and also have a free Try Freediving course worth £75!
If you're a freediver with a Scuba diving qualification then you can also scuba dive, although you must adhere to safe surface intervals between Scuba and freediving.
More details and to book
Flights are with Easyjet from Gatwick and transfers are also included. At the end of the week you will have day use of a hotel and buffet lunch while you wait for your flight home. Excluded are the Egyptian entry visa, alcohol, additional kit hire for qualified divers and any on board souvenirs. Please let us know if you have any dietary requirements.
To book, please call Scuba Travel now on 01483 411 590
17th – 24th April 2022
From £1,495 per person
Flights included (holiday is all inclusive). Bookings are handled by Scuba Travel and are ATOL protected.
17th April 2022 | Fly from Gatwick to Hurghada, transfer to your boat for the week, the Whirlwind
17th – 24th April 2022 | Onboard the Whirlwind
24th April 2022 | Fly from Hurghada to Gatwick
£1,495.00 per person (inc. taxes)
Flights from Gatwick are included.
Course supplements
Dolphin snorkeller + £50
RAID Freediver + £249 (£199 for club members)
RAID Advanced Freediver + £299 (£249 for club members)
RAID Master Freediver + £374 (£324 for club members)
Please note, your materials will be sent to you prior to the trip and you must complete the mini quizzes and exam before the trip starts.
All bookings are handled by Scuba Travel and protected by ATOL.
Before booking please make sure you read our cancellation policy and medical statement
Flights from London Gatwick and transfers (trip is also available without flights if you are arriving from a different country)
7 nights accommodation, food and drink onboard the Whirlwind
Twice daily yoga/pranayama/yoga nidra classes
Talks and workshops every night (previous subjects have included freediving and dolphins, head massage for equalisation, reflexology for diving, yoga nidra, solving equalisation issues, optimising breathing for diving)
3-4 daily dive sessions, confined water sessions, recreational and night diving on numerous beautiful sites around the Red Sea
Freediving kit hire for the week (RAID Freediver students only; otherwise there's a £100 hire charge for mask, snorkel, weight belt, fins, fin socks and retainers and a £40 charge for wetsuit hire – this is separate to kit hire). Anyone who hires kit must also cover any extra cost of transporting it in their luggage to and from the UK
All weight hire
Yoga equipment hire
Tuition, course materials, manuals and log book (where applicable)
Free Try Freediving course (for Scuba divers only)
Scuba diving (for those with a Scuba qualification)
Certification (where applicable)
Lifetime guarantee*
Egyptian entry visa
Alcoholic drinks
Equipment hire (except RAID Freediver students)
Lanyard
Onboard souvenirs
Crew tip (discretionary)
Wetsuit hire