Red Sea freediving liveaboard holiday onboard The Ghazala Explorer

Freedive in the crystal clear waters of the Red Sea
Following the phenomenal success of our freediving and yoga holidays in Egypt, we welcome you on board the beautiful, brand new Ghazala Explorer over Easter 2023 for the trip of a lifetime.
Get away from it all on a secluded voyage to Abu Nuhas, Gubal and Ras Mohammed. This itinerary has been designed just for you, and the sites have been carefully selected. You'll dive on incredible wrecks and stunning reefs and there's a wide choice of dive sites, sheltered from current and offering a range of depths – ideal for freedivers!
There's also a resident pod of wild bottlenose dolphins and although we can't promise dolphins, we've been fortunate enough to dive with these wonderful creatures on *every freediving trip we've ever had – something that's always a highlight of our freediving holidays. On our last trip as well as Dolphins, Clownfish, Blue Spotted Rays, Octopus and so much more, we saw a Manta!
Departing from Hurgarda, you will spend 7 nights on board on a full board basis (twin share cabin). Your trip will be fully guided with 2 expert Red Sea guides plus freediving instructor trainer Emma Farrell and her team.
*Please note: We cannot guarantee diving with dolphins
Living on a luxury boat for the week
You'll be living on board the Ghazala Explorer –  one of the newest liveaboard yachts in the Red Sea. This is 5 star Red Sea diving at affordable prices.
Here are just some of the reasons this beautiful yacht is already in high demand!
Brand New liveaboard designed for divers
Twin, king bed and suit cabins are air-conditioned and with en-suite bathrooms
Spacious dedicated areas for dining, socialising and dive preparation
Large well appointed dive deck with a range of open circuit tanks and gas fills (additional charges)
Ghazala has 12 cabins, including three suites. On the lower deck there are 5 twin bed cabins and the majestic king suite stretches across the width of the boat. Make your way up to the upper deck and you'll find 4 upper deck twin cabins and new for 2023 two lovely twin or double suites. All cabins are air-conditioned and with en-suite bathrooms, all are furnished with a towel and dressing gowns for your use on board. A refillable water bottle will be given to you to use during your stay and to keep when you go back home. If you want to request a cabin just request it at the time of booking.
One of the first thing you will notice walking onboard the Ghazala explorer is how wide she is. This width give you extra space not just inside the boat but most importantly it gives you a lot of space on the dive deck and the dive platform.
Inside the Ghazala Explorer is bright and airy with a modern decor. The saloon and dining area are very spacious and a natural place to hang out between dives. If sitting inside is not your style then there is a bar area with music on the upper deck, and if you head further up to the top deck you find enough seating and tables for outdoor lunches and dinners. At the back end of the top deck there are sun loungers and beanbags.
Three tasty and well-planned meals served through the day, served buffet style. Most food allergies are taken into consideration in meal planning and preparation. Please inform us about any potential allergies you may have. You can find plenty of outdoor seating with 4 separate areas on the upper deck and fly deck for relaxing. It's time to switch off, relax catch some rays or enjoy the view out to sea.
The saloon leads onto a large, well appointed dive deck where everyone can gear up in comfort, with a charging station, camera table and rinse tanks too.
Freediving
The Liveaboard trip is designed to cater for all. As well as being a luxury, relaxing holiday, most people come to enjoy the beautiful waters and diverse marine life.
We freedive every day and this can be a variety of long or short dives. We also stop at the nature reserve and enjoy some wreck diving too!
3-4 daily dive sessions
confined water sessions
recreational and night diving on numerous beautiful sites around the Red Sea
We run courses for anyone interested (see below).
Freediving courses on board
RAID Freediver courses (RAID Freediver and RAID Advanced Freediver) will be available during the week for an additional charge; you must be at least RAID Freediver qualified (or booked to do the RAID Freediver course) or equivalent in order to *freedive on the holiday. If you do a course then your materials will be sent to you prior to the trip and you must complete the mini quizzes and exam before the trip starts.
Your lead instructor will be Emma Farrell, so you'll have the chance to learn at a relaxed pace from one of the world's most experienced instructors and her friendly and experienced team.
*If you do not intend to freedive you do not need to undertake a course, or be a qualified freediver
Daily Breathing Optimisation Classes
Breathing Optimisation classes are included in the price and will be held daily during the trip. There will also be Yoga Nidra every night under the stars.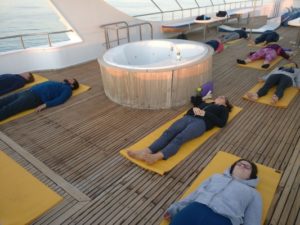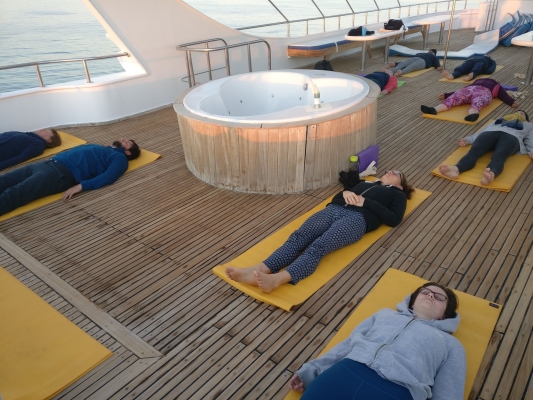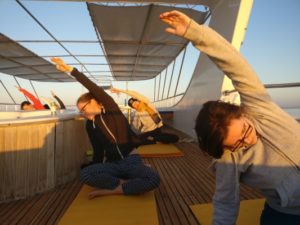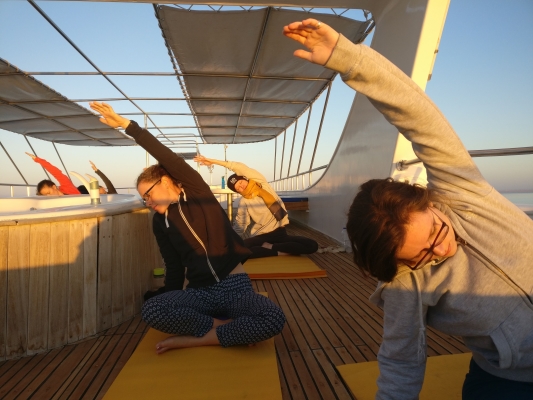 Scuba diving onboard
If you are a freediver who also wishes to scuba dive, there are opportunities to scuba dive, but to ensure the correct equipment is on board you must notify us in advance! You must also adhere to safe surface intervals between Scuba and freediving.
More details and to book
Flights are from Gatwick and transfers are also included. At the end of the week you will have day use of a hotel and buffet lunch while you wait for your flight home. Excluded are the Egyptian entry visa, alcohol, additional kit hire for qualified divers and any on board souvenirs. Please let us know if you have any dietary requirements.
To book, please call Scuba Travel now on 01483 411 590
10th – 17th April 2023
From £2095 per person
Flights included (holiday is all inclusive). Bookings are handled by Scuba Travel and are ATOL protected.
10th April  2023 | Fly from Gatwick to Hurgarda, transfer to your boat for the week, the Ghazala Explorer
10th – 16th  April 2023 | Onboard the Ghazala Explorer
17th April 2023 | Fly from Hurgarda to Gatwick
From £2095.00 per person (inc. taxes)
Flights from Gatwick are included.
Course supplements
RAID Freediver + £299 (£249 for club members)
RAID Advanced +£399 (£349 for club members)
Please note:
Your materials will be sent to you prior to the trip and you must complete the mini quizzes and exam before the trip starts
All bookings are handled by Scuba Travel and protected by ATOL.
Here's what everyone is saying about our Liveaboard Holidays: